Q: Can VLC play Blu-ray disc on Windows and Mac? I put my Blu-ray disc into VLC but it popped up with an error "Your input can't be opened: VLC is unable to open the disc." Why is VLC not working to play Blu-ray? Are there any solutions?
A: Actually, VLC doesn't offer direct support for Blu-ray disc, but the 2.0 and later versions of VLC support Blu-ray media playback with some extra operations. To help you out, we will show you how to play Blu-ray disc on VLC step-by-step in the following.
The setup might be troublesome and tricky to play Blu-ray on VLC. If you have followed the instructions correctly and it is not working, or you don't want to use such a cumbersome method, feel free to try VideoByte Blu-ray Player. Without setting anything, just download it and connect to the Internet in case your computer lacks a neccessary encoder, then you can enjoy a high-quality viewing experience immediately.
1. How to Use VLC to Play Blu-ray on Windows 10/8/7
As one of the most powerful media players, VLC supports most of today's media and video formats. However, it is common to find that VLC cannot play Blu-ray discs directly. Thankfully, the open-source VLC gives the chance for techies to tweak settings to realize the goal. The following will show you how to play Blu-ray with VLC on Windows by installing a powerful setup step by step.
Step 1. To play Blu-ray with VLC on Windows, you'd better upgrade to VLC 3.0 first if you are still using the old version. Please note that you will need to download the VLC Windows 64bit version if it is a 64bit Windows computer.
It would be better to keep the default installation path while installing VLC. Otherwise, you can't completely follow the steps below.

Step 2. Go to https://vlc-bluray.whoknowsmy.name/ to download the keys database and AACS dynamic library. Please notice that you should download the 32bit file for VLC 32bit, and 64bit file for VLC 64bit.
After downloaded, two files - the keys database file (KEYDB.cfg) and the AACS dynamic library file (libaacs.dll) should already exist on your Windows computer.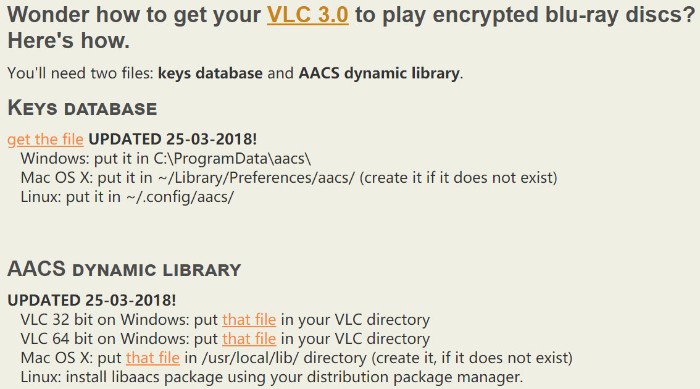 Step 3. Go to "C:\ProgramData", create a new folder in it and name it "aacs". After that, place your downloaded "KEYDB.cfg" file into it.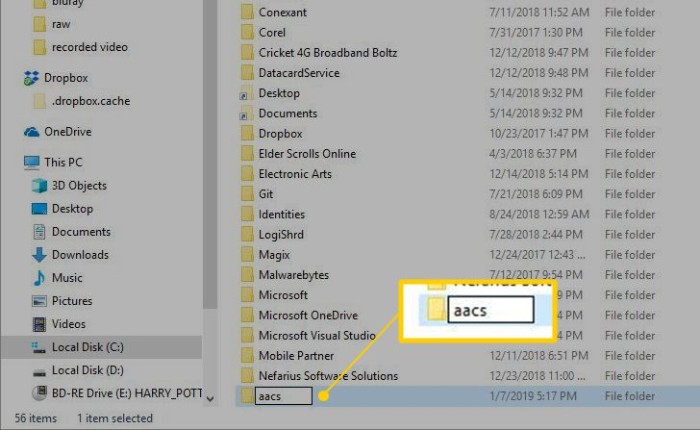 Step 4. Go to "C:\Program Files\VideoLAN\VLC", then drop your downloaded "libaacs.dll" file into it. If running 32bit VLC, you will need to find your VLC directory in "C:\Program Files (x86)".
Step 5. Now, you can easily launch VLC and use it to play Blu-ray disc on Windows for free. Just need to click on "Media" > "Open Disc" > "Blu-ray".
Now you may be aware that you need a great deal of patience to get these two key files downloaded and put them in exactly the right place, for they are keys to supporting Blu-ray playback on VLC. However, as VLC is a totally non-profit organization, these necessary files would not be updated constantly. Therefore, they could not deal with the frequently updated blu-ray protection technology from publishers.
Quick solution: Download the latest version of VideoByte Blu-ray Player and enjoy any of your Blu-ray movies now!
2. How to Play Blu-ray Disc on Mac
The steps to play Blu-ray discs with VLC on Mac are quite similar to that on Windows computers in part 1. See the full guide below.
Step 1. To make VLC play blu-ray on Mac, download the latest version of VLC for Mac OS X from Videolan.org.
Step 2. Go to: https://vlc-bluray.whoknowsmy.name/ and get two necessary files.
#1. KEYS Database
Mac OS: put "KEYDB.cfg" in ~/Library/Preferences/aacs/ (create it if it does not exist).
#2. AACS Dynamic Library
Mac OS: right-click on VLC, choose "Show Package Contents" and put the "libaacs.dylib" file in "Contents/MacOS/lib/" (create it if it does not exist).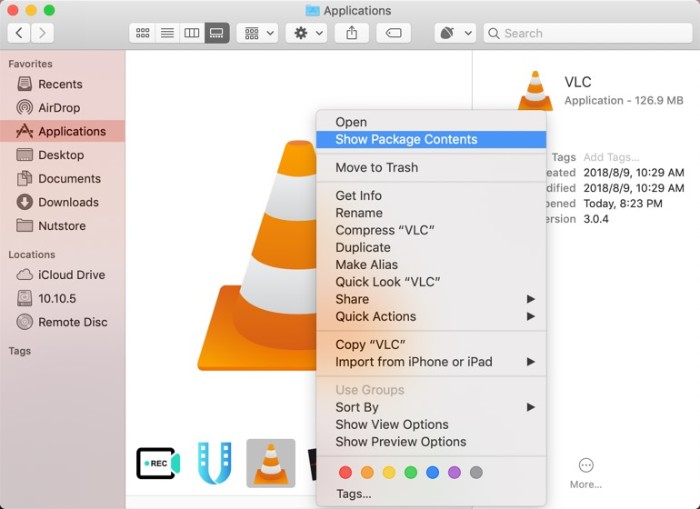 3. Common VLC Media Player Problems and Their Ultimate Fixes
Even you have successfully installed VLC 3.0 or above and follow all the steps above, you likely still encounter errors like:
This blu-ray disc needs a library for bd+ decoding, and your system does not have it.
This blu-ray disc needs a library for aacs decoding, and your system does not have it.
About configuration files:
No valid processing key found in AACS config file.
Missing AACS configuration file!
Your input can't be opened.
VLC won't play blu-ray normally:
Sometimes users may encounter some abnormal VLC playback issues as below:
Commercial Blu-ray disc has developed and renewed the disc protection technology all the time. This is why you can not play back Blu-ray disc successfully on VLC Media Player every time. VLC can only deal with discs which its library has the corresponding AACS keys, yet the AACS and BD+ DRM libraries and keys won't ship with the Blu-ray discs, as their publishers seem to take everyone as a pirate, even you already spend money just for personnel movie enjoyment.
So, the problem that "VLC won't Play Blu-ray" is difficult to fix. Is there a one-fits-all solution or a VLC alternative? The answer is YES. You can resort to a specialized and powerful Blu-ray player to play Blu-ray disc on your computer with no hassle. See more details in below.
4. [Recommended] Hassle-free Way to Play Blu-ray Disc on Windows & Mac
If the above steps of playing Blu-ray disc on VLC are kind of complicated for you, or even some knotty problems may occur as mentioned above, our recommendation is VideoByte Blu-ray Player. This versatile blu-ray player can not only play DVDs and regular videos, but also supports blu-ray playback for both Windows and Mac. With the help of advanced Blu-ray decryption technology, VideoByte Blu-ray Player delivers a cinema-like experience to users for they can enjoy commercial Blu-ray on the computer screen.
Highlighted Features of VideoByte Blu-ray Player
#1. It performs excellent in playing encrypted Blu-ray disc/folder/ISO image without downloading any extra file.
#2. With most advanced technology, it supports to decrypt DRM protection and region code so that you can play Blu-ray and DVD disc directly like playing common videos.
#3. With the multiple cinematic audio systems such as DTS and Dolby Digital, you will always enjoy the fluent viewing experience of the highest quality.
#4. The navigation menu it provides is quite easy to grasp, which enables you to switch the title and chapter or to change the audio/subtitle track easily.
#5. Most importantly, VideoByte Blu-ray Play offers prompt lifelong technical update and prompt technical support, which is lack in other ordinary products on the market.
With the basic knowledge of VideoByte Blu-ray Player, now you can have a quick flip through how to play blu-ray on the PC in below.
The windows version of VideoByte Blu-ray Ripper can also play DVD disc/folder/ISO.
Step 1. Download and Install VideoByte Blu-ray Player
Choose the right version for your operating system to download and then install VideoByte Blu-ray Player on your computer. It will take seconds to finish this process. Then, launch it.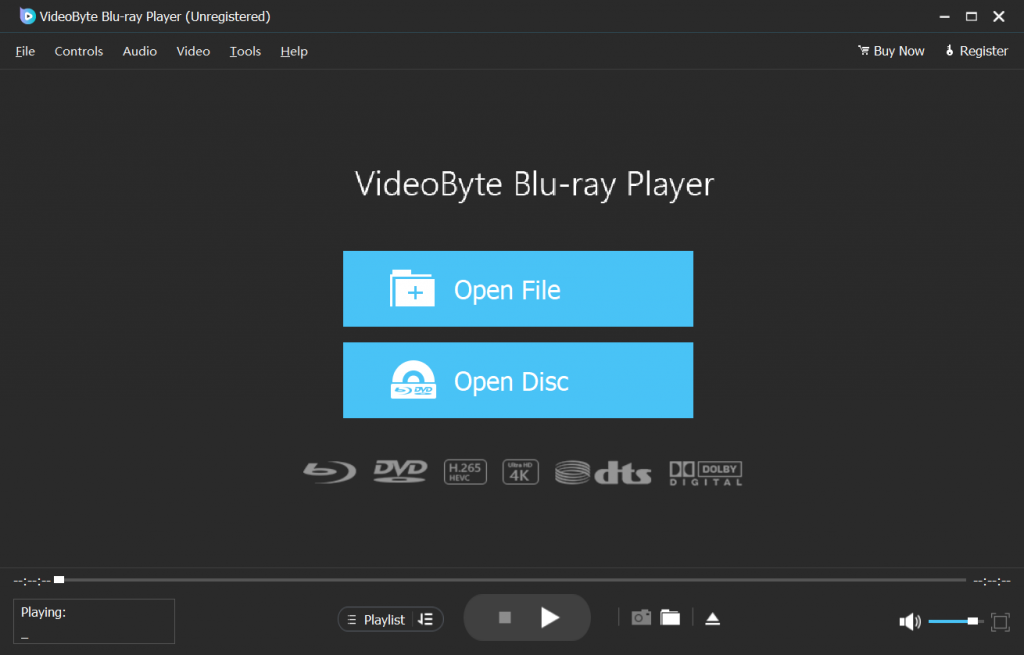 Step 2. Insert Blu-ray Disc You Want to Play
Connect the optical drive with your computer and then insert the Blu-ray disc you want to play back. Then click "Open Disc" on the main interface. The program will detect the Blu-ray disc automatically.
You need to be connected to the Internet so that the software can decode the copy-protection used on the commercial Blu-ray disc.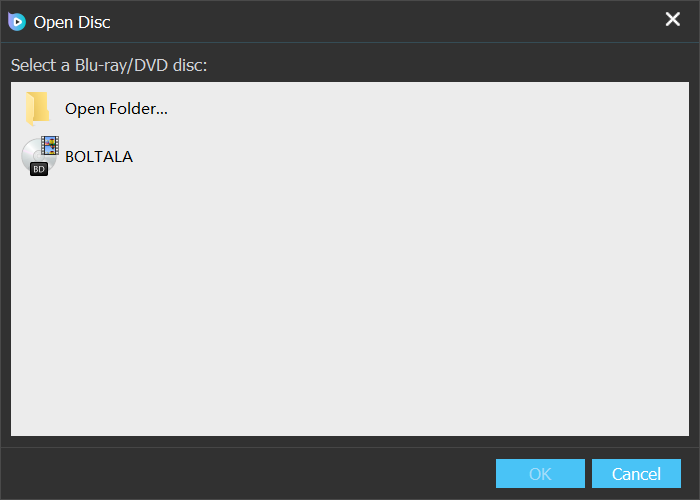 Step 3. Successfully Play Blu-ray Movie
After loading, you can see the cover of your Blu-ray movie. Here you can choose the title, chapter, audio track, or subtitle track. Or you can directly click on "Play Movie" to start playing the Blu-ray main movie.
Now you may have a clear understanding on how to play Blu-ray with VLC or 
VideoByte Blu-ray Player
. If you pursue time-saving operation, VideoByte Blu-ray Player can be a competitive VLC alternative that suits you better. Hope this post can help you and if you have other problems on playing Blu-ray disc.
If you find playing blu-ray on VLC quite troublesome and want to rip blu-ray dics to digital formats for evergreen offline playback, you can try VideoByte Blu-ray Ripper. It supports to convert protected Blu-rays and DVD to MP4 and maintain the 1:1 ratio.