How to Rip Blu-ray with VLC Without Error (Protected Blu-rays Included)
For years, VLC Media Player has been a popular media player to play all types of media content without any charge. Actually, more than a player, VLC also provides more hidden features to manage media files for you conveniently, and VLC DVD ripper is one of the welcomed functions many users will need.
However, when you rip Blu-ray with VLC, some unexpected errors may occur to fail the ripping process, including:
Your input can't be opened.
Missing AACS configuration file!
No valid processing key found in AACS config file.
VLC got stuck loading Blu-ray disc without response.
This blu-ray disc needs a library for bd+ decoding, and your system does not have it.
This blu-ray disc needs a library for aacs decoding, and your system does not have it.
......
Why I would fail to rip Blu-ray with VLC? How to fix them? That's what we will discuss today. Next, scroll down and read in-depth to learn how to rip Blu-ray with VLC without errors.
Why VLC Fails to Rip Blu-ray for Me?
To sum up, there are multiple reasons that may result in ripping failure when you try to rip Blu-ray with VLC:
Your Blu-ray Disc is encrypted
If your Blu-ray discs are encrypted and protected by Digital Rights Management (DRM) mechanisms such as Advanced Access Content System (AACS) and BD+, they can't be read by VLC, as encryption will prevent the program from accessing or using certain assets. Currently, VLC media player isn't supported to load and read protected files of this kind, let alone rip encrypted Blu-ray discs with no error.
Your VLC version is outdated
When you are using an outdated VLC version, the program compatibility may not support reading the high-quality Blu-ray discs. Therefore, errors will occur to the Blu-ray ripping failure. Normally, updating VLC to the latest version can get the issue fixed.
Overall, the Blu-ray disc ripping failures may occur because of the Blu-ray discs or VLC itself. The later problem can be easily fixed as you only need to update VLC to the latest version. Nevertheless, if your Blu-ray discs are encrypted by advanced protection techniques like AACS, updating VLC can't fix the ripping failure for you. So how to rip Blu-ray with VLC without failures even the Blu-ray discs are locked up by such protections? Please keep on reading.
How to Rip AACS Encrypted Blu-ray with VLC (Detailed Guide)
As mentioned, as VLC Media Player originally doesn't support ripping encrypted Blu-ray discs, it will prompt errors when your Blu-ray disc is encrypted with Digital Rights Management like AACS when users try to play or rip copy-protected DVDs or Blu-ray Discs. That may cause such a nuisance for many users, so is it unworkable to rip encrypted Blu-ray with VLC? Actually, you can add some files to change the configuration of VLC media player so that it helps you play and rip protected Blu-ray discs.
This may be a bit complicated and requires users to download additional files to add to VLC directory. The full guide will be introduced in detail. You might as well follow the tutorial and give it a try. Or, if you want a direct way to rip encrypted Blu-ray, you can jump to the next section for a more intuitive way.
STEP 1. Download and Install VLC
To begin with, you should complete the setup of VLC. Please make sure that your VLC media player is up to date with the latest version, or it may cause some unexpected errors.
There are two important files required to enable your VLC to play and rip encrypted Blu-ray, respectively, keys database and AACS dynamic library. Please follow the next steps to download these two files onto your desktop.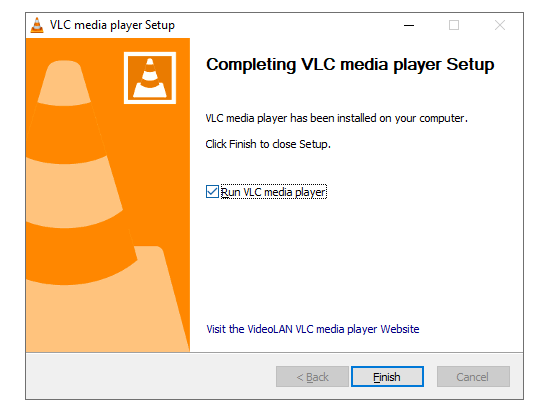 STEP 2. Add Keys Database Files
Download a supported Java JRE (JDK is NOT needed) and extract it manually into a 'java' folder in the VLC directory.
Next, please download libaacs libraries and copy it into VLC directory root folder (not into a subdirectory). Please note that the file 'aacs_info.exe' is not required.
Download keys databse file manually and unzip the keydb.cfg file, which can be used for Blu-ray playback. After extracting the file, there's a 'FindVUK - Synchronize.bat' file that can be used for a simple synchronization of the keydb.cfg file. Now, put this file in the related folder.
Windows: put it in C:\ProgramData\aacs\
Mac OS X: put it in ~/Library/Preferences/aacs/ (open a new folder if it doesn't exist.)
Linux: put it in ~/.config/aacs/
Linux SNAP: put it in ~/snap/vlc/current/.config/aacs/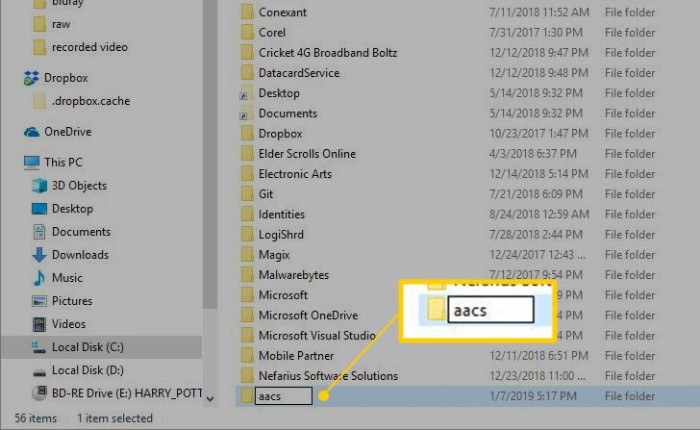 STEP 3. Add AACS Dynamic Library
Also, you need to download AACS Dynamic Library from the following link and put the file in your VLC directory root folder on Windows PC. If you're using MacBook/ MacBook Air/ MacBook Pro, put the file in /usr/local/lib/ directory. (create it if it does not exist.)
AACS Dynamic Library:
Note that the links are verified safe and clear.
STPE 4. Play and Rip Blu-ray with VLC
It takes all the effort to the final step. Simply launch VLC media player on your computer, and insert the Blu-ray disc into the device. Now, turn to VLC interface and click Media - Convert / Save... option. (or use hotkey: Ctrl + R)
Switch to Disc window, and select Blu-ray option. Next, browse and select the Blu-ray disc that you just inserted into the computer. Then, click Convert / Save button to the next interface and choose the saving path to rip Blu-ray with VLC without error.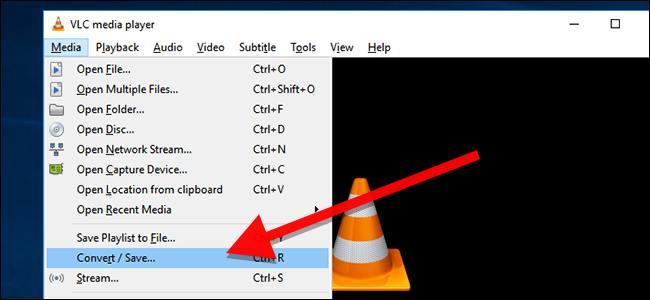 Easy Alternative: Rip All Protcted Blu-ray by One Click with the Best Ripper
Nevertheless, a frustrating fact is that even though you can add specialized files to make VLC support ripping Blu-ray discs of AACS protection, it may not work for other types of Blu-ray encrypting methods. This means that the VLC Blu-ray ripping errors will still occur someday.
Therefore, to rip all Blu-ray discs without errors, you will definitely need a VLC DVD ripper alternative, and VideoByte BD-DVD Ripper is a rational program you shall not miss.
VideoByte BD-DVD Ripper adopts advanced decrypting techniques, working powerfully to bypass all types of Blu-ray encryptions like APS, CSS, ARccOS, CPRM, AACS, BD+, and Cinavia, then rip the discs for you at no restrictions. Compared with VLC DVD ripper, the program delivers lossless quality (1:1 ratio retained) and flexible parameter customization to rip Blu-ray discs for you. Its hardware acceleration techniques are also a highlight, ensuring the program to work at least 6X faster to rip Blu-ray discs efficiently for you, which are all VLC can't compete with.
To have a clear comparison between VLC and VideoByte, check this chart below.
| | | |
| --- | --- | --- |
|   | VLC Media Player | VideoByte BD-DVD Ripper |
| Protected Blu-ray | Not supported with extra files | Fully Supported |
| Encoding Speed | Normal | Up to 6X faster |
| Lossless Quality | No | Yes |
| Parameters customization | No | Yes |
| Output formats | 10 | 300+ |
| Tech Support | No | Yes |
In the following, please walk through the manipulation guide on using VideoByte BD-DVD Ripper to convert Blu-ray to digital with lossless quality and quick speed within only several easy procedures:
STEP 1. Complete Setup
Please download and install VideoByte BD-DVD Ripper on your computer. It's fully compatible with all models of Windows PC and Mac. Then, launch it and click on Load Blu-ray >> Load Blu-ray Disc to import Blu-ray to the program.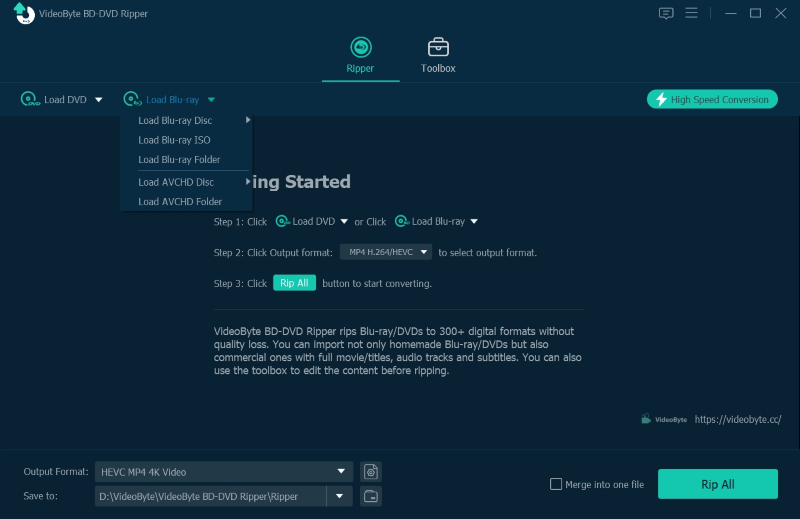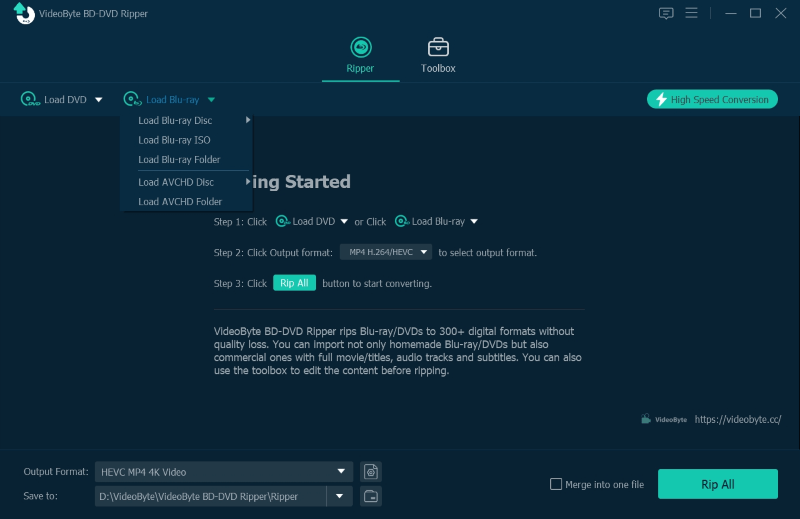 STEP 2. Select Blu-ray Movies to Rip
Once adding Blu-ray in the program, please click on Full Movie List to select the Blu-ray videos you wish to rip as digital files. By default, VideoByte BD-DVD Ripper will only rip the main movie for you.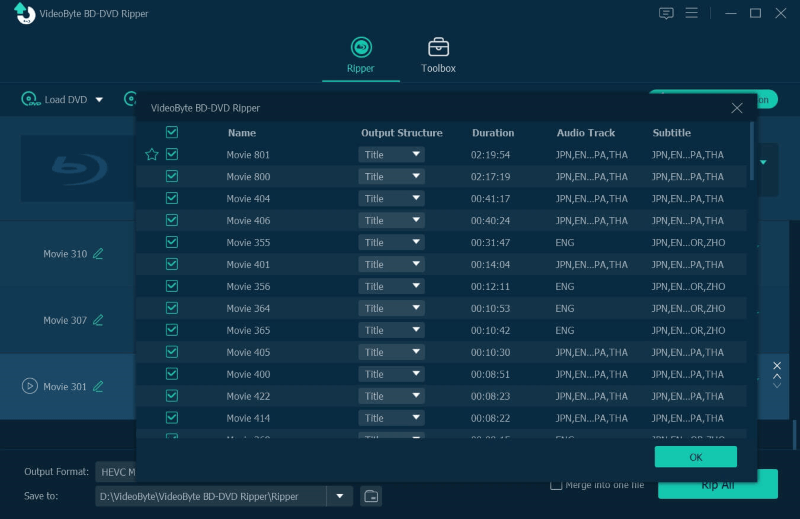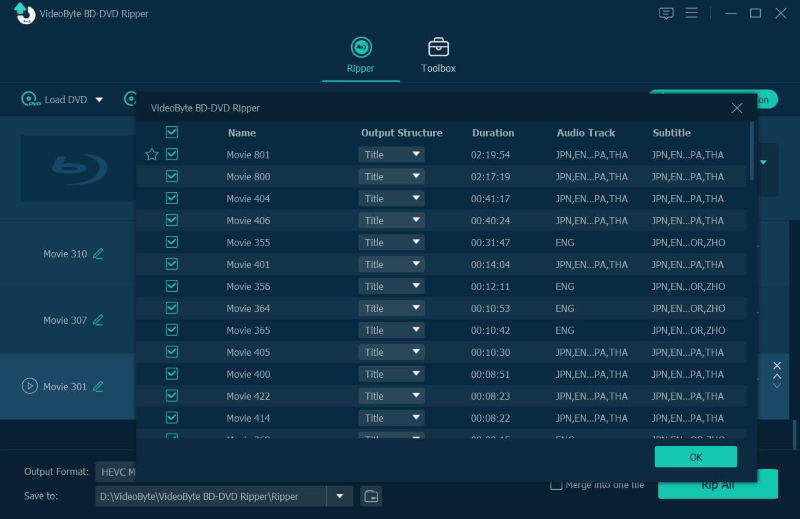 STEP 3. Choose Format to Rip Blu-ray
Subsequently, please move to the Rip All to menu. Here, you can select an output format to encode the ripped Blu-ray movies later. There are also quality options provided for you to determine as you wish.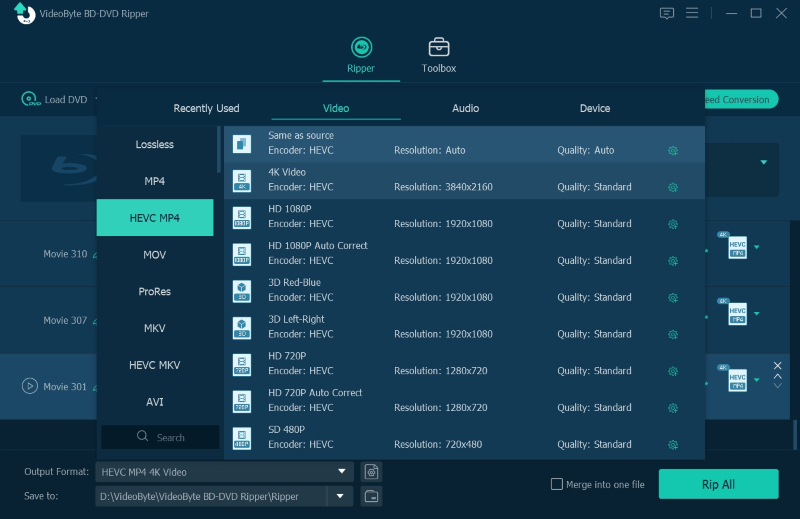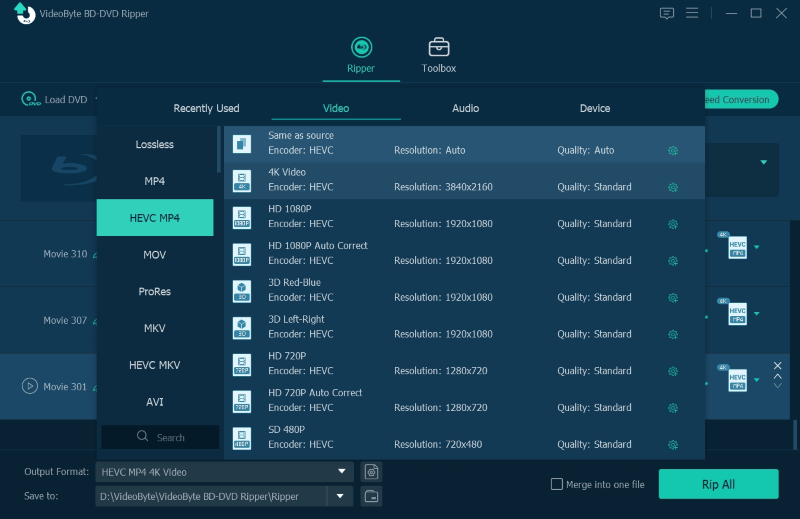 STEP 4. Rip Protected Blu-ray Disc
Eventually, please click on the Rip All button, then the program will initiate the Blu-ray ripping for you at 6X faster speed. Even for hour-long Blu-ray movies, VideoByte will complete ripping for you within just seconds!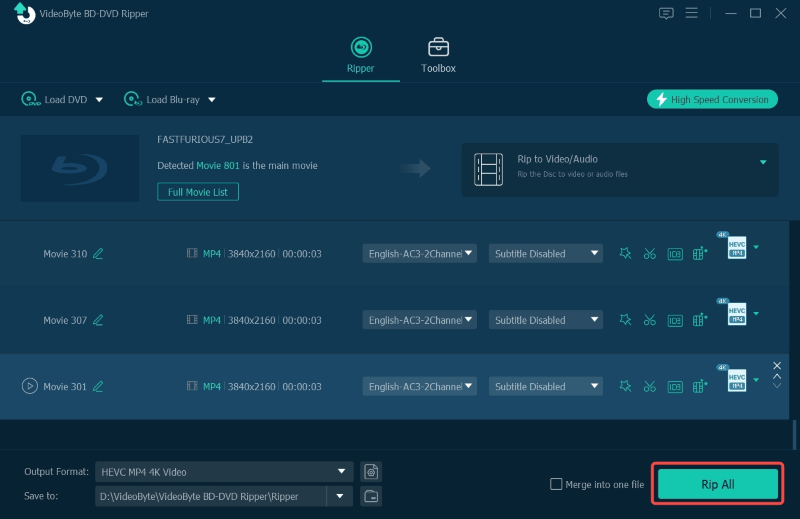 FAQs of Ripping Blu-rays with VLC
Meet other problems or confusion to rip Blu-ray with VLC? Check if these FAQs can help.
Why is VLC not reading Blu-ray discs?
Even if you have added AACS key but VLC still fails to read Blu-ray discs for you, that's because the library still lacks the data to detect some Blu-ray discs, and unfortunately, your Blu-ray discs are not supported by the installed AACS key. Under such circumstances, you will need to update the AACS key library to add support for these Blu-ray disc types to fix the issue.
How to change VLC Blu-ray region code?
Blu-ray region codes are also a type of Blu-ray protection stopping VLC from playing and rip discs successfully. But as VLC enables you to change region codes manually, you can follow the steps here to make your region-protected Blu-ray discs playable again:
Open VLC and turn to Preferences.
Select Show Settings >> All >> Input/Codecs >> Access modules >> Blu-ray.
Select the region code your Blu-ray discs are and click Save.
Subsequently, try again and you will find your Blu-ray discs can be read by VLC now.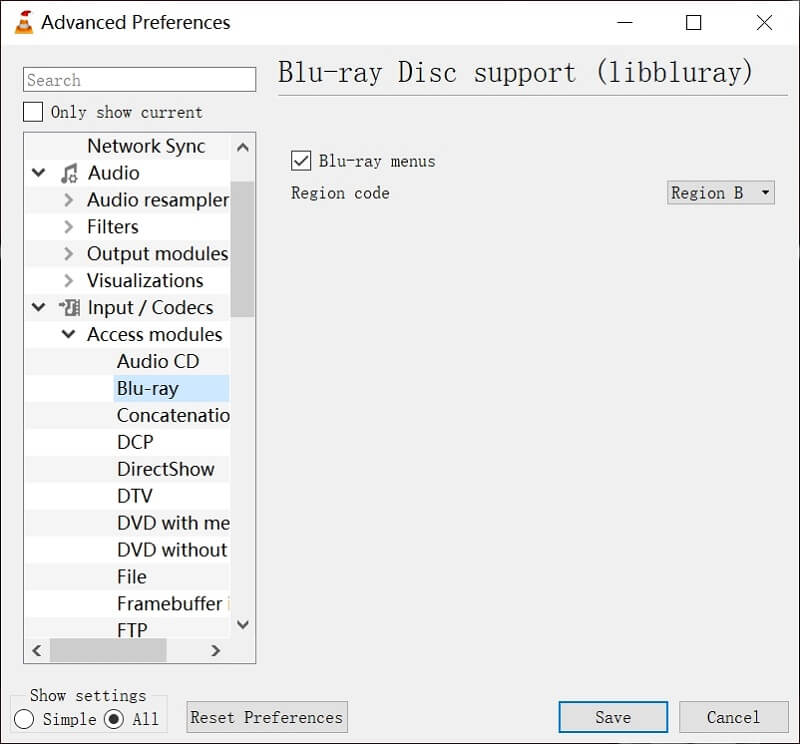 That's no sweat, right? By the way, VideoByte BD-DVD Ripper also provides users with a handy toolbox including a video compressor, GIF maker, 3D maker, video enhancer, and media metadata editor. If VLC media player is too complex for you, this alternative will be an ideal tool.
It enjoys advanced tech mechanisms to ensure its smooth and quick performance, but at the same time, so friendly that you don't need to be tech-savvy. So next time when you meet errors again when you rip or play Blu-ray with VLC Media Player, try its alternative, VideoByte BD-DVD Ripper to simply get things done!