4 Best Ways to Bypass or Remove DVD Region Codes [2023]

BD-DVD Ripper: Best DVD Region Unlocker
When playing DVDs, you may find the DVD player says "wrong region on DVD", resulting in playback failure. This is because your DVD is locked with a region code that doesn't match your DVD player.
To help watch your locked DVDs without being limited by DVD region codes, this article has provided 4 useful methods to help you bypass DVD region unlocks, including removing and changing DVD region codes. If these don't work or sound complex to you, we also have region-free DVD software. Pick a method and start watching your DVD now!
Oh, and if you are a tech-savvy user who is familiar with DVD ripping and just need a reliable ripper to digitalize DVD discs and make them region-free, consider the reliable VideoByte BD-DVD Ripper, which will remove all region codes easily for you.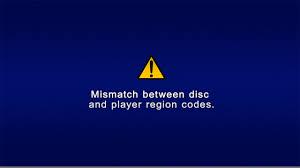 Why Setting Region Code Restrictions?
Most commercial DVDs are locked with different region code restrictions, and they can only be played in certain countries and regions. For example, if your DVD region code is 1 which represents the USA and Canada, the disc can be played in the Region 1 DVD player instead of DVD players in the UK or other regions. In this way, filmmakers can control the spread and copy of DVD discs and protect copyright.
If your DVD is, say Region 1 disc, and you want to play it in the UK, a place where the DVD players are Region 2 DVD players, solutions include removing the region code from DVDs, changing the region codes, or just playing it with a region-free DVD player.
Now, you may get why DVDs are locked with region codes and the solutions. The next step is to try the following methods to unlock the DVD region codes.
Method 1. Use DVD Region Unlockers to Bypass DVD Region Codes
The first method is making DVD discs region-free by removing region codes from DVDs permanently, which is the most powerful one. It enables you to play the DVDs anywhere and on any device you like. Removing DVD codes requires specific region unlocking software that can remove DVD region codes and convert DVDs to MP4, MKV, or other digital formats. Here are 2 excellent options.
Top 1. VideoByte BD-DVD Ripper (Windows/Mac)
Suitable for Removing Region Codes from Commercial DVD Movies and Personal Collection
What Region Codes it Removes

Remove DVD region 1, 2, 3, 4, 5, 6, 7, and 8 codes

Features

 

√ Keep original DVD video quality

√ Keep all audio tracks & subtitles √ Fastest removal region codes in 3 easy steps

Handle Copy Protection

All protections including AACS, BD+, Cinavia, ROM Mark, and region codes.

Output format

300+ video and audio formats (MP4, MKV, MOV, etc.)
The first pick is VideoByte BD-DVD Ripper, a powerful DVD region code unlocker that can digitalize the DVDs protected with region codes and copy protection to MP4, MKV, MOV, and so on, and the converted videos will have original quality without region code limitation, then you can enjoy it on your smartphone, PC, and other devices you prefer and anywhere like, be it UK or Europe. No matter if it's Region 1 DVD or Region 2, 4, or other DVDs, VideoByte will remove DVD codes from them easily.
VideoByte delivers 6X faster speed, making it particularly helpful if you have a large DVD collection. More importantly, you can keep all the audio tracks and subtitles during your conversion, making sure the same convenient playback experience.
How to Remove DVD Region Code with VideoByte BD-DVD Ripper:
Unlocking DVD region codes can be easy and fast with VideoByte BD-DVD Ripper. Check the steps below to see how to turn the DVD region free on your computer now.
Step 1. Download VideoByte BD-DVD Ripper and insert the DVD disc into your computer.
Step 2. Select subtitles and audio tracks you prefer.
Step 3. Click "Rip All to" to select your output format. MP4 is the most recommended one as MP4 video files can be played on most devices and media players.
Step 4. Click "Rip All" to start removing region codes from your DVD and convert it to a digital video. Super fast conversion speed will only take you a time that is shorter than other ripping programs. Also, it will ensure the best quality to help you get region-free DVD videos later.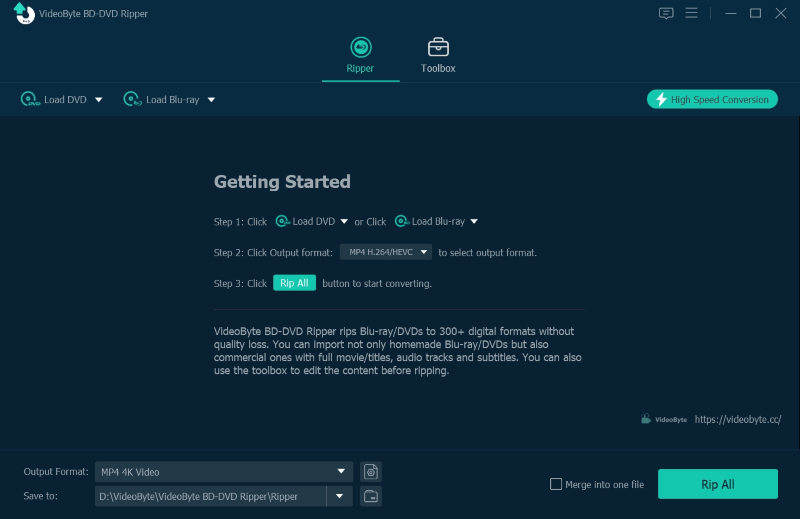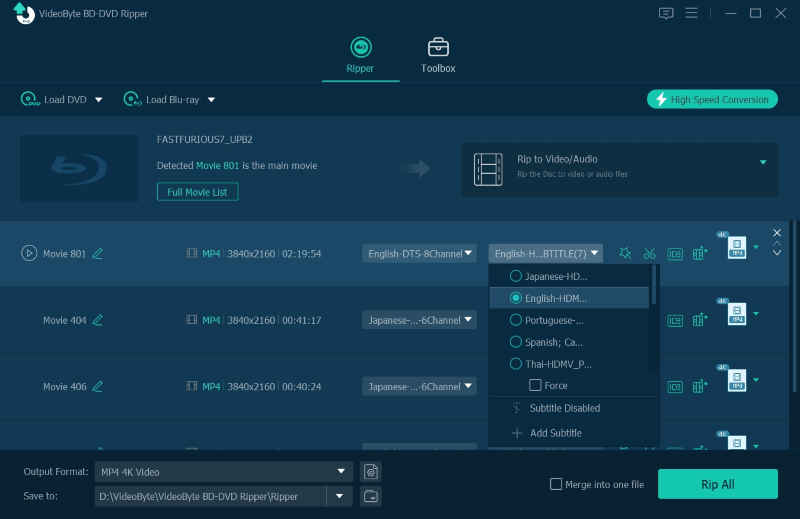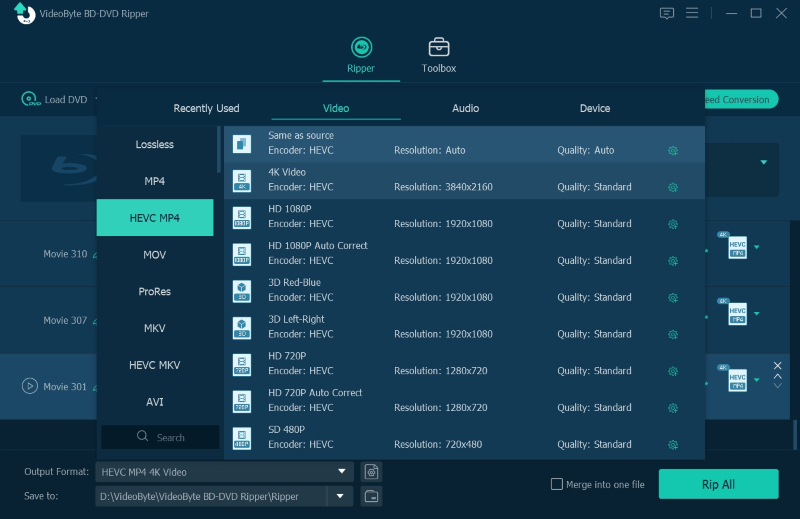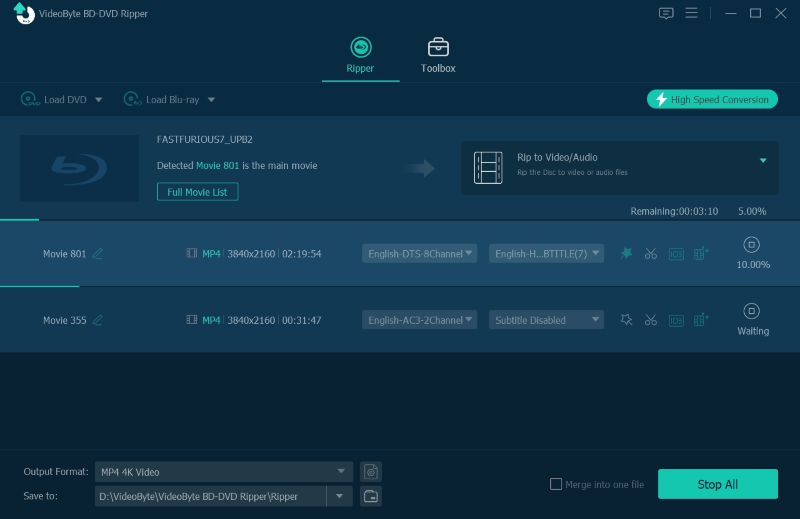 A Video Tutorial on How to Unlock DVD Region Code
Alternative:
VideoByte has just released VideoByte DVD Ripper to be the alternative. If you just need a tool to rip DVD without ripping Blu-ray features, this lightweight DVD ripper is a reliable choice.
The only difference between VideoByte DVD Ripper and VideoByte BD-DVD Ripper is the former does not support the Blu-rays.
Top 2. Cisdem Video Converter
Best for Converting DVDs to Videos
What Region Codes it Bypasses

Bypass all DVD region codes

Features

 

√ Easy to bypass DVD region codes

√ A fast video converter to digitalize DVD discs

Handle Copy Protection

Almost all DVD protections like CSS, RPC, RCE, ARccOS, etc.

Output format

300+ video/audio formats
Video converters like Cisdem Video Converter can also be used as an easy-to-use DVD region unlocker. This converter is capable of converting DVDs to standard videos in mainstream video and audio formats such as MP4, MKV, and more, as a way to help you make DVD region free and play the videos on common devices.
However, do note it can't remove region codes from Blu-ray at present. If you find out your DVD is Blu-ray, try VideoByte BD-DVD Ripper, or check this post and learn how to rip Blu-rays without quality loss.
See how to remove region codes and convert DVD to digital videos with Cisdem Video Converter below:
Step 1. Click "File" > "Add DVD" to start loading the DVD content. Then click on the first of the three middle buttons to step to the ripping option.
Step 2. Choose the title you want. Normally a DVD consists of multiple titles. You can choose the longest one because it's always the main movie.
Step 3. Click the format icon and choose your preferred output format. Finally, click the Ripping button on the bottom right corner to start ripping.
Method 2. Change Region Code on PlayStation 4
Since the region code of your DVD does not match your DVD player, you can change the DVD region codes of the DVD player by using your PlayStation 4. This game console provides 5 times for region changing. After 5 times, you can change region codes with a new PlayStation Network account.
Now, see how to change the region code on DVD player within PlayStation 4 to unlock DVD regions for having free playback on the game console.
Step 1. Make sure that you have PS4 installed on your computer and launch it. Find "New User" and then create a user.、
Step 2. Click to create a new PlayStation Network account and enter a brand-new email account and other details.
Step 3. Select the region you need and accept to agree to the terms of service. Finally, verify your email address.
Method 3. Change Region Code on DVD Drives (2 Options)
To make your DVD playable, you can also change the region codes of the DVD drive, making its code the same as your DVD region code. Do note the DVD region code can only be changed up to 5 times. If you just want to play your DVD for just once, follow the steps below to give it a shot.
Note: After 5 times, the DVD drive's region code will be the last one you set. To change its region code 5 times later, you need to get a new DVD drive, which is a waste of money over time.
Try VideoByte BD-DVD Ripper to remove region codes forever, rip your locked DVD to MP4, and play them unlimited times!
Option 1. Change DVD Drive Region Code on PC/Mac
For Windows:
Step 1. Navigate to "My Computer" and then open "Properties" after right-clicking the DVD drive.Step 2. Press the "Hardware" button, then "Properties" in the window.Step 3. After that, click "DVD Region", change the DVD region code for your own need, and press "OK" to confirm the command. (Check the region code of your country/area.)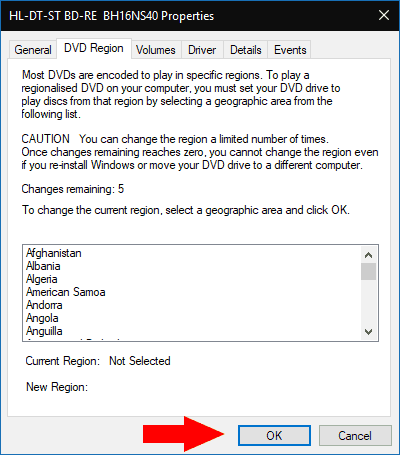 For Mac
Step 1. Insert the DVD into the drive, then select a region for your DVD drive after a dialog box opens.
Step 2. Make sure which region code is valid and choose it after pressing "Change Region to".
Step 3. Click "Set Drive Region" and then "Lock" to save the settings. (Check the region code of your country/area.)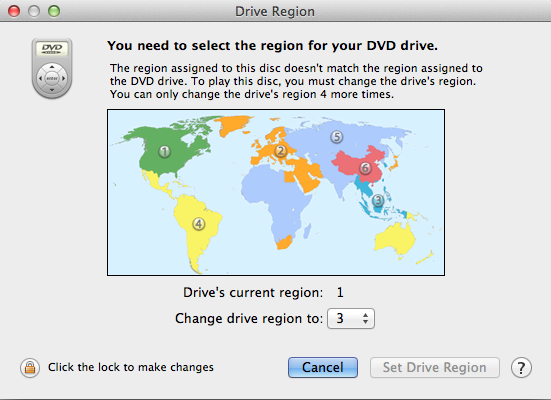 Option 2. Change Region Code of DVD Player on TV
Here also offers you a way to change DVD region codes on TV and make your TV also possible to play DVDs directly.
Step 1. Make sure the DVD has already been removed from the DVD player.
Step 2. Press the following keys in succession on the remote control. Different DVD players will have different operations. These are the steps for LG DVD players.
click "Pause".
enter "3141590".
enter a new region code.
click "ok".
click "Pause" key to exit.
Step 3. Return DVD to try playing again. Normally, the incorrect region code DVD can be played now.
Method 4. Play DVD with DVD Region Free Player Software
If you just want to watch your region-locked DVDs directly without complicated removal or changing of region codes, consider a region-free DVD player that can play DVDs regardless of region codes. Below are two players.
VideoByte Blu-ray player can play DVDs and Blu-rays from any region or country, saving you the trouble of figuring out what region your DVD belongs to. VLC only plays Region 1, 2, and 3 DVDs.
Option 1: Use All Region-free DVD Player
VideoByte Blu-ray Player offers powerful functions to help Windows users play locked DVD discs. Even if your DVD is locked with Region Code 1, 2, .... etc, the Player can directly play it easily with superior playback quality up to HD 1080P and even 4K Ultra HD, with Dolby and DTS sound support for you.
Can't wait to watch your DVD movie? Just download VideoByte Blu-ray Player and play your locked DVD right now:
Step 1. After installing the VideoByte Blu-ray Player, open the software and also insert your DVD disc that is locked with region codes.
Step 2. Click "Open Disc" on the Home Screen of the Player and choose the DVD disc you just inserted.
Step 3. When VideoByte Blu-ray Player successfully reads and loads the video, you can watch your locked DVD with high quality directly!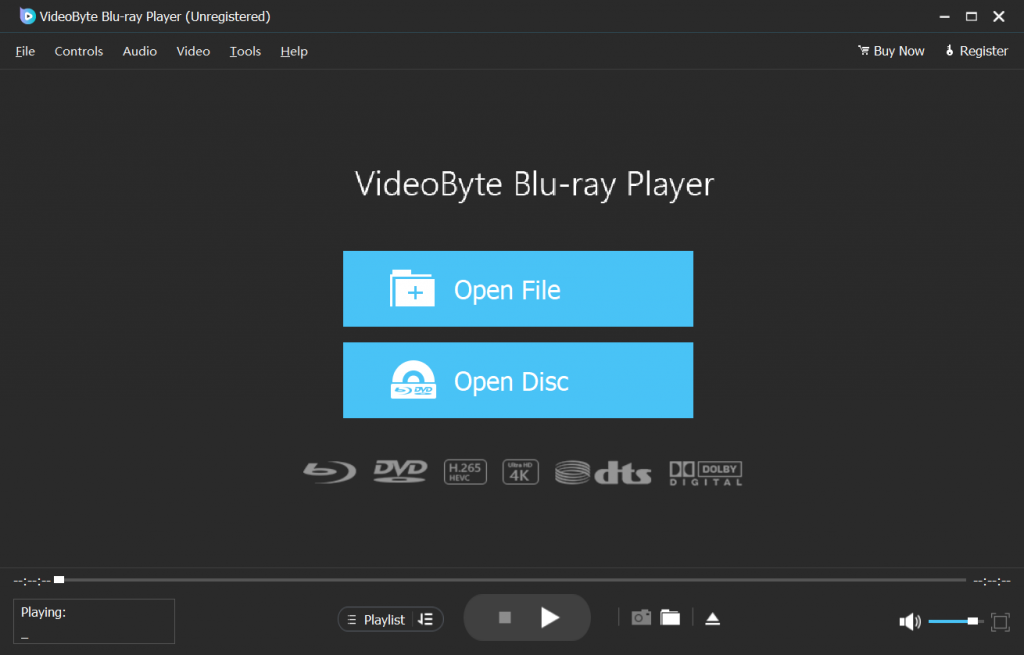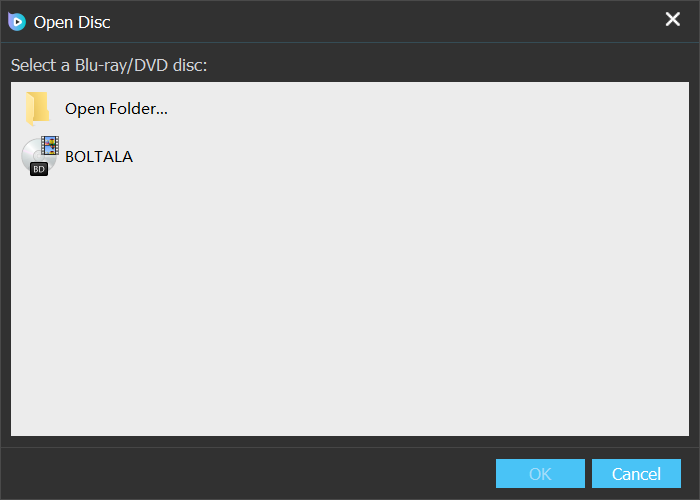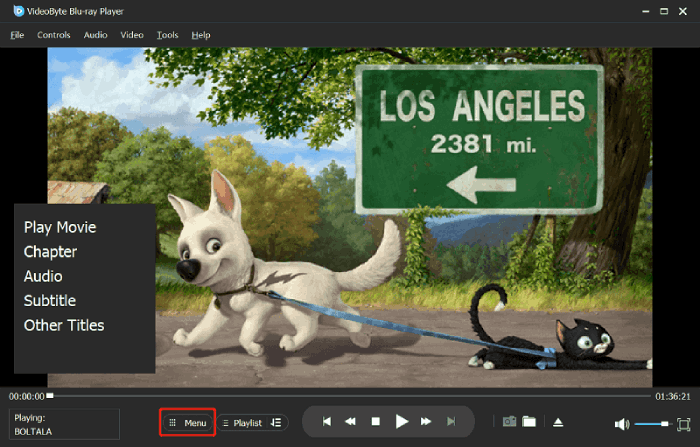 Note: Currently, VideoByte Blu-ray Player only can play DVDs on Windows. Its Mac version is for watching Blu-ray on Mac. For Mac users who want to play DVDs, check this post for more region-free DVD players.
Option 2: Use VLC to Play DVDs from Region 1, 2, or 3
As a totally free and open-source program, VLC Media Player also plays DVDs and Blu-rays locked with region codes for free. However, its free use comes with limitations: You have to install an essential AACS library file to make it a region-free DVD player, which is a bit tricky. Moreover, it often fails. But it is worth a try as it is free.
See how to use VLC as a region-free DVD player with a quick guide below. For a step-by-step guide to playing DVD with region code with VLC on Mac, you can turn to the tutorial: How to Play Blu-ray/DVD with Region Codes in VLC on Windows/Mac?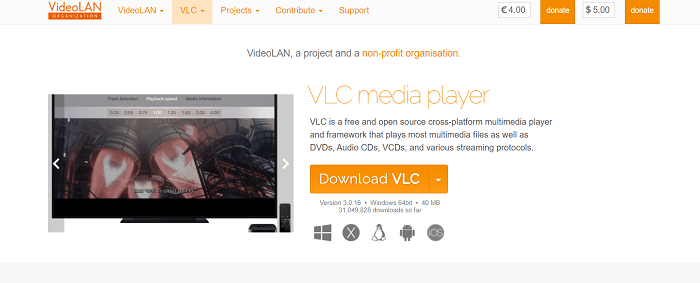 Step 1. Navigate to VLC official site and download the latest version of VLC 3.0. Please note it would be better to keep the default installation path while installing VLC. Otherwise, you can't completely follow the steps below.
Step 2. Go to https://vlc-bluray.whoknowsmy.name/, then download the keys database and AACS dynamic library. And remember to download a corresponding file version for your PC, such as 32bit file for VLC 32bit, and 64bit file for VLC 64bit. After downloading, you will get the keys database file (KEYDB.cfg) and the AACS dynamic library file (libaacs.dll).
Quick Tip: Too complicated to continue? Try other best free players to directly play protected DVDs without any cumbersome setups.)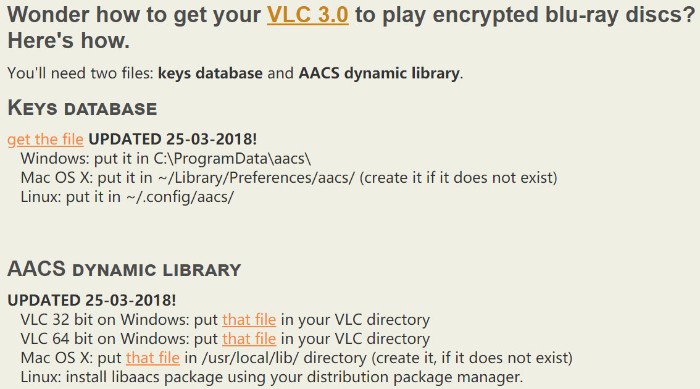 Step 3. Go to "C:\ProgramData", then you need to create a new folder in it and name it "aacs". After that, directly place your downloaded "KEYDB.cfg" file into it.
Step 4. Go to "C:\Program Files\VideoLAN\VLC", and drop your downloaded "libaacs.dll" file into it. If you are running 32bit VLC, you can find your VLC directory in "C:\Program Files (x86)".
Step 5. Now, you can easily launch VLC and use it to play DVD disc with region code protected on Windows for free. Just need to click on "Media" > "Open Disc" > "Blu-ray".
Tip: If you still fail, this is because VLC could not deal with the latest region codes nowadays. For smooth and direct DVD playback on any device you like, take a look at VideoByte BD-DVD Ripper. Use this DVD region code locker to remove region codes from your DVDs forever. 
FAQs on DVD Region Codes and Playback
Q1: What is the Region Coding System for DVDs?
Regional Code for DVDs:
Region 1: USA, Canada, Bermuda
Region 2: Middle East, Japan, many parts of Europe, South Africa, Greenland, etc.
Region 3: South Korea, Hong Kong, Taiwan, Macau, and parts of Southeast Asia
Region 4: Australia, Latin America, New Zealand, etc.
Region 5: Eastern Europe, Russia, India, Africa, North Korea, etc
Region 6: Mainland China
Region 7: Reserved for unspecified special use.
Region 8: Special international venues for air and oceanic travel.
Region 0 or Region ALL: Discs are region-free and can be played worldwide.
Q2: How to Find Region Code on DVDs?
Numbers 0-8 (including All) represent different DVD region codes. If you don't know your DVD's region code, try to look for it on the back of the case of the disc. For all DVDs encrypted with DVD region codes, you can find them directly on the discs themselves.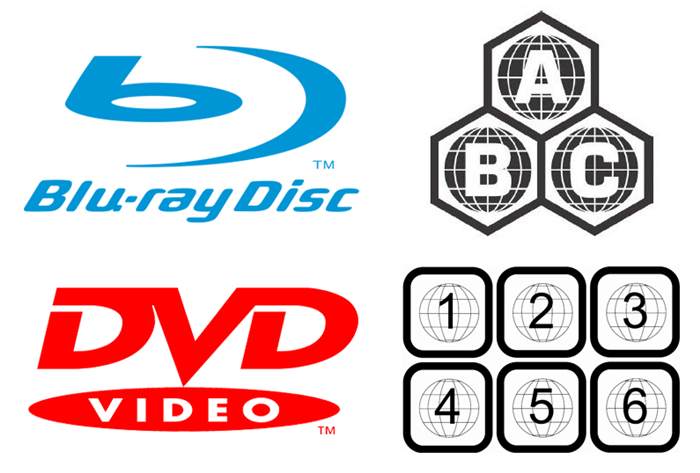 Q3: How to Change DVD Region on Mac After 5 Times?
Unfortunately, once you've tried 5 times, the DVD region will be locked to the one that you set last time. To change the code again, you have to buy a new DVD drive. Therefore, it's better to think carefully before you change DVD region code on DVD drives.
If you still want to watch DVDs with other region codes, you can choose the best region unlocker: Videobyte BD-DVD Ripper to remove DVD region codes forever. Then, you can watch the DVD content on any device smoothly.
Q4: How Can I Make My DVD Player Region Free?
To turn your DVD player into a region-free one, here are the steps, though the detailed steps might be different. Also, not all of DVD players could be made region-free. Take Sony DVD Player as an example:
Step 1. Go get the model of your DVD player. Generally, you can find it on the back of your player which is always a combination of letter and number, such as BP740 or DP542H. If you cannot find it, you can get it on the warranty page.
Step 2. Take down the model and navigate to Video Help, and type in the model number of your player in the search section of "DVD Hacks" panel. This site constantly updates the latest region hack code all over the world.
Step 3. Find exactly the same model as your DVD player, and follow the guide of the Hack instructions step by step. Normally, it will require you to turn on the DVD player and type the code with the remote controller. If it asks you to type in the region code, you shall always type in "Zero" to ensure it will become region-free.
Q5: Why Does My DVD Player Say Wrong Region?
DVD movies and DVD drives always own region codes which are based on the countries where they are sold. For example, a Region 4 DVD cannot be played in the USA (Region 1).
If you want to play DVDs locked with region codes, the most convenient way is to find a reliable DVD to MP4 converter to rip or convert them into region-free digital formats. Check this post for the Best DVD to MP4 Converters for PC/Mac.
Playback prohibited by DVD region codes is annoying. But you can make your locked DVDs playable by removing region codes from DVDs and changing the region codes of your DVD player. If these two methods sound complicated or don't work, try an all region-free DVD player like VideoByte Blu-ray Player.
However, if you want to play your DVDs on any device and anywhere without hassle, removing the DVD codes with the VideoByte BD-DVD Ripper is surely the best solution. Not only can it remove Blu-ray or DVD region code permanently, but it can also help you play DVD videos on a phone, computer, media player, etc. Download it and try it now!
Disclaimer:
This blog is for educational purposes only. It's not recommended to unlock the DVD region code and distribute the content to make money or other commercial usage. Or it may be a violation of laws.