4 Best Ways to Bypass or Remove DVD Region Codes [2023]

BD-DVD Ripper: Best DVD Region Unlocker
It's always annoying to receive a region error when playing a Blu-ray disc or DVD, whether it's on a PC or a disc player. For instance, you may realize that DVDs purchased from Australia can't be played in the United States. That's because these two countries have different region codes. Actually, it's a great method to avoid any possible offense caused by cultural differences. In this circumstance, how can early adopters get their favorite movies?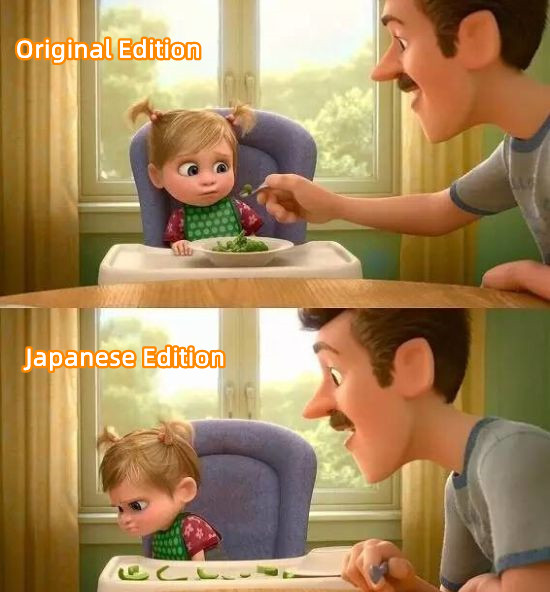 (To cater the audiences in different countries, some films will be partially adjusted in different regions when they are released. As shown above, in the Japanese version of the movie Inside Out, the fragments about broccoli are adjusted to green pepper because Japanese kids generally hate green peppers, not broccoli.)
In this article, you'll learn 4 useful methods including 3 region unlockers to remove DVD region codes and the way of how to change region codes of DVD players, PC, and other devices step-by-step. Furthermore, you can grab some basic knowledge of DVD region codes in the last part.
By the way, if you've known some information about region unlocker and want to find the reliable one at once, you can now download and try VideoByte BD-DVD Ripper, which will remove all region codes for you.
This blog is for educational purposes only. It's not recommended to unlock the DVD region code and distribute the content to make money or other commercial usages. Or it may be a violation of laws.
Method 1. Use Region Unlockers to Remove/Bypass DVD Region Code
To enjoy your favorite movies regardless of the region code restrictions, you're recommended to use powerful region unlockers to convert DVDs to MP4, MKV or other digital formats. Therefore, you can make DVDs region-free, for these converted files will be playable on any media player. As followings, we've picked up the 3 most competitive DVD region code unlockers. Just select the ideal one you like!
Top 1. VideoByte BD-DVD Ripper (Windows/Mac)
VideoByte BD-DVD Ripper
Easy-to-use
⭐⭐⭐⭐⭐
Support OS
Windows & Mac
Handle Copy Protection
All protections including AACS, BD+, Cinavia, ROM Mark, region codes
Input format
Homemade and commercial Blu-ray/DVD discs, folders, ISO files
Output format
Lossless ISO files and folders, 300+ video and audio formats (MP4, MKV, MOV, etc.)
Highlights

√ Keep original quality and can reach 1080p & 4K resolution (1:1 ratio)

√ Keep all audio tracks & subtitles;
√ Support GPU acceleration;
√ Just 3 steps to remove region code smoothly
Here you're highly recommended to choose VideoByte BD-DVD Ripper to bypass Blu-ray or DVD region codes by ripping the discs to the most popular formats. In other words, you can digitalize the Blu-ray disc or DVD to MP4, MKV, MOV, and so on without effort because it only requires 3 simple steps. The converted video will have no region code limitation and you can play it on your smartphone, tablet and other devices you prefer.
VideoByte BD-DVD Ripper is a powerful utility, which can not only remove DVD region codes and rip DVD to more than 300 formats, but also convert the DVD discs without quality loss. All the conversion will be 6X faster owning to its advanced hardware acceleration technology. More importantly, you can keep all the audio tracks and subtitles during your conversion.
How to Unlock DVD Region Code with VideoByte BD-DVD Ripper:
It's super easy to use VideoByte BD-DVD Ripper. Even if you're new to it, you can quickly grasp the usage after having a quick flip through the guide below. See how to bypass Blu-ray or DVD region codes on your computer now.
Step 1. Download the BD-DVD Ripper and load the DVD disc.
Step 2. Select subtitles and audio tracks you prefer.
Step 3. Click "Rip All to" to select your output format. MP4 is the most recommended one for its high compatibility with mainstream media players in the market.
Step 4. Click "Rip All" to start converting. Superfast conversion speed will only take you a time that is shorter than other ripping program. Also, it will ensure the best quality to convert your Blu-ray or DVD to region free files.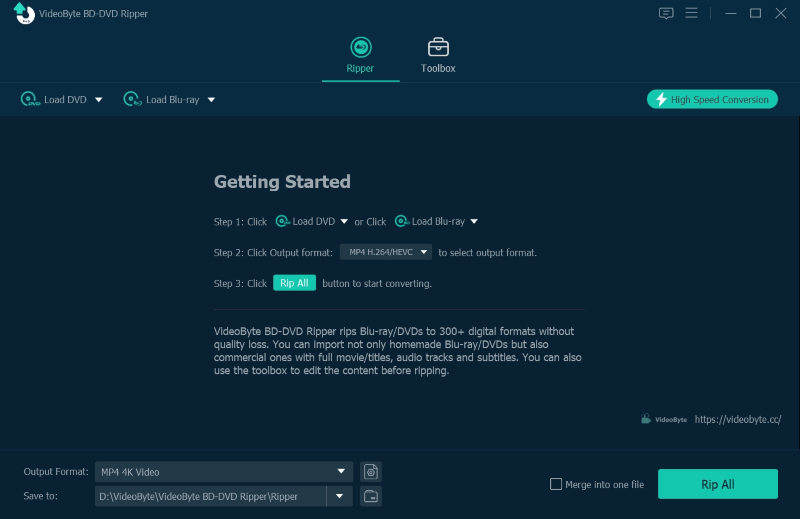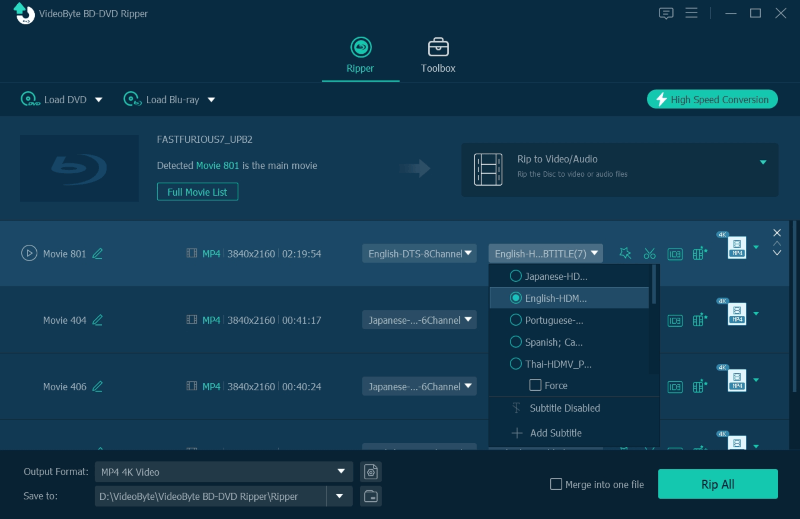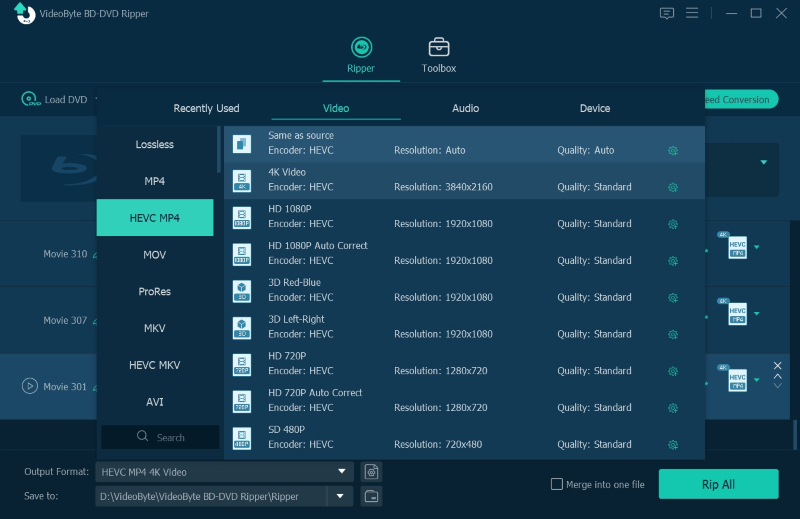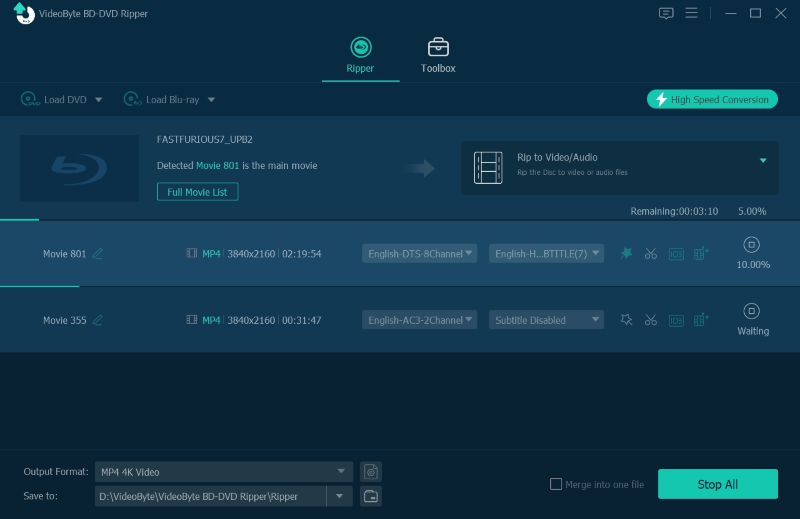 A Video Tutorial on How to Unlock DVD Region Code
VideoByte has just released VideoByte DVD Ripper to be the alternative to VideoByte BD-DVD Ripper. If you just need a tool to rip DVD without ripping Blu-ray features, this lightweight DVD ripper is a reliable choice.
Tips: The only difference between VideoByte DVD Ripper and VideoByte BD-DVD Ripper is the former does not support the Blu-rays.
Top 2. Cisdem Video Converter
Cisdem Video Converter

Easy-to-use

⭐⭐⭐⭐

Support OS

Windows & Mac

Handle Copy Protection

Almost all DVD protections like CSS, RPC, RCE, ARccOS, etc.

Input format

DVD discs

Output format

300+ video/audio formats

Highlights

√ Concise UI
√ Fast ripping speed
√ Also work as powerful video/audio converter to edit or merge media files
Cisdem Video Converter is actually an all-in-one DVD ripper, video converter and online video downloader, which lead to the relatively high price of this software. It supports to rip and convert DVD to standard videos in mainstream video and audio formats such as MP4, MKV, MOV, MP3, M4A, FLAC, AAC and so on.
Moreover, with a concise and intuitive user interface, it also allows directly setting device model as output profile, which makes the ripping process easier. However, it doesn't support Blu-ray ripping at present. You can see how to unlock DVD region with Cisdem Video Converter below:
Step 1. Click "File" > "Add DVD" to start loading the DVD content. Then click on the first of the three middle buttons to step to the ripping option.
Step 2. Choose the title you want. Normally a DVD consists of multiple titles. You can choose the longest one for it's always the main movie.
Step 3. Click the format icon the choose your preferred output format. Finally, click the Ripping button on the bottom right corner to start ripping.
Top 3. VLC Media Player (Optional)
VLC Media Player

Easy-to-use

⭐⭐⭐

Support OS

Windows & Mac

Handle Copy Protection

Some old copy protections

Input format

Blu-ray/DVD discs, ISO files, audio CD, VCD

Output format

Mainstream video/audio formats like MP4, MKV, MOV, WAV, OGG, FLV, MP3, etc.

Highlights

√ Totally free to use
√ Adjust subtitles and audio tracks

√ Also a useful media player to directly play converted DVD content
VLC Media Player is a widely-used multimedia players with various media formats supported. Even for Blu-ray, DVD and other video files, it can deliver high-quality streaming experiences.
As a totally-free and open-source program, it also allows to unlock Blu-ray/DVD region code and play them on your PC smoothly. However, unlike the conventional way to play media files, you have to install an essential AACS dynamic library file in a relatively tricky way, which can help you play some protected DVDs but still will have some failed conversion. See how to play DVD with region code on VLC step by step: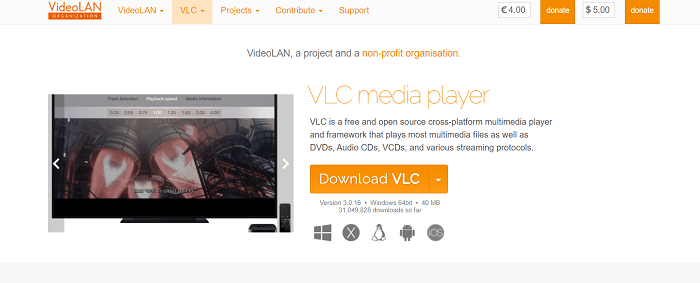 Step 1. Navigate to VLC official site and download the latest version of VLC 3.0. Please note it would be better to keep the default installation path while installing VLC. Otherwise, you can't completely follow the steps below.
Step 2. Go to https://vlc-bluray.whoknowsmy.name/, then download the keys database and AACS dynamic library. And remember to download a corresponding file version for your PC, such as 32bit file for VLC 32bit, and 64bit file for VLC 64bit.
After downloaded, you will get the keys database file (KEYDB.cfg) and the AACS dynamic library file (libaacs.dll)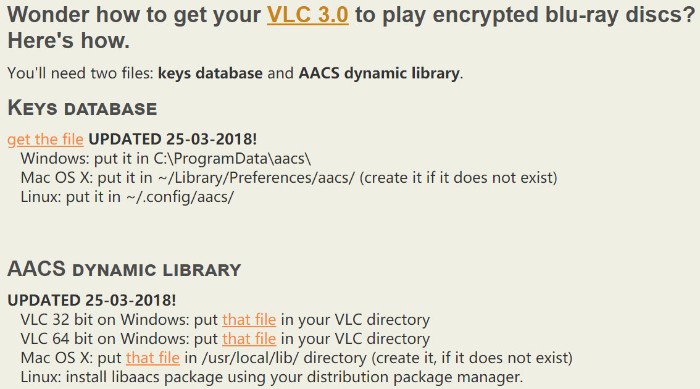 Step 3. Go to "C:\ProgramData", then you need to create a new folder in it and name it "aacs". After that, directly place your downloaded "KEYDB.cfg" file into it.
Step 4. Go to "C:\Program Files\VideoLAN\VLC", and drop your downloaded "libaacs.dll" file into it. If you are running 32bit VLC, you can find your VLC directory in "C:\Program Files (x86)".
Step 5. Now, you can easily launch VLC and use it to play Blu-ray disc on Windows for free. Just need to click on "Media" > "Open Disc" > "Blu-ray".
You might be aware that the lasted version of AACS dynamic library files was updated in 2018, which results that it could not deal with the constantly updated region code technology nowadays. That also explains why some users would still encounter some playback errors after all these files are downloaded and put in the right place.
Therefore, you're highly recommended to use VideoByte BD-DVD Ripper as it always keeps updating and provides the best ripping technology to unlock DVD region code. What's more, unlike VLC media player, you can also try other best free DVD players to directly play protected DVDs without any cumbersome setups.
Method 2. Change Region Code on PlayStation 4
This device also provides 5 times for region change. But new PlayStaion Network account could help you gain more chances as long as you have extra email addresses that hasn't been signed up.
Step 1. Make sure that you have PS4 installed on your computer and launch it. Find "New User" and then create a user.
Step 2. Click to create a new PlayStation Network account and enter a brand-new email account and other details.
Step 3. Select the region you need and accept to agree to the terms of service.
Step 4. Verify your email address.
Method 3. Change DVD Drive Region Code on PC
It's not possible to get the region code of your DVD player device such as Sony DVD player and Panasonic DVD player changed, but you can make your PC DVD player (also known as DVD drive) region free, which would allow you to play region 2 DVDs on PC even though they are bought in Australia.
Nevertheless, you only have up to 5 chances to change the region code for the drive of your PC. This change setting is written into the firmware of the optical drive and the DVD will be limited to the last region code, which means you can only play the DVD with this region code. In this part, we'll tell you how to change region code of DVD drive on both Windows and Mac.
If you want to change the DVD region code on Windows PC. You can do as follows:
Navigate to "My Computer" and then open "Properties" after right click the DVD drive.
Press the "Hardware" button, then "Properties" in the window.
After that, click "DVD Region" and change the DVD region code for your own need, and press "OK" to confirm the command. (Check the region code of your country/area.)
For changing the DVD region on your Mac, please follow the steps below:
Insert the DVD into the optical drive, then select a region for your DVD drive after a dialog box opens.
Make sure which region code is valid and choose it after pressing "Change Region to".
Click "Set Drive Region" and then "Lock" to save the settings. (Check the region code of your country/area.)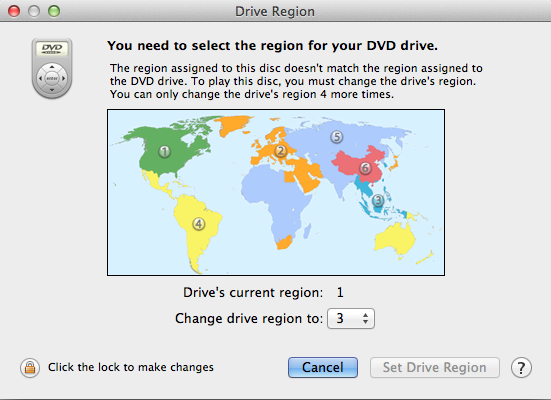 Method 4. Change Region Code of DVD Player on TV
Step 1. Make sure the DVD has already been removed from the DVD player.
Step 2. Press the following keys in succession on the remote control. Different DVD players will have different operations. This is the steps for LG DVD players.
click "Pause".
enter "3141590".
enter a new region code.
click "ok".
click "Pause" key to exit.
Step 3. Return DVD to try playing again. Normally, the incorrect region code DVD can be played now.
Q1: How to Find Region Code on DVDs?
Letters A, B and C are for Blu-ray discs and numbers from 1 to 6 are for DVDs.
If you don't know where the region code is on a DVD, try to look for it on the back of the case of the disc. We've already learnt what region A, B and C stands for, but if yours is marked with region ABC, it means that this disc is region free and you can play it without region restriction.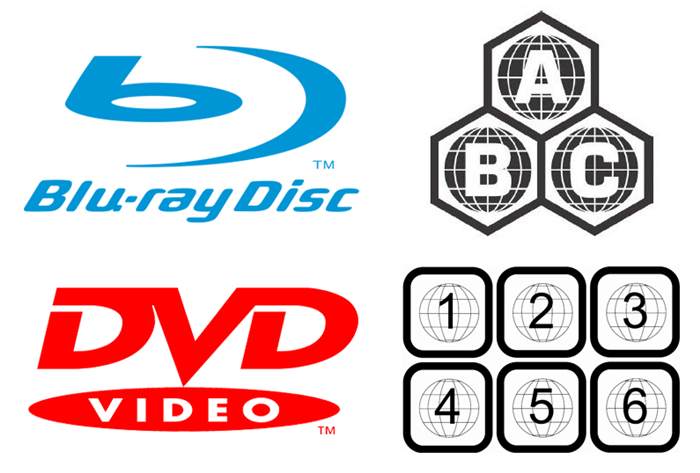 Q2: What is the Region Coding System for DVDs?
Regional Code for DVDs:
Region 1: USA, Canada, Bermuda
Region 2: Middle East, Japan, many parts of Europe, South Africa, GreenLand, etc.
Region 3: South Korea, Hong Kong, Taiwan, Macau, parts of Southeast Asia
Region 4: Australia, Latin America, New Zealand, etc.
Region 5: Eastern Europe, Russia, India, Africa, North Korea, etc
Region 6: Mainland China
Region 7: Reserved for unspecified special use.
Region 8: Special international venues for air and oceanic travel.
Region 0 or Region ALL: Discs are region-free and can be played worldwide.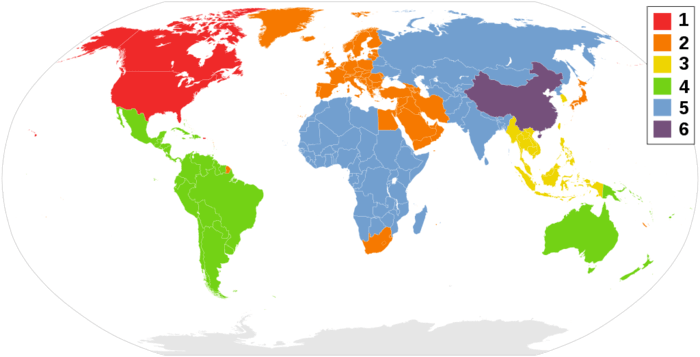 Q3: Is It Possible to Bypass DVD Region Codes on DVD Player?
We can't bypass DVD region codes on a DVD player device but it's possible to do that on the DVD player on our computer. You may try 4 most recommended region unlockers in part 1. Anyway, the most effective way to play a DVD with region code is to use the excellent ripper software like VideoByte BD-DVD Ripper.
Q4: How Can I Make My DVD Player Region Free?
For most DVD player users, it might be upset when you want to play your favorite DVD but find it not match the DVD player you own. However, there is still way that can turn your DVD player into a region free one. The detailed steps will vary from different DVD player models and not all of them could be changed. Take Sony DVD Player as example:
Step 1. Go get the model of your DVD player. Generally, you can find it on the back of your player which is always a combination of letter and number, such as BP740 or DP542H. If you could not find it, you could get it on the warranty page.
Step 2. Take down the model and navigate to Video Help, and type in the model number of your player in the search section of "DVD Hacks" panel. This site constantly updates the latest region hack code all over the world.
Step 3. Find exactly the same model as your DVD player, and follow the guide of the Hack instructions step by step. Normally, it will require you to turn on the DVD player and type the code with the remote controller. If it asks you to type in the region code, you shall always type in "Zero" to ensure it will become region-free.
Q5: Why Does My DVD Player Say Wrong Region?
DVD movies and DVD drives always own region codes which are based on the countries where they are sold. Generally, region codes aim at preventing incorrect playback on regions or areas. If you want to play DVD with region codes, the most convenient way is to find a reliable DVD to MP4 converter to rip or convert them into region-free digital formats.
Region codes on DVD sometimes do bring you a little trouble but there is always a way as long as you maintain in good a state of mind. Comparing all the methods listed above, you would find that using the VideoByte BD-DVD Ripper is the most convenient and functional one that is of great help. Not only can it bypass Blu-ray or DVD region code on both Windows and Mac system, but also it can help you edit the video to a perfect one. If you don't want to purchase another DVD player, then removing the DVD region code by ripping them to digital will be a great way to watching DVD on TV.