This feature tends to find ways for people searching for Blu-ray player on the laptop. First of all, a smooth Blu-ray watching asks for two essential items: Blu-ray player software and hardware. This depends on the Blu-ray compatibility with your laptop or media player. It should admit the fact that by now no internal computer drive is entrusted with Blu-ray decoding capaibility. That means you are in need of Blu-ray hardware, namely an external Blu-ray drive, if you get a piece of Blu-ray disc. However, no matter you get a Blu-ray ISO file, BDMV folder or Blu-ray disc, a kind of Blu-ray player software is essentially required on your laptop. Here we divide the content into two parts: Blu-ray player sofware and external Blu-ray player.
External Blu-ray Player for Laptop (for Blu-ray Disc)
Blu-ray disc only works with the specific drive. As the laptop drive is not Blu-ray supported, an external Blu-ray player should be the ultimate choice. Pay attention that you cannot rely on the household DVD player to read Blu-ray disc, but the external Blu-ray player can do a DVD player's work. You then can contrast three useful external Blu-ray players for laptop in terms of price and performance.
To start with, you can consider MthsTec at the economic level. It only costs $74, the lowest I have found by now, to purchase from Amazon. With 12 ounces in weight and 5.7 x 5.9 x 0.7-inches in size, this external Blu-ray player supports to read and write Blu-ray, DVD and CD discs. It can run from a standard 6x speed to the maximum speed up to 10x faster via USB 3.0. You don't need to avail an extra AC adaptor or driver as it equals the whole work.
Pioneer's BDR-XD05B is a nice external Blu-ray player for Windows. It charges with at least $100 on Amazon with a clamshell design, and shares 8.2 ounces in weight and 5.24 x 5.24 x 0.58 inches in size. It runs at 6x speed on one quad-layer BDXL disc. The highlight is that it features an Auto Quiet mode and related BDXL CyberLink Software.
Instead, Sea Tech shows full compatibility with Mac. It also supports to read and write Bly-ray, DVD, and CD disc, characterized by 15.2 ounces in weight and 8 x 7.4 x 1.9 inches in size. Moreover, you can get access to a third party software on both Apple desktop and laptop. Unavoidably, it performs not so pleasant in auto-quite, and normally it runs at a standard 2x playback speed and an average 6x writing speed. You should pay $94 for this external Blu-ray player for laptop.
These are three useful external Blu-ray players for laptop. You can choose one at the request of your laptop. Then let's know more about Blu-ray player software.
Blu-ray Player Software for Laptop
As mentioned earlier, getting the Blu-ray player software for laptop is an essential step for Blu-ray ISO image file, BDMV folder and Blu-ray disc. Pity to say, more often the common media players lack Blu-ray decoding competence. Or the player falls short in presenting the high definition picture of Blu-ray, at least not as agreeable as expected. As such, you may try with this Blu-ray player for laptop: VideoByte Blu-ray Player.
VideoByte Blu-ray Player perfectly takes on the role as a professional Blu-ray player, providing lossless video and audio effect. Thoughtfully, it won't occupy too much space on your laptop. Better off, this software holds compatibility with quite a lot of formats for common audio and video, and HD video so that you even can take it as your default media player. A great strength lies where you can do the video processing work such as adjusting track, subtitle, and screen size and so on. It runs smoothly on Windows and Mac operating system. The whole Blu-ray process is simple as below.
Step 1. Enter the Main Interface
Launch the Blu-ray player software. A user-friendly interface shows up in its clear design. You can see two striking functions: "Open File" and "Open Disc".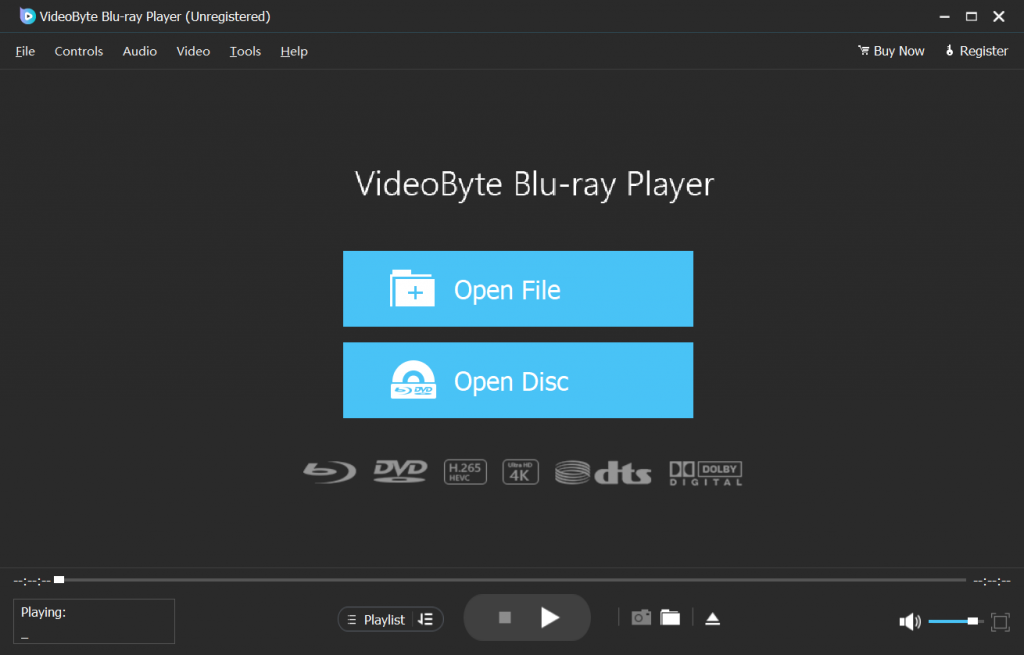 Step 2. Open Blu-ray ISO Image File, BDMC Folder or Blu-ray Disc
For Blu-ray ISO image file or BDMV folder, click "Open Disc", and then select the determined file. For Blu-ray disc, first insert the disc into external Blu-ray player that is connneted to your laptop. After loading, click "Open Disc" and select the disc.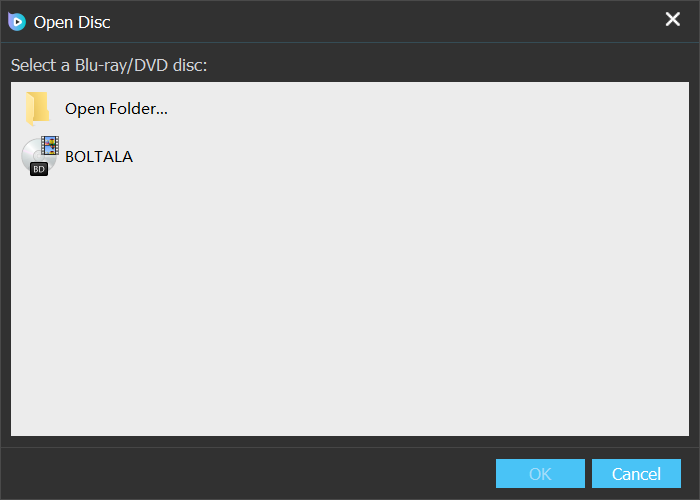 Step 3. Play Blu-ray Video on Laptop
Then you will naturally lead to Blu-ray playback. If you are in free trial period and not registered, watermarks appear along with playback.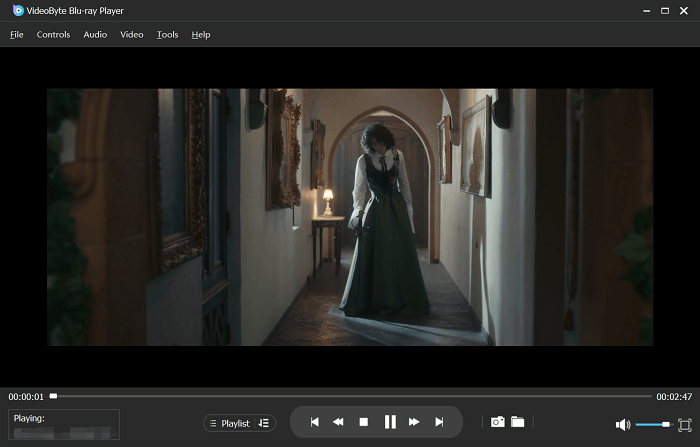 Now you must grasp the skill of this Blu-ray player software for laptop. The whole process is simple to handle and won't take you too much time. Try to do it for yourself.