What is Region 2/4/1 DVD? [Overall Introduction]
"When I purchased a DVD disc and was ready to play it on my DVD players, I can only meet the playback failure, with a region code printing on the disc. What exactly does this region code mean? How can I play my disc successfully?"
Today, many commercial DVDs are encrypted with region codes, which are a kind of technologies used to protect the copyright of the DVD content. However, the restricted DVD streaming experience would cause playback failures sometimes, especially when you are trying to play the DVDs with an exact region code applied. The most commonly-seen DVD region codes are region 2, region 4, and region 1.
So what exactly these DVD region codes are standing for? How can I play a DVD with a region code encrypting? This blog will answer all these questions for you.
Today, when people are paying increasingly high attention to protect the copyright of media content, almost all DVD you can purchase on the market will be encrypted with region codes.
Yes. Region code is a technical measure employed to encrypted DVD content, preventing illegal users from copying or double-selling the discs, which would cause unimaginable loss to the original creators. As its name goes, based on different numbers, the region codes will stand for different regions in which you can play the DVD discs directly using a qualified DVD player. Here is the full list of all the DVD region codes and their available regions:
Region 1: United States (incl. Puerto Rico), Canada, and Bermuda
Region 2: Europe (without Belarus, Russia, Ukraine and CIS), Greenland, British Overseas Territories, Overseas France, Turkey, Middle East, Egypt, Tunisia, Eswatini, Lesotho, South Africa, and Japan
Region 3: Southeast Asia, South Korea, Taiwan, Hong Kong, and Macau
Region 4: Latin America (except French Guiana and Puerto Rico), Caribbean (except French West Indies), and Oceania (except French Polynesia, New Caledonia, Wallis and Futuna, and Hawaii)
Region 5: Africa (except Egypt, Tunisia, Lesotho, Eswatini, South Africa, Mayotte and Réunion), Russia, Belarus, Ukraine, Central Asia, South Asia, Mongolia, and North Korea
Region 6: Mainland China
Region 7: Not assigned
Region 8: Special International Venues (airplanes, cruise ships, etc.)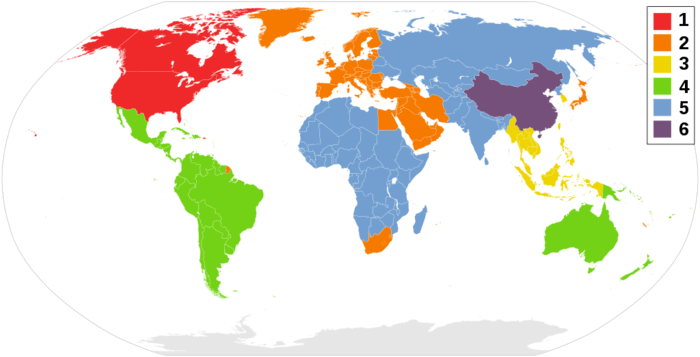 You may also notice DVDs labeled with Region 0/All. This means that the discs are not encrypted with any region code and you are able to play it in all countries and using any DVD players. Hence, if your DVD disc is showing as region 0/all, just enjoy it for free!
Can I Play Region 2/4/1 DVDs in Other Countries?
Unfortunately, when the DVD disc is encrypted with region code 1, it can only be played within United States, Canada, and Bermuda. If you are staying in France, you won't be able to access the region 1 DVD and view its content at all. But when you are staying in France, region 2 DVDs can be played directly! Likewise, if you get a DVD disc of region code 2 or 4 encrypted, make sure you are staying in the regions where are compatible with the DVD playback. Otherwise, you will fail to enjoy the DVD content successfully.
How to Play DVDs Without Region Code Limitations?
DVD region code limitations will prevent us from streaming DVD media in flexible ways, and some of you start wondering if there are ways to get rid of their restrictions and enjoy the DVD playback freely. Actually, you have two ways to do it.
Way 1. Use Region-code Free Player
The simplest method to play DVDs without being restricted by DVD region codes is to find a DVD player that can read all of them and provides the playback. VideoByte Blu-ray Player is such software.
VideoByte Blu-ray Player
supports decoding all types of Blu-ray as well as DVD discs, even those with region codes or other encryption methods. Only by inserting the disc to your computer and opening VideoByte Blu-ray Player to read the disc, you are able to enjoy the streaming without changing region codes. As the software is able to bypass all DVD region codes, so even when you are not staying in the regions defined by region code 2/4/1, you are able to use VideoByte Blu-ray Player and play the disc.
Note: Currently, VideoByte Blu-ray Player Mac version only supports Blu-ray discs and digital videos playback. To play DVD without region code restrictions freely, you need to download its Windows version.
Way 2. Rip Region Codes off DVDs
Another effective way to play DVDs without being limited by the region codes is to rip them off the discs first. With
VideoByte BD-DVD Ripper
, you are able to strip the region codes and convert DVDs to common video/audio files, then play them using any media players instead of finding a DVD hard drive or DVD player.
The software is able to preserve full quality, original audio tracks and subtitles, so you are sure to grasp an equally-same DVD streaming experience after completing the ripping. With VideoByte BD-DVD Ripper, you no longer need to worry about the DVD region codes, but directly rip the protections and get DVD videos for streaming in flexible ways.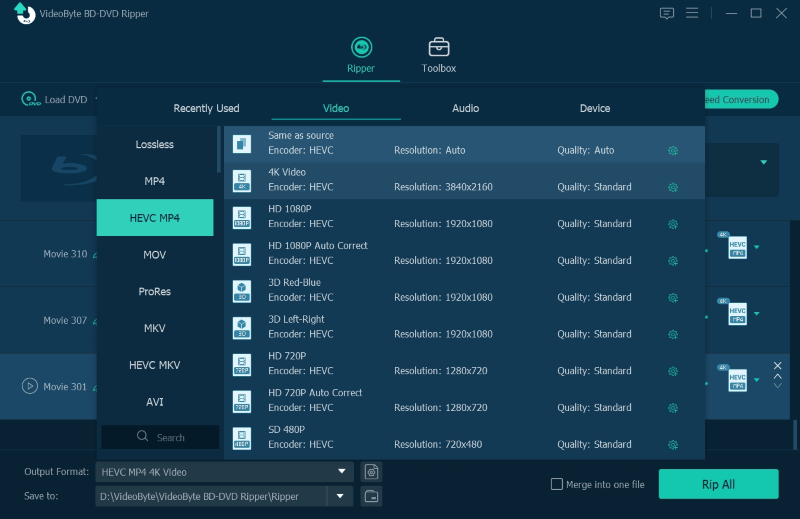 FAQs: More About Region Codes
Here are some extra tips provided for you to grasp more knowledge about region codes.
Q1. Does Blu-ray Disc have region codes?
A: Blu-ray Disc doens't have region codes, but it also invents a similar encryption method to protect Blu-ray content. Like DVD, which uses numbers to define protection, Blu-ray Disc will use letters to indicate the regions where it can be streamed. The region codes of Blu-ray Discs are listed here:
Region A: North America, South America, U.S. Territories, Japan, South Korea, Taiwan, and other areas of Southeast Asia
Region B: Europe, Africa, Middle East, Australia, and New Zealand.
Region C: Asia (except for Japan, Korea, Taiwan, and other areas of Southeast Asia)
Q2. Can I play region 2/4/1 DVDs on devices like PS4 or Xbox?
A: Unfortunately, as PS4 and Xbox are not compatible with decoding the DVD region codes, it is not possible to play the discs content on such devices currently.
Q3. How to know the available regions of my DVD?
A: Normally, the region code will be printed on your DVD disc. So just check the disc itself. When you find the region code, you will clearly know what regions support playing the disc.
Do you know more about DVD region codes now? Such tech does ensure the security of the media content, but it sometimes causes inconvenience for users to play the disc. Hence, if you desire to enjoy region-code-protected DVDs without limitations, download
VideoByte BD-DVD Ripper
below and try it now. Also,
VideoByte Blu-ray Player
Windows version can work.