Blu-ray Regions Codes: Are All Blu-ray Discs Locked?
When you want to play Blu-ray discs, you may notice the phrase: Blu-ray region codes. As the region codes are specific to certain geographical locations, a Blu-ray or DVD disc can typically only be read and played by a Blu-ray or DVD player that was manufactured and/or intended for use in that same specific region. So, here we are going to tell you the information about Blu-ray Regions to help you enjoying Blu-ray movies freely.
Blu-Ray Regions Information
If you just begin to play Blu-rays, you may know little about the region codes. Therefore, we'll provide you with some useful information about Blu-ray region codes and help you play Blu-rays smoothly.
What is Blu-ray Region Code?
Region codes are pieces of data that are embedded into Blu-Ray and DVD Discs to restrict their uses. This data, or region code, is read by the player and if it doesn't recognize the region code as compatible or local, the disc will not play.
Usually, Blu-ray regions have been separated in three different zones. Check it below:
Region A: North America, Central America, South America, Japan, Taiwan, North Korea, South Korea, Hong Kong and Southeast Asia.
Region B: Europe, Greenland, French territories, Middle East, Africa, Australia and New Zealand.
Region C: India, Bangladesh, Nepal, Mainland China, Pakistan, Russia, Central and South Asia.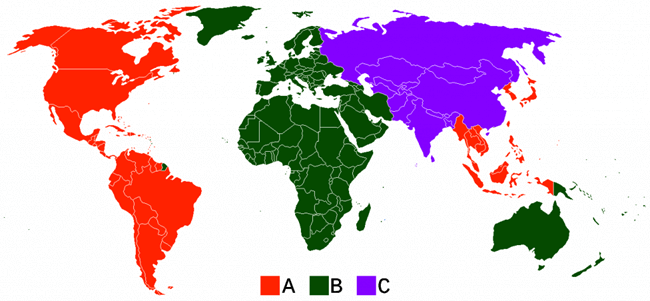 Where to Find the Region Code of My Blu-ray/DVD Discs?
Now you've known what region codes are, but how to find your discs' region codes? Well, the region code is always printed on the disc box. You can view the pictures for reference:
It means the Blu-ray disc is region-free. If you find a single "A" on the box, the Blu-ray is locked with region code A. You can then easily know what Blu-ray region code your discs are with.
Actually, many Blu-ray discs have been encoded to support all regions virtually now. That's to say they are region-free. And you can play the region-free discs on any area of the world. To find out if a specific Blu-ray Disc is region-coded or region-free - check out the comprehensive listings at Region Free Movies.com.
Why Do Blu-ray Discs Have Regions?
For the film industry, the area code is to protect the rights and interests of films in various regions and it prevents the occurrence of piracy in this regard. At the same time, due to cultural differences, the content tabooed by each country is also different. This also makes sense that some video content is not allowed to be played in some countries. In avoiding unnecessary disputes, the region code plays a big role.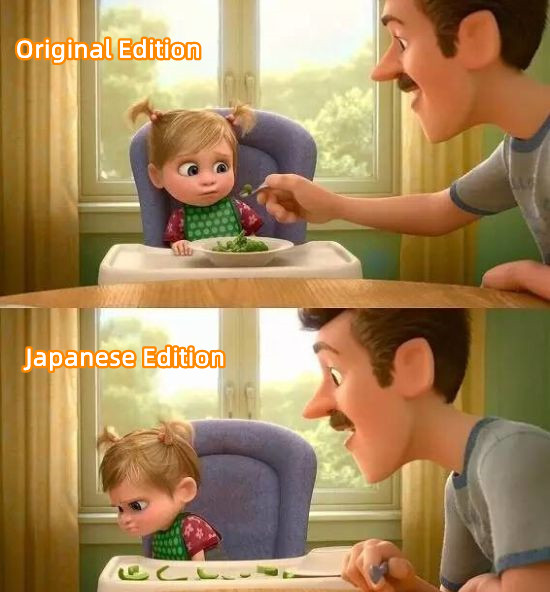 (To cater the audiences in different countries, some films will be partially adjusted in different regions when they are released. As shown above, in the Japanese version of the movie Inside Out, the fragments about broccoli are adjusted to green pepper because Japanese kids generally hate green peppers, not broccoli.)
However, with the restrictions of region codes, it is inconvenient for disc collectors to play discs from different countries. Fortunately, it is not impossible to unlock region code of DVD and Blu-ray discs. People have discovered many ways such as updating the player hardware, turning the player into one that can modify the region code indefinitely, or removing the region code by decrypting the disc to digital formats. To achieve this, using an excellent ripper is vital.
FAQs About Blu-ray Region Codes & Playing Blu-rays
You may still have some questions concerning Blu-ray region codes & playing Blu-rays on Mac/PC. Here we collect some common questions and offer you the answers.
Are all Blu-rays region free?
Though we've mentioned that many Blu-rays are now region-free, some other Blu-rays are still locked. For those region-free Blu-rays, you can play them on all Blu-ray player programs, while others need a powerful Blu-ray player to bypass Blu-ray region codes and play the discs well.
Can I play a Blu-ray on my laptop?
You can play Blu-rays on the laptop if you use the Blu-ray drive and an appropriate Blu-ray player software. If you don't know which Blu-ray player is reliable, VideoByte Blu-ray Player will be a good choice, which can bypass all Blu-ray region codes.
Do 4K UHD Blu-ray discs have region codes?
No. All UHD Blu-ray discs are region-free no matter where you purchase them, which means you only need a player that supports Ultra HD Blu-ray to play the discs.
In all, if you play UHD Blu-ray or other region-free Blu-ray discs, you can use any Blu-ray player to help you. But what if you have some Blu-ray discs with region codes that cannot be supported by your Blu-ray player software to play? The next part will introduce the Blu-ray player software that ignores all region codes to you.
Guide - Play Blu-ray Discs without Region Restriction
With VideoByte Blu-ray Player, you can play any commercial Blu-ray disc released in any region. Actually, this Blu-ray player supports any Blu-ray disc, Blu-ray folder, Blu-ray ISO playback on computer for watching. And it isn't restricted by the region codes. To get a Blu-ray disc play on your computer, you need to do some preparation.
A Windows or Mac PC
An external Blu-ray drive
VideoByte Blu-ray Player
Internet connection
Blu-ray disc
Now you can refer to the simple guide on how to play Blu-ray with VideoByte Blu-ray Player.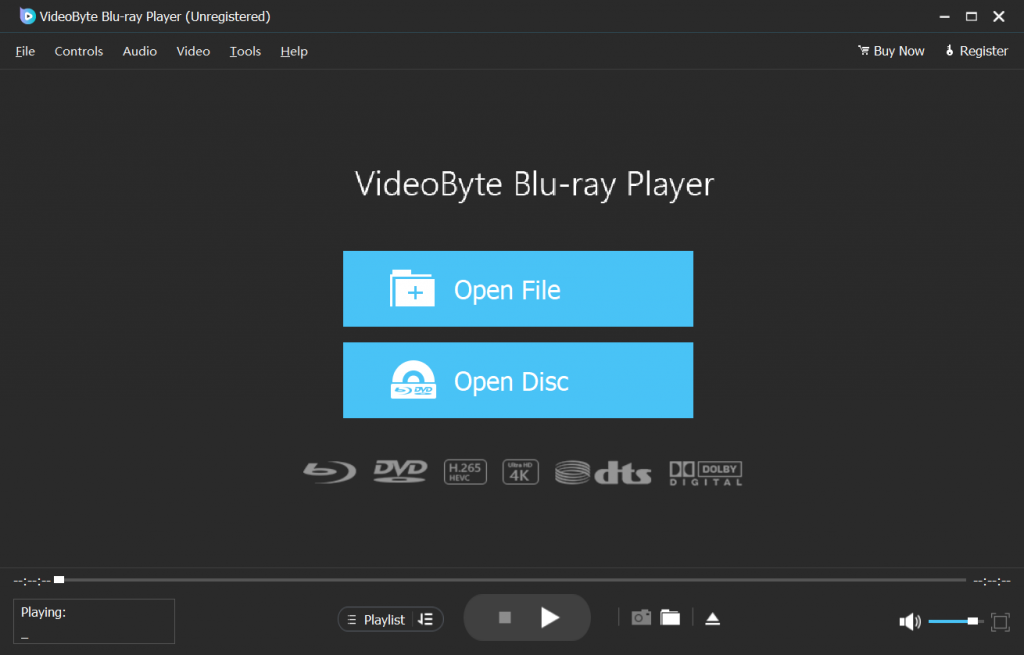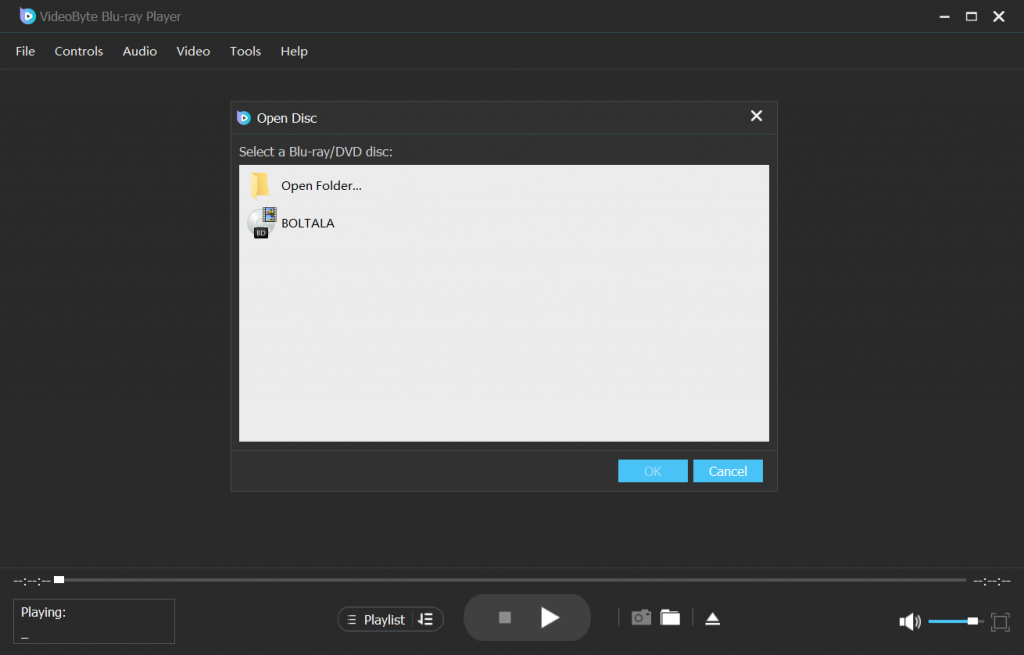 Step-by-Step Tutorial Video on How to Play Blu-ray Discs
Blu-ray region codes are not that complex. After reading this post, you would know different Blu-ray region codes on your Blu-ray discs. Besides, if you want to play every Blu-ray smoothly without region restriction, you can try
VideoByte Blu-ray Player
, which can play all Blu-rays on the computer for you.