The invention of UHD 4K Blu-ray is disruptive across the video industry. People especially movie fans, are getting crazier and crazier about watching Blu-ray films in 4K resolution. But for portable viewing, the computer and external Blu-ray drive is inconvenient to carry along with you, so maybe ripping 4K Blu-ray to many portable devices is a better choice.
However, how to rip 4K Blu-ray and convert it easily and conveniently remains a question. Don't worry! This article can help you deal with it. Follow the passage and you can safely find a solid solution to this 4K Blu-ray ripping and converting problem.
If you have read the passage so far, you probably have had some idea of how to rip 4K Blu-ray. Go and get VideoByte BD-DVD Ripper at once, and follow the walk-through above to rip your favorite UHD 4K Blu-ray. MakeMKV is also a helpful tool for you. Soon you can fully enjoy Blu-ray disc on portable devices whenever and wherever!
Disclaimer: Copyright laws vary worldwide, which means removing DRM can be illegal in some countries (even for the purpose of making a personal backup of a disc). Make sure you have read up on the laws in your area before using a 4K ripper for personal use. Besides, don't use such 4K Blu-ray ripping software to share content or rip discs you don't own.
Preparation for Playing 4k Blu-ray
Let's first learn about the preparation for successfully playing 4k Blu-ray in a common way. Conventionally, there are three necessary devices:
· Ultra HD Blu-ray Discs
· Ultra HD TV
· Physical 4K Ultra HD Blu-ray Playe
The UHD TV must support HDMI 2.0 standard and beyond. Otherwise, it will only display 1080P videos instead. But the latter two items are not easy to get. And sometimes, you may find it troublesome to watch 4K Blu-ray movies only on TVs.
For better Blu-ray enjoyment, it is highly recommended that you should get a 4K Blu-ray ripper and converter to convert 4K UHD Blu-ray into any video format of high quality and played on any portable device anytime.
A Super-fast UHD 4K Blu-ray Ripper to Any Popular Format
Ripping UHD 4K Blu-ray is not an easy job partly in that it is imposed higher and stricter encryption to protect the commercial 4K Blu-ray from being illegally copied. Even so, VideoByte BD-DVD Ripper stands out as the best UHD Blu-ray ripper with professional commercial Blu-ray ripping.
Available to rip Blu-ray/DVD discs of all types;

Boost the ripping process to be 6X faster;

300+ mainstream video/audio output formats;

Output videos/audios without quality loss;

Preserve all subtitles and audio tracks;
Supported OS:
Windows 10/8/7/Vista/XP (SP2 or later); Mac OS X 10.7 or above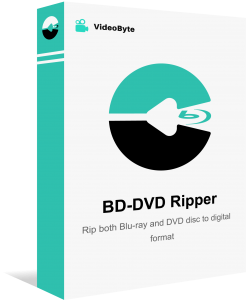 One of the bright spots of VideoByte BD-DVD ripper is that it can easily convert UHD 4K Blu-ray into 4K MKV, 4K MP4, 4K WMV and other formats in UHD resolution without compromising video quality, so much as that it presents an ultra-pleasant visual feast. It supports Windows and Mac. Free to download the tool and start to rip UHD 4K Blu-ray. No matter which system you use, Windows or Mac, you can launch this ripper on your computer.

Moreover, you can do some simple editing of the 4K Blu-ray you have ripped and converted. You can edit the DVD or Blu-ray movie with the build-in video editor, which allows you to cut, crop, rotate, merge, adjust effects, add filter and add watermark.

If you are advanced users who want to adjust the settings on your own for better compatibility, you can use VideoByte BD-DVD Ripper to adjust resolution, aspect ratio, bitrate, frame rate, video encoder, audio channels, sample rate, audio encoder, etc. to tailor ripped Blu-ray/DVD movie.

Besides, with a user-friendly interface, you can get started the moment you run VideoByte Ripper. All settings mentioned above can be easily found on the interface.

Free to download the tool and start to rip UHD 4K Blu-ray.
If you prefer watching 4K video on portable devices, please make sure your laptop/smartphone has a 4K-supported screen; otherwise your digital devices will still play the 4K video in lower resolution.
How to Rip UHD 4K Blu-ray with Blu-ray Ripper
It's never hard to use VideoByte HD-DVD Ripper. Here is a quick guide for you to rip and convert a target UHD 4K Blu-ray disc with it.
The Windows version of VideoByte BD-DVD Ripper released a new version which has big changes compared with the old version. But the new version for Mac is still under development. That means the interface and the operation of Windows and Mac will be different.
Step 1. Install the Program
Click the download button respectively for your Windows or Mac. Follow the installation instructions and then you can successfully open it by double-clicking its icon.
Step 2. Load Your UHD 4K Blu-ray
Load a Blu-ray disc into your external Blu-ray drive. On the interface, press the upper left button "Load Blu-ray" and load the UHD 4K Blu-ray that you want to rip.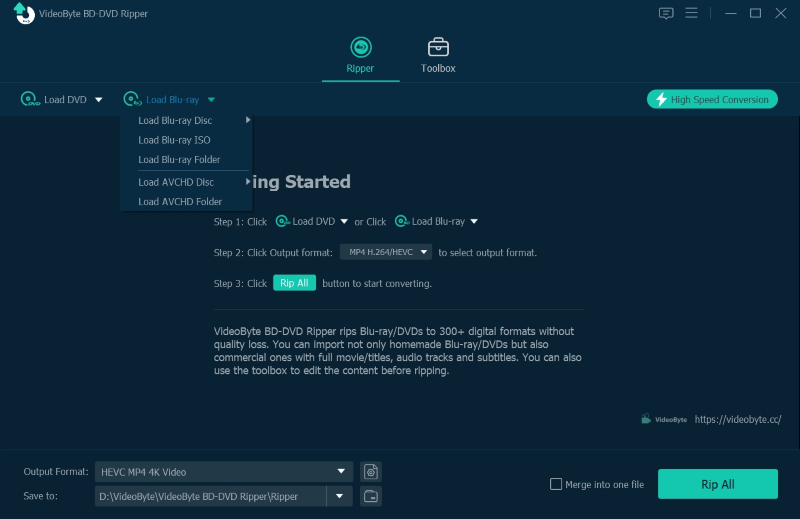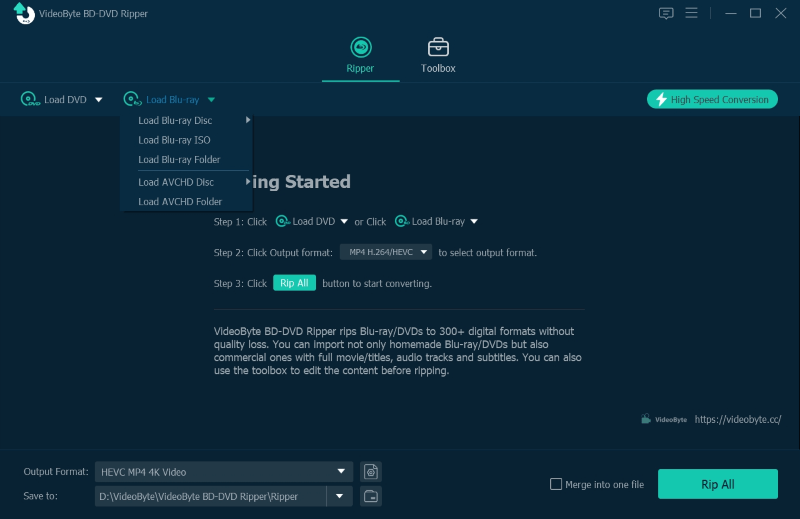 Step 3. Select a Preset Profile in "4K Video"
Navigate your mouse to the "Rip All to" field. On the drop-down menu, it appears a long list of output formats. Choose a video format such as MP4 and you can find the "4K Video" option.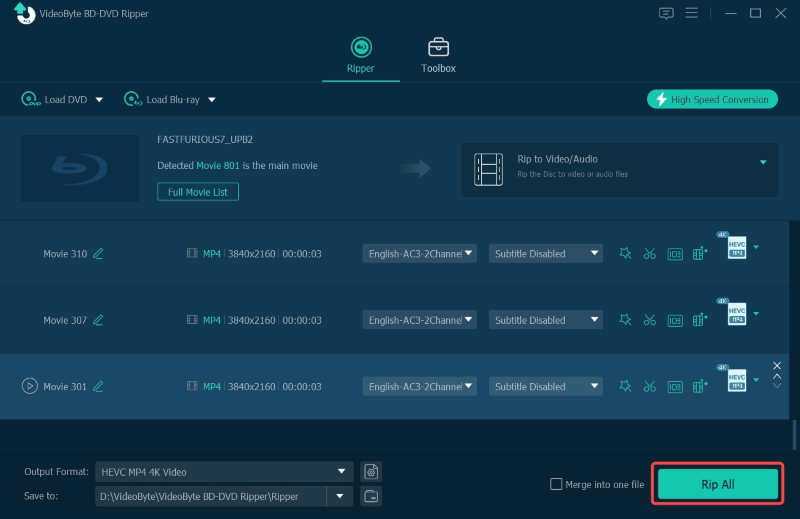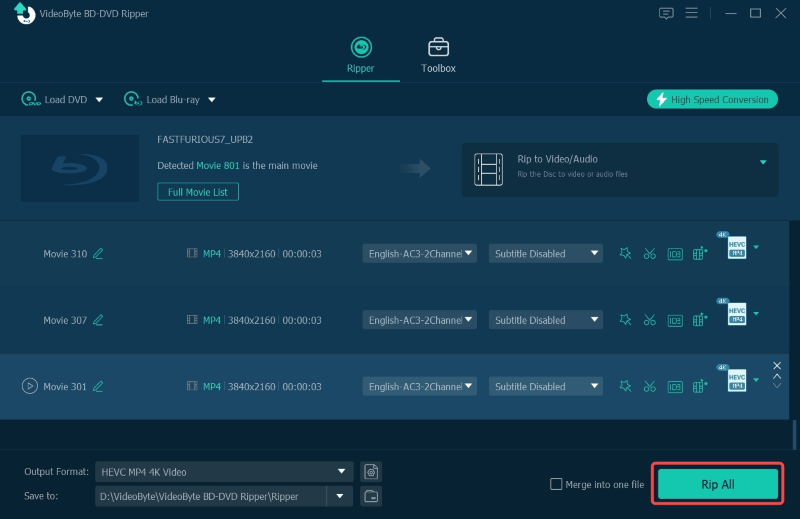 Step 4. Make Configurations of Profile
Go ahead with the "Settings" icon. On the following pop-up window, you can make preferences of resolution (you can also descend the 4K Blu-ray to 1080p), bitrate, frame rate, and audio channels, etc. 3D effects are also available.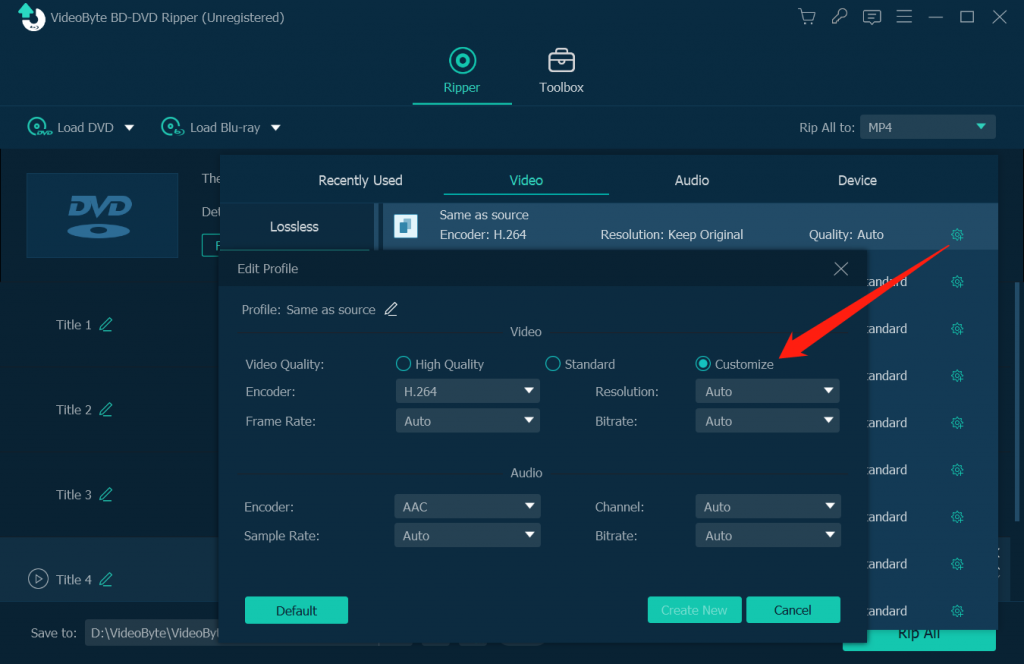 Step 5. Hit "Rip All" to Start Converting
Now just go straight to "Rip All" on the bottom left corner on the main interface. It will immediately begin converting.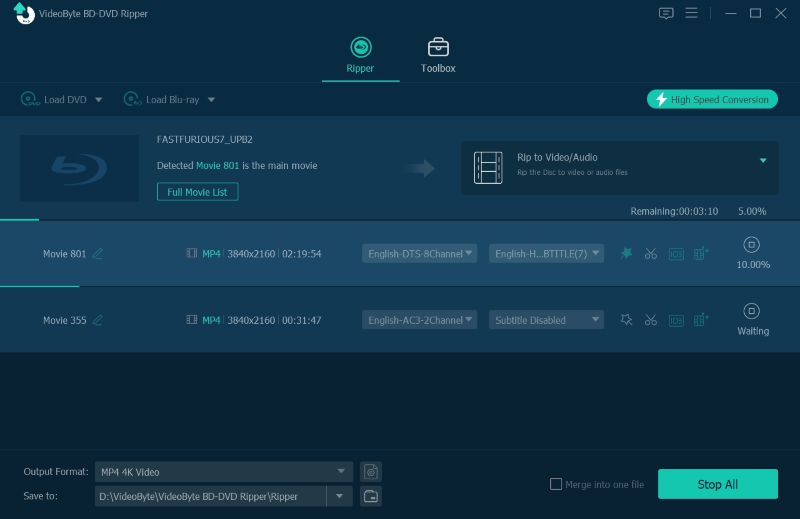 If you want to clip some contents that you do not want to be included in your ripping or make some adjustments to the screen picture, like watermark, brightness, contrast, saturation and so on. Just click "Cut" and "Edit" respectively to the right of "movie list" on the main interface
You can check the detailed tutorial in this video.
Use MakeMKV to Rip UHD Blu-ray
VideoByte BD-DVD Ripper is not the only program that can rip and convert 4K Blu-ray to digital. MakeMKV is a useful Blu-ray/DVD ripper, too.
MakeMKV is mostly known to people as being in beta for years. Compared to VideoByte 4K ripper, it only offers one output format - lossless MKV. MakeMKV 4K ripper rips and converts Blu-ray/DVDs to lossless MKV containing all the original data from the discs without compression. You can use it for free to rip UHD Blu-ray.
MakeMKV is only free while in beta, but it requires the beta key. You need to use the latest beta key whenever it asks you to register (ususally once a month). You can purchase a license for $50 if you think it annoying. Install MakeMKV and open the program, and enter the key when prompted (or enter it later under the Help > Register menu).
In this part, we'll offer you a simple guide on using MakeMKV 4K ripping software for ripping 4K movies. Just check the following steps.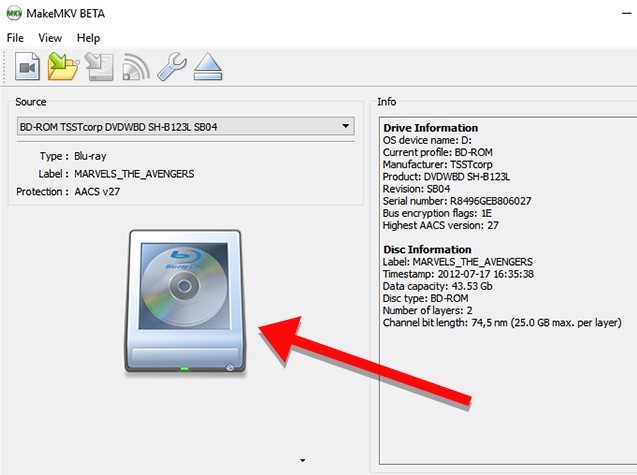 Step 1. Download MakeMKV and install it on your computer.
Step 2. Insert the 4K Blu-ray disc into your Blu-ray drive.
Step 3. Click on the optical drive icon that appears after the program detects the 4K Blu-ray disc to allow MakeMKV to load the content in the disc to the program.
Step 4. Check the box in front of the content you need to select them. All the selected content will be saved to the MKV video.
Step 5. Select the place you'd like to save the MKV video in the output directory box on the right side.
Step 6. Tap the MakeMKV button on the right to let MakeMKV start ripping 4K Blu-ray movies to lossless MKV.
After these steps, you can easily rip UHD Blu-ray via MakeMKV.
If you have read the passage so far, you probably have had some idea of how to rip 4K Blu-ray. Go and get VideoByte BD-DVD Ripper at once, and follow the walk-through above to rip your favorite UHD 4K Blu-ray. MakeMKV is also a helpful tool for you. Soon you can fully enjoy Blu-ray disc on portable devices whenever and wherever!