To protect your important Blu-ray investment, ripping Blu-ray movie to PC is a good choice. But if you choose a pretty bad Blu-ray ripper or do not rip Blu-ray properly, you might also come across some difficulties. Here are some common questions that are frequently asked by those who are driven mad in ripping Blu-ray:
"My Blu-ray movies have strict copy protections. Can the Blu-ray ripper safely encrypt them?"
"Is this Blu-ray ripper able to rip and convert a 2-hour Blu-ray movie within 30 minutes?"
"Can I have a full backup of Blu-ray movie to PC with lossless quality?"
"Can I insert an external subtitle track and audio track to replace the original one? What should I do in order to achieve the effect?"
……
If unluckily you have met with the same questions above or many other questions outside of the list, please don't worry and proceed reading. We will settle your problems by introducing an efficient way. By following the steps, you can easily convert your Blu-ray movie to PC and have a magnificent visual feast.
Recommend Guide: How to Rip the Blu-ray Movie to PC with Easy Steps
There is indeed a variety of Blu-ray ripping software, but many of them come out to be not as great as they claim to be. Along the path of testing which ripper is the best or most satisfactory one, VideoByte BD-DVD Ripper might be the end of your journey after you try it.
VideoByte Blu-ray Ripper is highly recommended because it is outstanding in many vital features in ripping, converting, and backing up Blu-ray movies to PC.
Encryption capabilities should be the first concern when it comes to picking Blu-ray ripping tool. And VideoByte BD-DVD Ripper never fails in settling this issue with its advanced protection circumventing technology.
Apart from that, it boasts a high conversion and backup speed propelled by its AMD APP, NVIDIA GPU, and Intel acceleration.
Abundant in input and output profiles, it is able to backup or converts Blu-ray to PC into any video format with the same quality as it is in the original file.
On top of that, As it satisfyingly supports Blu-ray movie customization, it offers the options to add the external subtitles and audio track as well as to polish the video by trimming and editing.
Click the below button to download the best Blu-ray ripper to your Mac/Windows.
In the following part of the passage, you are going to learn how to use VideoByte Blu-ray Ripper to convert Blu-ray movie to PC effortlessly.
The Windows version of VideoByte BD-DVD Ripper released a new version which has big changes compared with the old version. But the new version for Mac is still under the development. That means the interface and the operation of Windows and Mac will be different.
To know the details about the new version, you can read on the article: A New Version for BD-DVD Ripper (Windows) Released! See What Changes
Step 1. Launch the Blu-ray Ripper and Insert the Blu-ray Disc
Fire it up after installing the software. Then pick up the Blu-ray movie disc that you want to rip to PC, and insert it into your external Blu-ray drive that is finely connected to your laptop.
Step 2. Load Blu-ray Movie
VideoByte BD-DVD Ripper actually also supports ISO image file from a virtual drive as well as Blu-ray folder. Turn to its main window, press the "Load Blu-ray" button on the upper left to load the Blu-ray disc.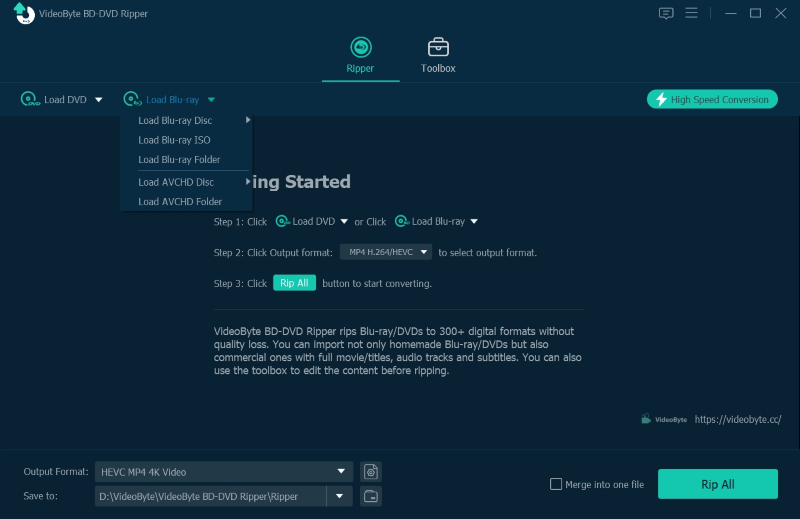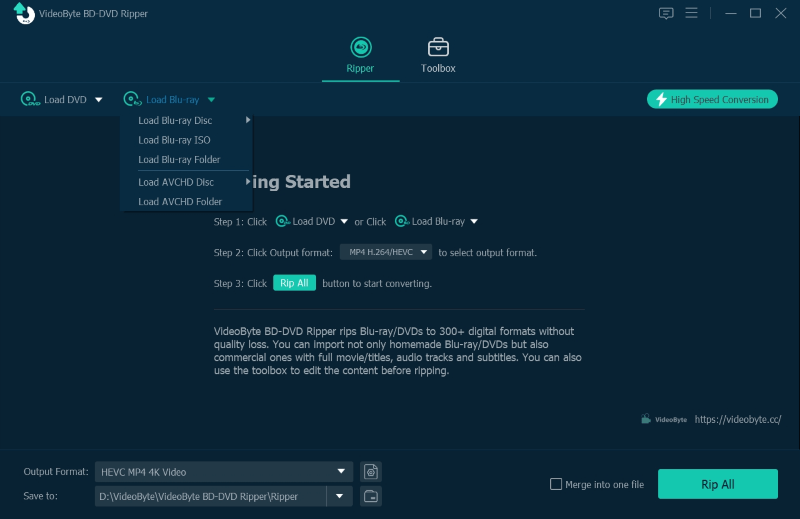 Step 3. Select an Output Profile
Drop down the "Rip All to" menu to select an output profile among a list of preset video formats. These formats are categorized based on various digital devices, including PC and portable devices. Select the one that suits you.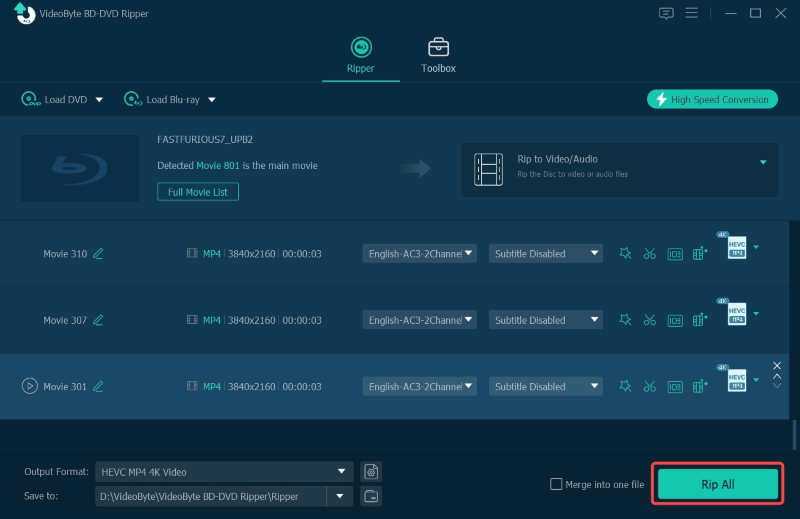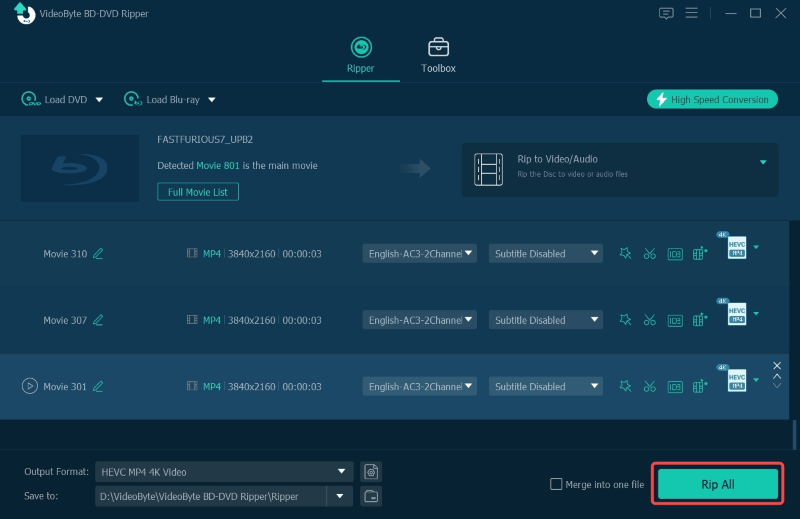 Step 4. Make Settings and Start Ripping Blu-ray to PC
After making a selection on the output format, turn back to the main interface and head with "Settings". It will pop up a window where you are able to tweak some configurations, such as video resolution, frame rate, etc.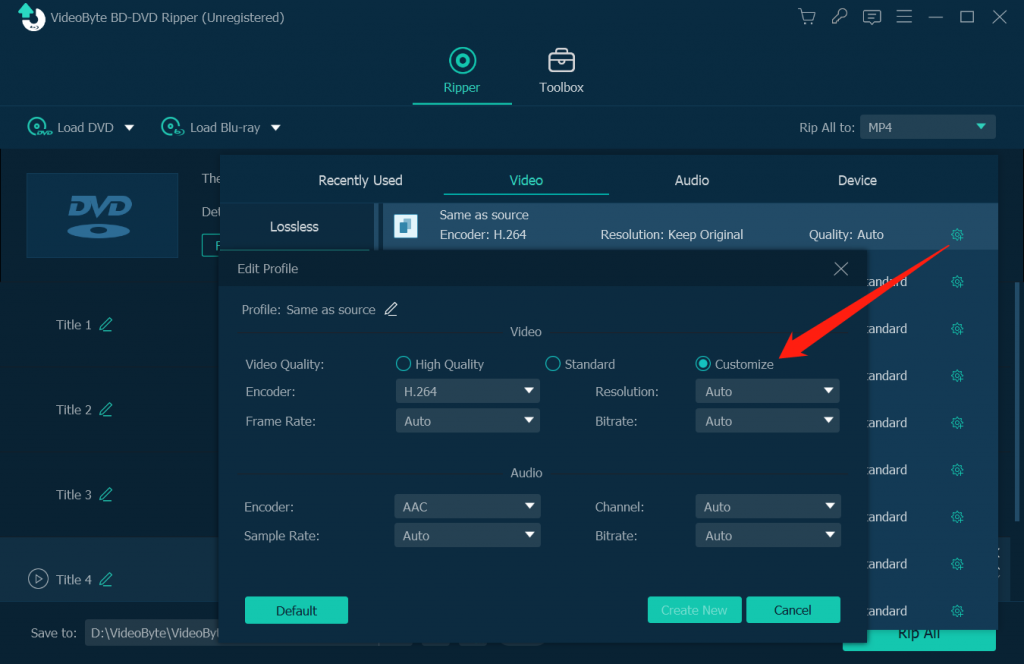 Finally, go ahead with the bottom "Rip All" on the main window to start converting Blu-ray movies to PC. Now sit back and do your own staff. The Blu-ray ripper will quickly wrap up the whole work.
Tens of minutes later, you are able to freely enjoy a near-flawless Blu-ray movie on your PC without the need to bother yourself with a Blu-ray player. You are even able to play your favorite Blu-ray movie on the go with only iPhone/Android device once you successfully rip it with the assistance of VideoByte BD-DVD Ripper and transfer the Blu-ray movie from PC to your phone. Now go and get this ripper to your PC. You will never regret your choice.