Question: Can you play Blu-ray Movie on PS4? Can PS4 Play 4K Blu-ray?
Answer: PS4 has a built-in Blu-ray drive. It can play regular Blu-ray disc, but it doesn't support 4K Blu-ray playback.
As one of the most famous game console, Sony PlayStation 4 has other wonderful features such as playing media files via USB, enjoying music on Spotify, as well as playing Blu-ray disc. Currently, PS4 can play normal Blu-ray disc and 3D Blu-ray smoothly. But 4K UHD is beyond the range supported by the PS4 drive. Sony has no intention to optimize this issue. The reason is that consumers won't mind because the PS4 is "primarily for gaming".
So, is there any alternative method to play 4K Blu-ray on PS4? Please keep reading here.
Is There Any Alternative Way to Play 4K Blu-ray on PS4?
Let's figure out what tools are needed to get a full 4K viewing experience:
A 4K Blu-ray Drive

A 4K Display

Blu-ray Disc with 4K Resolution
After your prepared the 3 things, we need to thing about how we can make the 4K Blu-ray disc playing on PS4. We can't make the 4K Blu-ray played on PS4. But we can convert the 4K Blu-ray disc to 4K digital format, then transfer it to USB for playing on PS4. This indirect way is inconvenience, indeed. But this is the only way to get 4K Blu-ray watching experience with PS4.
On Google, many program claims that they can rip 4K Blu-ray. The fact is that their program always fails to load 4K content even I have a 4K drive. If you want to try this way, make some test before buying a Blu-ray ripper software.
How to Play Blu-ray/3D Blu-ray Disc on PS4
By now, you can directly play normal Blu-ray on PS4. And we also wrote the steps of playing normal Blu-ray disc on PS4 in case you need it.
Step 1. Get PS4 Software Update 1.50
You need to download and install PS4's day-one system software - update 1.50 first. Then you can activate your DVD/Blu-ray disc video capability with a one-time activation through the internet to play Blu-ray disc with PS4.
Step 2. Insert the Blu-ray Disc to PS4
When you finished the step 1, just insert your Blu-ray disc to your PS4 drive. Then you can find the disc icon on the main page of PS4. Just click the disc icon and press "play" button. You'll enjoy the Blu-ray movie on Sony PlayStation 4.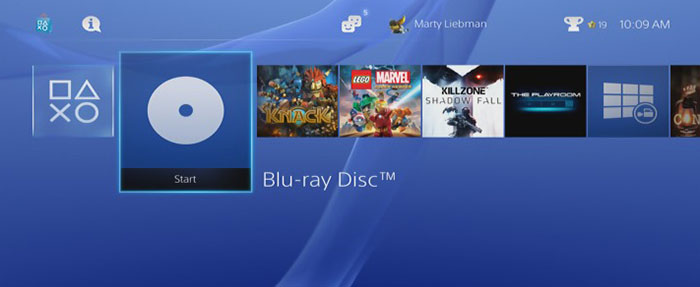 Note: PS4 only can play discs at the same region codes as the game console manufactured. So, if your Blu-ray disc is region-cocked, you will fail to play your Blu-ray disc on PS4. The only way to solve this problem is unlock the region code of the Blu-ray disc.
I have searched on Google for various results but can't find a reasonable method to play 4K Blu-ray on PS4. Or, we can expect that Sony will add this feature to the PlayStation product in the future.