Can PS4 Play Blu-ray & 4K UHD Discs? What You Need to Know
PlayStation 4 (PS4) is a game console designed by Sony. It gives gaming enthusiasts an awesome video game experience at home. Besides, it complements cinephiles' enjoyment of media discs, which has gained huge popularity around the world. Nowadays, many discs are Blu-rays, and you might wonder if PS4 is compatible with Blu-ray discs. Absolutely yes, PS4 includes the Blu-ray capability, but it only supports HD & 3D Blu-rays. Why? Keep reading this post to find out why and learn how to get around this shortcoming.
Does PS4 Support 4K Blu-ray Movie Playback?
For technical reasons, some versions like PS4 and PS4 Slim don't have standardized Blu-ray drive for 4K, and therefore can't play every Blu-ray. Other versions, like PS4 Pro, not only can read non-4K Blu-ray discs but even deliver games and movies in 4K quality resolution by default. Despite this, 4K Blu-ray is still not available for all PS4 consoles. Here's what you need to know if you want to steam regular Blu-ray discs directly or play 4K movies on PS4.
Sony has launched its latest PS5 gaming console that supports 4K Ultra HD Blu-ray. If you want to watch it directly on your PlayStation, PS5 would be more lovable. But please note that only the standard edition is available, the digital version doesn't have a built-in Blu-ray drive.
How to Play Blu-ray Movie on PS4 (4K Ultra HD Discs Included)
We've learned that all versions of the PS4 support Blu-ray discs, except for 4K Ultra HD Blu-ray. But that does not mean user experience stops with the regular Blu-ray phase. There is always a key that will solve the problem for you.
Here are some tips you should know before playing Blu-ray disc:
PS4's software system is up to date (1.50 at least)
PS4 has been connected to the Internet with the latest encryption key
Check out the unsupported disc formats on PS4
Make sure PS4 is in perfect condition and not damaged
Play Blu-ray Disc on PS4 Directly (Not Including 4K)
If you've understood the notes above, now take a look at the main process of playing regular Blu-ray discs on PS4.
Step 1: Update the Software System
Make sure you have updated the system to 1.50 or more before playing Blu-ray discs. If not, you can connect to the internet first, then find the "System Software Update" in the "Setting".
External discs or USB are available to update if there is no internet connection.
Step 2. Insert the Blu-ray Disc
After completing the update, insert the Blu-ray disc into the PS4's drive first. Then find the "Blu-ray Disc" name in the main menu. Before the next step, your PS4 must have the disc playback feature enabled over the Internet. After it's enabled, your console will never have to connect to the Internet again.
Step 3. Play the Blu-ray Disc
At last, click the "Blu-ray Disc" icon and press the "Play" button. You can now enjoy Blu-ray media on PS4. In addition to playing copy-protected BD/DVD discs, you can also play copied or burned Blu-ray or DVD movies. You can also use the PS4 controller to control the playback.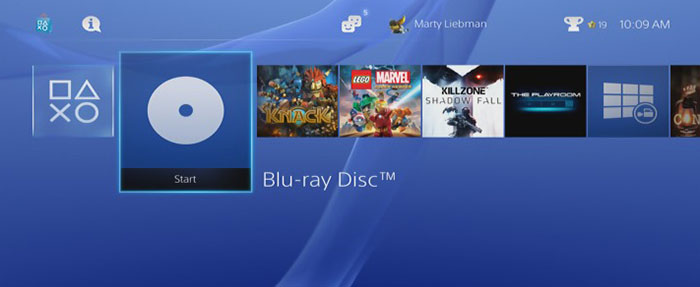 Play 4K Blu-ray on PS4 by Ripping it to Supported Format
In recent years, 4K HD Blu-ray discs have marched into our homes, bringing very high-quality video to home entertainment. But there are still restrictions on playing 4K Blu-ray discs on PS4. If you want to play 4K Blu-ray discs, your PS4 may not work as you expect. But don't worry, VideoByte BD-DVD Ripper can solve that dilemma.
It offers both homemade and commercial 4K Blu-ray disc conversions for the different formats supported by PS4. Most importantly, all transformed discs are 100% lossless conversion for playback. With its steady performance and powerful editing features, it stands out from the market.
More Reasons to Love VideoByte Ripper:
6X faster ripping speed
Convert 4K HD Blu-ray to other formats easily
Support bypassing copy protection
Retain all subtitles and audio tracks
Flexible parameter setting for adjustment
Now, let's see how it helps us watch 4K Blu-ray movies on PS4.
Step 1. Load 4K Blu-ray Disc
When you have completed the installation, fire it up and plug in your Blu-ray drive. Then import your 4k Blu-ray movie to VideoByte BD-DVD Ripper by clicking the "+" button.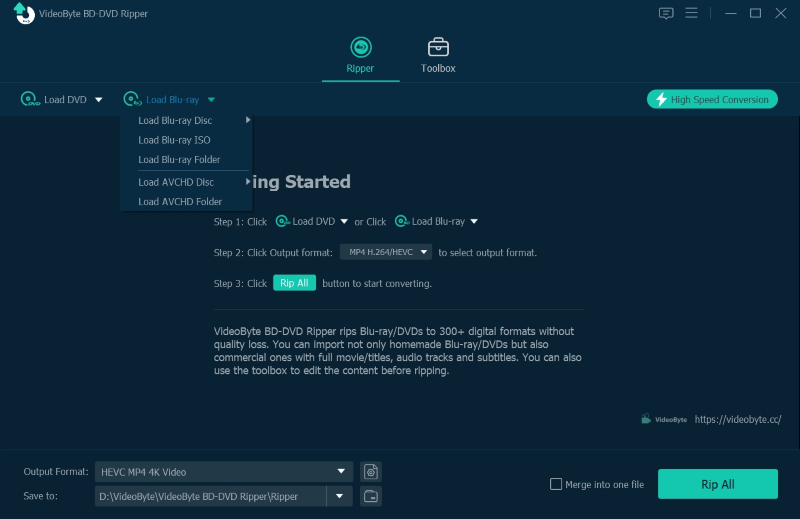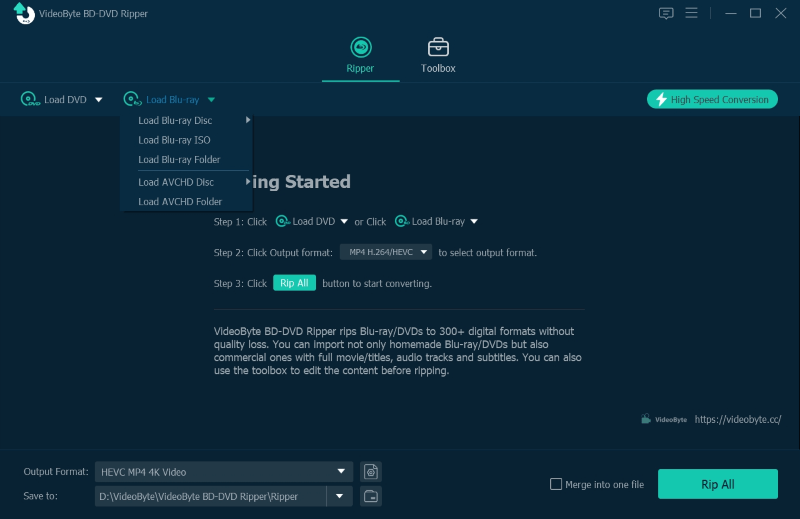 Step 2. Choose Your Content
At this step, you can choose to click on the "Full Title List" to prepare your 4K UHD Blu-ray video or let this app pick the main content for you automatically.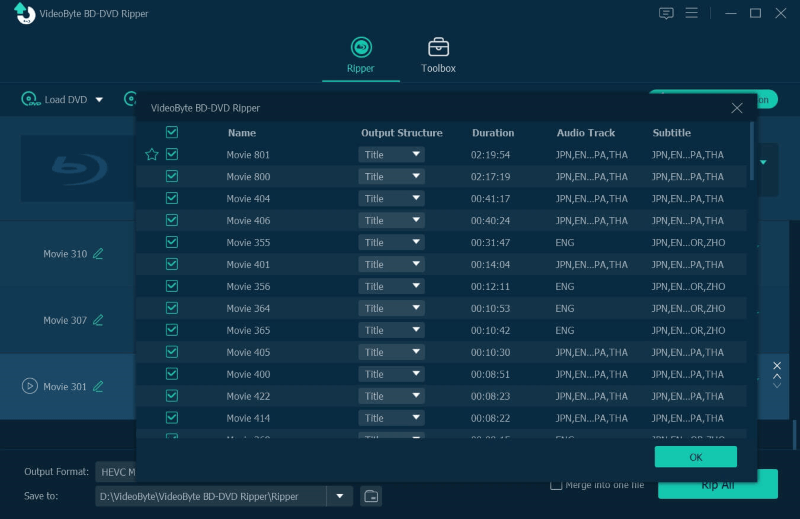 Step 3. Select the Format for PS4
You can set the output format via the"Rip All to"button. Here you can convert 4k Blu-ray to PS4-enabled formats such as MKV, MP4, etc. You can also click on the rightmost icon to open the output window. After that, you can watch them as you wish on your PS4.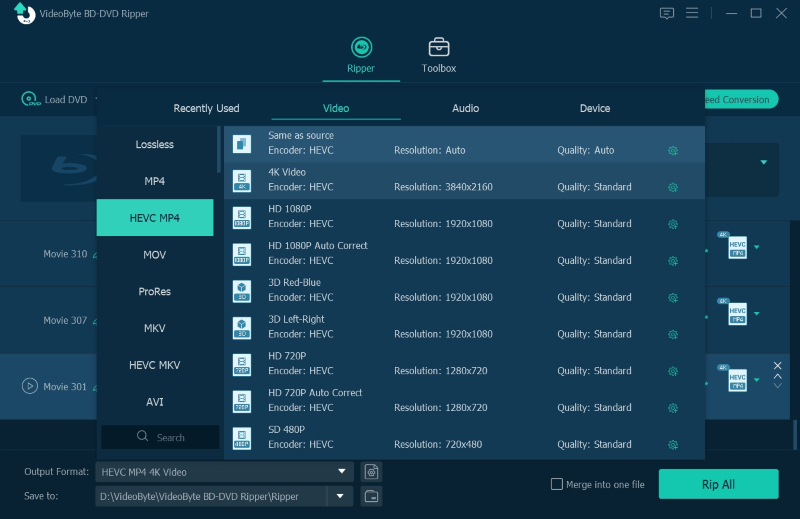 Step 4. Complete the Conversion
Now comes the final step. When you confirm the target format, click the "Rip All" button to rip the 4K Blu-ray video to PS4. Then VideoByte BD-DVD Ripper will do the rest for you.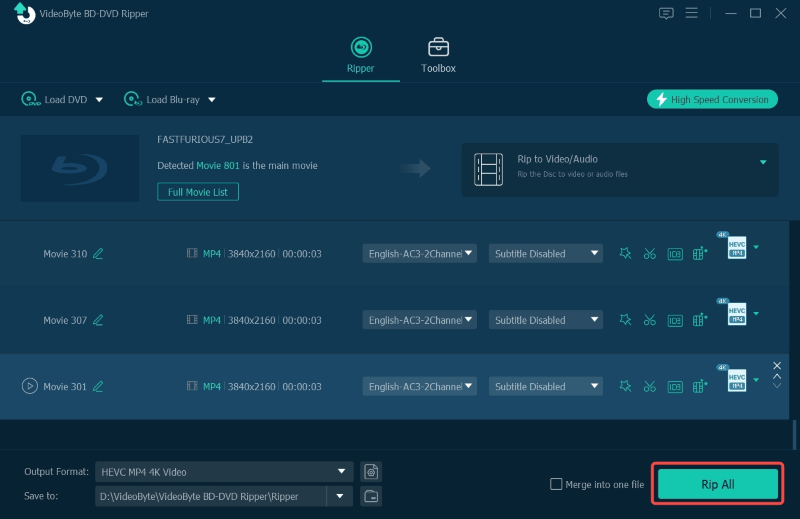 In this article, we have discussed whether PS4 can play Blu-ray media and share with you how to play regular Blu-ray & 4K Blu-ray movies on PS4.  Want a better visual feast on PS4? Try the VideoByte BD-DVD Ripper instead. With the help of the above features, PS4's entertainment is better than ever.