How to Play DVD on Windows 10 with 4 Effective Ways [2023]
Since many PCs installed with Windows 10 don't come with a built-in DVD drive, you need to buy an external drive for your Windows 10 first if you want to play your DVD collection on it. But soon you may also notice that your DVD is possible to not be detected automatically every time you insert it into your PC. It's kind of confusing, and some of you may still find the solutions.
The key to enabling your smooth DVD playback is reliable DVD player software. Therefore, this article will introduce 3 methods concerning DVD player software for playing DVDs on Windows 10, and you can choose the method that works best for you.
Method 1. How to Play DVD/Blu-ray on Windows 10 Using the Best Player
The first and best DVD player software for Windows 10 we recommend here is VideoByte Blu-ray Player. It supports all homemade and commercial DVD and Blu-ray discs. What's more, it also plays regular videos and high-quality videos like 1080P HD and 4K. With it, you can easily enjoy DVD discs on your computer, and its easy operation can give you a smooth DVD playback experience. You can view other features below:
Unlocks region code or bypass protection easily.

Supports all types of Blu-ray or DVD discs.

Offer lossless video playback.

Convenient navigation menu for easy playback.

Retains all subtitles and audio tracks.

Supports Dolby playback to improve the listening experience.

Provides CPU acceleration to save 40% of CPU resources and keep viewing more fluently.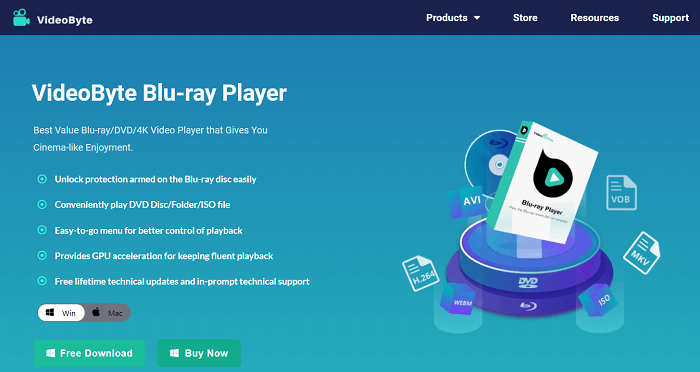 Now, please follow the instructions below to operate the player.
Step 1. Insert a DVD/Blu-ray Disc and Load the Disc
After installing and registering, connect the optical drive to your computer before you start VideoByte Blu-ray Player. Next, insert your DVD/Blu-ray disc into the drive. And then you can load your disc by pressing the button "Open Disc".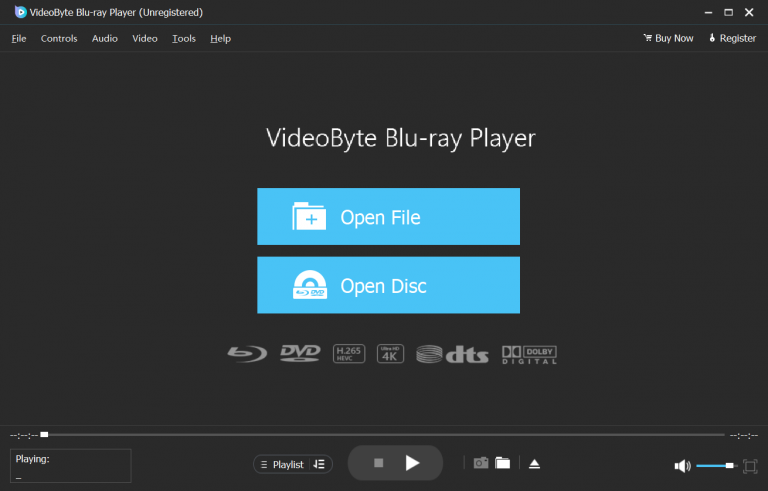 Step 2. Play Your Movies or Blu-ray Movies
You need to wait for a few seconds, and then the movies will be loaded. You can see the navigation menu on the left of the screen. Now click the "Play Movie" button on the menu, and then you can enjoy your movie on the player.
Method 2. How to Play a DVD on Windows 10 with Official Tools
VideoByte Blu-ray Player is the professional DVD player for Windows 10 you can rely on, but Windows actually provides 2 built-in tools to play DVDs, too. So if you prefer using official tools, In this part, we will introduce them to you: Windows Media Player and Windows DVD Player. Without a doubt, they are completely compatible with Windows 10. Just keep reading and check if the 2 official tools can reach your expectations.
How to Run a DVD on Windows 10 with Windows Media Player
The first official tool is Windows Media Player (WMP). It's a free player that comes from Microsoft, and it supports video formats like DVD, AVI, MPEG-1, and MPEG-2, so you can play your DVD directly on Windows Media Player. However, WMP can't play protected DVDs, and sometimes it will fail to play DVDs because of some decoding issues. Therefore, it may not be your first choice.
The following instructions help you play DVDs on WMP:
Step 1. Insert your DVD disc into the drive, and the disc will start playing automatically. If your disc is already inserted, you need to start the app and then choose the disc name in the navigation list.
Step 2. Choose the content you want to play.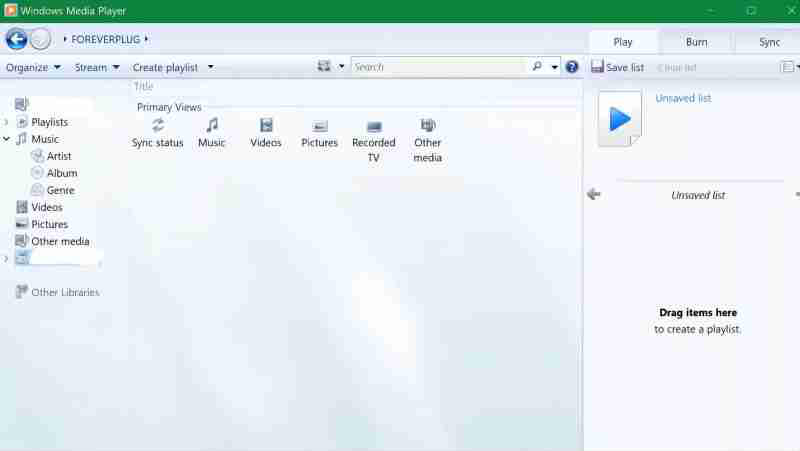 How to Play a DVD Movie on Windows 10 with Windows DVD Player
Another official tool is Windows DVD Player, which is a specialized DVD player for Windows 10. This software supports both homemade and commercial DVD discs, which is more practical than WMP. But this app cannot play DVD for free. You can download a trial version, but if you need to play your DVD disc, you must purchase the full version, which will cost $14.99. You can consider if it is worth the dollars. The guide is below:
Step 1. Download it and pay to activate it.
Step 2. Then, insert your DVD in the optical drive, and then the disc will start playing automatically.
Tip: If the DVD doesn't play automatically, you should head to "This PC" and then manually right-click "DVD Drive" > "Open AutoPlay" > "Windows DVD Player". After you finish, you can play DVDs on the software.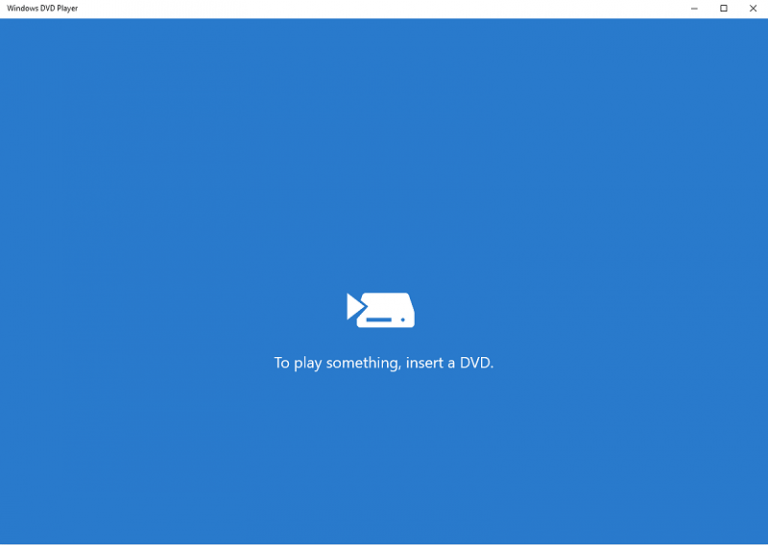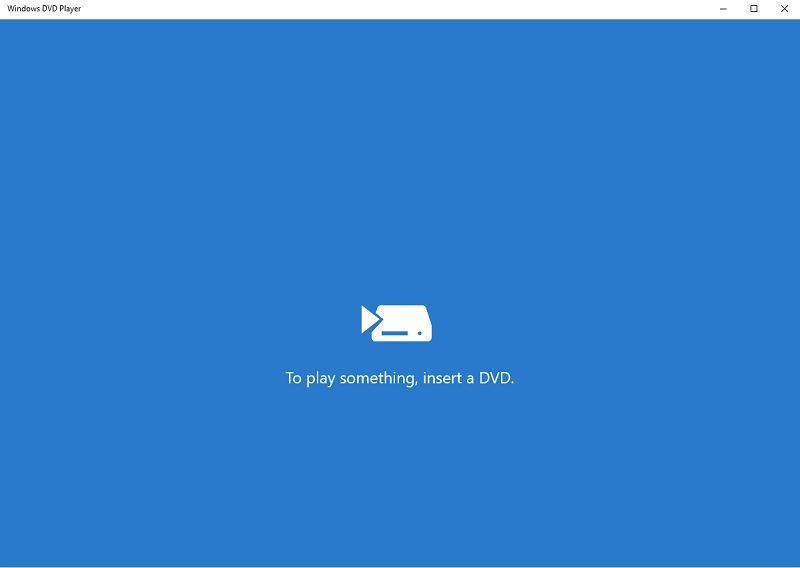 Both official tools are convenient for playing DVDs directly on Windows 10, but they may not perfectly match your needs. For WMP, it's free but cannot play all DVDs successfully. And Windows DVD Player, it's a bit expensive considering its plain functions. Moreover, they can't support Blu-ray discs either.
Nowadays, most of the discs are Blu-ray, so if you want to play both DVD and Blu-ray discs on Windows 10, the most effective solution is to seek out third-party software like VideoByte Blu-ray Player we've recommended in the first part.
But some of you may not want to pay for a DVD player on Windows 10. Moreover, though Windows Media player is free, it lacks functions for DVD playback. Therefore, the next DVD player freeware we'd like to introduce to you is VLC.
Method 3. How to Play DVDs on Windows 10 with VLC Freeware
Many of you must have known VLC media player, one of the most popular media player freeware for PC users. Compared to Windows DVD Player and VideoByte Blu-ray Player, VLC is totally free with all functions accessed without payment. What's more, as free DVD player software for Windows 10, VLC is more practical than WMP because it can deal with some protected DVDs and Blu-rays.
However, VLC still cannot deal with the latest protections encrypted on DVD or Blu-ray, and its UI is outdated with no clear instructions, which is not user-friendly. But after all, as freeware for playing DVD on Windows 10, VLC is worth trying. Now, let's see how to play DVD on Windows 10 with VLC:
Step 1. Download and launch VLC, and put your DVD into your disc drive.
Step 2. Choose Media > Open Disc, and select DVD. Then, you can click Browse to select the Disc device or VIDEO_TS folder, and VLC will detect it.
Step 3. After you adjust the settings, just click OK. And you can enjoy DVD playback on Windows 10 with VLC.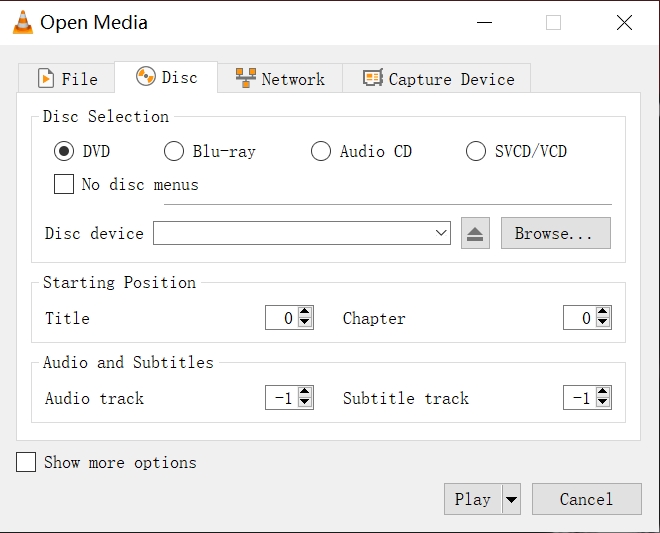 Method 4. Playing DVDs in Windows 10 by Ripping DVD to Digital
In the above text, you've known how to play a DVD on Windows 10 with DVD player software. Apart from VideoByte Blu-ray Player, the other 3 DVD players all have some limitations, and you may not have the perfect viewing experience. Therefore, here we offer you another useful way that enables you to watch DVD movie on Windows 10 smoothly: ripping DVD to digital and playing the ripped video on any common video player.
To achieve it, the essential tool is a professional DVD to digital ripper. VideoByte BD-DVD Ripper is the one you can trust. It supports ripping both protected and unprotected DVDs or Blu-rays to 300+ mainstream video formats, so any of your DVD can be ripped to be perfectly compatible with the media player you are using.
What's more, VideoByte BD-DVD Ripper supports high-quality output including 2K, 1080pHD, and 4K video resolution, so you don't need to worry about the viewing experience of the DVD content. Besides, all audio and subtitle tracks of the DVD movie will be preserved, which gives you better enjoyment. Next, let's see the simple guide on how to play DVD on Windows 10 via ripping DVD to digital formats using VideoByte BD-DVD Ripper:
Step 1. Download VideoByte BD-DVD Ripper and insert your DVD disc to the drive connected to Windows 10.
Step 2. Choose Load DVD and select the DVD you've inserted. Then, click Rip All to and choose the output format like MP4, MKV, AVI, etc. that can meet your needs.
Step 3. After you finish setting, click Rip All and VideoByte BD-DVD Ripper will rip your DVD for you.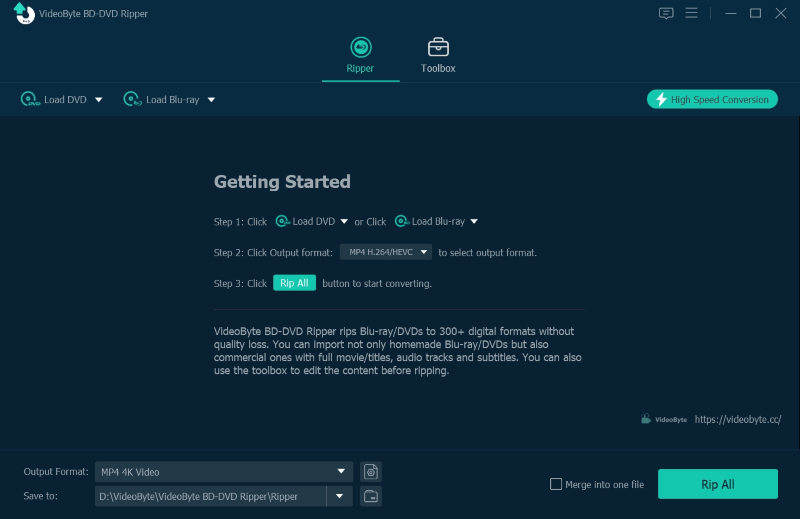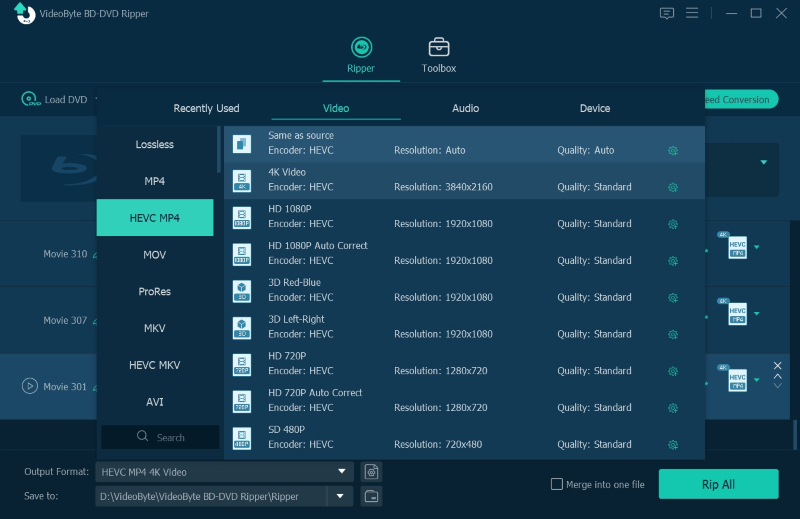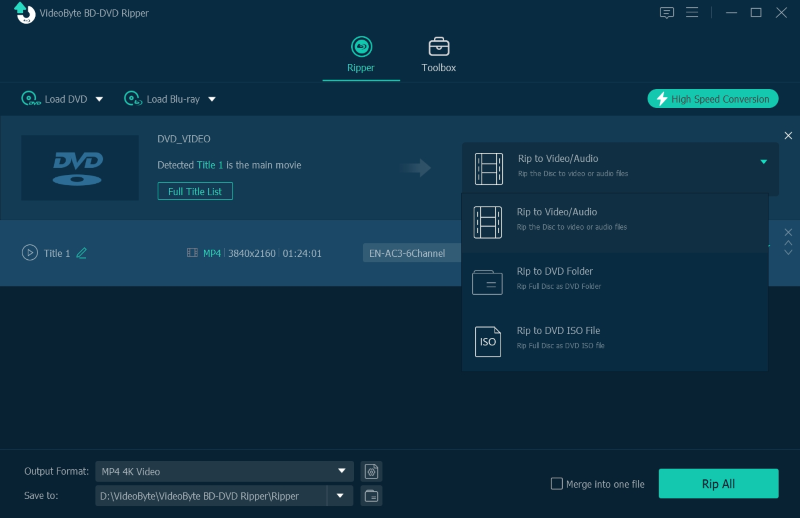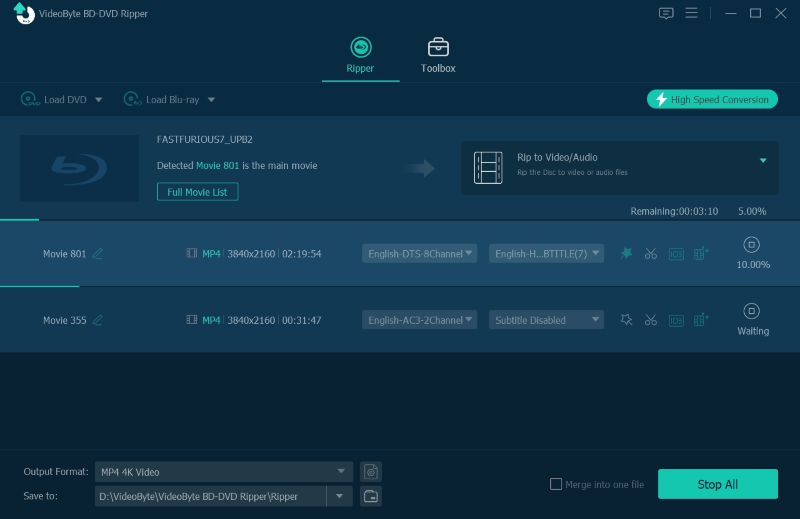 For the above four tools for playing DVDs on Windows 10, each one has its strengths. In comparison to the official Windows players, VideoByte Blu-ray Player supports playing all types of DVD discs and Blu-ray discs in a convenient and flexible manner. Isn't that appealing? It will give you a wonderful viewing experience on your Windows PC. If your official player doesn't meet your demands for playing a disc, just download VideoByte Blu-ray Player and give it a try. You won't be disappointed.