How to Convert DVD to Digital with 5 Effective Ways [2023]
Many excellent movies are produced as and stored on discs, so you can enjoy them at home. But when you collect more and more DVDs, they occupy much space and are hard to move and save. Then what to do with DVD collection? One good way is to convert DVD to digital because it only requires a computer, and you can even watch DVD movies on other devices like phones or tablets.
To digitalize DVD collection by converting them to video or audio files of mainstream formats, you require assistance from the DVD ripping software on computers. Today, this post will mainly introduce the 5 easy ways to convert DVD to digital freely. You are also able to directly scroll down to the comparison chart to preview their strengths or weakness before learning the operations. Now, let's get started.
Convert DVD to Digital with Professional DVD Ripper (Ultimate Way)
On the market, all professional DVD ripping software requires paying for accessing the full functions to convert DVD to digital. Compared with those free options, such professional software is able to maintain the original quality and stable performance to digitalize DVDs at a quicker speed. VideoByte BD-DVD Ripper is one of them, and stands out from them.
When VideoByte BD-DVD Ripper provides both free version and upgraded option to access the DVD digitalization functionality, it enables you to complete DVD to digital conversion easily when first get started with the software. The power of VideoByte BD-DVD Ripper comes from its compatibility to digitalize all types of DVD discs, including protected DVDs. And you can turn DVD to digital to 300+ mainstream video/audio formats like MP4, MKV, MP3, etc.
In terms of the output quality that concerns your viewing experience, VideoByte BD-DVD Ripper offers DVD to digital service without quality loss, and supports 1080p & 4K resolution. It will maintain both the video resolution and audio effects at 1:1 ratio. What's more, because of its hardware acceleration techs, it can offer high-quality output at a 6X faster speed, enabling you to complete the DVD ripping process within minutes, but without occupying high CPU at all.
Other Highlighted Features of VideoByte BD-DVD Ripper
Only need 3 steps to complete the whole ripping task;
Full preservation of subtitles and audio tracks;
Basic editing functions available;
Extra toolbox enabled to enhance, organize, or compress videos with ease.
How to Convert DVD to Digital on Mac/Windows with VideoByte BD-DVD Ripper
VideoByte BD-DVD Ripper does require payment to access the full functionality, yet it still offers the free version for you with little DVD digitalizing demand. Additionally, if you feel satisfied with the software and desire to register its upgraded plan, its pricing would absolutely be the most economical on the market.
Now, the following brief guide will help you go through how to convert DVD collection to digital via VideoByte BD-DVD Ripper without hassle: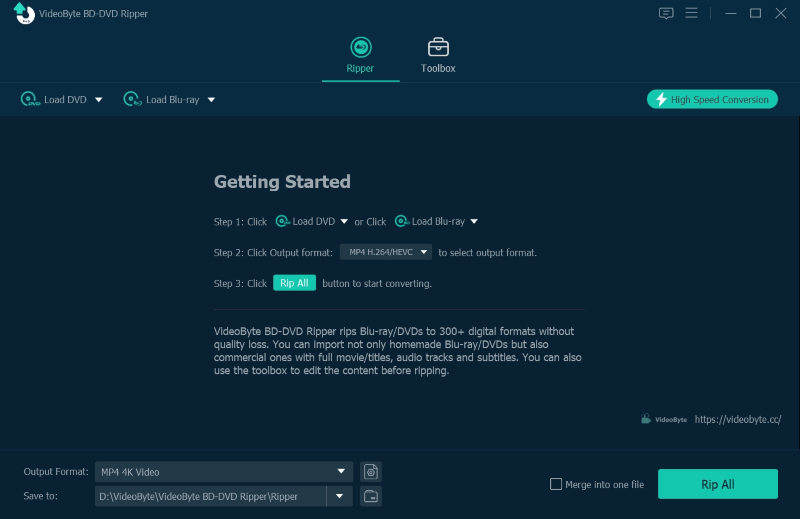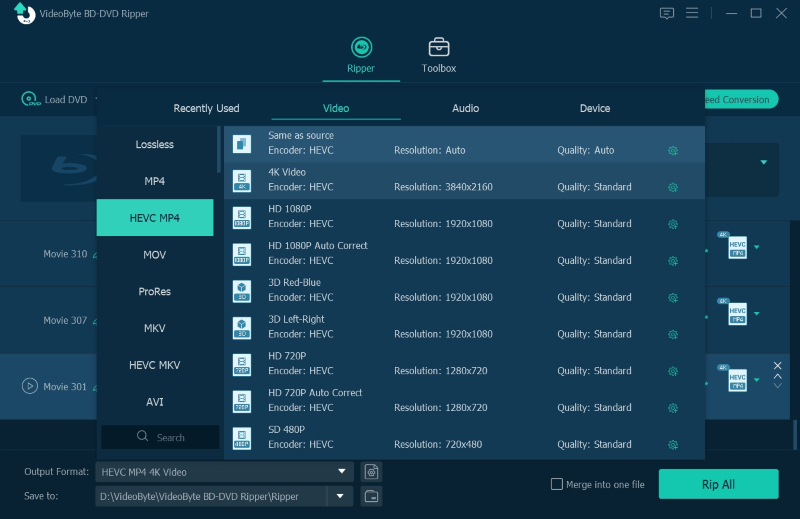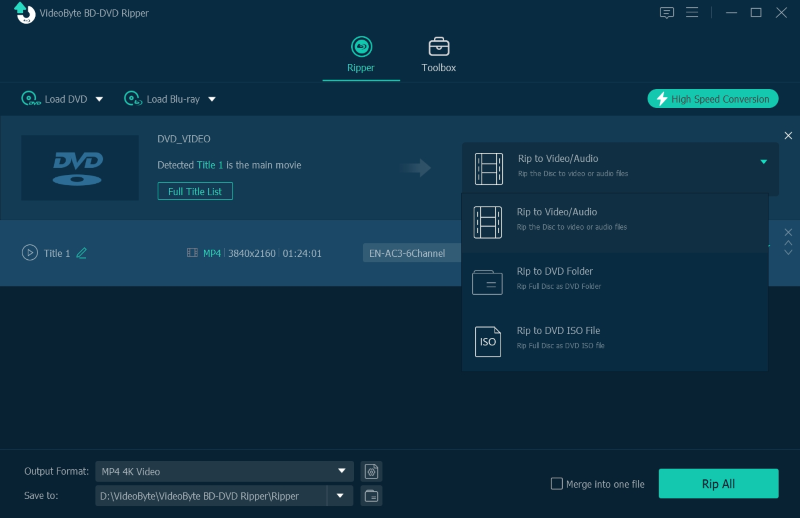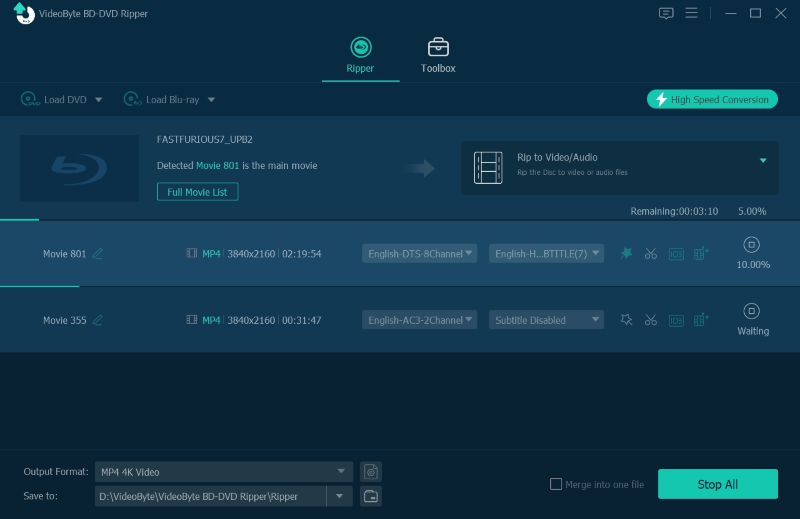 Convert DVD to Digital Free with VLC
If you desire completely free software, are not strict with the output quality, and are willing to spend more time waiting for the conversion process to complete, VLC is recommended. Instead of being a simple media player, VLC is also the software to help you convert DVD to digital free with its hidden DVD digitization tool.
One thing you need to notice is that though it doesn't require installing extra extensions to process the DVD conversion, VLC can hardly deal with some protected DVDs. Now, simply follow the steps below to get it done with ease:
STEP 1. After inserting your DVD disc to the computer drive, open VLC and go to "Media" > "Convert / Save…" > "Disc" and select opening the DVD disc you just inserted.
STEP 2. After selecting the disc location, hit the "Convert / Save" icon, then you will be turned to the "Convert" window.
STEP 3. Now, simply select the output format in "Profile" and set the output folder for preserving the converted files in "Destination" section, then you are able to hit the "Start" icon to process converting DVD to digital.
Compared with VideoByte BD-DVD Ripper, VLC would take much longer to complete the conversion and cannot convert all types of DVDs. So just wait patiently for its completion, or try VideoByte BD-DVD Ripper for faster conversion.
Convert DVD to Digital with MakeMKV
Another free software available to transfer DVD to digital on computers is MakeMKV. If you have targeted MKV as the output format to save the converted DVD media files, the software is absolutely your choice. You are able to install the BETA version of MakeMKV to access the DVD-related functionality freely. But the BETA key needs to be upgraded, and you may not get it in time.
Compared with VLC, the output quality is higher with MakeMKV as it would not compress the video files at all. But this also means that you are making digital copies of DVDs with larger sizes. Besides, for streaming or converting Blu-ray content, you still require a license key to activate the full features.
Here guides you through how to convert DVD to digital freely via MakeMKV:
STEP 1. When you have installed MakeMKV on your computer, launch it and also insert your DVD disc to the drive to enable the software to detect it.
STEP 2. In MakeMKV, select "Open DVD Disc" to load DVD content.
STEP 3. Now, select the titles with the audios and subtitles you desire to convert to digital. Additionally, you are able to customize the output folder to save the converted files to an exact folder as you like.
STEP 4. Simply hit the "Make MKV" icon, then MakeMKV will start converting the DVD videos to digital for you.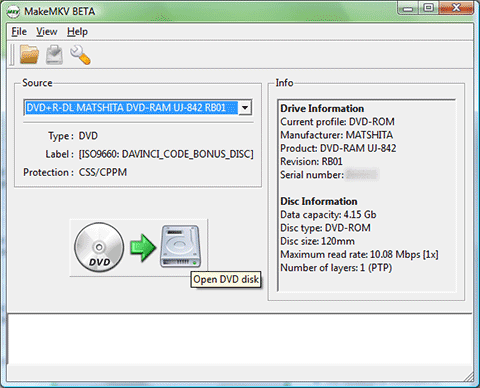 Convert DVD to Digital with Handbrake
For homemade DVD digitalizing demands, Handbrake is also a considerable choice for you. Unlike MakeMKV, Handbrake provides optional output formats to select. But for converting the encrypted DVDs, you would be required to install extra components to process the conversion, and the operation would be much more complicated. Hence, it would be more hassle-free to convert free DVD to digital via Handbrake. Here is how it works:
STEP 1. Install and launch Handbrake on your computer. Meanwhile, insert DVD and select "Source Selection" in Handbrake to let the software detect it.
STEP 2. When the DVD titles are loaded in Handbrake, select those you need to convert to digital. Additionally, the software also allows you to adjust the video/audio settings such as selecting the output quality accordingly in your own requirements.
STEP 3. Now, you are also allowed to set up an exact folder to save the converted video files by hitting the "Browse" button.
STEP 4. Next, simply hit the "Start Encode" button on the top menu bar and Handbrake will work to convert DVD to digital right away.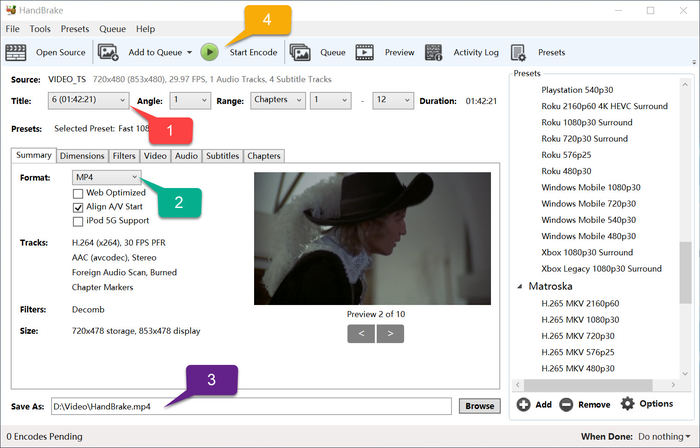 Convert DVD to Digital with VUDU
Some of you may still wonder how to convert DVD collection to digital on mobile phones, since the methods above are all available on computers. No worry, because this way is the one you need: using VUDU to convert DVD to digital. It supports converting DVD collection to digital on iOS & Android phones, so you can then enjoy your DVD movies on phones directly. Here you can also view the guide:
Step 1. Visit http://vudu.com/disc on your Android phone or vudu.com/disc on your iPhone, and create your own account on VUDU.
Step 2. When you are asked to give permissions to VUDU, just select Allow.
Step 3. Choose to scan the code on your DVD discs following the instruction and convert them to digital. Now, you can watch your DVD movies on your phone. More detailed information can be checked on https://www.vudu.com/content/movies/d2d.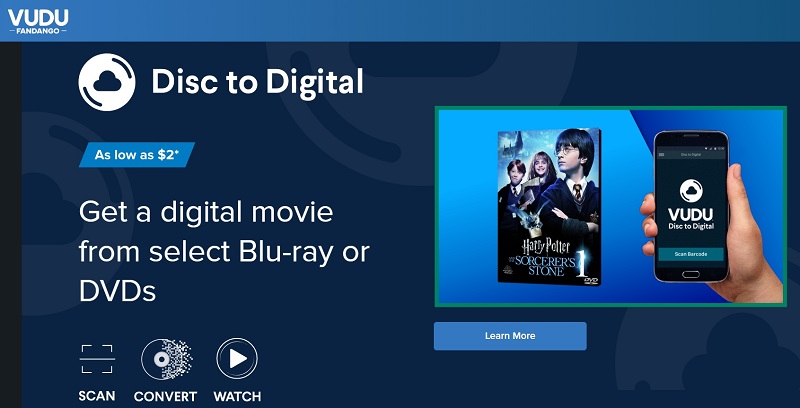 Note: VUDU mainly supports converting DVD to digital on mobile devices, and the output quality only reaches HD at most, with multiple limitations. Therefore, you can try other more powerful tools like VideoByte BD-DVD Ripper, which allows you to transfer DVD to particular devices including Android & iOS devices directly.
Comparison Between the 5 Methods
So which method will be the best pick for you? This comparison chart will help you clearly find out the ideal option to convert DVD to digital on desktop & mobile devices.
If you think it a bit confused and don't know which dimension you need to pay attention to, here we'd like to offer some advice:
If you think the watching experience matters, don't ignore Output Quality.
When you want to enjoy your movies more conveniently on different devices, please check Output Format to see if the tool supports the format that is compatible with your device.
To DIY the DVD content easily, just pay attention to Audio/Subtitles Editing and Video Editing Tools.
If most of your DVD collections are commercial ones, we recommend you to look through Encrypted DVD Supported to see if the tool can convert protected DVDs.
| | | | | | | |
| --- | --- | --- | --- | --- | --- | --- |
| Methods | Output Quality | Output Format | Speed | Audio/Subtitles Editing | Video Editing Tools | Encrypted DVD Supported |
| | 1:1 ratio at lossless quality | 300+ output options | 6X faster | √ | √ | √ |
| VLC | Medium quality | MP4, AVI, OGG, TS, Webm and ASF | Medium | × | × | × |
| MakeMKV | High output quality without compression | MKV | Fast | × | × | √ |
| Handbrake | Can reach 1080p | MP4, M4V, MKV, MOV, MPG, etc. | Based on the output quality | √ | × | × (you need to install extra component to convert encrypted DVDs) |
| VUDU | SD & HD | Android & iOS devices | Fast | × | × | √ (Only a few encrypted DVDs are supported) |
Finally, let's look at some questions that most people care about through the following FAQs.
Q1. Can I legally rip a DVD I own?
A: For the homemade DVDs created by yourself, you are absolutely legal to rip and convert them to digital for saving as the common media copies. But for the encrypted DVD discs you purchased, it is based on local laws. Basically, if you simply rip DVDs for personal collections for streaming at home, it is completely legal action.
However, if you use the ripped DVD media for second sales or any other commercial purposes without being granted permission from the creators, you would be accused of copyright infringement.
Q2. Can you copy DVD to USB?
A: It would be difficult to directly copy DVD to USB without extra help. But when you first convert DVD to digital files in MP4 or other mainstream formats, then you are available to copy these converted files to USB without hassle.
Q3. What is the best format to convert DVD to digital?
A: Normally, the best output format depends on your needs. We now just introduce 2 formats to you:
If you think the compatibility is important because you can transfer the file among devices, MP4 is the most recommended one.
If you think the watching experience is essential and want to be more enjoyable with high image quality, MKV can be considered, as it won't compress the file.
To freely convert DVD to digital, you now get 5 ways to do it on computers without hassle. By comparison, the most professional DVD digitalizing software, VideoByte BD-DVD Ripper performs much better to help. But if you still want a completely free option and is willing to sacrifice certain things such as speed, quality, etc., VLC, MakeMKV, VUDU, and Handbrake are all able to help. Simply select the ideal pick based on your own requirements.