DVDFab DVD Copy Review | Crack Free Download
If you enjoy watching movies on DVDs, DVD copying software can become a must-have for you to backup these brilliant DVD discs. DVDFab DVD Copy is one such popular and professional software .
In this article, we will review DVDFab DVD Copy and its cracked version, and explain the pros and cons of using them. We will also recommend a better alternative tool that can copy DVDs without risks. Let's dive in!
DVDFab DVD Copy: Main Features
✨Best for: Users who want to copy DVDs to back up for good storage
💻System: Windows and macOS
Hard Disk Space: 18GB
DVDFab DVD Copy is a powerful and intuitive DVD copying program that assists you to make lossless backup copies of your precious DVD discs and output to blank discs or save them as ISO/folder on the hard disk.
The program offers a range of customizable options such as output formats, video quality, audio tracks, and subtitles. With its advanced technology, you can also quickly copy any DVD with its different modes for playback on multiple media players. Here are some key features of DVDFab DVD Copy.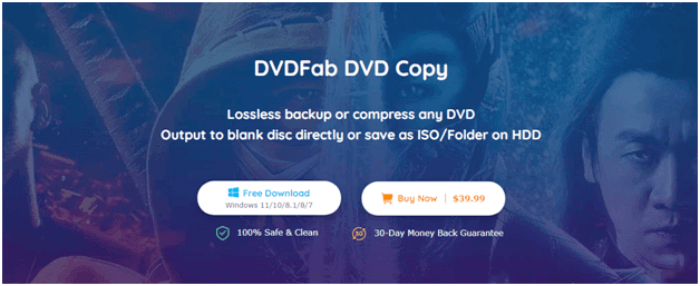 Support removing all DVD protections
DVDFab DVD Copy can help you remove protections including CSS (Content Scramble System), APS (Analog Protection System), RC (Region Code), and DADC. With its exclusive Cloud Decryption Service, you can also unlock encrypted DVDs purchased online fast.
Copy any DVD with 6 copy modes
You can choose from six copy modes, Full Disc, Main Movie, Clone/Burn, Merge, Split, or Customize to meet your needs. Different copy modes offer different functions to achieve suitable backups.
Allow generating .nfo files and metadata
Meta Info function of this software can automatically update the source's metadata on the server. The .nfo files can also be generated by default so that media managers like PlayerFab and Kodi can check the original information.
Guarantee batch copying at high speed
DVDFab allows batch copying DVDs simultaneously to save your time. The whole task can only take 3-5 minutes.
DVDFab DVD Copy Crack: Threats and Risks
DVDFab DVD Copy is a popular software that can copy DVDs of high quality. However, the expiration of the official one-year free license key might lead users to use its cracked version and avoid paying for the license fee. Even if there exists DVDFab DVD Copy Crack to be downloaded, they are unofficial and therefore pose potential security risks and legal issues. Here, we list some threats and risks of using DVDFab DVD Copy crack:
DVDFab DVD Copy Crack may contain trojan viruses or malware that can steal your personal information and even crash your computer.
Using a cracked version may violate the intellectual property rights of DVDFab and cause legal problems.
The cracked program may perform badly and miss new features in DVDFab DVD Copy.
If you want to try DVDFab DVD Copy, it is recommended to use the legitimate version for a secure DVD copying process. Here are some pricing plans for the official version of DVDFab DVD Copy.
$39.99 for a 1-month license
$84.99 for a lifetime license
$97.99 for a lifetime license of DVDFab DVD Copy and DVD Ripper
The pricing of DVDFab DVD Copy is relatively expensive for some users and you might consider seeking an affordable and cost-effective alternative. Here, we recommend you try
VideoByte DVD Copy
, which can also help you unlock, and
copy a DVD to another DVD
to create backups.
The Best Alternative to DVDFab DVD Copy Crack
VideoByte DVD Copy has a lower price than DVDFab DVD Copy. Here are three pricing plans for VideoByte DVD Copy. Each plan is available for one computer and subscribers can enjoy lifetime upgrades and free technical support.
$24.95 for a 1-month subscription
$44.95 for a lifetime license
$76.92 for a lifetime license of DVD Copy and Blu-ray Copy
Similar to DVDFab DVD Copy, VideoByte DVD Copy is also a program dedicated to decrypting, copying, and burning protected DVD discs. With this professional and user-friendly program, you can clone any DVD disc to a new DVD disc, an ISO file, or a DVD folder on your computer in 1:1 original quality.
Its intuitive interface and multiple practical features such as choosing audio tracks and subtitles and previewing the source DVD can bring about a better copying experience.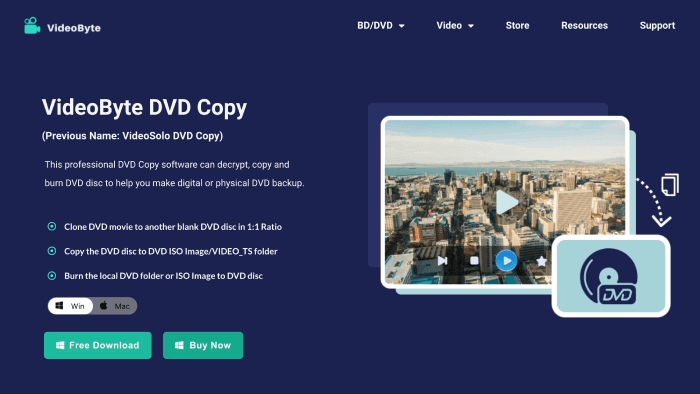 Here are some key features of VideoByte DVD Copy.
Unlock any protected DVD discs quickly
VideoByte DVD Copy can decrypt and remove any protection from DVD discs, such as CSS and region code. After decryption, you can copy any DVD without hassle.
Offer customizable DVD copy modes of superior quality
There are 3 different copy modes, Full Movie (copy the whole DVD), Main Movie (only copy movies) and Custom (copy selected parts of DVD) for choice. Each copy mode can ensure output of 1:1 original quality.
Possess a built-in DVD player to facilitate DVD copying
This program has a special built-in DVD player that allows you to preview the source DVD before you start the copying task. This feature can help you avoid setup errors and ensure a smooth copying process.
Adjust writing speed to save time
It supports GPU acceleration to save copying time. While copying DVD to DVD, you can adjust the writing speed "×2.0 - Recommended" or "Max".
Above, we introduce two DVD copying programs, DVDFab DVD Copy and VideoByte DVD Copy. Here is a brief comparison between them in important aspects.
| | | |
| --- | --- | --- |
| Feature | DVDFab DVD Copy | VideoByte DVD Copy |
| Price | Starts at $39.99 | Starts at $24.95 |
| Copy modes | Full Disc, Main Movie, Clone/Burn, Merge, Split, and Customize | Full Movie, Main Movie and Custom |
| DVD player | ❌ | Built-in DVD players for previewing |
| Adjustable writing speed | ❌ | ✅ |
| Ensure 1:1 quality | ❌ | ✅ |
As we can see, VideoByte DVD Copy has a more affordable price and it has all similar functions in DVDFab DVD Copy. Although it offers less copy modes, it boasts practical features like previewing and writing speed adjustment. More importantly, it can copy your DVD with 1:1 original quality to guarantee a brilliant viewing experience.
In conclusion, DVDFab DVD Copy is a powerful tool for DVD copying, but its cracked version has potential threats and risks. Therefore, if you want to avoid these risks and also try cost-effective and reliable DVD copying software, we recommend VideoByte DVD Copy, which can also help you easily unlock, clone and burn any desired DVD discs of high quality.