3 Ways to Create ISO from DVD on Windows & Mac (2023)
ISO image file is undoubtedly the best way to back up your discs with lossless quality in case they get damaged or fail to work. Therefore, it's always recommended to create ISO from DVD or CD discs. What's better, you can enjoy the best playback without an optical drive. Luckily, there are 3 methods to copy CD/DVD to ISO files for free. Now, why not jump into this guide and get the rope here?
Method 1. Create ISO from DVD with Professional DVD Copy Software
VideoByte DVD Copy goes like hot cakes with its intuitive interface and professional DVD copy service. It makes it foolproof to copy DVD movies to ISO files with 1:1 original quality. There are 3 copy modes to keep preferred titles or the entire DVD to ISO. What makes it really stands out is that this top-rated copy software can decrypt protected DVDs with CSS protection and region codes.
Don't Miss More Amazing Features
First-Class Service: Copy protected or homemade DVD to a blank disc, ISO image files, or DVD folders. Moreover, burn local ISO/DVD folders to a blank disc with lossless quality.
All Data Included: Keep the default menu, all the titles, chapters, subtitles, and audio tracks.
In-Built DVD Player: Preview movies, subtitles, and tracks in real time to make the right choice.
More than 2X Faster: Boost the copy or burning process at 2X or max rate to get it done in no time.
Great Compatibility: Perfectly work on Windows 10/8/7/Vista/XP and macOS X 10.9 or above.
How to Copy DVD to ISO with VideoByte DVD Copy?
The trial version offers 3 chances to copy DVD movie discs for free. You can try it out to create ISO from DVD discs and see whether it lives up to your expectation. Now, follow the steps below or play the video to learn how to copy a DVD to ISO file.
Step 1. Import DVD Source
After downloading and installing VideoByte DVD Copy on your computer, launch the program. Then insert the DVD disc you want to create ISO into the optical drive and it will automatically recognize the contents or just click "Source" to select the source DVD.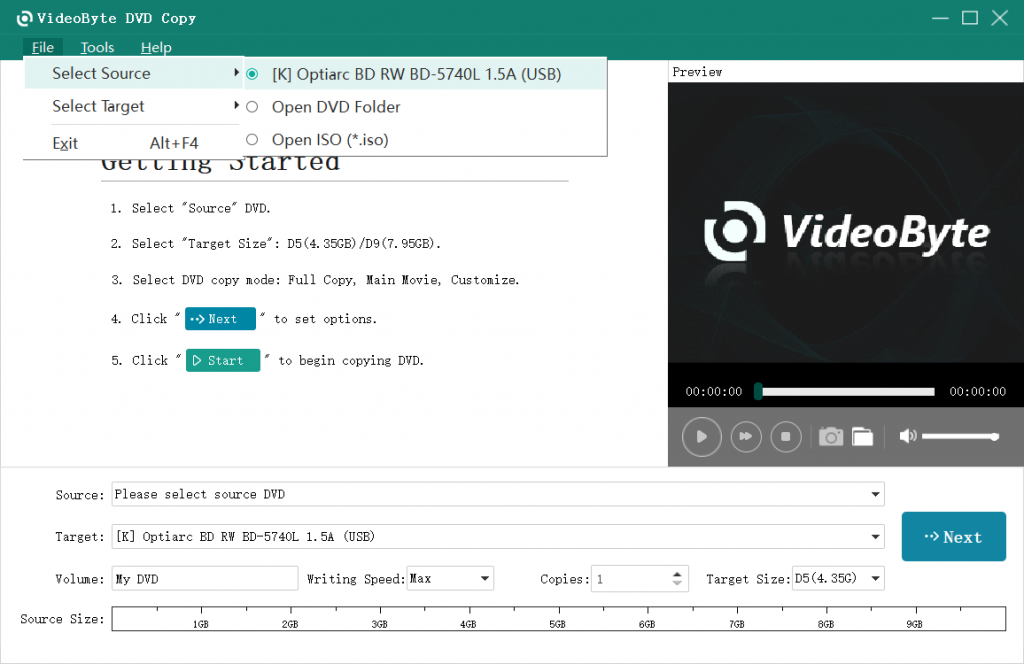 Step 2. Select Copy Mode
As you can see below, there are three copy modes including "Full Copy", "Main Movie" and "Customize" for you to choose from. If you want 1:1 disc duplication, we advise you just select "Full Copy" mode.
Please note that you can customize the audio track and subtitle under the "Customize" mode, but not the other two modes.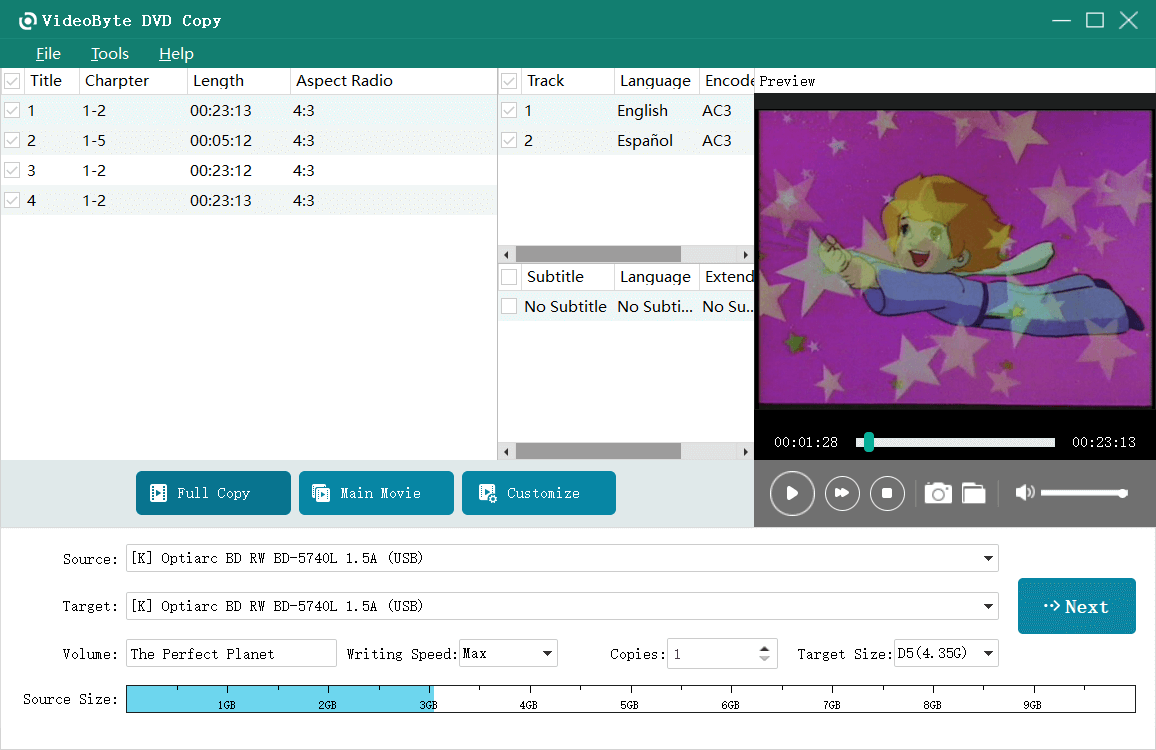 Step 3. DVD Backup Settings
Since you want to copy DVD to ISO, you need to choose the "Save as ISO" option under "Target" to copy DVD movies to ISO.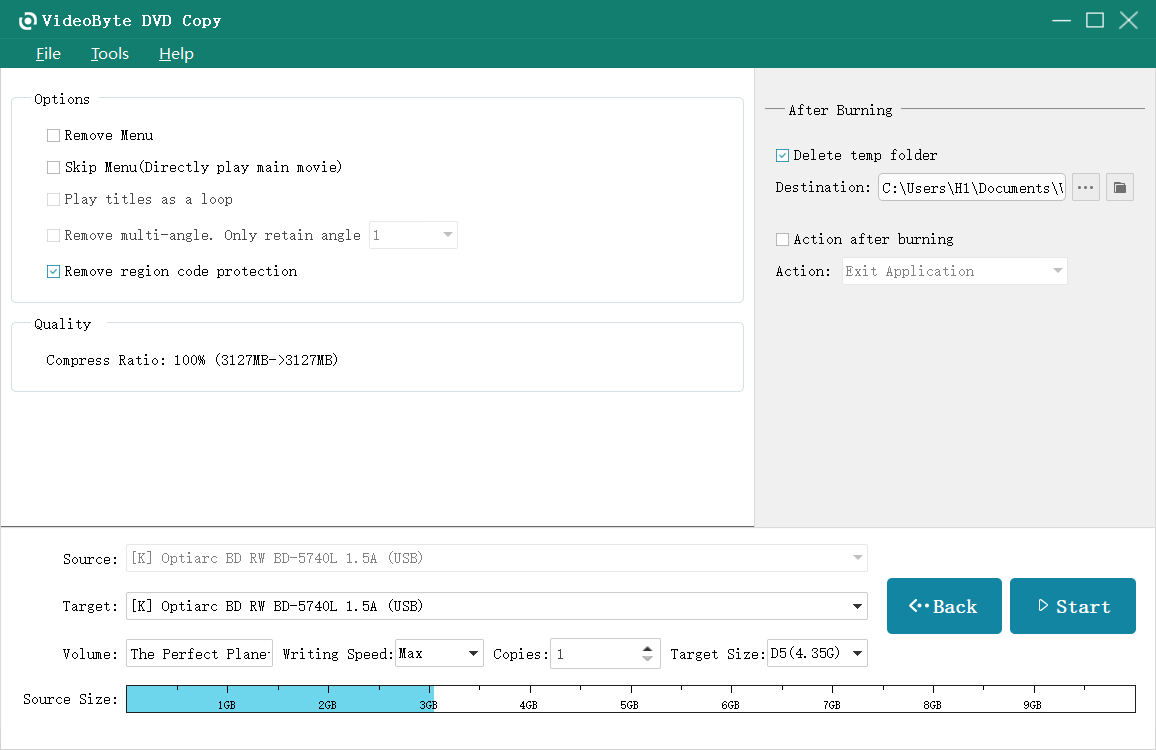 Step 4. Start Copying DVD to ISO Image File
Click "Next" to set other options, and when finished, click the "Copy" button to start copying DVD to ISO image file with VideoByte DVD Copy.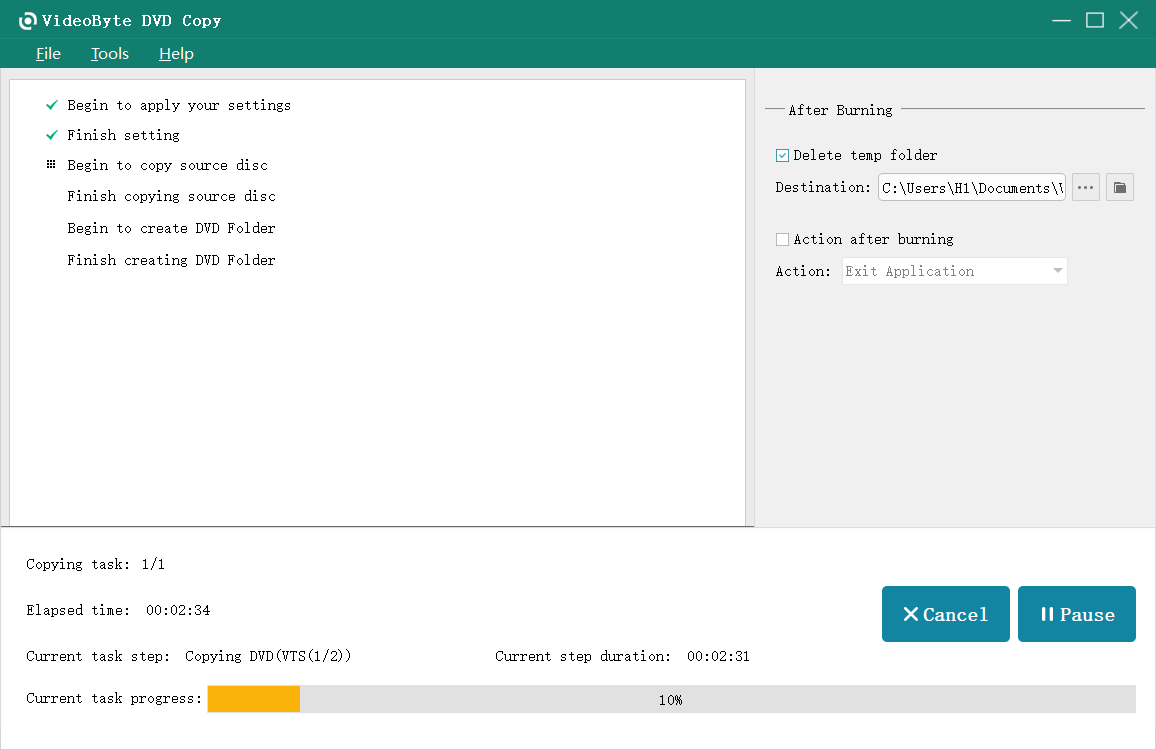 Method 2. Make ISO from CD/DVD with BurnAware on Windows 11/10/8/7
BurnAware is a great choice to copy DVD on Windows PC. This free fully-featured burning software can create ISO from files, CDs, DVDs, and Blu-ray discs. With its user-friendly UI, you can go through the DVD to ISO procedure with ease.
However, please note that it cannot work on DRM-protected DVDs and doesn't allow you to keep selected movies instead of copying the full DVD. Now, let's see how it works to create ISO from DVD below.
Step 1. Download and install BurnAware on your computer. After that, launch it on Windows 11/10/8/7.
Step 2. Insert the DVD into the drive and back to BurnAware. Then, go to "Disc Images" > "Copy to ISO".
Step 3. Choose your DVD disc from drop-down menu on the top.
Step 4. Next, click "Browse" and choose a path to save the ISO file.
Step 5. Hit the "Copy" button and it will start to make an ISO file from your DVD.
Method 3. Copy ISO from DVD/CD via Disk Utility on MacBook Air/Pro/iMac
As for Mac users, there are fewer DVD to ISO programs to choose from, because it has a pre-installed Disk Utility in the system. This default tool lets you copy a DVD on Mac without any software. Yet, please be aware that it will copy DVD to a CDR file and you need to convert CDR to ISO by yourself.
The main drawback is that it also cannot create ISO from DVD with DRM protection. Now, you may want to learn how to make an ISO image from a DVD using Disk Utility below.
Step 1. Create and name a new folder on your Mac. Next, insert the DVD into an external drive or Apple SuperDrive that is connected to the Mac. Then, open the DVD and drag the contents to the folder.
Step 2. Navigate to "Finder" > "Applications" > "Utilities" and launch "Disk Utility".
Step 3. Click "File" > "New Image" > "Image from Folder" and select the folder. Then, give a file name.
Step 4. Change the "Image Format" to "DVD/CD master" and click "Save". Now, Disk Utility will take time to create ISO from DVD. Please wait until it's done.
Step 5. When done, launch the Terminal app and locate the directory of the folder. Next, enter the command line "hdiutil convert [filename].cdr -format UDTO -o [filename].iso" and you'll get an ISO file.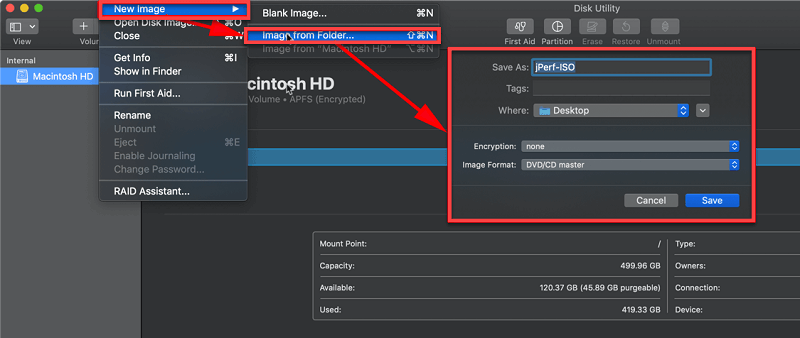 FAQs of How to Create ISO File
If you're still having some questions in mind, then you should walk through all the answers below to learn more about DVD to ISO copy on Windows and Mac.
No, ISO can include all data like movies, songs, files, images, videos, and so on. However, most DVD to ISO software cannot decrypt DRM-protected discs. If you want to copy DVD movies to ISO without DRM protection, VideoByte DVD Copy should be your best choice to get started.
Can you create ISO from CD?
Yes, you can make ISO from CD on Windows and Mac. For Windows users, give it a shot at BurnAware. For Mac users, Disk Utility is a pre-installed app to quickly create ISO from CD discs.
How do I create an ISO from a DVD to a USB?
That's a piece of cake. You just need to pick a preferred way above and create ISO from DVD on the computer in the first place. Then, simply move the ISO file to a USB drive. After that, you can directly mount ISO file on a USB.
If you have some homemade or DRM-free DVD collections and want to copy DVD to ISO files for flexible playback, all the methods introduced are workable. Simply get your best pick and start the copy process right away.
However, if you want to make an ISO file from protected DVDs, professional DVD copy software is a must. In this case, VideoByte DVD Copy is worth a shot for its excellent DRM removal technology and selectable copy process. After that, you can mount the ISO file and enjoy the same playback as you do with DVD discs.