How to Play DVD on Blu-ray Players: Windows 11/10/8/7 Supported
Today, the movie industry is more likely to deliver high-resolution videos through Blu-ray discs, which can offer you astonishing visual and audio effects to enjoy the movie playback at home. To play Blu-ray discs, we know that common DVD players are not working to help, hence, you need to prepare Blu-ray players in advance to play Blu-ray discs without losing quality.
However, when there are many of you still have DVD collections, you may feel confused that can Blu-ray players play DVDs for you. In this blog, we will mainly discuss this issue. Now, just keep reading.
Can Blu-ray Players Play DVD? Why?
Don't worry when you have a Blu-ray player but now need to play a DVD disc - because Blu-ray players can support reading DVD discs and play the content smoothly for you.
The reason for Blu-ray players' possibility to support DVD playback refers to the following reasons:
Both DVD and Blu-ray discs are developed with similar technology and the same physical dimension, making it actually possible for Blu-ray players to read both formats as they are designed with two lenses to support reading both of them.
For the video codecs, Blu-ray discs use 3 codecs to encode Blu-ray media, while DVD applies 2 of these 3 codecs as well. Hence, reading Blu-ray discs means that the Blu-ray players also work to detect DVD media as well.
Similarly, the DVD audio formats are also included in the standards for Blu-ray discs to encode media. Hence, playing DVDs is not a problem at all for Blu-ray players.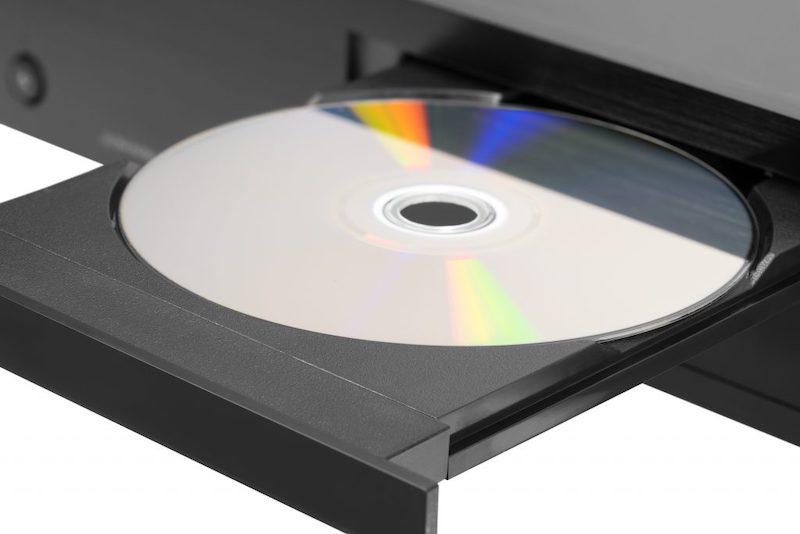 So to draw a conclusion, Blu-ray can be a more advanced disc type compared with DVD. Hence, when Blu-ray players support playing Blu-ray discs, they are mostly working to play DVDs as well. Can Blu-ray players play DVDs? The answer is definitely a "YES"!
Can DVD Players Play Blu-ray as Well?
On the contrary, some of you wonder can DVD players play Blu-ray discs as well. Unfortunately, as Blu-ray discs are developed with more types of video/audio codecs than a DVD player supports to read, it is not possible for you to use a DVD player to play Blu-ray disc directly.
More technically speaking, when a Blu-ray disc requires a blue laser to scan "pits" on the physical disc to read the information, the DVD player only offers red laster, which is not available to detect any content on a Blu-ray disc. Hence, Blu-ray playback will fail if you use a DVD player to try reading the disc.
How to Play DVD on Blu-ray Player on Windows (Detailed Guide)
On TVs, selecting a qualified Blu-ray player hardware can directly enable you to have a smooth and high-resolution DVD streaming on large screens. However, for playing DVDs on Windows/Mac desktops, instead of inserting the disc into the connected Blu-ray player hardware for reading it, you will also need software to ensure a smooth streaming experience. Here, VideoByte Blu-ray Player will be the best choice you shall not miss.
VideoByte Blu-ray Player is a powerful DVD/Blu-ray player, performing to bypass all regional limitations or disc protection teches, and then plays all types of DVD discs for you without hassle. It will deliver lossless resolution to play DVD movies on Windows in original visual as well as audio quality.
In addition, the convenient playback controlling bar is equipped to navigate among chapters and lets you flexibly control the streaming for you. To conclude, VideoByte Blu-ray Player will add highlights to your DVD movie streaming experience with its powerful ability!
Highlights of VideoByte Blu-ray Player
Decrypt all regional protection codes to play all DVD/Blu-ray discs for you without hassle;
1080p HD and even 4K Ultra HD streaming quality ensured;
Cinematic audio decoding systems to preserve high-quality effects like DTS and Dolby Digital for you;
Full subtitle, audio, and subtitle tracks detectable;
Easy control of the disc playback with an intuitive menu bar;
Equipped with GPU acceleration to reduce consumption to deliver a smoother playback experience;
Working to support regular media streaming as well.
In the following brief guide, you will be able to grasp the way on how to play a DVD on Windows 10/11/8/7 using a reliable Blu-ray player hardware and VideoByte Blu-ray Player to play DVD on Windows with ease:
STEP 1. Select a qualified Blu-ray player hardware to connect with your Windows desktop. Once complete, insert your DVD into it and load it on the device.
STEP 2. Now, launch VideoByte Blu-ray Player and hit "Open disc" on the main interface. You are required to browse the desktop and select the detected DVD disc to load it in the software.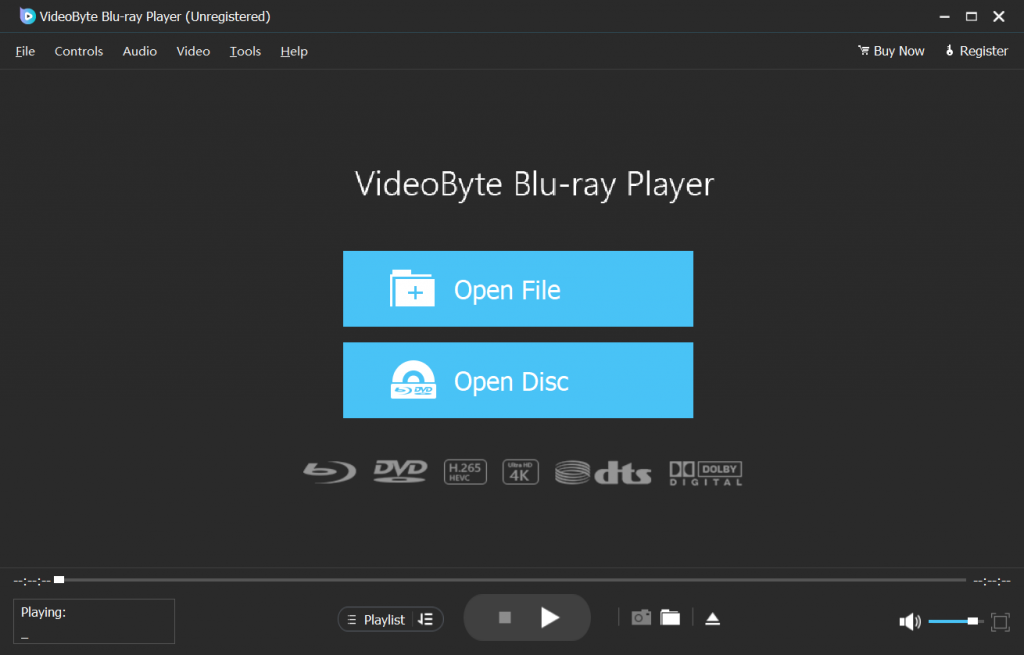 STEP 3. It only takes several seconds for VideoByte Blu-ray Player to load the DVD media. Once the picture shows up, simply tap the "Play Movie" icon to process the DVD streaming. You are able to control the playback like navigating among chapters, choosing audio tracks, and subtitles, etc. with the bottom controlling bar.
FAQs of Playing DVD on Blu-ray Player
Encounter with any trouble playing DVDs on Blu-ray players? Grasp these FAQs and see if they can help!
Q: Why won't my Blu-ray player play DVDs?
A: Generally, Blu-ray players can support playing DVDs without limitations. However, you still need to pay attention that there are two special exceptions when a Blu-ray player fails to play DVDs for you: your DVDs are encrypted with regional protections, or the physical disc is severely damaged. Under these two scenes, Blu-ray players will fail to read the discs as usual, leading to failure in playing them for you.
Q: Can Blu-ray players play DVD-R?
A: Absolutely yes. DVD-R is a common recordable DVD format that looks just the same as the standard DVD type. Hence, if the DVD-R disc is in good contain without being encrypted by regional protections that your Blu-ray player doesn't work to read, it is possible for you to play DVD-R on your Blu-ray player directly.
Q: Can Blu-ray players play DVDs from all regions?
A: Pay attention that Blu-ray players only support reading both DVDs and Blu-rays purchased in the same region. For example, if your Blu-ray players are purchased in countries concluded in the list of Region A Blu-ray region code, you can only use them to play Region A DVD/Blu-ray discs only.
Can Blu-ray players play DVDs? From the blog, you now get the answers. If you desire to play DVDs on Windows/Mac with the best experience, selecting the
best free Blu-ray player software
 is also essential. Here, VideoByte Blu-ray Player is strongly recommended. Now, install it and have a try!