Top 5 DVDFab Alternatives to Rip Your Blu-ray/DVD to Digital
DVDFab is an all-in-one multimedia solution on Blu-rays, DVDs, videos and audio. It wins many users in recent years. But in the same time, lots of its users are looking for a DVDFab alternative because of its expensive price plan, application fault problem, etc. No matter what, you can find the best DVDFab alternative here.
Today, we will share a cost-effective DVDFab alternative - VideoByte BD-DVD Ripper and also 4 more similar programs for ripping Blu-ray/DVD discs, folders, and ISO images.
To save your time, we round up the key points in this chart. Please glance through and quickly scroll to your interested one:
| | | | | | |
| --- | --- | --- | --- | --- | --- |
|   | Main Interface | Video/Audio Format | Speed | Extra Functions |  Price Plan |
| DVDFab Blu-ray/DVD Ripper |  Easy but lack a guidance |  300+ |  Fast, but may crash sometimes |  Editing tools |  More expensive |
| VideoByte BD-DVD Ripper |  User-Friendly |  300+ |  6X faster speed |  Editing tools, media toolbox |  Cost-effective |
| MakeMKV | User-Friendly | MKV | Slow, will take hour long | None | Free |
| Leawo Blu-ray Ripper | User-Friendly | 180+ | 6X faster speed | Format converter, downloader, DVD copy function, and simple editing tools | Expensive |
| Imelfin Blu-ray Ripper | User-Friendly | 100+ | Slow, isn't equipped with any acceleration technology | 3D maker, video editor |  Cost-effective |
| Tipard Blu-ray Converter | Classic, a bit hard to manipulate | 500+ | 3X faster speed | Handy and powerful video editor, small toolbox, format converter |  Cost-effective |
Overall, VideoByte BD-DVD Ripper provides lossless Blu-rays/DVDs ripping at ultra-fast speed, with optimal video enhancement and a managing toolkit to personalize the outputs. Its security and effortless manipulation, plus the affordable pricing attributed to great popularity and high reputation.
Our Honest Report for DVDFab
In this part, we will show an honest report since our long-period testing: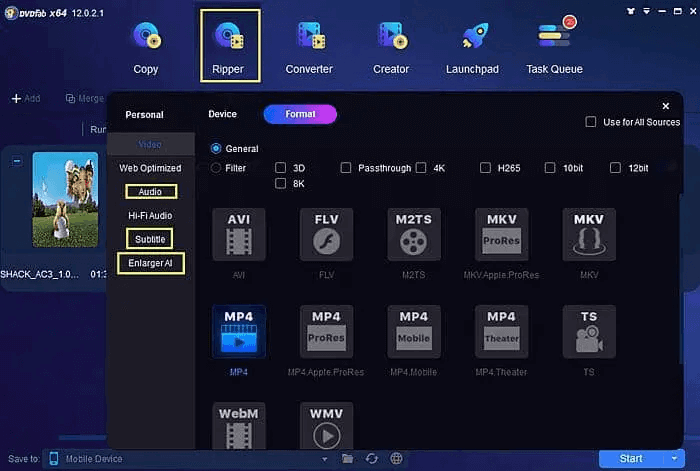 Main Features of DVDFab Blu-ray & DVD Ripper
DVDFab is divided into four modules: Copy, Ripper, Converter and Creator. You can buy them separately or as a suite. In this passage, we focus on its Blu-ray Ripper and DVD Ripper. It may take you a while to explore and master all the tools and features DVDFab has to offer.
The program provides a vast of format selections to rip Blu-ray/DVD, including the most universally-support option like MP4, MP3, and more.
Directly selecting a profile model to rip Blu-ray/DVD to its compatible files is possible.
The ripping speed is fast, and batch processing feature is equipped.
Simple editing tools are provided to trim, crop, watermark videos in the program.
Cons of DVDFab Blu-ray & DVD Ripper
The rising requirements to seek a DVDFab Blu-ray/DVD Ripper alternative definitely originate from some downsides of the program. Based on most users' feedback, we can conclude the cons of DVDFab to the following points:
Expensive subscription fee is needed. When DVDFab tends to rip full Blu-ray/DVD movies for you after subscribing to its plans, the pricing is too expensive for everyone to afford. For the single lifetime license for DVDFab Blu-ray Ripper, it takes up to $124.99 to purchase!
| | | | | |
| --- | --- | --- | --- | --- |
|   | 1 month/1PC | 1 Year/1PC | Lifetime/1PC | Family license |
| Blu-ray Ripper | $44.99 | $66.99 | $124.99 | / |
| DVD Ripper | $39.99 | $59.99 | $84.99 | / |
| VideoByte BD-DVD Ripper | / | $34.95 | $49.95 | $69.95 |
Despite the pricing, there are also other reported issues that would affect user experience:
The program will drag down the device performance while ripping Blu-rays and DVDs for you.
Cannot rip new discs and doesn't bypass all DVD protection.
Sometimes it crashes because of the bulky sizes.
The program setup is time-consuming.
To rip Blu-rays and DVDs, you need to install two independent programs respectively.
DVDFab rippers need higher hardware standards to install and run (with a minimum at 2GB RAM and 20GB hardware storage).
The program only offers very basic editing features to use.
Best DVDFab Alternative: VideoByte BD-DVD Ripper
Don't be frustrated when you discover DVDFab is far below your expectation. As a perfect DVDFab alternative, VideoByte BD-DVD Ripper can be a rational DVD burning software to offset its downsides and works around to fulfill all your requirements.
The most convenient brought by VideoByte BD-DVD Ripper should be the fact that it has integrated Blu-ray ripper, DVD ripper, and video editing toolkit all in one program, but functions far more stable and speedy than any DVDFab product. Surprisingly, it also costs you much cheaper at only half of the pricing than DVDFab if you wish to subscribe to the pro version of VideoByte BD-DVD Ripper!
Also, read further with the following sparkling features to master why VideoByte BD-DVD Ripper is better than DVDFab:
Bypass all Blu-ray/DVD protections and rip them to digital by taps.
Retain 1:1 ratio to rip Blu-ray/DVD/ISO to 300+ formats losslessly.
The program will detect and extract all original audio tracks as well as subtitles of multilingual languages for you.
The handy but multifunctional editing tools are embedded in the program for better personalizing and enhancing the video effects.
The ripping process will run smoothly at 6X faster speed.
Meanwhile, to retain effortless manipulation to help you rip Blu-ray/DVD easily, VideoByte BD-DVD Ripper only takes several simple procedures to complete digitalization. Please walk through the guide and learn about how it functions: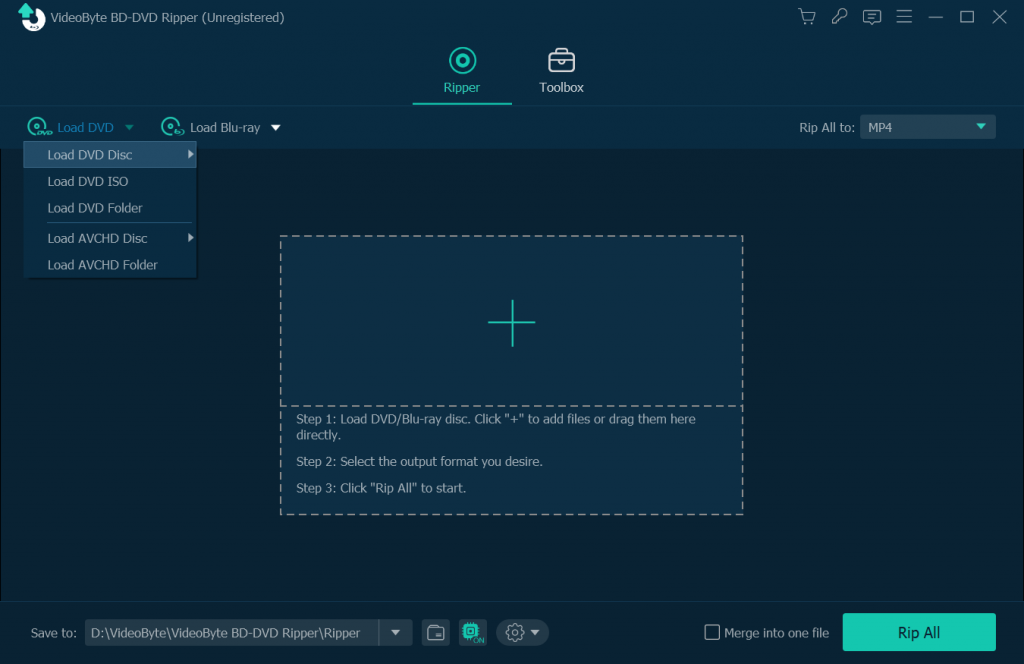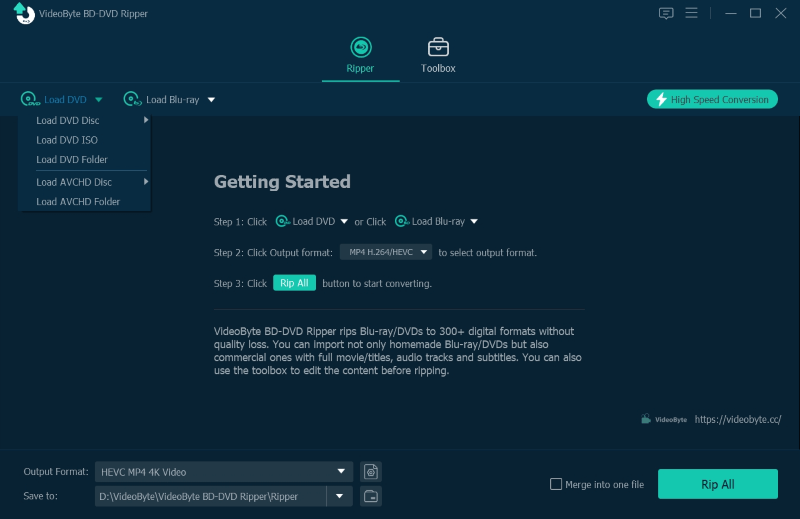 Step 1. Download and install VideoByte BD-DVD Ripper on your Windows or Mac.
Step 2. Import Blu-ray movie or DVD disc. Insert your Blu-ray disc into your external Blu-ray drive and connect with your computer. Then, you need to click on the "Load Blu-ray> Load Blu-ray Disc" button on the program's main interface to browse source Blu-ray movies for loading.
Step 3. Next, click the drop-down menu of "Rip All to" button and go to the "Video" tab. Select the "MP4" format or other formats you want on the left side.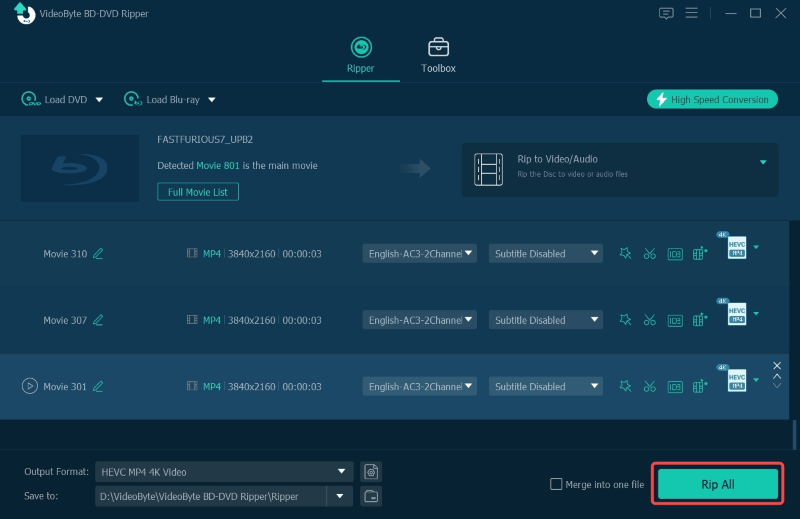 Step 4. If you want to make your Blu-ray video a unique and exclusive one, just click the "star" icon and you can crop, add a watermark to the video, or adjust other effects like brightness, contrast, saturation and hue of the video by clicking "Effect". You can also click the "scissors" icon to cut your video file.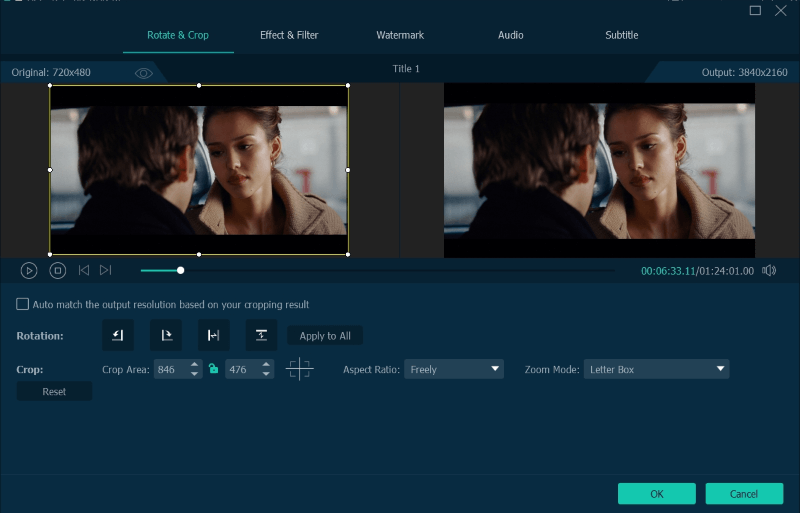 Step 5. Select audio channel and subtitle on the main interface and click the "Rip All" button located in the lower right corner of the interface to start converting Blu-ray to digital.
Below is a detailed guide on how to rip Blu-ray/DVD discs.
Other DVDFab Alternatives You Can Also Try
Other than VideoByte BD-DVD Ripper, if you wish to take other DVDFab alternatives as backups, here recommends 4 more optimal and reliable options to you. Please scroll down and keep reading.
MakeMKV is an open-source program which can be a considerable alternative to DVDFab. It has embedded both DVD and Blu-ray ripping functions in one single program, and will ensure lossless quality to export the media to MKV format. Although the output files would be kept in large file sizes, the output quality will not be compressed a bit and also the audios as well as subtitle tracks will fully remain for you.
Nevertheless, as MakeMKV is oriented for Blu-ray/DVD ripping, the program is not equipped with any editing feature to further personalize the video effects, and MKV is the only selectable format to export the DVD/Blu-ray content. Therefore, although MakeMKV can be better than DVDFab to some extent, it is more suitable for professionals who wish extreme quality to rip Blu-ray/DVD media only.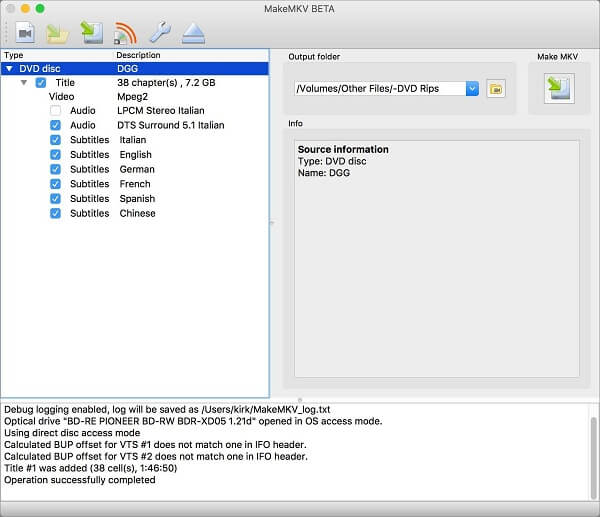 Pros:
Retain full quality to rip both DVD and Blu-ray losslessly.
Also work to rip protected discs.
The program is completely free of charge.
It delivers a very simple interface for you to process Blu-ray and DVD ripping by simple taps.
Cons:
Only support MKV as the output format.
Take long time to complete a Blu-ray/DVD disc ripping (even up to hours long).
No built-in editing tools are provided to adjust the output videos as you wish.
Top 2. Leawo Blu-ray Ripper
Another good DVDFab alternative to rip Blu-ray and DVD to digital formats is Leawo Blu-ray Ripper. The program also provides a clear interface, simplifying the manipulation even you are new to it. Its flexible ripping modes allow you to rip Blu-ray/DVD in full, main, or custom options in preferences. Its built-in DVD Copy function can further help you burn MP4 to DVD again by clicks.
Meanwhile, Leawo Blu-ray Ripper comes with a video editor, allowing you to personalize a perfect outputs to rip Blu-ray as well as DVD media. For sure, you will get guaranteed quality and efficient speed. But like DVDFab, Leawo Blu-ray Ripper can be a bit pricey to access all its features. For a cheaper but professional option, it is not as competitive as VideoByte BD-DVD Ripper.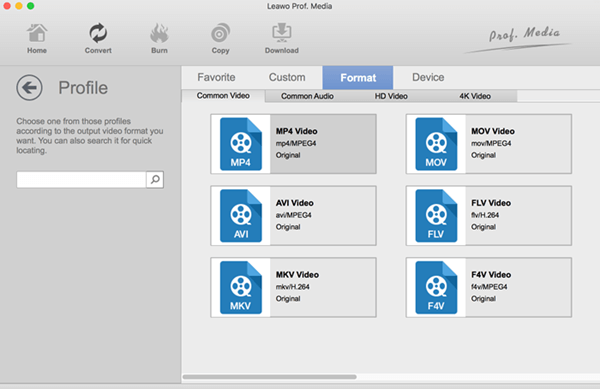 Pros:
Support ripping protected and homemade DVD as well as Blu-rays at the same time.
Optional output formats provided to digitalize DVDs/Blu-rays.
Good visual and sound quality will both be retained.
The program comes with a built-in video editor to use.
Cons:
The pricing to purchase its full version is expensive (starts at $99.95).
Top 3. ImElfin Blu-ray Ripper
ImElfin Blu-ray Ripper is also a nice DVDFab alternative working to bypass protected Blu-ray/DVD encryptions and rip both encrypted as well as homemade discs to regular media formats with decent quality. To increase the numbers of supportive playback devices for ripped videos, the program allows you to select preset models to rip the discs directly.
The program also comes with some simple editing features, allowing you to easily customize the video outputs before the ripping starts. Like DVDFab, ImElfin Blu-ray Ripper will work smoothly on both Windows and Mac systems for you.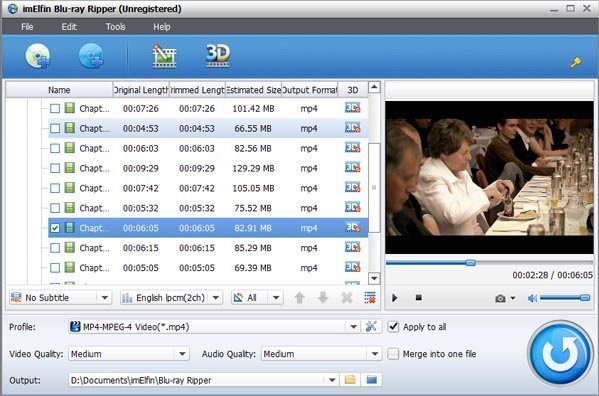 Pros:
Deliver good quality to deal with DVD/Blu-ray ripping and export high-definition video outputs.
It is working to rip protected Blu-ray/DVD discs for you.
Basic editing features are equipped to adjust videos in preferences.
Cons:
The interface of the program is a bit outdated.
It is not a free program to use.
The ripping speed can be slow as no acceleration technologies are adopted.
Top 4. Tipard Blu-ray Converter
The all-in-one Tipard Blu-ray Converter can be a rational option if you wish a multifunctional alternative to DVDFab. This program has embedded Blu-ray/DVD ripper, format converter, and also a helpful video editing toolbox to let you manage the discs, videos on computers more conveniently.
With stable performance ensured, Tipard Blu-ray Converter will help you digitalize Blu-ray/DVD discs to regular formats by simple taps at 3X faster speedy performance. There are also up to 500 formats provided to select, greatly improving the compatibility of the ripper media and allows you to enjoy the videos across devices without restrictions.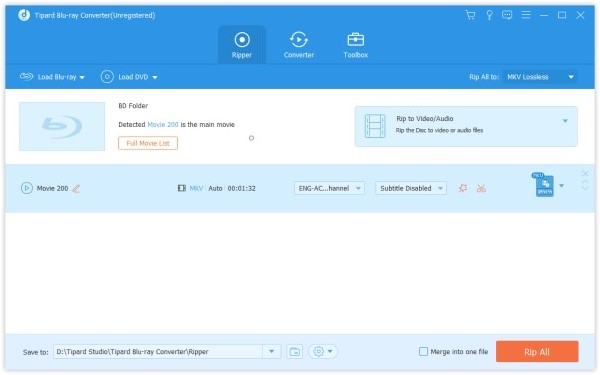 Pros:
Clear interface for beginners to get started easily.
Provide an all-in-one service with multiple functions added.
Deliver 3X faster speed to rip Blu-ray/DVD efficiently.
Built-in video editor is provided to personalize video outputs easily.
Over 500 formats of different definitions are offered to select.
Cons:
Not a free program and you ought to subscribe to avoid free trial restrictions.
The output quality is a bit compressed.
If you wish to get rid of DVDFab's downsides, VideoByte BD-DVD Ripper is truly a good DVDFab alternative. It provides a free trial version for users to have a test before purchase. It can be a superior option compared to a majority of aspects. Also, there are 4 more backups you can have a try. Now, you can determine your option and install the better one to replace DVDFab and rip Blu-ray/DVD in no time!