MPEG is a popular video format in many computer systems. You may not be familiar with MPEG but there must be a few MPEG videos on your computer. The file extensions of MPEG videos are .mpg, .mpeg, .mpa, .dat, .vob. Sometimes, you may need to burn these MPEG videos to DVD for collection or watching on a big TV screen. Then, an MPEG to DVD converter is a must. But it's not so easy to find the one which both have good performance, fast speed, and even low price.
So, we wrote this article with the aim to help you burn MPEG videos to DVD disc on your Windows computer. Now, we see how to complete this task below:
MPEG is not actually a format but short for Moving Picture Experts Group, a working group of ISO/IEC that has been developing video and audio encoding standards since 1988. Now, MPEG is taken for the name of the standard formats which introduced by that group. MPEG was formed to address the need for standard video and audio formats, and to build on H.261 to get better quality through the use of more complex encoding methods.
MPEG-1 is widely used on VideoCD (VCD), MPEG-2 can be found on DVD discs and Super VideoCD (SVCD), MPEG Audio Layer-3 is used for audio compression and creates almost CD quality sound, MPEG-4 is designed especially for low-bandwidth video/audio encoding purposes.
Why Choose VideoByte DVD Creator
If you want to watch MPEG videos on DVD players, it's necessary to burn MPEG videos to DVD. I highly recommend that you try VideoByte DVD Creator. Why choose VideoByte DVD Creator? First, it can convert videos in multiple formats such as MP4, MPG, MPA, DAT to DVD disc or DVD ISO files with easy steps. Second, it can support Windows 10/8.1/7. Third, it allows you to edit videos and select DVD menus. Fourth, you can also adjust video brightness and contrast.
As VideoByte DVD Creator has so many features, why not choose it to burn MPEG videos to DVD? Just click the button below to download and install VideoByte DVD Creator right now.
How to Burn MPEG Videos to DVD on Windows 10/8.1/7
Step 1. Register to VideoByte DVD Creator
Download, install and open VideoByte DVD Creator. With a free trial version, you can use this converter to burn videos to DVD for only 3 times and are not allowed to get free technical support. Therefore, to have a better experience, you had better purchase and register VideoByte DVD Creator before burning MPEG videos to DVD.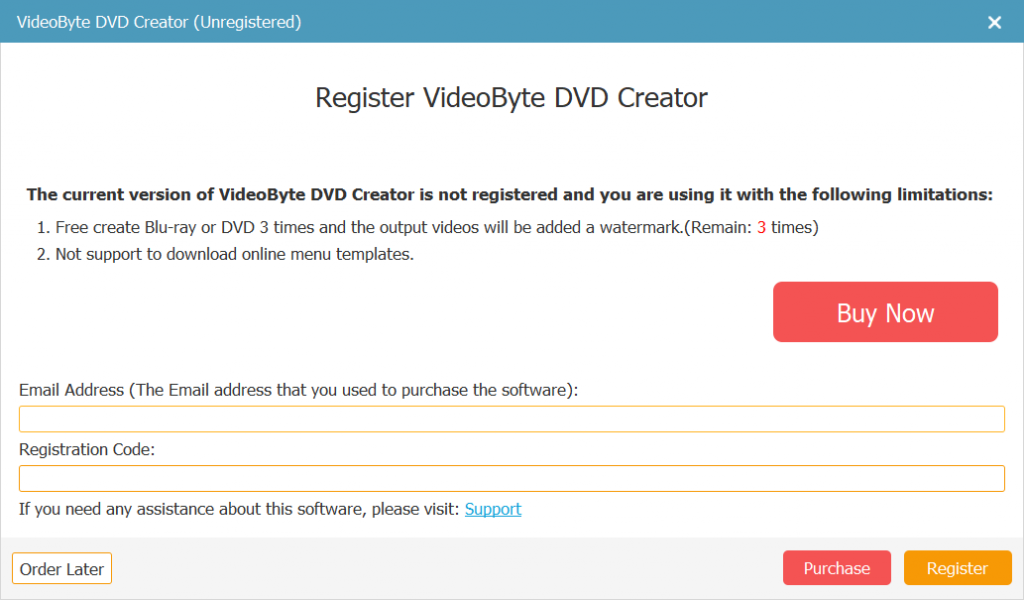 Step 2. Add MPEG Videos to the Program
Click one of the "Add Media File(s)" icon at the middle interface and upper-left corner to add MPEG videos to the program.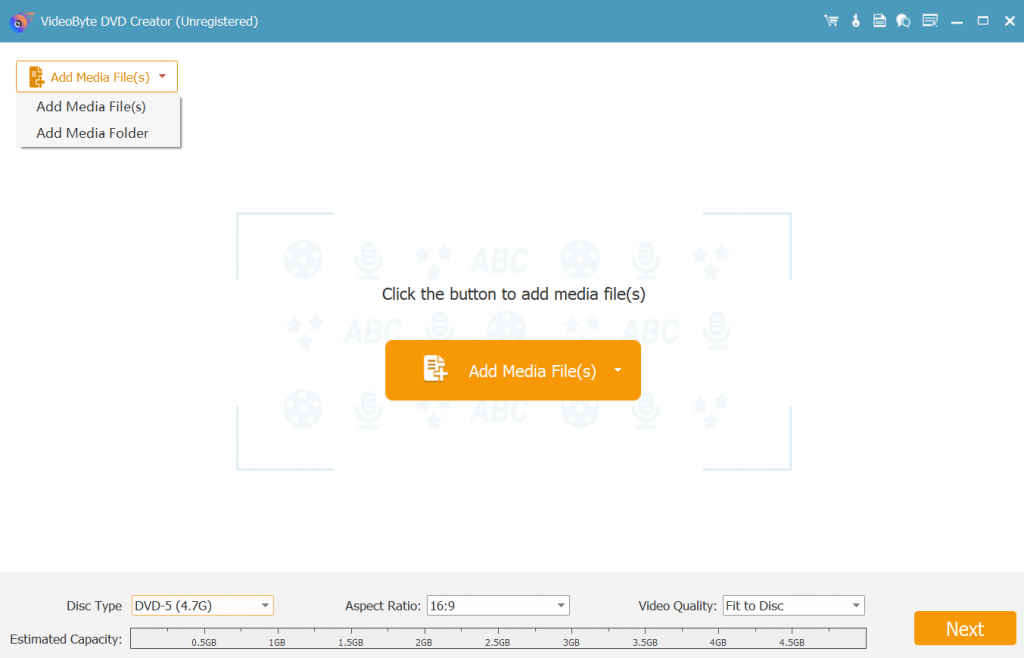 Step 3. Edit MPEG Videos (Optional)
If you want to add some special effects to videos, then find a "Magic Stick" icon at the right side of each video, then click on it to edit videos including rotating, cropping, trimming, adjusting the brightness, adding filter and watermark. If you aren't satisfied with the edited video, you can click "Restore" icon on the bottom to re-edit. After finishing editing, click "Apply" icon at the bottom.
Besides, you can change basic parameters of DVD disc such as Disc type, aspect ratio, and video quality by selecting the parameters in the bottom of the main interface and click "subtitles" option next to "Magic Stick" to add and enter subtitle. Then click "Next" icon at the lower-right corner.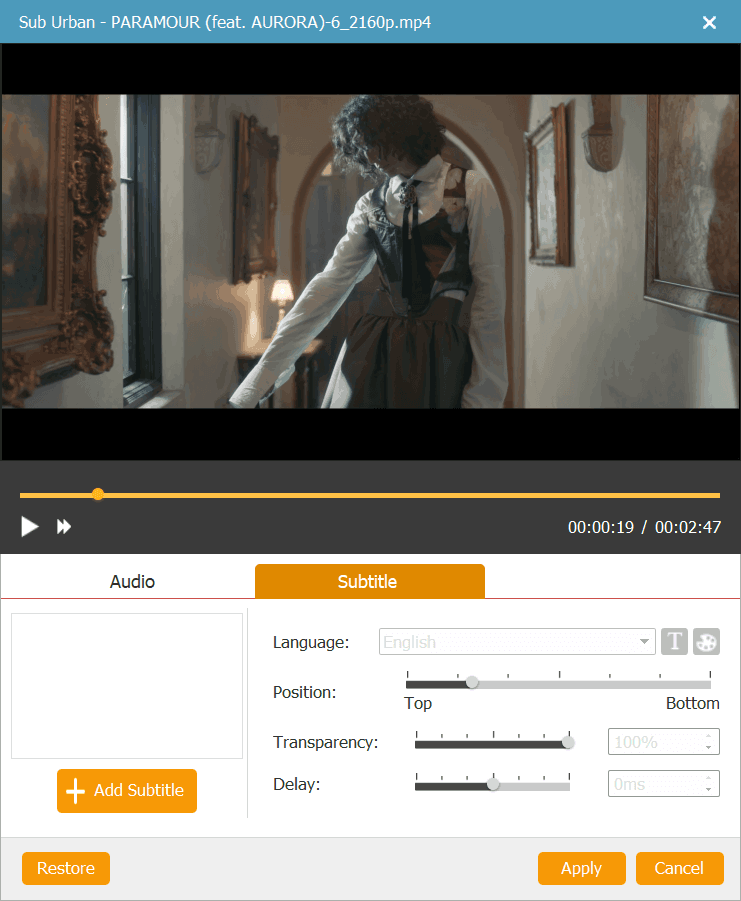 Step 4. Customize DVD Menu for MPEG Videos (Optional)
If you would like to edit DVD menu, then you can select one of the menu templates in various style including holiday, wedding, family, travel, etc. at the left side. You can also change the title subject and add background music & opening film to your videos at the bottom. If you don't want to add DVD menu, then just click "no menu" at the lower-right corner. After all settled, click "Next" icon at the lower-right corner.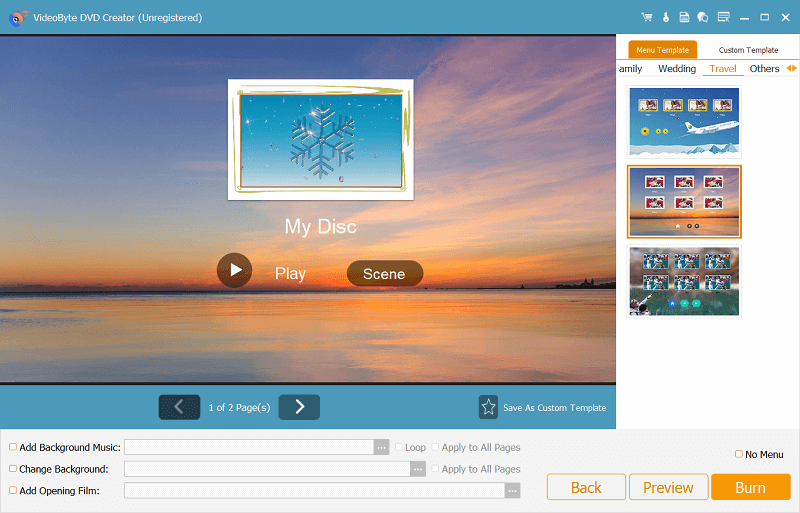 Step 5. Start to Burn MPEG Videos to DVD
Insert a blank DVD disc into DVD-ROM before start burning. Select output format, DVD type, and destination folder as you like.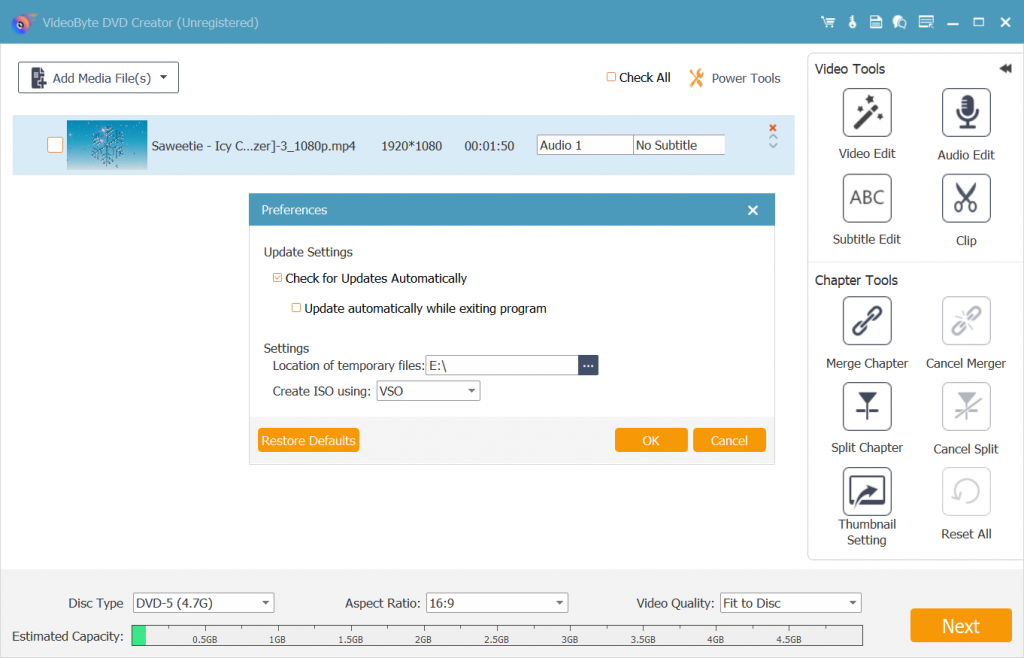 Then click "Start" icon in the lower-right corner to burn MPEG videos to DVD. When it was completed, click "OK" icon on the popup window. Then you can find converted videos in the destination folder.
Tips for Burning MPEG Videos to DVD
To have a better visual experience, there are some tips for burning MPEG Videos to DVD:
Add watermarks editing by you to the created DVD.

Create audio track.

Preview DVD projects before burning.
With only a few simple steps, you can burn MPEG videos to DVD on Window 10/8.1/7 easily. VideoByte DVD Creator is not just an MPEG to DVD converter, but also can burn YouTube videos and iMovie files to DVD, so don't hesitate to download VideoByte DVD Creator to make your own DVD.