What to do if your media player can't open the M2TS files. Usually, most of the popular media players like VLC, Windows Media Player, etc. support the M2TS files.
But some users have reported that they met the error message when they are trying to play the M2TS files on Mac or Windows. If you can't figure out the reason or you just want to get a solution, read on this post here.
A word about M2TS – M2TS is a container format for high definition video files on Blu-ray and AVCHD. Almost all the HD camcorders, like Sony HDR-CX100, JVC GZ-HD40, Panasonic HDC-HS300 record videos in M2TS format. And the M2TS file extension is also used for Blu-ray Disc Audio-Video (BDAV). BDAV is a type of Blu-ray discs which don't have menu and interactive. Some BDAV MPEG-2 Transport Stream files may use the .MTS file extension instead.
The protected commercial Blu-ray discs (BDMV) also contain the file in M2TS files.
At first, you should be aware of that not every player can handle the M2TS format once you transfer the files from camcorder to computer, or get the M2TS files from a Blu-ray Disc. So, what media player can open M2TS files on Windows and Mac? Another important factor is the whether there is protection and restriction armed on the Blu-ray disc.
Normally, M2TS files from camcorder or BDAV can be opened with Windows Media Player, VLC media player, SMPlayer, KMplayer, 5K player, and probably some other popular media player as well. But to play the M2TS files of BDMV, it's not so easy. We will talk about it on next part.
If an M2TS player will not open the file, try changing the extension to MTS. Some software may only recognize the file if it uses the shorter extension, or vice versa.
How to Play the M2TS Files in Protected Blu-ray Disc
Most of the M2TS files can easily be played with these free M2TS player, but still some of the M2TS files are there, which the free M2TS player can't play. A big reason for such errors be in the form of the protection of Blur-ray disc.
Actually, VLC can play these M2TS files in protected Blu-ray disc as long as you get the AACS decoding. The steps are really complex. But if you want to do that, you can get help from here. If you want to find an easy solution, you can get help from VideoByte Blu-ray Player.
Brief Introduction of VideoByte Blu-ray Player
VideoByte Blu-ray Player is a multimedia player which specially designed for playing any commercial or home-made Blu-ray disc, Blu-ray ISO image file, as well as the Blu-ray Folder (BDMV) files on Windows/Mac. So, this program has the ability to play the M2TS files from the encrypted Blu-ray discs with lossless quality. With VideoByte Blu-ray Player, you don't need to perform many more extra steps.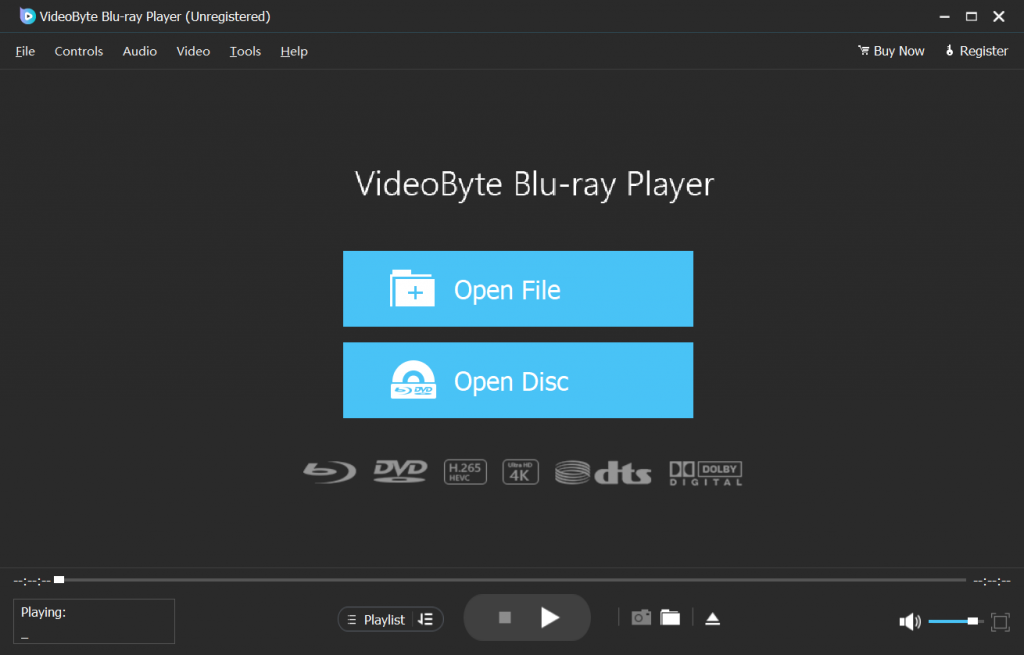 Further Reading - Convert M2TS Files
Sometimes, you may want to think about another solution to solve the incompatible problem of M2TS – that's converting M2TS file to a universal video format such as MP4. To do that, VideoByte Free Video Converter can give you a hand.
VideoSolo Video Converter Ultimate is a clean program which allows you to convert video between 150+ popular formats. It fully supports the M2TS and MTS format, so you can convert M2TS/MTS files to MP4, AVI, FLV, MKV, etc. which is compatible with your media player. It's a professional video converter with stable performance. You must be fall in love with it once you try it.