3 Best BDMV Players on Mac/Windows
A BDMV file is a Blu-ray information folder to keep full detail of an optical disk at best, but you'll find it stuffed with a pile of descriptive files if you try to open it on the computer. Then, you'll get lost and don't know which one is the media file to play. Actually, you cannot directly play a BDMV file natively on a regular media player.
Instead, you need a BDMV player to play the BDMV file and take control of the original titles, scenes, chapters, subtitles, audio tracks, etc. What's more, it's a good idea to convert the BDMV file to digital formats so that it can be read and played on a regular media player. This post will show you 3 powerful BDMV players and the way to convert BDMV to MP4 with ease. Now, just pick your preferred way to get started.
Among the 3 best BDMV players, VideoByte Blu-ray Player is highly recommended for outstanding playback of BDMV files with a native Blu-ray menu to select default titles, chapters, subtitles, audio tracks, and so on. You can try it for free now!
Top 1. VideoByte Blu-ray Player (Windows/Mac)
Pros

Cons

Play all BDMV files/folders smoothly with the default Blu-ray menu
Support Blu-ray discs/DVD discs/ISO files/video and audio files
Play videos of up to 4K with DTS and Dolby Digital audio effects
Open and play discs protected by DRM restrictions and region codes
Keep all the titles, chapters, scenes, subtitles, and audio tracks
User-friendly menu for convenient control
Provide GPU acceleration service to ensure fluent playback

Paid to use it but offer a 30-day free trial
Do not support 3D videos and discs
VideoByte Blu-ray Player is an exquisite player for DVD/Blu-ray discs/local files of up to 4K resolution in any format, let alone BDMV files and BDISO files. Meanwhile, it is able to keep the titles, chapters, scenes, subtitles, and audio tracks in BDMV files as well as offer you an easy-to-go navigation menu to quickly play your favorite title or scene.
As a BDMV player, VideoByte Blu-ray Player performs well in delivering a cinema-like experience with high-res video quality and crystal-clear audio effects like DTS and Dolby Digital. Better yet, it can easily bypass DRM protections and all region codes to play protected Blu-ray discs. With its excellent GPU acceleration, you'll be able to enjoy smooth and flow playback.
VideoByte Blu-ray Player:
Remove DRM protections like AACS, BD+, APS, CSS, etc.

Unlock region codes from A to C and 0 to 8;

Conveniently play DVD Disc/Folder/ISO file;

Support up to 4K resolution of local video files;

Preserve original titles, chapters, tracks, subtitles, etc.;

Easy-to-go menu for better control of playback;

Provides GPU acceleration for keeping fluent playback;

Free lifetime technical updates and in-prompt technical support;
Supported OS:
Windows 10/8/7/Vista/XP (SP2 or later); Mac OS X 10.7 or above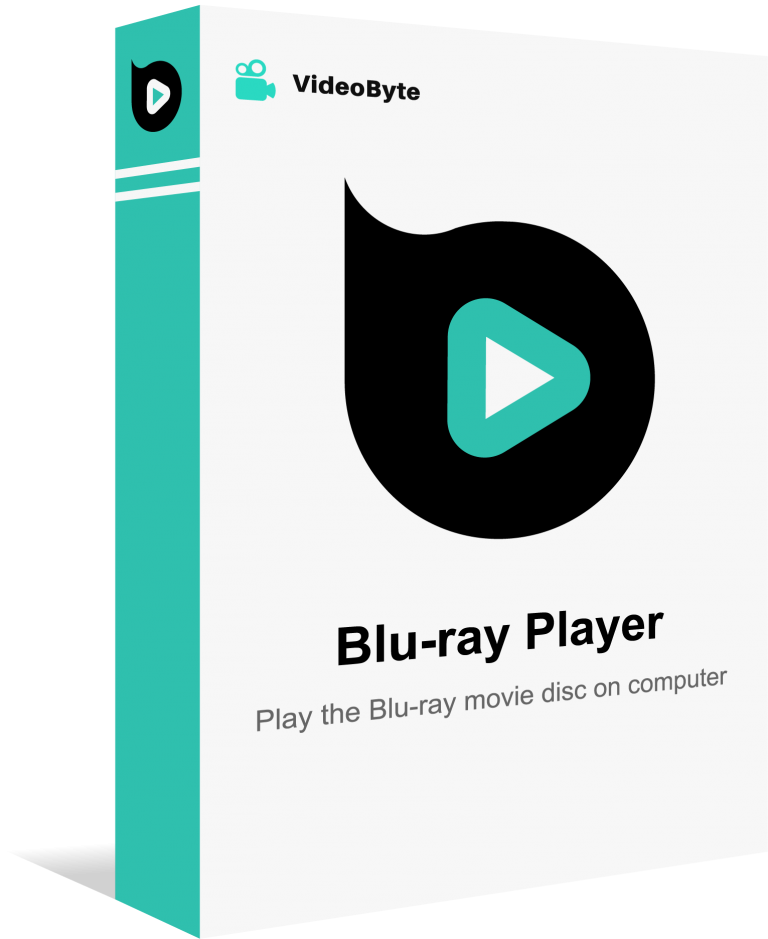 How to Open and Play BDMV Files with VideoByte Blu-ray Player
The following step-by-step tutorial will take the Windows version as an example to show how to open and play BDMV files/folder on Windows/Mac.
Note: If you want to open or play BDMV folders on your Windows or Mac, you need to keep this in your mind: BDMV folder is not the Blu-ray first-level directory. Therefore, if you want play BDMV folder, you need to select the Blu-ray folder as a whole, instead of any streaming file.
Step 1. Download and Install BDMV Player
After installing the BDMV player, VideoByte Blu-ray Player, just launch it.
Step 2. Add BDMV File
Click "Open File" on the interface and select a whole BDMV file you want to play back and click "Open".
Step 3. Play BDMV Files on Computer
Then, VideoByte Blu-ray Player will load the native Blu-ray menu and you can choose to "Play Movie" or choose a chapter/title to start playback. Also, you can change the subtitle or audio track if necessary.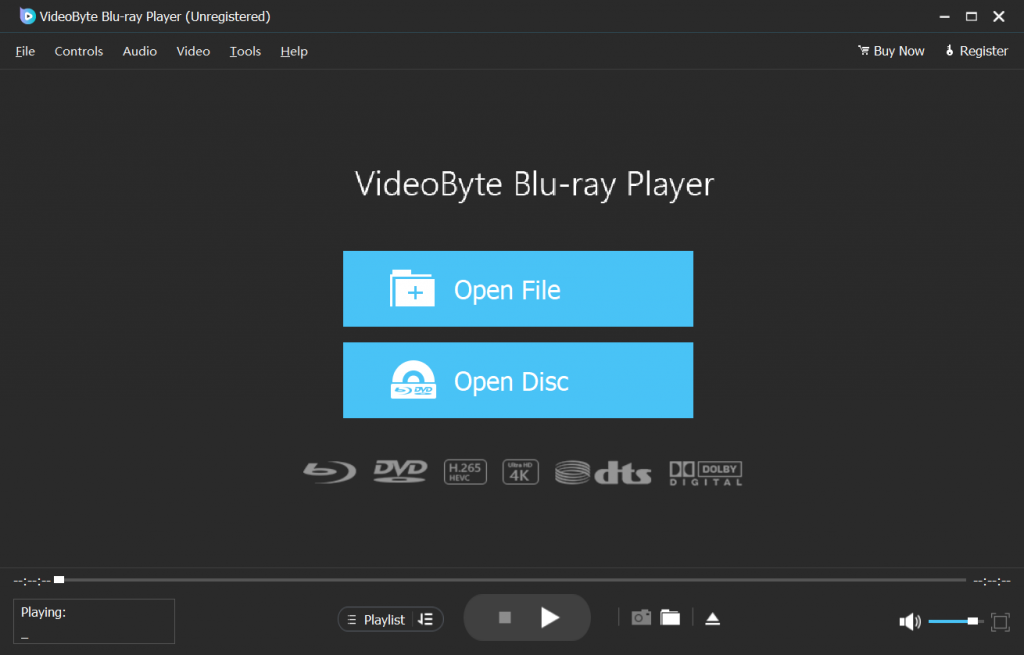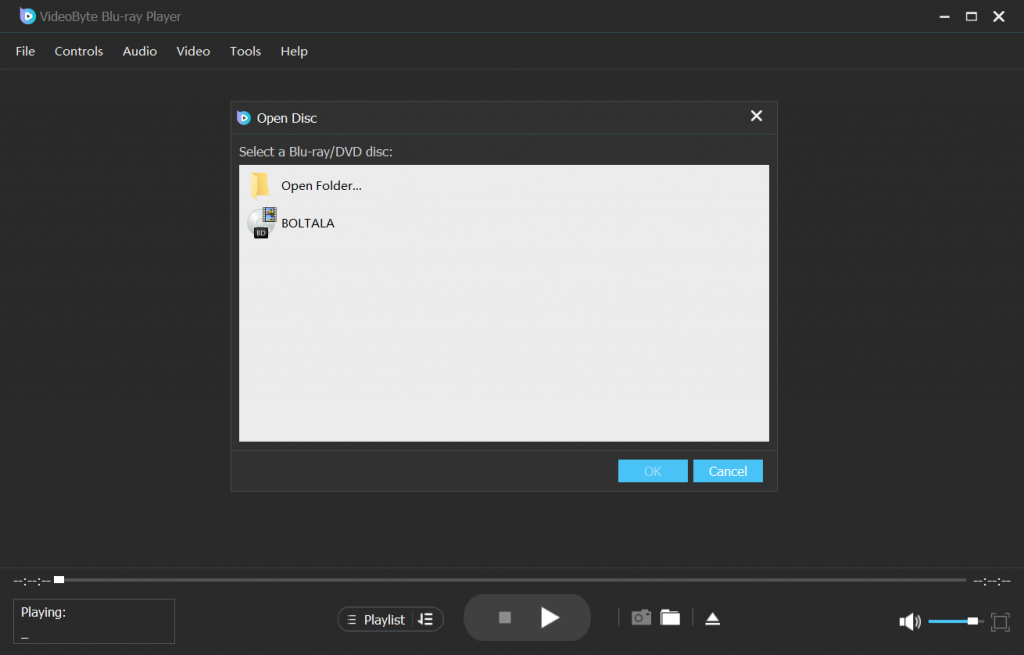 Top 2. Macgo Mac Blu-ray Player (Mac)
Pros

Cons

Play DRM-free BDMV files, Blu-ray discs/folders, and local files
Enable BluFast MX- Hardware Acceleration to load media fast
Support for DTS and Dolby Digital audio decoding systems
Provide an intuitive navigation control for DVD/Blu-ray discs

Do not read the native Blu-ray menu in BDMV files
Output up to 1080p High Definition quality without loss
Cannot play 3D discs and videos
Cannot play DRM-protected DVDs/Blu-ray discs
Do not support discs restricted with region codes
Do not support Windows 11/10/8/7/Vista/XP
Macgo Blu-ray Player is another powerful BDMV player which works well on macOS X 10.8 and later. Its concise and intuitive interface makes it easy for every new user to play Blu-ray discs, Blu-ray ISO files, and BDMV files. Also, it provides excellent Blu-ray playback performance, support for DTS / Dolby Digital, and compatibility with multiple digital formats. Moreover, it works really fast to load and start playing BDMV files. It can almost start playing within 10 seconds, but it uses almost 50% of the CPU arbitrarily.
However, it only supports playback of up to 1080p Blu-ray discs and cannot play protected discs with DRM and region codes. As for the playback of BDMV files, it cannot load the in-built Blu-ray menu, meaning that you cannot jump to any title or chapter you want to watch. Disturbedly, a watermark will show up and it's reported to have an out-of-sync issue during video playback.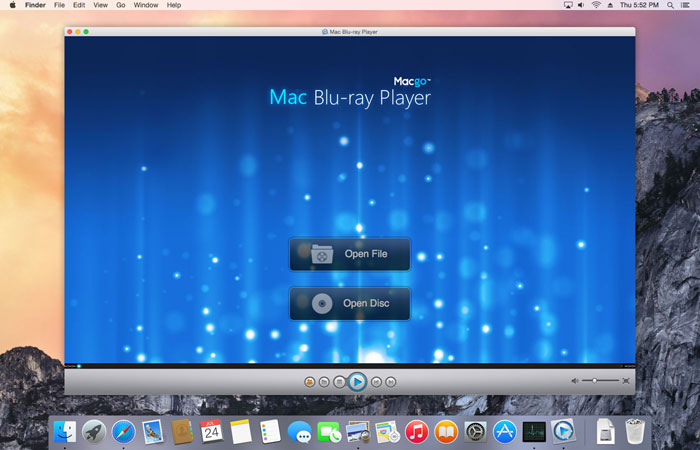 Top 3. Leawo Blu-ray Player (Windows/Mac)
Pros

Cons

Play BDMV files, Blu-rays, DVDs & normal videos easily

Useful menu to control Blu-ray playback

Support Windows 11/10/8/7 and macOS 10.10 or above
Read the chapters, titles, tracks, and subtitles from the source
Free to use with limited features

Work slowly and crash sometimes

Tend to get unresponsive when changing to another title
Do not play discs protected by DRM and region codes
Support DVD and Blu-ray discs of up to 1080p resolution
Cannot adjust the video effect during playback
Do not support external subtitles and audio tracks

 
Leawo Blu-ray Player is an outstanding Blu-ray player software for it supports playing Blu-ray disc, Blu-ray folder, Blu-ray ISO file as well as DVD, normal video and audio. Most importantly, it's also a powerful BDMV player that equips with convenient Blu-ray menu control support. You can easily adjust subtitles, audio tracks and Blu-ray chapters during playback. 
Leawo Blu-ray Player wins over Macgo Blu-ray Player for it uses less CPU by almost 20%. Even so, it works slower than both Macgo and VideoByte and sometimes crashes might occur. What might disappoint you is that this Blu-ray player now only supports up to 1080p resolution. Also, you cannot add external subtitles or audio tracks if you want to. Meanwhile, it doesn't enable custom video effects.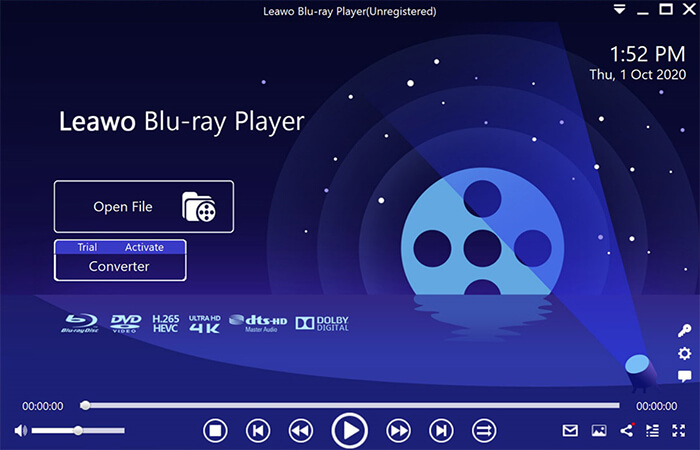 Further Reading - What is a BDMV File
BDMV files store Blu-ray movie information. A Blu-ray disc always consists of many folders, and BDMV folder is one of them with the .bdmv extension. Generally, it contains all the information of a Blu-ray disc, including movie titles, directory location of movie content, audio data, subtitles, etc. In a word, if you want to play BDMV files, you just need a Blu-ray player software. Below are details of different information for your reference.
What Containing in a BDMV file?
A BDMV file includes a bunch of descriptive files, which makes it unplayable on a regular media player. Yet, what a BDMV file looks like? Here are some of the files you can find in a BDMV file.
index.bdmv: describes the file contents in the BDMV directory; found in the BDMV and BDMV/BACKUP directories.

MovieObject.bdmv: describes one or more movie objects; located in the BDMV and BDMV/BACKUP directories.

sound.bdmv: optional file that relates one or more sounds associated with HDMV; Interactive Graphic streams applications; located in the BDMV/AUXDATA directory.

AACS: includes disc-level content certificates and media key block data.
BDMV: is the essential file that has all the meaningful content of the disc.
AUXDATA: includes assorted disc-specific metadata.
BACKUP: includes subdirs with backup copies of certain small content.
BDJO: includes BD-J objects if the disc uses BD-J.
CLIPINF: includes metadata files for the M2TS streams in the STREAM subdir.
JAR: includes JAR (Java archive) files which contain a few additional metadata.
META: includes subdirectories with a metadata XML file or thumbnail images.
PLAYLIST: includes binary playlist files that demonstrate the playback program chains or implement seamless branching.
STREAM: includes the actual audio/video streams encoded in MPEG-2 transport stream format.
BDSVM: includes BD+ virtual machine metadata that restricts the content from playback unauthorized.
CERTIFICATE: includes security certificates that the disc use.
What May Generate or Where to Find BDMV Files?
BDMV files are a barely used extension in daily life. However, you may find some BDMV files existing in a certain folder or created by a ripper. Here are some common circumstances.
HD Camcorders' AVCHD folders (BDMV and CERTIFICATE) with M2TS extension files. For Sony HDR-SR11 camcorder, the AVCHD files will bear the MTS extension.
Blu-ray disc with BDMV folder and files with BDMV extension.
Ripped Blu-ray DVD movies, the folder structure of which is all contained in a BDMV folder structure with M2TS extension files.
Blu-ray movie with BDMV & CERTIFICATE folder, one subfolder of the BDMV folder is the stream folder and in this folder, there is an MTS extension file.
Note that you also need a free M2TS player to open and play files with the M2TS extension.
Most people may be unfamiliar with BDMV files. If you still have some questions regarding BDMV files, you may want to check out the FAQs below to grasp a full idea.
How to Play BDMV Files with VLC?
VLC as one of the most popular and widespread media players, has accumulated a large number of loyal users for its convenience and ease of use. However, to play Blu-ray or BDMV files with VLC is not that easy as you imagine because Blu-ray files are always well-protected with region codes or other kinds of protection.
Fortunately, this open-source media player makes it possible to adjust the settings and make it feasible to play BDMV on this software. You need to go to https://vlc-bluray.whoknowsmy.name/ to download the keys database and AACS dynamic library. For more details, please find the step-to-step guide here: How to Play Blu-ray with VLC on PC & Mac (Ultimate Guide)
How to open BDMV on Mac and how to play it?
It's not difficult. If you want to know how to play BDMV on Mac, the whole post has told you the answer. The 3 helpful BDMV players, Videobyte Blu-ray Player, Macgo Mac Blu-ray Player and Leawo Blu-ray Player can all open BDMV on Mac and play it for you. If you prefer the one that specially for Mac users, you can choose Macgo Mac Blu-ray Player.
Can I play BDMV files on Plex or Kodi?
If you want to play Blu-ray files like a BDMV file on Plex or Kodi, you may be frustrated. Both media players are unable to play the Blu-ray movie in a BDMV file with a native Blu-ray menu because they lack Java runtime environment library to decode a BDMV file. Instead, Plex and Kodi will read the index.bdmv file to play plainly the main movie with no Blu-ray menu.
Therefore, you may use the 3 recommended BDMV players above to play BDMV files. Or rip BDMV files to a digital format. If you want to know the detailed guide on rip/play BDMV files on Plex and Kodi, you can refer to the two posts below:
[Guide] How to Play Blu-ray with Kodi
How to rip BDMV to MP4 to play on other devices?
Though we offer you 3 useful ways to play BDMV files and enjoy Blu-ray movie on your Windows/Mac, the players cannot play BDMV folders for you on your iPhone, Android, iPad, or other devices.
Since a BDMV file is basically a Blu-ray folder, a professional ripper like VideoByte BD-DVD Ripper can easily rip BDMV files to MP4, which can keep the lossless quality in a 1:1 ratio. Then, you can play original content with a regular media player or transfer it to your mobile device for offline playback. It only takes 3 steps to complete. Also, if you prefer a more lossy format like MKV, you can convert BDMV to MKV in the same way. Now, let's see how it works.
Step 1: Launch VideoByte BD-DVD Ripper on the computer;
Step 2: Click "Load Blu-ray" > "Load Blu-ray Folder" to add the desired BDMV file.
Step 3: Choose MP4 as the output format and hit the "Rip All" button to start ripping.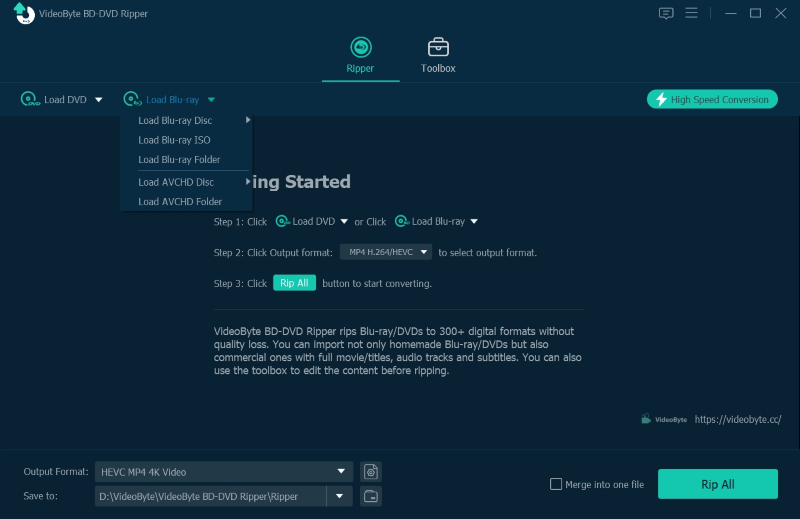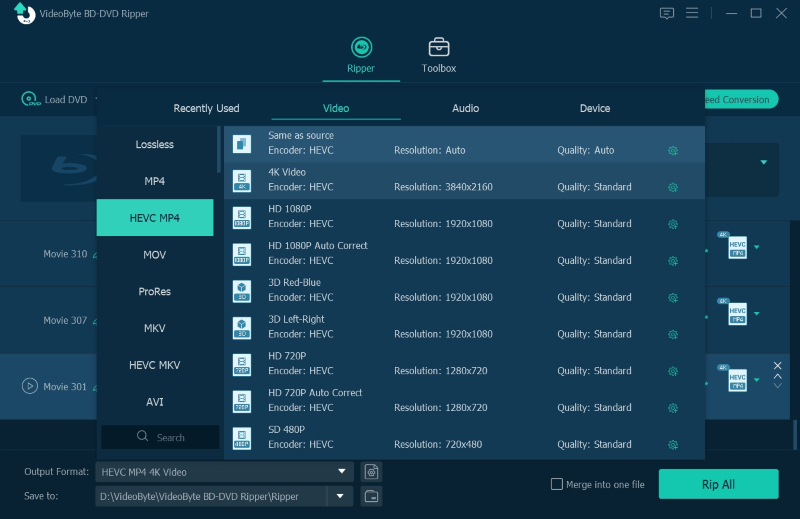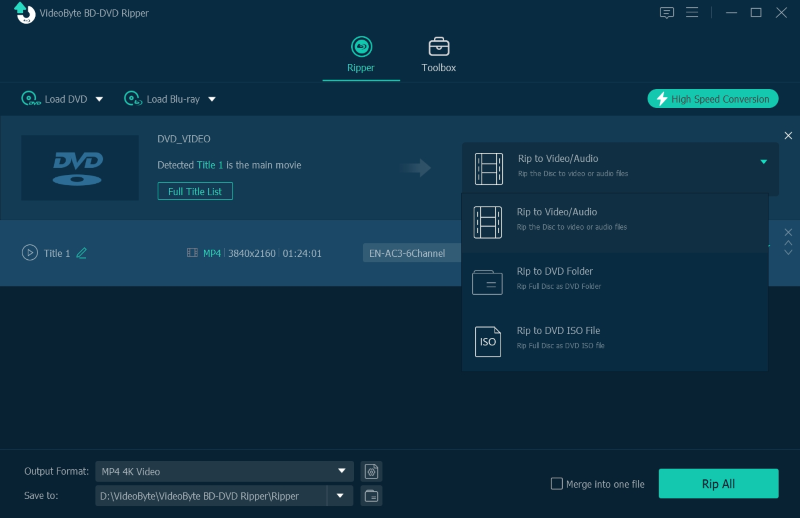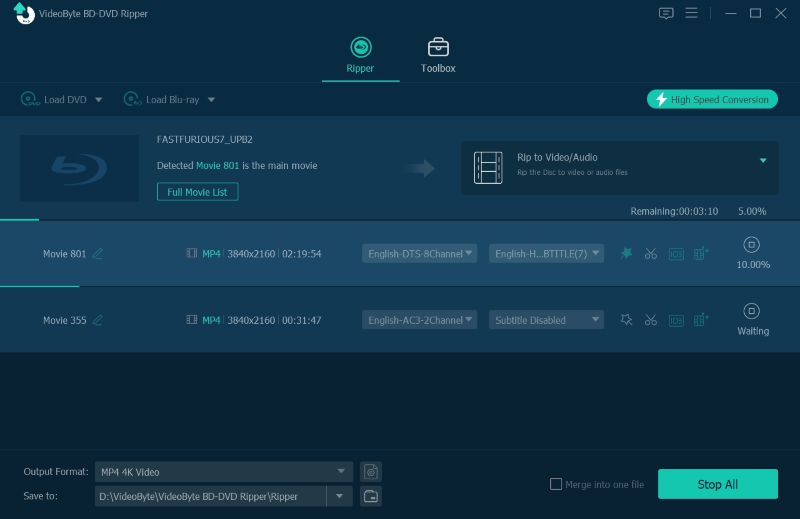 What's the difference between BDMV and BDAV?
There is a similar item known as BDAV, so what's the difference between BDMV and BDAV? Both refer to the transport stream format used for Blu-ray content. However, a BDAV file usually contains a homemade video by a BD camera while a BDMV file often contains content from Blu-ray movies or games. The biggest difference is the interactivity feature. A BDAV file has no interactivity, but a BDMV file comes with a Blu-ray menu for information like titles, chapters, scenes, subtitles, and audio tracks.
A BDMV file is merely a copy of all content in a Blu-ray disc but encoded in a barely used extension. This kind of file is great for those who love collecting discs, watching bloopers of shows, or chasing for lossless audiovisual playback. With the help of a powerful BDMV player like VideoByte Blu-ray Player, it's easy to play BDMV files and enjoy immersive playback on the computer with the native Blu-ray menu. Now, why not give it a shot and dive into a flow experience.