3 Best BDMV Players on Mac/Windows
Most of the Blu-ray disc is protected with copyright, so is a BDMV File. This is the reason why you can't play BDMV files by VLC Media player and it even pops up an error like "This Blu-ray disc needs a library for AACS decoding, and your system does not have it." In this case, you need a professional BDMV player. In this blog, the 3 best BDMV players will be introduced which will help you play BDMV files with ease.
Too Long Don't Read:
Among the 3 best BDMV players, VideoByte Blu-ray Player is highly recommended for its compatibility with Blu-ray disc, DVD disc, folder, ISO files, etc. Most importantly, it will guarantee a smooth playback with the highest image quality. You can try it for free now!
Top 1. VideoByte Blu-ray Player (Windows/Mac)
VideoByte Blu-ray Player is born for playing BDMV File, folder as well as Blu-ray disc. It can decode the protection when you add the BDMV file into the program so that you can watch the BDMV file without obstacles. And it is nicely designed for playing on any computer such as Windows 7, Windows 10 and Mac OS.
As a BDMV player, VideoByte performs well in delivering cinema-like experience for its master-quality and audio effect. It supports audio decoding systems like DTS and Dolby digital, which will offer you a better listening experience. It can certainly also be used for common video playback. What's more, any restrictions and protection such as region codes embedded into the Blu-ray disc will be well decrypted. That will help you quickly enjoy high-quality movies without any hassle.
VideoByte Blu-ray Player:
Unlock protection armed on the Blu-ray disc easily;

Conveniently play DVD Disc/Folder/ISO file;

Easy-to-go menu for better control of playback;

Provides GPU acceleration for keeping fluent playback;

Free lifetime technical updates and in-prompt technical support;
Supported OS:
Windows 10/8/7/Vista/XP (SP2 or later); Mac OS X 10.7 or above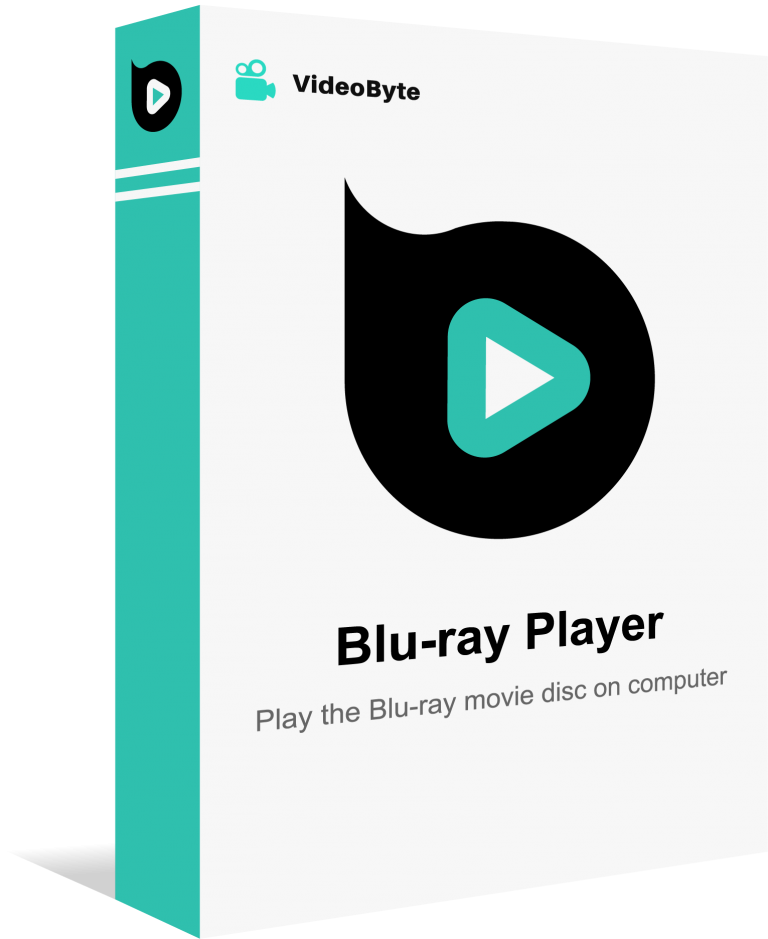 The following step-by-step tutorial will take Windows version as an example to show how to open and play BDMV files without limitation.
How to Open and Play BDMV Files with VideoByte Blu-ray Player
If you want to open or play BDMV folders on your Windows or Mac, you need to keep this in your mind: BDMV folder is not the Blu-ray first-level directory. Therefore, if you want play BDMV folder, you need to select the Blu-ray folder as a whole, instead of any streaming file.
Step 1. Download and Install BDMV Player​
After ensuring that your external Blu-ray drive and disc are connected successfully, just click the download button above to download BDMV player on your computer. After installation, double click to launch it, and you will see a clean and concise interface as below.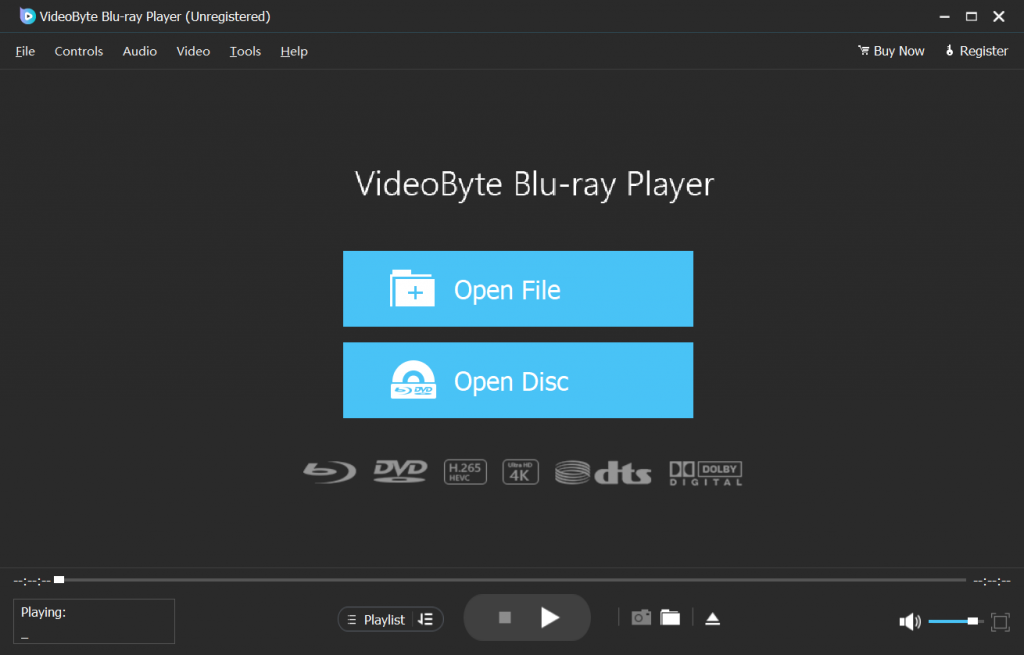 Step 2. Add BDMV File
Press on "Open Disc" on the main interface and then it will pop up a window where you can select a whole BDMV file you want to play back. After selection, click "OK".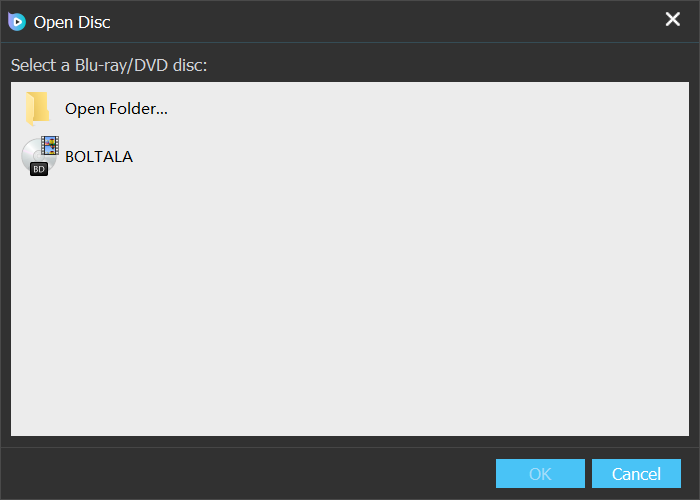 Step 3. Play BDMV Files on Computer​
The highlight of playing BDMV files comes. Once finish loading the BDMV files, it will appear the playback menu on bottom left, which includes Play Movie, Chapter, Audio, Subtitle and Other Titles. They are all adjustable if your source media files include different options already. Here is the power of VideoByte Blu-ray Player that it always well preserves all the scenes, chapters, multiple audio and subtitle tracks of the disc.
After setting all your preferences, you can choose "Play Movie" to directly enjoy the Blu-ray movie.
In the bottom, you can click "Playlist" to check the video you have ever played back. You can click the camera icon the snapshot the picture you want.
Top 2. Macgo Mac Blu-ray Player (Mac)
Macgo Blu-ray Player is another powerful BDMV player which works well on Mac system. Its concise and intuitive interface makes it easy for every new user to play Blu-ray disc, Blu-ray ISO files and BDMV folders. Although it now does not support DVD playback, the excellent Blu-ray playback performance, support for DTS / Dolby digital and compatibility with multiple digital formats make it a popular option for Blu-ray player software. Moreover, it works really fast to load and start playing Blu-ray files. It can almost start playing within 10 seconds.
However, this all depends on the conditions of your PC. Many users complain that it uses almost 50% of CPU arbitrarily. Meanwhile, watermarks will appear during its free trial. To unlock the support for 4K quality, you will pay a relatively higher price compared with other Blu-ray players in the market. If you can bear enjoying the Blu-ray movies without doing anything on your PC, then Macgo will be an ideal BDMV player for you.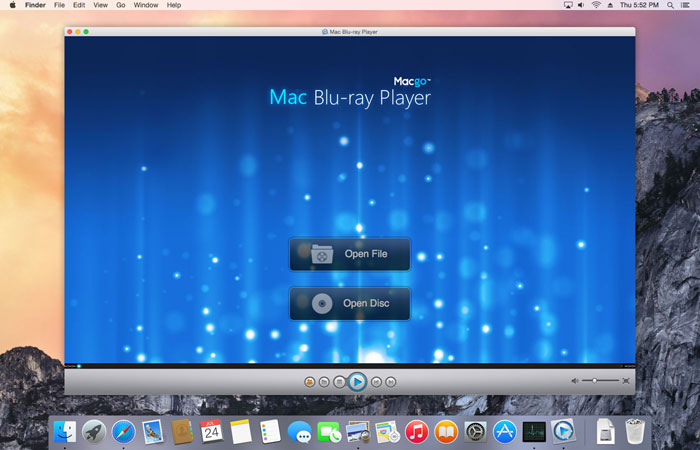 Top 3. Leawo Blu-ray Player (Windows/Mac)
Leawo Blu-ray Player is an outstanding Blu-ray player software for it supports playing Blu-ray disc, Blu-ray folder, Blu-ray ISO file as well as DVD, normal video and audio. Most importantly, it's also a powerful BDMV player that equips with convenient Blu-ray menu control support. You can easily adjust subtitles, audio tracks and Blu-ray chapters during playback. 
Leawo Blu-ray Player wins over Macgo Blu-ray Player for it uses less CPU by almost 20%. Even so, it works slower than both Macgo and VideoByte and sometimes crashes might occur. What might disappoint you is that this Blu-ray player now only supports up to 1080p resolution. As a totally-free BDMV player program, it's ads-support by the way.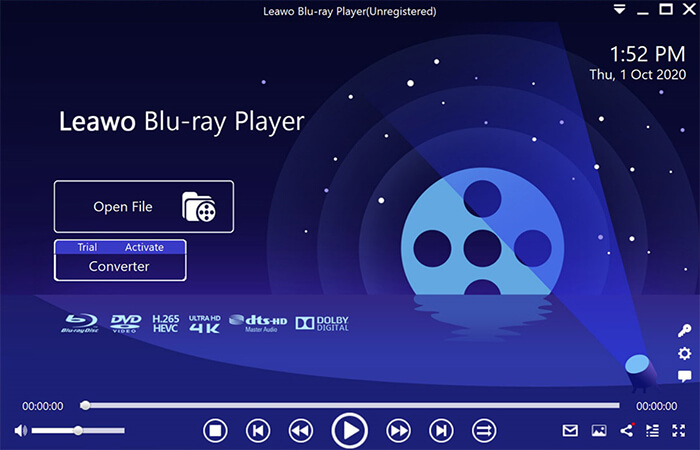 Further Reading - What is a BDMV File
A Blu-ray disc always consists of many folders, and BDMV folder, as one of them, are used for storing movie information files. Files with the .bdmv extension generally contains all the information of a Blu-ray disc, including movie titles, directory location of movie content, audio data, subtitles, etc. Below are details of different information for your reference.
Various BDMV files store different information:
index.bdmv: describes the file contents in the BDMV directory; found in the BDMV and BDMV/BACKUP directories.

MovieObject.bdmv: describes one or more movie objects; located in the BDMV and BDMV/BACKUP directories.

sound.bdmv: optional file that relates one or more sounds associated with HDMV; Interactive Graphic streams applications; located in the BDMV/AUXDATA directory.
You might find BDMV files from:
HD Camcorders' AVCHD folders (BDMV and CERTIFICATE) with M2TS extension files. For Sony HDR-SR11 camcorder, the AVCHD files will bear the MTS extension.
Blu-ray disc with BDMV folder and files with BDMV extension.
Ripped Blu-ray DVD movies, the folder structure of which is all contained in a BDMV folder structure with M2TS extension files.
Blu-ray movie with BDMV & CERTIFICATE folder, one subfolder of the BDMV folder is the stream folder and in this folder, there is an MTS extension file.
How to Play BDMV Files with VLC?
VLC as one of the most popular and widespread media players, has accumulated a large number of loyal users for its convenience and ease of use. However, to play Blu-ray or BDMV files with VLC is not that easy as you imagine because Blu-ray files are always well-protected with region codes or other kinds of protection.
Fortunately, this open-source media player makes it possible to adjust the settings and make it feasible to play BDMV on this software. You need to go to https://vlc-bluray.whoknowsmy.name/ to download the keys database and AACS dynamic library. For more details, please find the step-to-step guide here: How to Play Blu-ray with VLC on PC & Mac (Ultimate Guide)
How to convert BDMV to MP4?
If you want to play and watch BDMV files on your mobile devices without Internet, you can choose to convert BDMV to MKV/MP4. All you need to do is to find a powerful Blu-ray ripper like VideoByte BD-DVD Ripper! Only 3 steps are required:
Step 1: Launch the BDMV to MP4 converter;
Step 2: Add the BDMV files to the converter;
Step 3: Choose MP4 as output format and start ripping
A professional BDMV player makes BDMV playback easier and more convenient. No matter what disc protection and region restrictions are embedded in, VideoByte Blu-ray Player can play back Blu-ray disc/folder/ISO without hassle. If you are interested in it, download VideoByte and have a try!