DVDFab Player PlayerFab 6 Review: Is It the Best Player?
When DVDFab has released its latest 4K UHD media player, DVDFab PlayerFab 6 to deliver you DVD, Blu-ray, and also regular video streaming experience at theatre-like resolutions at home, you still wonder whether the software is just behaving good enough for you? Or if it is the best player and there will be a PlayerFab 6 alternative available! Now, keep reading this DVDFab PlayerFab 6 review and learn more about this software.
Outperforming Features of DVDFab PlayerFab 6
DVDFab PlayerFab 6 aims at delivering the lossless high-resolution DVD/Blu-ray and regular video streaming experience to you. It will offer the flexible control, enabling you to easily adjust both audio as well as video settings, to ensure an ideal playback experience on desktops. In the following, let's check through some of the outperforming features of DVDFab PlayerFab 6 that you may be interested in.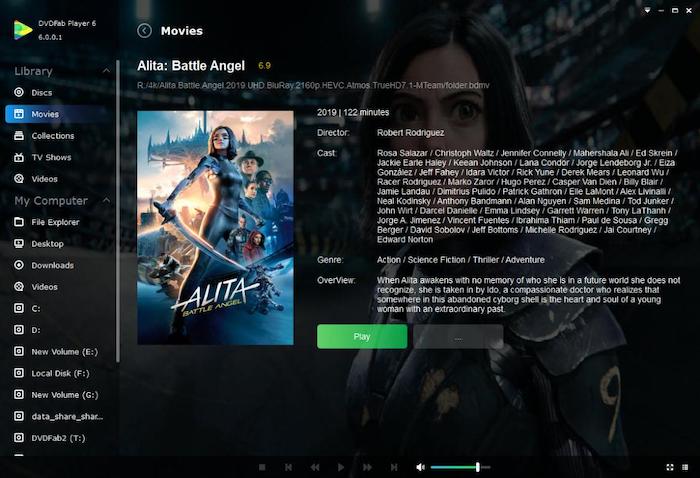 High Compatibility and Smooth Playback
DVDFab PlayerFab 6 is able to perform smoothly on both Windows and Mac desktop, with high compatibility, enabling you to stream the most discs and media files without limitations. You are able to use the software to play both DVD and Blu-ray discs, meanwhile, media files in regular video formats such as MP4, MKV, M2TS, MOV, MP3, WAV, M4A, and FLAC are also supported.
As DVDFab PlayerFab 6 is designed with a lightweight size, it won't take up much CPU while performing the media player. You are sure to have a fluent and smooth streaming experience no matter you use it as a DVD/Blu-ray playback software or just a simple media player.
Great Playback Resolutions
To deliver the best video streaming experience to you, DVDFab PlayerFab 6 will maintain lossless resolutions no matter what discs or media files you play. Its best quality playback capability can reach up to 1080p HD and even 4K UHD. For videos of 3D effects, the software is also available to retain the visual effects, so you can just bring your 3D glasses and enjoy the vivid playback experience brought by 3D videos at home, without requiring to hangout to cinemas anymore!
Additionally, for the audio effects, DVDFab PlayerFab 6 will also preserve original settings and bring you nice streaming experience with good sound quality. For Dolby Atmos, Dolby TrueHD, DTS-HD Master and DTS:X etc., the software will well preserve with up to 7.1 channel surround sound output, ensuring the best listening experience when you playing Blu-ray/DVD, and regular video files in it.
Optional Modes and Flexible Controls
DVDFab PlayerFab 6 is equipped with two playback modes, which are PC Mode and TV Mode for you to better enjoy the DVD/Blu-ray or video playback on screens of different sizes.  Meanwhile, its easy-to-use context menu enables you to flexibly switch to the chapters for streaming the content you need.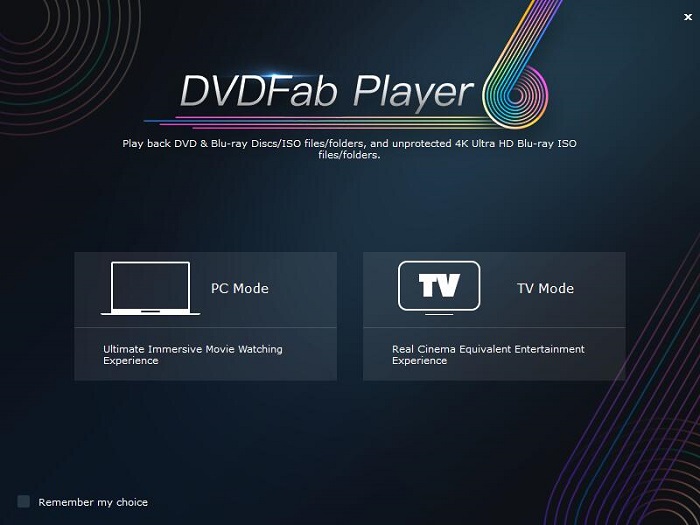 In addition, with customized playback settings equipped, you are also available to adjust both the video and audio settings to have the media playback just in ways you like.
Convenient Media Manager Equipped
For better manage the media files to access and play them more conveniently, DVDFab PlayerFab 6 also provides an easy-navigating in-app media manager, enabling you to keep all video as well as music files for better management within once place. When you desire to enjoy the playback, simply open this library, then you are able to quickly access the media file and start your high-resolution streaming process within the software.
How to Use DVDFab PlayerFab 6
The intuitive and stylish interface of DVDFab PlayerFab 6 also makes it quite simple for beginners to get started. Now, simply go through the brief guide below and grasp how to use DVDFab PlayerFab 6 to play DVD/Blu-ray or regular videos without hassle:
STEP 1. When you have well installed DVDFab PlayerFab 6 on desktop, insert the Blu-ray/DVD disc to your device and launch the software. From the main interface, select the "PC Mode" or "TV Mode" you need.
STEP 2. Once DVDFab PlayerFab 6 detects the disc, it will automatically load the media and provides a "Menu Mode" for you to adjust both audio as well as video settings to play the disc. In addition, it is possible for you to select a chapter to play.
STEP 3. Press the play icon, then you are able to enjoy the great-resolution video streaming experience brought by DVDFab PlayerFab 6.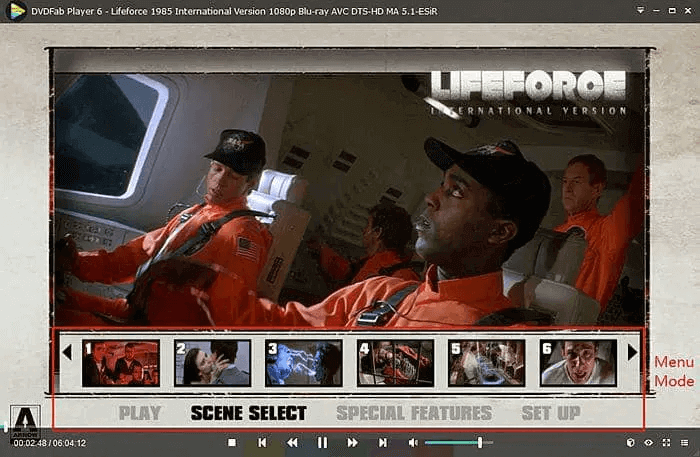 Limitations of DVDFab PlayerFab 6
Although DVDFab PlayerFab 6 provides outperforming ability to play DVD/Blu-ray on desktop with great resolution, the software still have limitations and drawbacks while using. Overall, according to some users, DVDFab PlayerFab 6 would get crashed in older Windows systems like Windows 7.
In addition, DVDFab PlayerFab 6 is not a freeware. You need further subscription to access full features in playing high-resolution DVD/Blu-ray media, and even regular video files for you. However, the price can be quite expensive. It takes up to US$169.99 to get a registered key, which is not affordable price for all users. In other words, DVDFab PlayerFab 6 is not suitable if you have no sufficient fund to subscribe to it.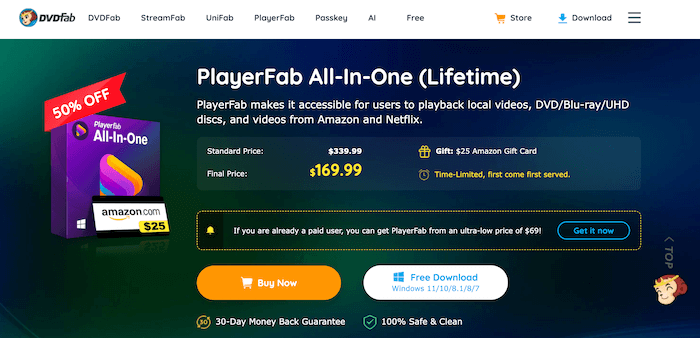 Best DVDFab PlayerFab 6 Alternative: VideoByte Blu-ray Player
If you desire a more affordable alternative to DVDFab PlayerFab 6 and enjoy great Blu-ray/DVD streaming experience like how it can provide, VideoByte Blu-ray Player is the best option you shall not miss.
VideoByte Blu-ray Player is able to run smoothly compatible with all Windows as well as Mac devices (including Windows 7), delivering up to 1080p HD and even 4K Ultra HD resolution to provide the best DVD/Blu-ray, and regular videos playback for you. Meanwhile, it also ensures great audio quality and preserve original DTS, Dolby, Ultra-HD soundtracks for you, which are even not supported by DVDFab PlayerFab 6.
More powerfully, VideoByte Blu-ray Player even supports region-protected disc playback for you. It is able to bypass DVD and also Blu-ray region codes, moreover, more protection methods such as AACS, BD+, Cinavia, APS, CSS, ARccOS, CPRM applied on the discs, and ensure a limitation-free streaming experience to you.
Better still, VideoByte Blu-ray Player also costs less to subscribe, which only needs US$29.95 at least to unlock full functions!
Now, also go through the simple guide to grasp how VideoByte Blu-ray Player performs the DVD/Blu-ray playback for you:
STEP 1. Launch VideoByte Blu-ray Player on desktop. Meanwhile, you are required to insert the disc you desire to play with the software to your computer as well.
STEP 2. Select "Open Disc" to import the media from the disc to VideoByte Blu-ray Player. Once it is loaded, you are getting ready to play the video.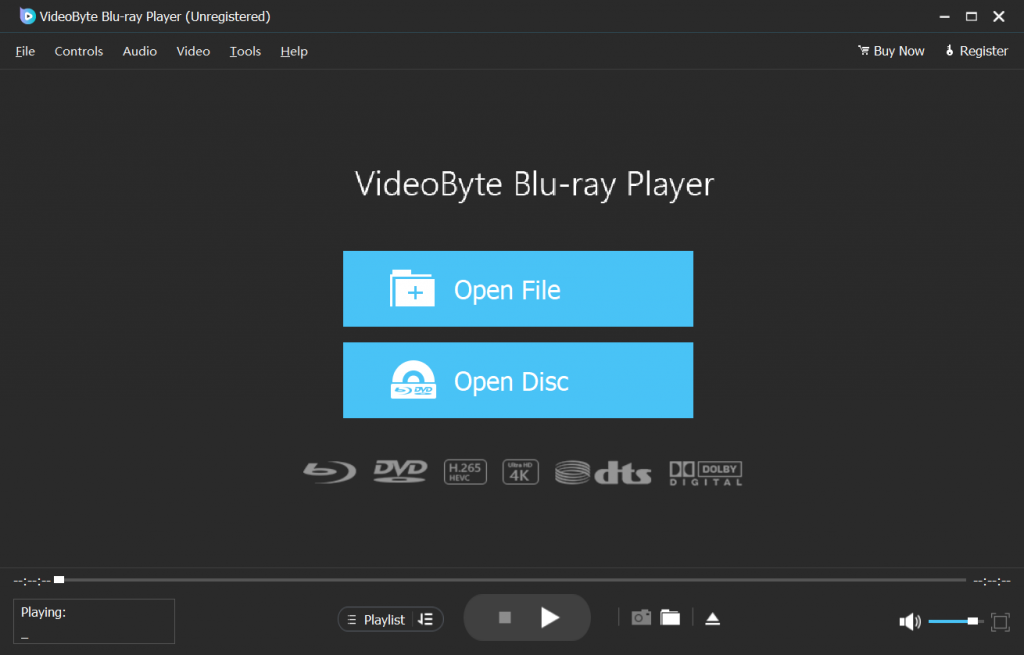 STEP 3. Finally, control the video playback using the menu offered by VideoByte Blu-ray Player to enjoy the high-resolution streaming experience right away.
Overall, DVDFab PlayerFab 6 does offer powerful DVD/Blu-ray and regular video streaming experience to you. But by comparison, VideoByte Blu-ray Player ensures the best video as well as audio streaming quality for you on all Windows/Mac devices with less subscription fee required. Hence, if you wish a cheaper alternative to DVDFab, VideoByte Blu-ray Player will be a better choice for you.