7 Best Free DVD Decrypter Software for Windows/Mac [2023]
Most commercial DVDs are encrypted with DVD protection codes, preventing people from converting them to media files of mainstream formats using common DVD rippers. Hence, some DVD decryption software has been developed to help people overcome this problem and easily save DVD videos for playing without a hard drive.
Thus, this blog has collected the 7 best DVD decrypter software you can try. Through comparison, select the best one for yourself to decrypt those encrypted DVDs to enjoy DVD video streaming in more flexible ways!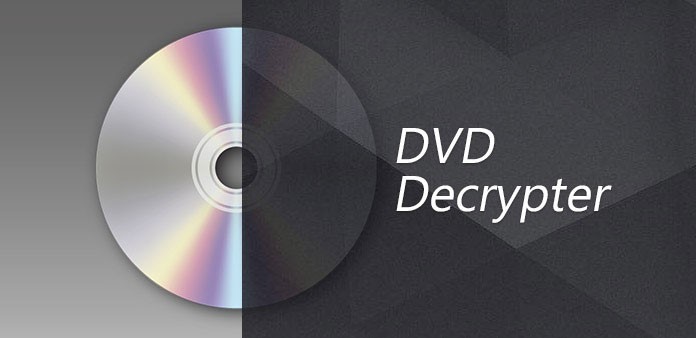 1. VideoByte BD-DVD Ripper (All-round DVD Decrypter Program)
Pros

Cons

•         Both DVD and Blu-ray supported;

•         Bypass all DVD/Blu-ray protection;

•         Accelerated performance but quality-lossless outputs;

•         Intuitive design and functionality;

•         Responsive customer support.

•         The free trial limits 5-minute conversion.
The first DVD decrypter software recommendation for you is
VideoByte BD-DVD Ripper
. The software empowers the strong ability to get rid of
all kinds of encryption methods
like AACS, Cinavia, APS, etc. on both Mac and Windows. It can rip commercial
DVD and Blu-ray files/folders/ISO images
to
over 300 mainstream formats and device presets
within very simple clicks. Meanwhile, VideoByte BD-DVD Ripper will
maintain a 1:1 ratio
to help you get ripped DVD videos at
lossless quality
, preserving the original video/audio effects, full subtitles, and audio tracks.
Considering the stability and excellent performance, VideoByte BD-DVD Ripper stands on top if you are finding the best DVD decrypter software for help. The software offers a full-feature free trial now. Just download and try it.
Features
Flexible parameter settings available for personalizing the outputs;

Hardware acceleration for up to 6X faster ripping speed;

Built-in video editor and management toolbox provided;

Compatible with Windows 10/8/7/Vista/XP and macOS 10.7 or above.
You can view a quick guide on how to use VideoByte BD-DVD Ripper below: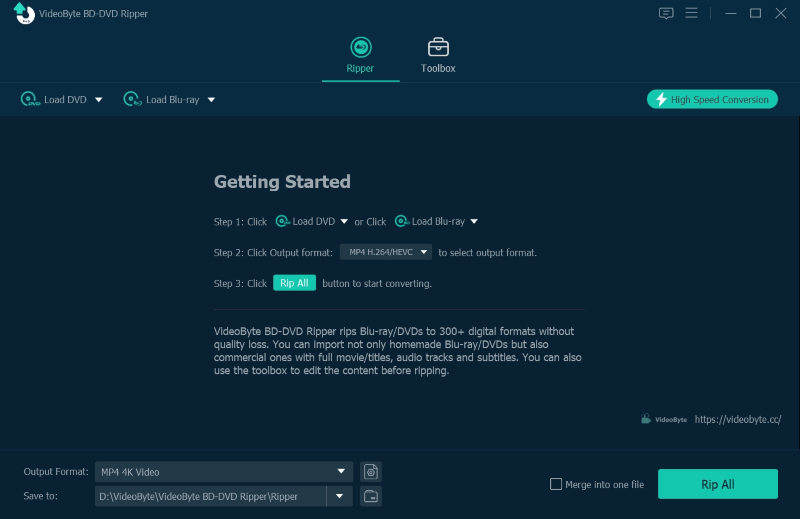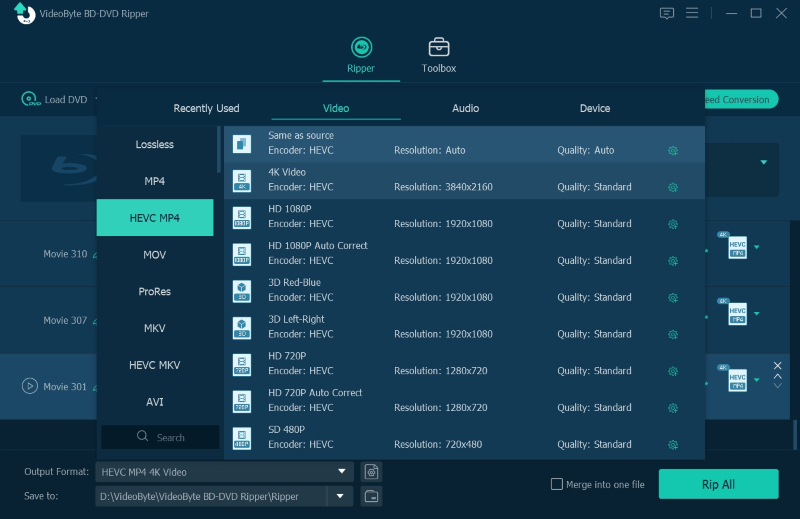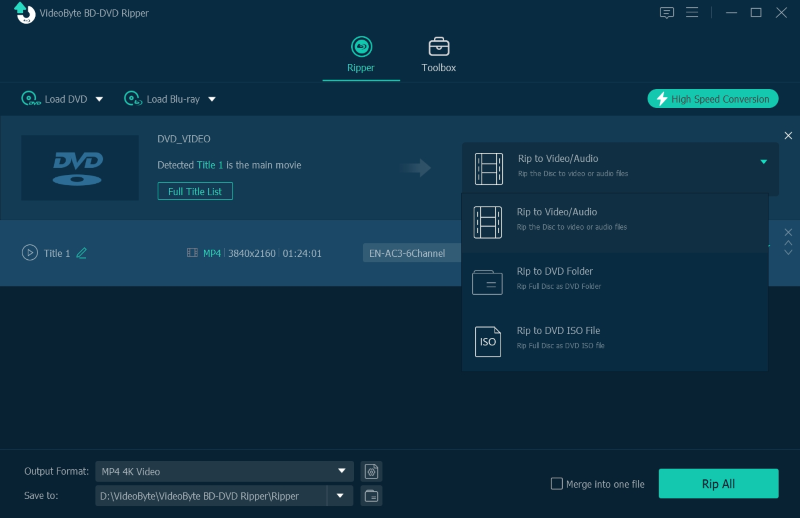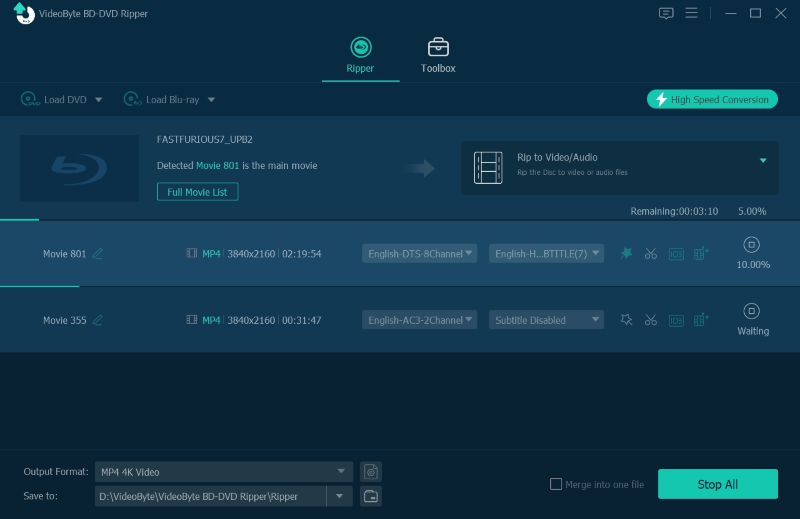 Pros

Cons

•         100% free to use;

•         Frequent updates ensured the best functionality;

•         Fast decrypting speed.

•         Only 3 video output formats available to select;

•         Require installing extra files to process the decrypted DVDs' ripping.
Another freeware to decrypt DVDs without hassle, consider
Handbrake
. It is a open source software and is compatible with macOS, Windows 10, and Linux. Before starting to use this decrypter, you should install the
libdvdcss file
to activate its DVD decrypting functionality. It would be a bit complicated. But the decrypting speed of Handbrake is fast, and its mainstream outputs allow you to transfer the ripped DVD media to most devices for offline viewing or listening.
But you should notice that this free DVD decrypter is not as stable as VideoByte. It may report errors during loading DVD/BD-DVD files. Plus, it fails to keep the original video & audio quality from time to time.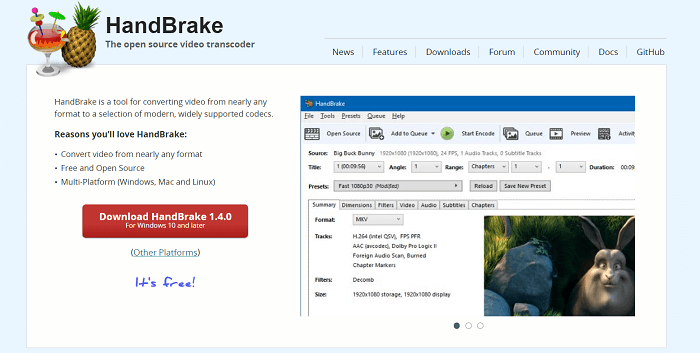 Features
Available to convert both DVDs and Blu-rays to mainstream formats;
MP4, MKV, WebM and other 80+ preset profiles provided to select;
Built-in decoding method ensuring fast DVD/Blu-ray conversion speed.
3. WinX DVD Ripper Free Edition
Pros

Cons

•         High-quality output preservation;

•         Increased decrypting speed;

•         Customized quality settings available;

•         Saves ripped files automatically even if the ripping accidentally stops.

•         Doesn't support ripping Blu-ray Disc;

•         Unavailable to edit media in the free version;

•         Old scratched or damaged DVDs decryption are not supported for free;

•         The fastest ripping speed is only available for subscribers.
As a free DVD decrypter software,
WinX DVD Ripper Free Edition
provides payment-free functionality for decrypting DVDs and converting the media to general video files without hassle. It offers the mainstream MP4 format, enabling you to stream the decrypted videos back on as many devices and media players.
In addition to the physical discs, WinX DVD Ripper Free Edition is also compatible with ISO, folders, and damaged/99-title discs (subscription required) decryption. Unfortunately, it doesn't support scanning Blu-ray discs, and it can't rip files from DVDs to ISO image files like VideoByte does. But it is still worth trying for its smooth DVD encrypting experience.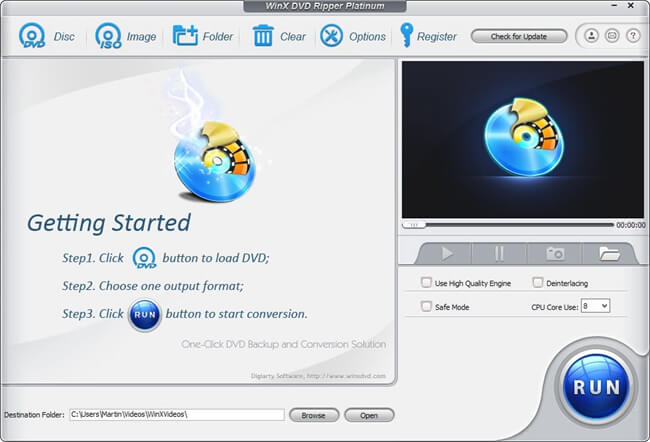 Features
Homemade and commercial DVDs decryption supported;
Various mainstream output formats provided;
Popular preset profiles to encode ripped DVD media;
Preservation of 1:1 quality to save DVD copies.
Pros

Cons

•         Encrypted discs ripping supported (no extension installation required);

•         Completely free for usage;

•         Simple interface to grasp the functionality.

•         Only MKV is provided to output media;

•         No hardware acceleration to speed up decryption;

•         Unavailable to preserve output media at 1:1 quality;

•         Lack of editing or parameter adjustment features for users.
Another one-click DVD decrypter software worth a try is
MakeMKV
. It can help remove the encryption from discs, including those commercial ones you purchased back home. This decrypter offers easy-to-grasp functionality for ripping video clips from DVD discs and Blu-rays. It converts the video clips to frequently used video formats with metadata and chapter info well preserved. Then you will get the same-quality offline streaming experience as playing DVD discs.
However, this open-source DVD encrypter freeware is not that stable. Sometimes it may fail to load Blu-ray discs. And it takes a long time to read and load the files on DVD discs. Moreover, MakeMKV only saves the ripped files in MKV lossless format. With no built-in compressor, the ripped files will take up a lot of storage space on your computer.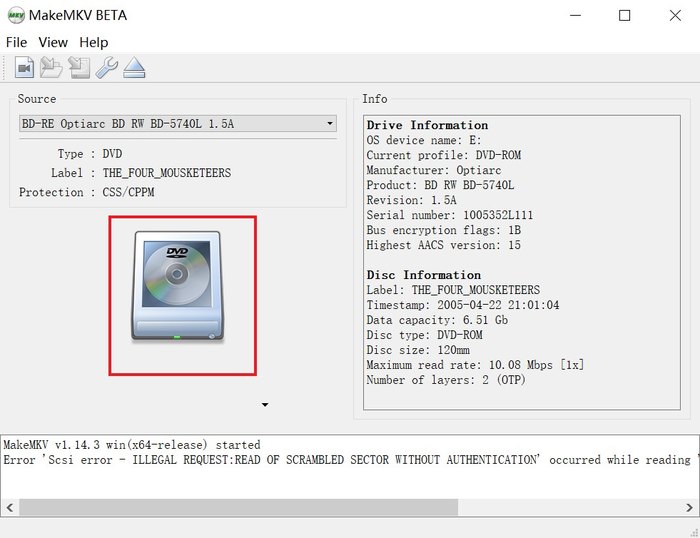 Features
Compatible with encrypted DVD/Blu-ray discs ripping;
Preservation of full metadata and chapter info via ripped media;
HD audio tracks retained.
Pros

Cons

•         Intuitive design ensuring easy-to-grasp functionality;

•         Fast decrypting speed ensured;

•         High-quality outputs;

•         Free of charge.

•         The bulky software would take a bit longer to setup;

•         New encrypted methods excluded in the free version;

•         Only 3 output formats supported.
To ensure high output quality in preserving the decrypted DVD media,
DVDFab HD Decrypter
is another nice pick you should not miss. This free DVD decrypter is compatible with both Blu-rays and DVDs ripping, including the ability to deal with encrypted discs as well. What distinguishes DVDFab HD Decrypter from other free DVD decryption software is the support of extracting ripped files in 4K resolution with no extra payment.
Tip: This DVD decryption freeware only works with discs released more than one year ago. If you want to decrypt the newly released discs, you should subscribe to its paid version. Here we recommend you to try VideoByte, which can deal with all kinds of encrypted discs.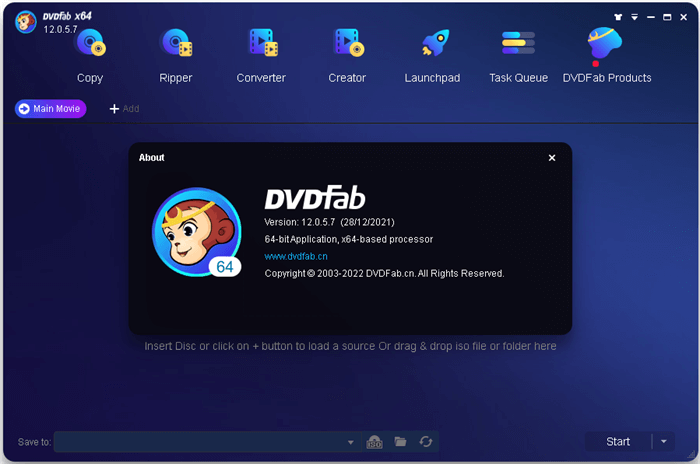 Features
Both encrypted and free DVD/Blu-ray discs, ISO files, folders decryption supported;
Up to 4K resolution to preserve videos;
Turbo speed supported to ensure fast decrypting performance.
Pros

Cons

•         Intuitive interface;

•         Fast ripping speed;

•         Full control on the ripping process.

•         Only compatible with Windows system;

•         MP4, IFO, VOB, and BUP are the only output formats to select.
DVDShrink
is specially provided for Windows users to decrypt DVDs easily. It offers a classic but clear interface, enabling users to control the DVD decrypting process without wasting much time. Before the decryption is processed, DVDShrink will provide the video preview for you to check the media at first. It also comes with customized options to adjust the quality freely as you desire. You are able to instantly check the decrypting process with its live preview mode as well. All in all, DVDShrink is a reliable open-source DVD decrypter software you can trust.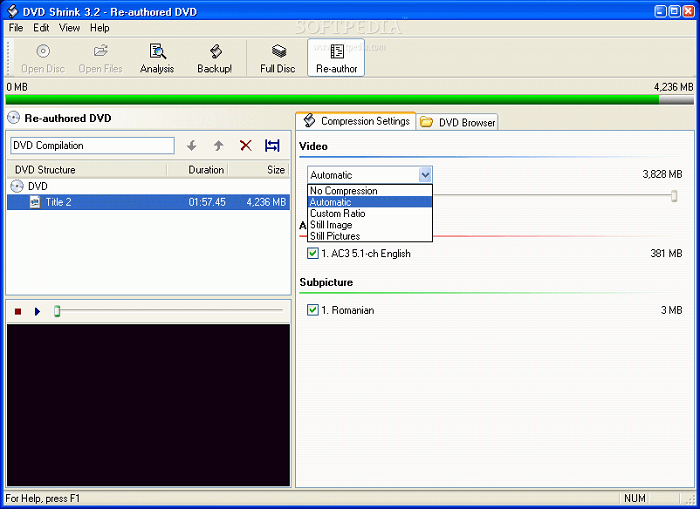 Features
Available to auto-detect DVD-ROM;
Customized settings to adjust output quality;
Available to generate IFO, VOB, or BUP files.
Pros

Cons

•         Easy-to-grasp functionality;

•         All mainstream formats available;

•         Fast ripping speed;

•         Free to use;

•         Flexible decrypting settings.

•         Watermarks would be added to decrypted videos;

•         Some functions still requiring activation;

•         Only compatible with Windows system.
The final recommended free DVD decrypter software is
Free DVD Ripper
. This DVD decryption software extracts original files from all disc types (including DVDs, Blu-rays, and DVD folders) to 20+ file formats. It also can help decrypt region-locked and copy-protected blockbuster movies free. With various built-in editors, you can flexibly customize your video clips before ripping. What makes Free DVD Ripper stand out is that it can even help you directly upload ripped videos to YouTube, websites, and cloud drives.
But it's a pity that this software only works on Windows 10/8/7/Vista but not macOS. Plus, it is not totally free. You may need to pay to unlock some advanced features.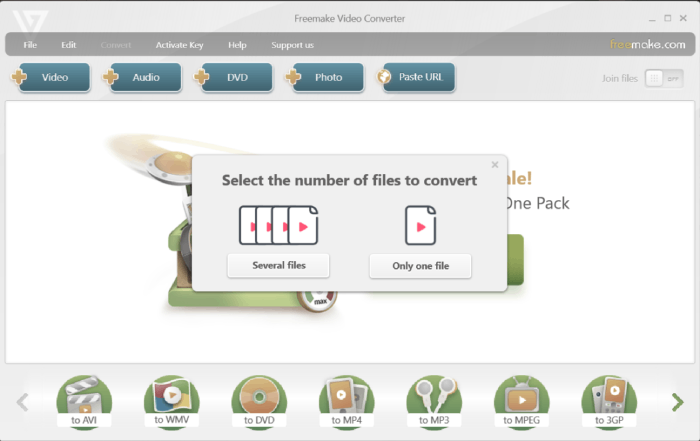 Features
Digitizes Blu-Ray discs with super high quality;

Mainstream formats and preset device models available to output DVD media;

Original audio tracks and subtitles preservation.
Table Comparison of the 7 Best Free DVD Decrypter
Now you can check this comparison chart to see the performances of the above 7 best free DVD decrypter software in different aspects. Then pick the one that fits your needs.
Software
Output Format
Output Quality
 

Decrypting Speed

 

Rip Protected DVD

 

Support Blu-ray

Video Editor

 Compatible
Systems
300+ mainstream formats and device presets
 

1:1 ratio; lossless

 

6X faster

√

√

√

 
Windows, Mac
 

Handbrake

MP4(M4V), MKV, WebM, AAC /HE-AAC, MP3, etc.

High quality

 

Batch decrypting ability

 
 ×

√

 
 ×
Windows, Mac, Linux
 

WinX DVD Ripper Free Edition

300+ options

1:1 ratio

Faster speed than CPU encoding only

 √
 ×
× 
Windows, Mac 
 

MakeMKV

MKV

Compressed quality

No hardware acceleration
 √
 √
× 

Windows, Mac, Linux

 

DVD Fab HD Decrypter

3 options selectable

Up to 4K resolution

Turbo-speed ensured

 √

√

 

√

 
Windows, Mac 
 

DVDShrink

MP4, IFO, VOB, and BUP

 

Selectable quality options

Fast decrypting speed

√

 
 √
× 
Windows 

Free DVD Ripper

MP4, AVI, MKV, WMV, WebM, 3GP, SWF, FLV, MPG

Up to 4K resolution

Fast decrypting speed

√

 

√

 

√

 
Windows
Check these FAQs cared for by most users towards DVD decryption here.
Q1. Can the 7 DVD decrypter software decrypt Blu-ray Discs?
A: You are able to check through the comparison chart above to grasp the DVD decrypter software available for decrypting Blu-ray discs. If you consider high-quality, stable, fast, and multifunction software with more mainstream formats available to decrypt Blu-rays, VideoByte BD-DVD ripper is an ideal option for you.
Q2. Can Handbrake rip copy-protected DVDs?
A: In the former part of the blog, we have reviewed Handbrake with details to you. To conclude, Handbrake itself doesn't provide the function to rip encrypted DVDs. Instead, you are required to install an extra file to process the protected DVD decryption.
Q3. Is DVD Decrypter legal?
A: If you process the DVD decryption only for personal usage and streaming, the action is absolutely legal. But it would turn to be illegal when you use decrypted DVD media to earn profits.
Q4. My DVD decrypter not working, how to fix it?
A: DVD companies use different encryption methods. Your decrypter may not work because it can't handle some strong encryption methods. We recommend VideoByte BD-DVD Ripper, which can decrypt any DVD/Blu-ray protection method that currently exists.
From this blog, the 7 best free DVD decrypter software has been introduced now. Simply compare them and select the most ideal option for yourself to process the DVD decryption on desktops without hassle!