WinX DVD Author Review in 2023: Is It the Best DVD Creator
A variety of streaming services in the digital age upend our lives, but there are still some people who appreciate the art of creating classic DVD collections. For those individuals, WinX DVD Author emerges as a powerful DVD authoring software designed for Windows users.
In this review, we will explore the key features, performance, and overall user experience of the latest version of WinX DVD Author. An alternative tool, VideoByte DVD Creator, will also be introduced to address certain drawbacks on compatibility, format selection, extra function and so on.
WinX DVD Author: A Quick Glance
WinX DVD Author, a software compatible with Windows, is a professional and user-friendly tool designed to burn and create DVDs. It supports a wide range of video formats, including AVI, WMV, MPEG, RMVB, ASF files, and more.
With its intuitive interface and powerful features, you can effortlessly burn the resulting data to a DVD, personalize DVD menus and customize subtitles.
Main Features of WinX DVD Author
The main functions of WinX DVD Author will be introduced below, so that you can have a more comprehensive understanding of it
Intuitive Interface for Efficient Use
WinX DVD Author is designed with a user-friendly interface, making it easy for both novice and experienced users to navigate and utilize its features. As shown here, it basically has three other options, convert videos to VOB, compile DVD, burn DVD.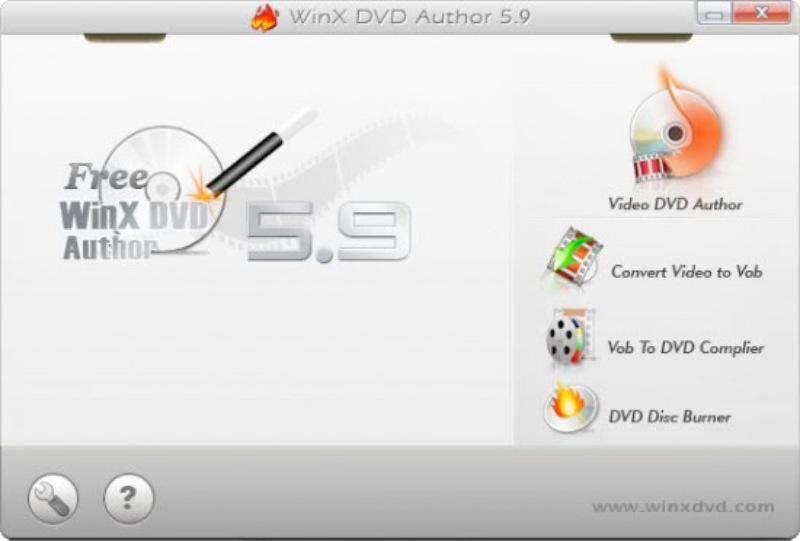 Customizable DVD Menus, Subtitles and Audio
It offers various built-in templates for DVD menus, allowing you to choose a preferred design. The additional functions of WinX DVD Author also includes the customization of subtitles such as adjusting font, size, position, and even import external subtitle files. Besides, you can enhance your DVD by adding audio tracks or background music to create a more immersive viewing experience.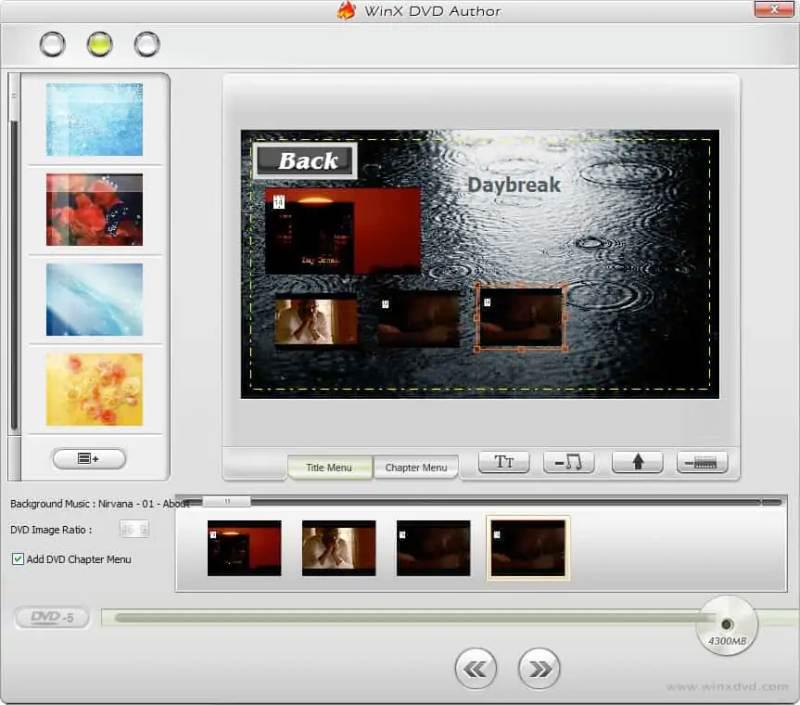 Fast Burning Speed and High Video Quality
The employment of DE interlacing technology, a high-quality decoder and encoder engine ensures WinX DVD Author's excellent DVD output and facilitates the processing speed. You can expect a full 4.2 GB DVD to be created in less than an hour, saving you valuable time.
WinX DVD Author: Price, Pros & Cons
After understanding the functions of WinX DVD Author, we will introduce its advantages and disadvantages, so that you can decide whether to use this DVD burning software.
Price: Free
Pros:
Supports multiple video formats, such as AVI, WMV, MPEG, RMVB, ASF files, etc.
Output as NTCS, the standard video format of America, or PAL, the standard overseas video
Straightforward interface and menu for easy use
Allow personalized DVD creations
Maintain high video quality after burning
Cons:
Low compatibility as it only supports Windows
Not all MP4 videos are supported during the burning process
Lack of advanced editing options
No customization of size and only fit for 16:9 widescreen TV and 4:3 standard TV
Cannot create ISO files for storage
Limited extra features found in other comprehensive DVD authoring tools
Overall, WinX DVD Author offers a free and user-friendly solution for basic DVD authoring needs. However, it shows limitations, such as its exclusivity to Windows, occasional difficulties in burning MP4 files, and a lack of advanced additional functionalities. If you want to troubleshoot these drawbacks, it is recommended to try this optimal alternative, VideoByte DVD Creator.
Best Alternative of WinX DVD Author: VideoByte DVD Creator
VideoByte DVD Creator is a highly rated alternative to WinX DVD Author, offering a range of advantages over its competitors. Compatible with both Windows and Mac, it allows you to burn any video formats to DVD disc, DVD folder, ISO files and Blu-ray disc in an easy and professional way. Apart from customizing DVD menu, subtitles and audio tracks, more smart features like previewing, adjusting video brightness and saturation are available for choice.
Here are some main features of VideoByte DVD Creator.
Multi-Platform and Format Compatibility
Unlike WinX DVD Author, VideoByte DVD Creator is designed to work on multiple operating systems, including Windows and MacOS. Any home-made movies or videos downloaded from online websites can be burned to DVDs. It also supports versatile video formats such as MP4, AVI, MPEG, 3GP, VOB, FLV, M2TS, MTS, TS, SWF, MKV, etc.
More Personalizing Options in Built-in Editor
Its advanced built-in editor offers a wide range of personalization options. In addition to basic editing, you are empowered to make videos brilliant by adding effects, adjusting brightness, add audio you like, stylish video subtitle, set a thumbnail and so on. Better still, these adjustments can be easily previewed.
Customize Your DVD via DVD Menu Builder
Diversified DVD menu themes ranging from holiday to wedding are available for selection. You may also add pictures as background image, music, opening film to make a unique DVD file.
Flexible Output Options and High Quality
VideoByte enables you to select output formats from DVD-Video, DVD folder, or ISO image. Common DVD disc typle like DVD-5, DVD-9, BD-25 and BD-50 are supported. It ensures the superfast burning speed and superior output quality.
Follow this step-to-step tutorial to create your DVD.
STEP 1. Launch VideoByte DVD Creator and Add Videos
Launch the program on your computer and choose DVD disc type. Then, tap "Add Files" button to add video to the program.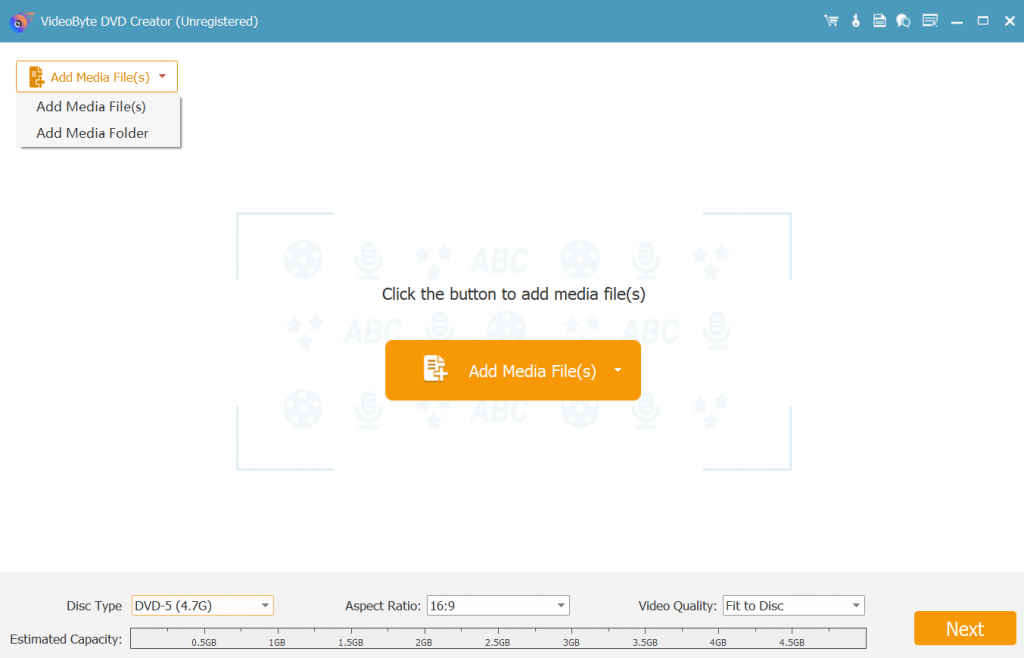 STEP 2. Edit Video before Burning to DVD
Click the "Edit" button to find more options. Here, you can trim the video length, crop videos, adjust the video effect or add watermarks. When the editing completes, just tap "Apply" to save the change.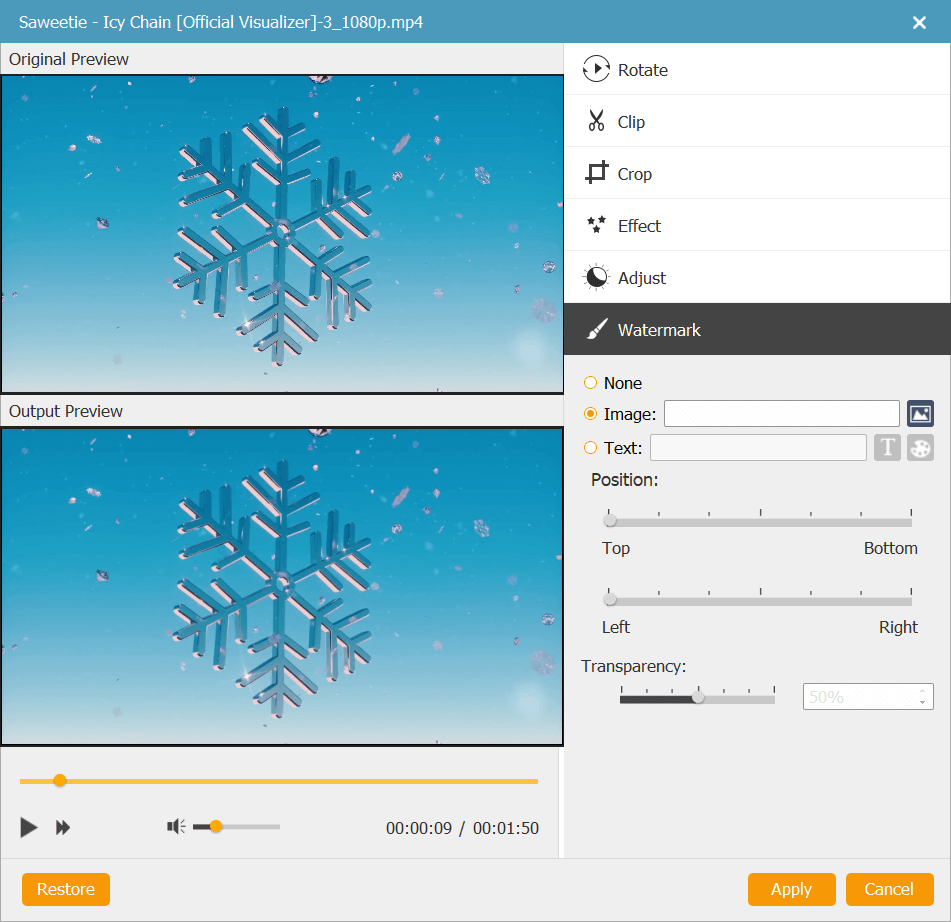 STEP 3. Customize DVD Menu
Go to the "Menu" section and click the "Edit Menu" button to start customization. You can choose a menu theme from the preset templates, and edit menu text as you like. Adding background music and open film is also available.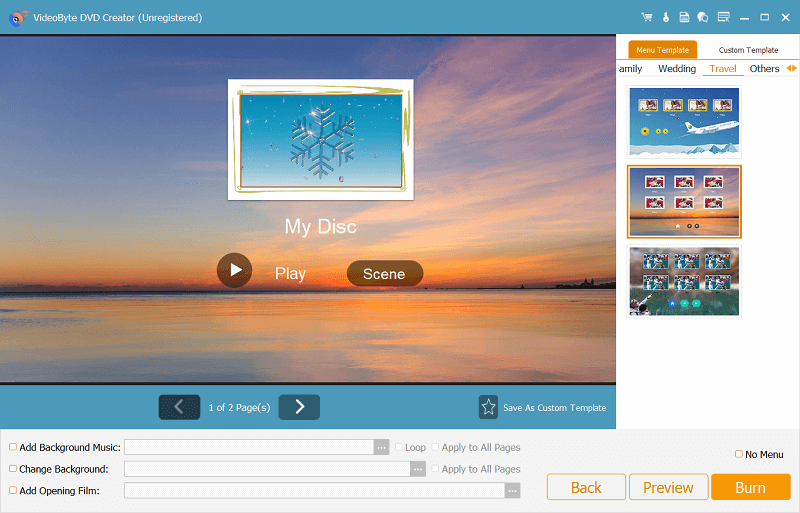 Go to the "Preferences" tab to choose output format and modify output parameters like resolution, aspect ratio, video bitrate, etc. Then, go back to the main interface to decide the output folder and DVD type.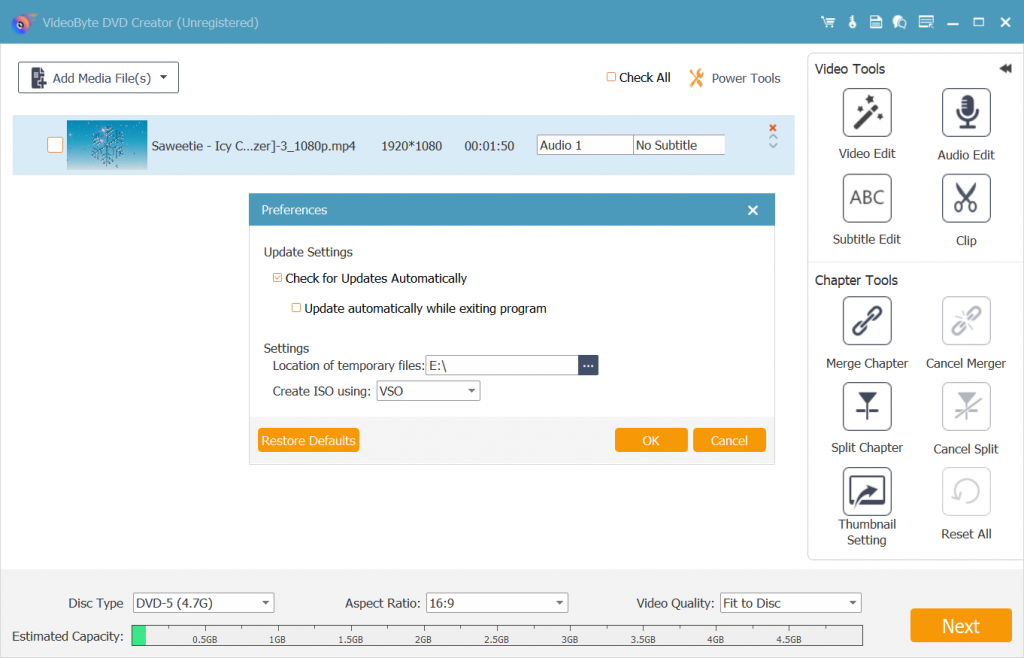 STEP 4. Burn Video to DVD
When settings are done, tap the "Burn" button and it will start burning your video to DVD.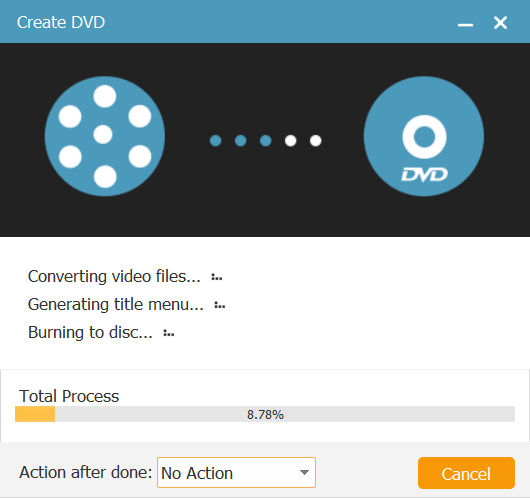 After reading this review, you will gain a comprehensive understanding of the advantages and drawbacks of WinX DVD Author, a well-known DVD authoring software. To overcome some weaknesses such as system compatibility, lack of smart features, limited customization options, etc, VideoByte DVD Creator is recommended. By opting for it, you can enhance your DVD authoring process and enjoy a seamless experience.