How to Convert Blu-ray to iTunes Effortlessly [2 Best Ways]
If you are familiar with Apple's products, you must know about iTunes, an application that comes with the system. You can play or download music or videos on your IOS devices by using this software.
iTunes has only a few music-playing functions in its early versions. For higher versions like iTunes 8.0 and above, it supports purchasing high-quality movies, and it also supports users playing their favorite music and videos on iTunes. If you want to play your own Blu-ray videos on iTunes, you can follow the two methods in this article.
Method 1. Digitize Your Blu-ray Movie on iTunes by Redeeming
If you want to play Blu-ray discs in iTunes, the video formats need to match the requirements of the program. You can watch the film directly on iTunes with some Blu-ray and DVD discs that have iTunes Digital Copies. iTunes Digital Copy is the digital video of an HD movie that matches your iPhone, iPod, iPad, etc. If you want to view Blu-ray movies directly on your IOS devices, you need to take the following steps, and then you can enjoy them.
Before you start to redeem your videos, you need to confirm you have the REDEMPTION CODE; you need to enter this code into your Apple TV app, iTunes, or Apple Music app. And there are two situations you will encounter:
Situation 1. Redeem Digital Copies on Your iPhone or iPad
Open the Apple TV app.
Roll to the bottom of the options, then tap "Watch Now".
Tap and open your profile page; there are three options for you. Choose "Redeem Gift Card or Code".
Tap "Enter Code Manually" to input your 12-digit code, which is included with your disc.
Tap "Redeem", and then it will be done.
Situation 2. Redeem Digital Copies on Your Mac or PC
Start your Apple TV app or open iTunes for Windows.
Click "Account" to see the options list, then choose "Redeem".
Sign in with your Apple ID, enter the 12-digit code, or use your Mac's camera to redeem the code.
Download the digital copy you want.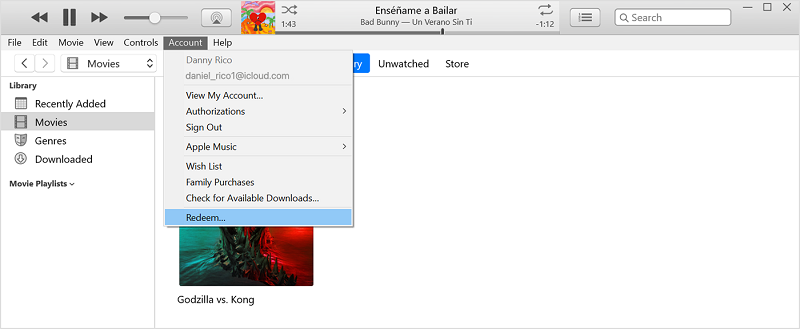 The above two methods are for people who have the Blu-ray disc with iTunes Digital Copy; for the above instructions, they can play the Blu-ray directly in iTunes.
Method 2: Rip Blu-ray to iTunes with the Best Blu-ray Ripper
You might be wondering how to convert a Blu-ray movie to iTunes if you don't have a Blu-ray disc with an iTunes digital copy. If you want to import your Blu-ray movies to iTunes, you need to convert them into the formats that iTunes supports. Before you start converting videos, you need to know that iTunes supports the video formats MP4, M4V, MOV, etc.
A reliable Blu-ray ripper is required to convert a Blu-ray disc to a video for iTunes. Now I want to share with you a very useful ripper: VideoByte BD-DVD Ripper. It's a ripper that supports all kinds of DVD and Blu-ray discs, folders, and ISO files, and all of the DVD and Blu-ray collections can be easily copied.
The ripper can help you transfer Blu-ray discs into the digital formats that iTunes supports. And the best feature of this VB Ripper is that in the process of ripping, the Blu-ray quality of the videos will not be compressed, which means you can enjoy the video the same as the original Blu-ray video. And there are also other features of the ripper:
Keep the lossless ripping process at a 1:1 output ratio for Blu-ray/DVD conversion.
Digitize all types of DVD/Blu-rays and decode all kinds of protections like APS, CSS, ARccOS, CPRM, AACS, and BD+.
Support for over 300 output formats, such as MP4, M4A, etc.
Support all types of output devices, like Apple products, Android, PS3/PS4, etc.
All subtitles and audio tracks are the same as the originals after being transferred.
Higher speed of ripping—6X faster.
You should have a good understanding of the app after I introduce you to the ripper. Some of you might be afraid that it will be difficult to operate. Don't worry, it only takes three steps to play a Blu-ray movie on iTunes!
Step 1. Install VideoByte BD-DVD Ripper and Load Blu-ray
Install VideoByte BD-DVD Ripper on your Mac or PC, and then connect your Blu-ray drive to the device. After running the software, click the "Load Blu-ray" button to import the Blu-ray content, and then choose the movie you want.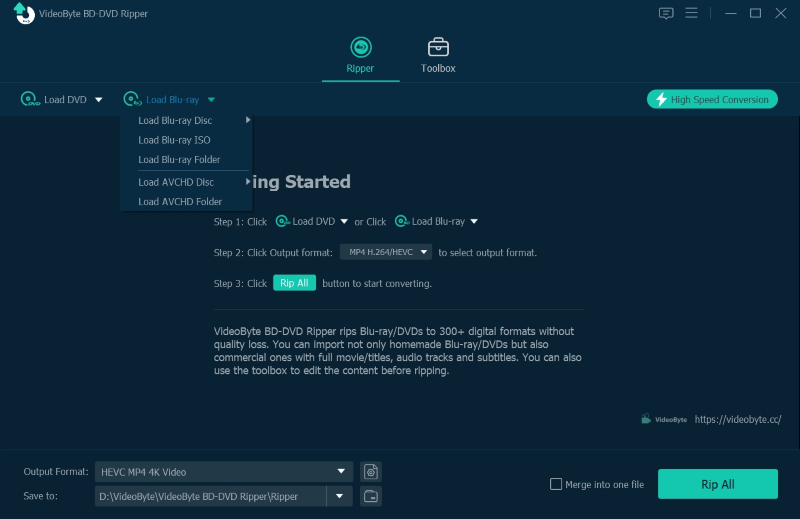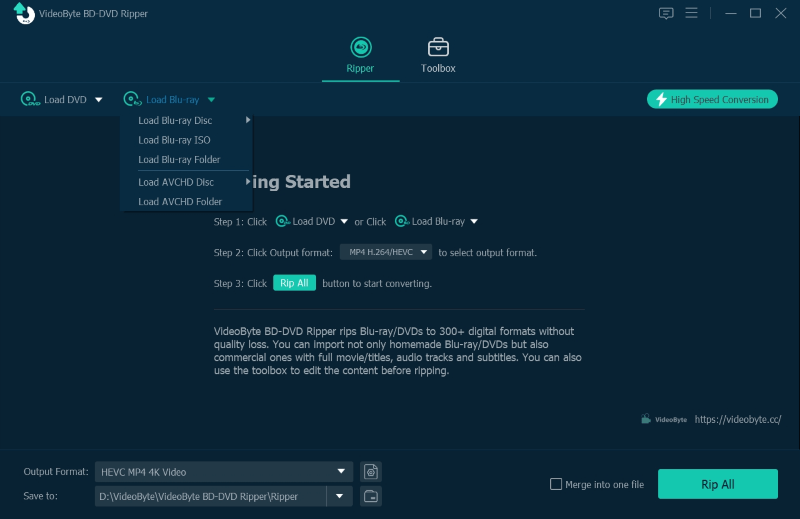 Step 2. Choose the Output Formats
Click the button "Rip All to" to see the drop-down list, where you can select the output format you need. You can also click the far right of the movie clip list to choose the output format. Formats like MOV, MP4, MKV, etc. that are supported by iTunes are all available in VideoByte.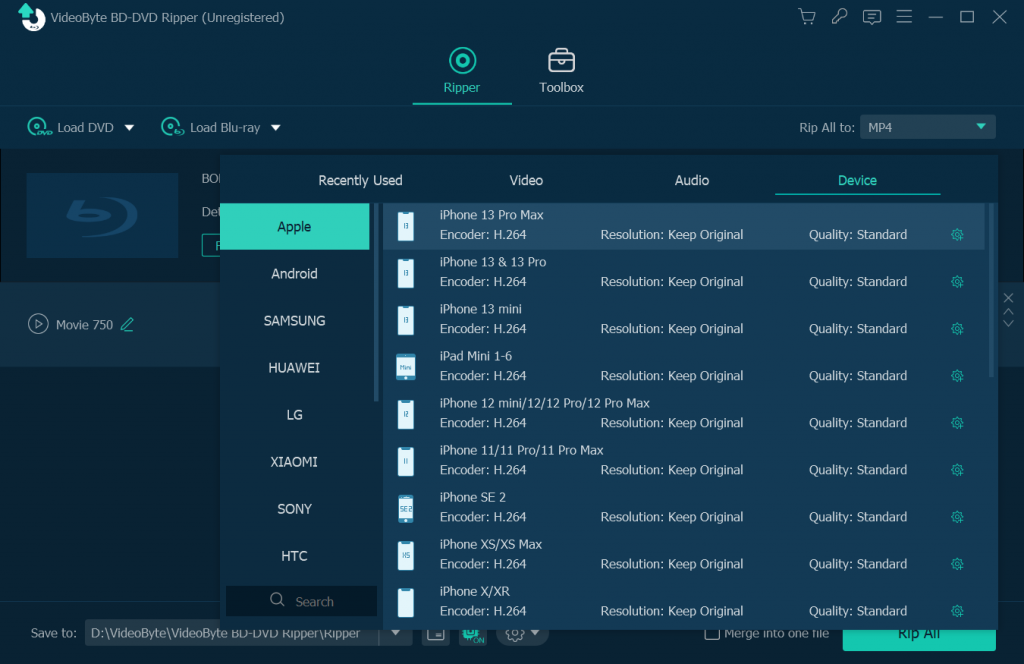 Step 3. Convert Blu-ray Movie to iTunes
Click the "Rip All" button to rip a Blu-ray movie disc to digital video files. After you finish the operation, the last step of ripping a Blu-ray movie is done. You can watch it in your iTunes library after completing this step.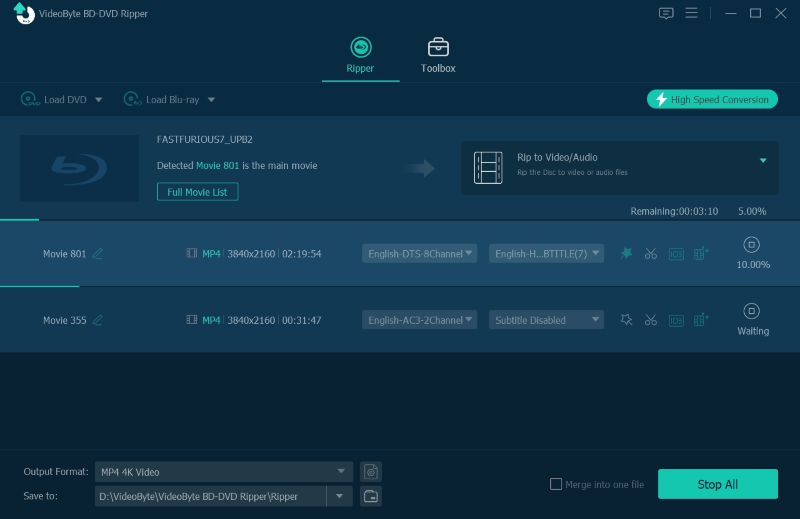 Note: iTunes only supports video in H.264 compression, so have a check on it before ripping Blu-ray to iTunes. You can click "Settings" icon to change "Encoder" from others to H.264.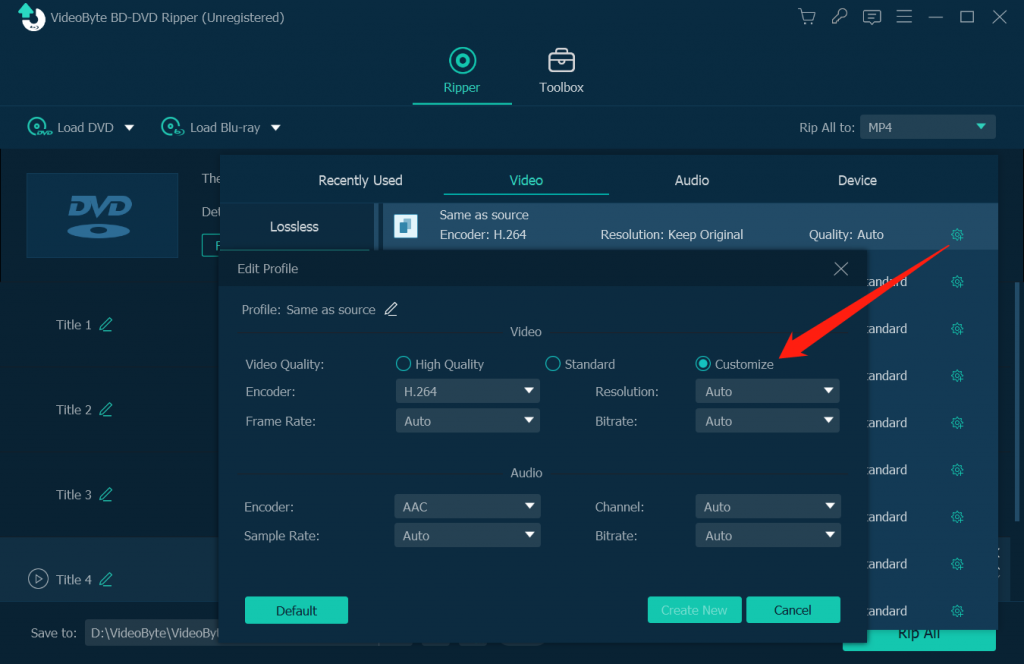 Now you may wonder how to add videos to iTunes after ripping them from Blu-ray. Take it easy, and I will tell you how to do it. Honestly, you have two ways to go. One is to simply drag the files to the iTunes window. Another is to click "File" in iTunes, then tap "Add to Library" icon to import your target Blu-ray video to iTunes from a computer. After that, you can enjoy your video or audio files which are ripped from Blu-ray in whatever Apple devices.
You must have your own judgment and options after learning how to play Blu-ray videos in iTunes using these two methods. Redeeming digital copies is convenient, but it comes with limitations. However, with VideoByte BD-DVD Ripper, you can not only convert a Blu-ray video to iTunes very quickly, but you can also play it in its original quality. So you don't need to worry about the viewing experience of Blu-ray movies being greatly reduced.
Moreover, it will help play all kinds of Blu-ray without "digit code" limitations. Considering the conditions of image quality, ripping speed, output format, etc., VideoByte BD-DVD Ripper may be the best tool for converting Blu-ray to iTunes.