"Can Blu-ray be played on Xbox 360?"
The answer is NO. Xbox 360 can play DVD discs and watch streaming videos, but it does not support playing Blu-ray discs. It will just show "Open Tray" when you put a Blu-ray disc into Xbox 360. But do not give up your desire to watch high-quality Blu-ray movies on Xbox 360! There is still another possible solution to solve it. This post will show you the most useful and reliable methods to play Blu-ray movies on Xbox 360.
Feel free to download this Blu-ray movies to Xbox 360 converter and follow the guide to get started now!
Import Blu-ray movie From Desktop to Xbox 360 via USB
Xbox 360 has a similar release time to PS3, but PS3 can Play Blu-ray discs and Xbox 360 cannot. To play Blu-ray on Xbox 360, you will need to rip Blu-ray discs to Blu-ray digital video and import the Blu-ray movie into Xbox 360 by a USB.
To rip Blu-ray discs to digital video easily, you need this reliable third-party tool - VideoByte BD-DVD Ripper. It can rip Blu-ray discs into 300+ video/audio formats like MP4, MKV Lossless, WMV, AAC, etc. VideoByte adheres to high-quality video/audio and users can enjoy original Blu-ray movies after conversion. It allows users to keep all the audio tracks and subtitles, even add external ones. Furthermore, simple editing is also provided. With 6X faster-converting speed and powerful decryption technology, you can easily rip Blu-ray discs to digital formats and then enjoy on any device including Xbox 360.
Step 1. Preparation for Playing Blu-ray on Xbox 360
Several things need to be prepared as below:
Download the Blu-ray Ripper from the above button on your Windows or Mac computer.
Blu-ray disc.
A Blu-ray drive to load the Blu-ray disc on a computer.
A USB flash drive to place the Blu-ray movie.
Let's jump right into the operation steps.
Step 2. Format your USB in Xbox 360 (Important!)
If it is the first time using this USB flash drive on Xbox 360, this is an important step. You need to plug the USB into Xbox 360, and then use your Xbox 360 console to choose "Storage Devices-USB Storage Device", click on it, and wait a while to format the USB in Xbox 360. In this step, all the movies, songs, images, etc. in your USB drive will be deleted.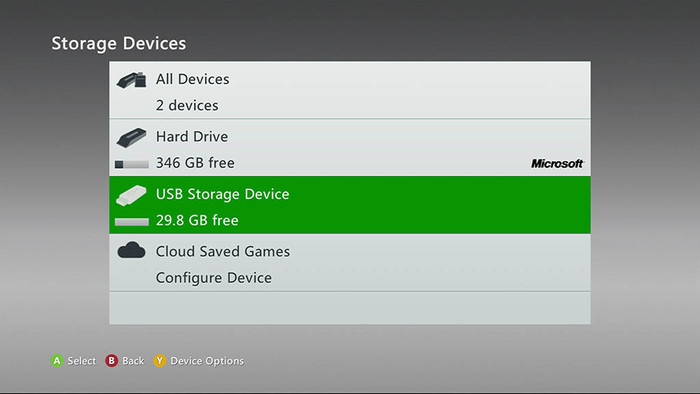 Make sure your USB flash drive has enough gigabytes for a Blu-ray movie before following the below steps. In general, 32G USB is required for 1080P Blu-ray storage.
Step 3. Load Blu-ray Disc into Computer with the Blu-ray Ripper
Put your Blu-ray disc into the external Blu-ray drive, then plug the Blu-ray drive into your computer (Remember: internal disc drive on computer general does not support Blu-ray disc, so you will need the external Blu-ray drive). Now, launch VideoByte Blu-ray Ripper and click "Load Blu-ray".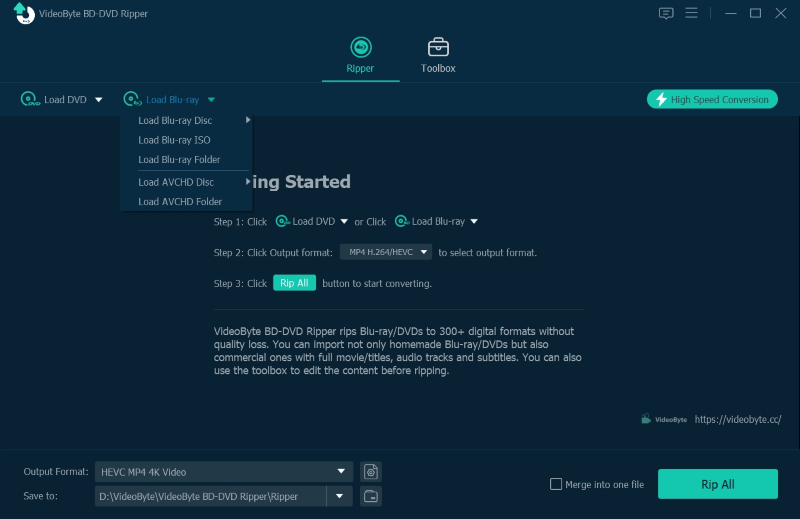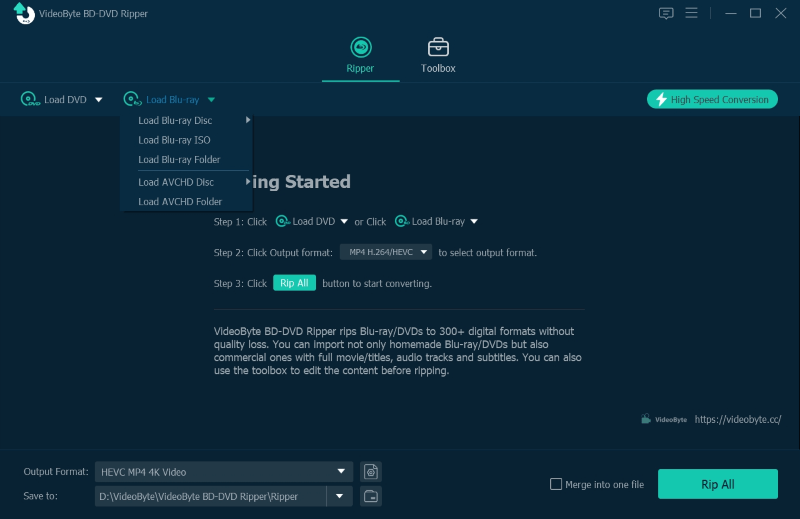 Step 4. Directly Choose One of the Xbox 360 Profile
Click the drop-down list of "Rip All to" and go to the "Device" tab. Now scroll down to find the "Game" or directly search it in the search box at the bottom left. Then you can find many output profiles including the Xbox 360.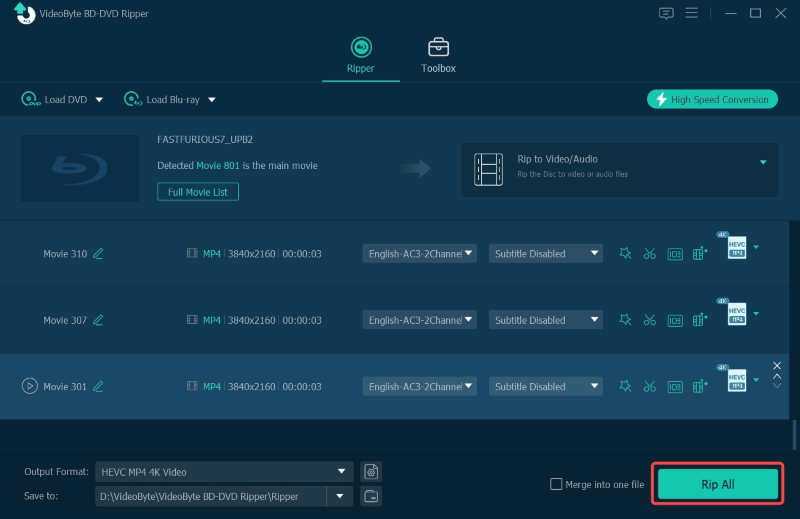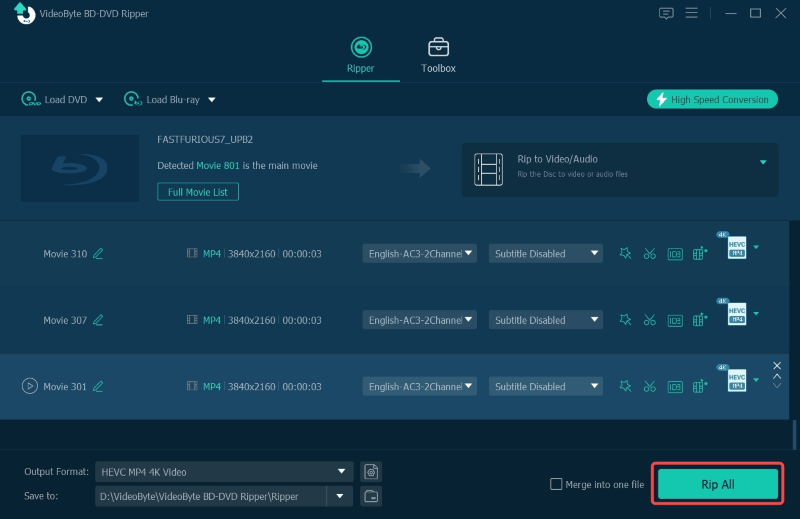 Step 5. Rip the Blu-ray Disc and Copy it into USB
Click the "Rip All" button. There may take some time for ripping Blu-ray disc, please be patient. After done, copy the Blu-ray movie into USB.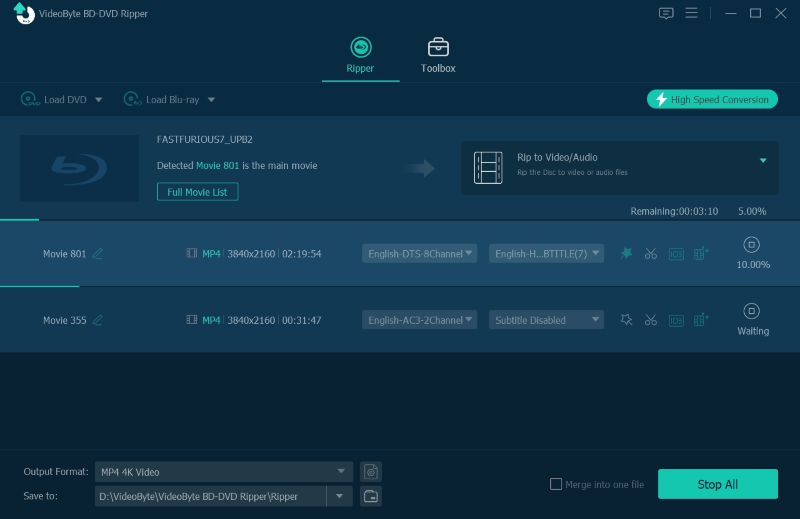 Step 6. Play Blu-ray Movie on the Player of Xbox 360
Wow, we are going to succeed. Now plug your USB into Xbox 360, then use Xbox 360 console to "Select Source-Portable Device". Now you can play Blu-ray movies on Xbox 360.
It is simple enough to rip Blu-ray with VideoByte BD-DVD Ripper. In use, you may find so many profiles which will meet your need besides Xbox 360. Then you can play Blu-ray movies on Xbox 360 at will and enjoy your wonderful movie nights!
More Option: Directly Play Blu-ray Disc on Computer
For people who do not have enough-gigabytes USB to play Blu-ray on Xbox 360, and already have a Blu-ray drive, play Blu-ray on the computer may be more convenient. VideoByte Blu-ray Player enables you to play both commercial and homemade Blu-ray disc/folder/ISO files as well as DVD files/folder/ISO. More than that, it is also a multimedia player, which allows you to play common videos and music files.