Sony Play Station 3, known as PS3, in addition to be one of the most popular game consoles on market, it is also the third home video game console produced by Sony Computer Entertainment. "Does PS3 play Blu-ray Disc" is the most popular topic among people, and the answer is absolutely "Yes".
PlayStation 3 does have the ability to play Blu-ray discs and DVD and it was the first Blu-ray player commercially available on the market. In general, you can play Blu-ray directly on PS3, however, it doesn't work all the time. Therefore, we will introduce how to play Blu-ray on PS3 directly as well as how can you play Blu-ray on PS3 in other way under some particular cases.
Play Blu-ray on PS3 Directly
Step 1: Insert Blu-ray disc into the Blu-ray drive of PS3. This is just like you entering a game; the difference is that you should head into the Video Tab in your PS3's home menu, not the Game Tab. Highlight the Blu-ray and press X to start it immediately.
Step 2: Now it is loading like a traditional DVD and you can use your controller to control the Blu-ray movie. Besides, if you would like to adjust options like subtitles, audio channels and volume, then you can hit triangle to go to the submenu to do the alteration. The Arrow key can also lead you to the main menu. The Start key can pause the Blu-ray movie while Select key could open additional information, like the length of the movie and the chapter playing currently.
Why You Cannot Play Blu-ray on PS3 Sometimes and the Solution
While sometimes, some of the users may say that they just cannot play the Blu-ray directly on PS3, thus, here we will talk about the reasons why you cannot play Blu-ray directly and how can you fix it.
1. Firstly, find out whether the system software of your PS3 is up-to-date or not. If not, please open the PS3 and connect to the Internet to update the system software, then insert the Blu-ray, go to the Video Tab in the PS3 main menu, select Blu-ray and click X to start playing Blu-ray movies. It will play smoothly now.
2. Region-locked also will obstruct the playing of Blu-ray disc on PS3. Although Blu-ray games are not region-locked on PS3 consoles, the PS3 Blu-ray player is region-locked for multimedia content such as Blu-ray disc. If the region code on Blu-ray disc is different from the region code setting on your PS3, you will fail to open your Blu-ray disc on PS3. In this aspect, you can check the disc's case to confirm a disc's region code and adjust the system's region code setting for let it be compatible with the region code on your Blu-ray disc. Then, you can try again to play your Blu-ray disc on PS3. Remember that you just have 4 times to change the region code setting for PS3 system, after that the region code will be locked.
3. Except for the above two ways, there is another more helpful and simple way for you to fix your problem. That is to convert Blu-ray to PS3 friendlier video formats then play it in USB form. The advantage of this method includes protecting the PS3's Blu-ray drive and stopping your precious Blu-ray disc from getting scratched. To convert Blu-ray to PS3, you need a third-part program.
Play Blu-ray on PS by Converting Blu-ray
Here, I would like to introduce VideoByte BD-DVD Ripper, an easy-to-use tool to help you convert your Blu-ray file to PS3. VideoByte BD-DVD Ripper specializes in ripping and converting commercial Blu-ray disc/folder/ISO for playing on portable devices. With this program, you can:
Convert Blu-ray disc into predefined output files for playback in popular digital devices like PS3/PS4 game console, Apple iPhone/iPad/iPod etc.
Edit videos before ripping the Blu-ray to personalize the Blu-ray movies.
……
Below is the tutorial on how to convert Blu-ray to PS3 friendlier video formats with VideoByte BD-DVD Ripper.
Step 1. Download and Install VideoByte BD-DVD Ripper
Download VideoByte BD-DVD Ripper in our official website and install on your computer, then launch the program.
After that, you need to insert a Blu-ray disc into your computer's DVD-ROM or connect your computer to external hard drive before inserting disc. Then click "Load Disc" > "Load BD Disc" to upload your Blu-ray movies. You are also available to upload a whole folder by clicking "Load BD Folder" to import the folder.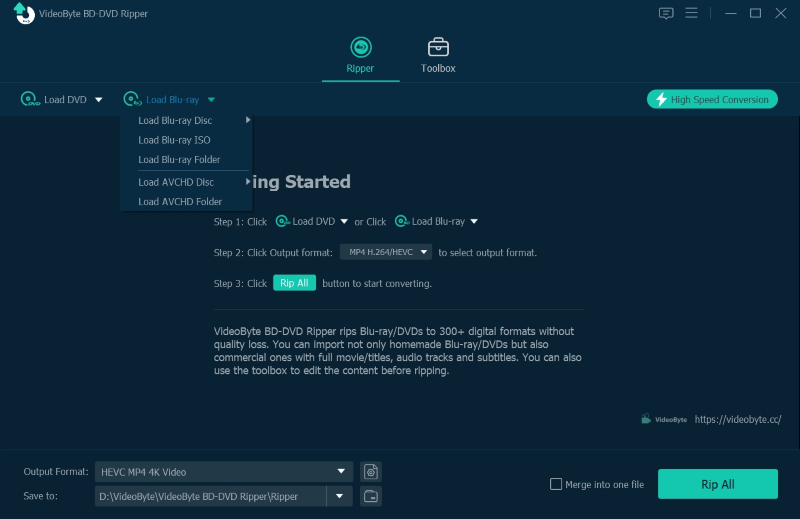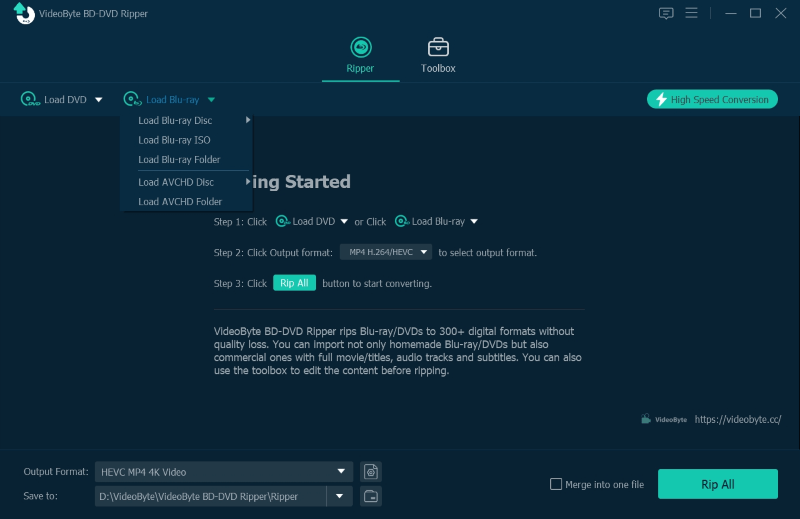 Step 3. Choose Output Format
You can click the "Profile" section and choose the PS3 compatible formats like MP4, WMV, AVI, etc. from the drop-down list or just click "Setting" button to select format. You are allowed to change parameter like video resolution, bitrate, audio bitrate, sample rate, etc.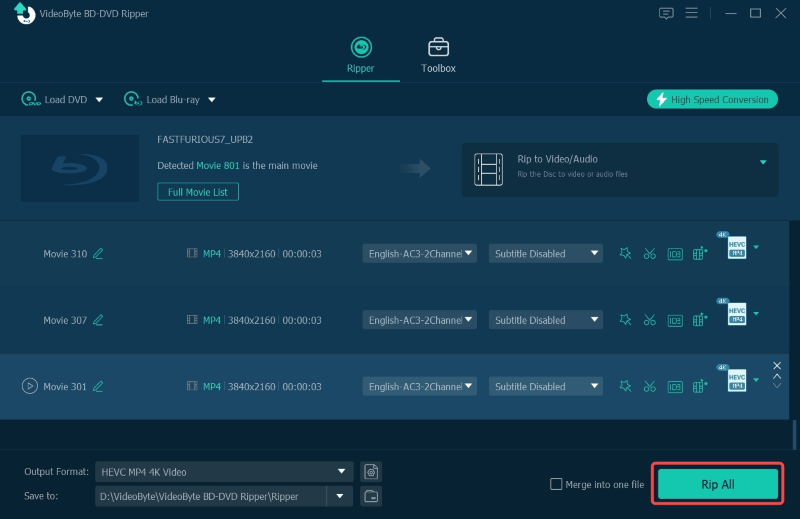 Step 4. Select Destination Folder
Click "Browse" next to the "Convert" button and select a folder to save the ripped files.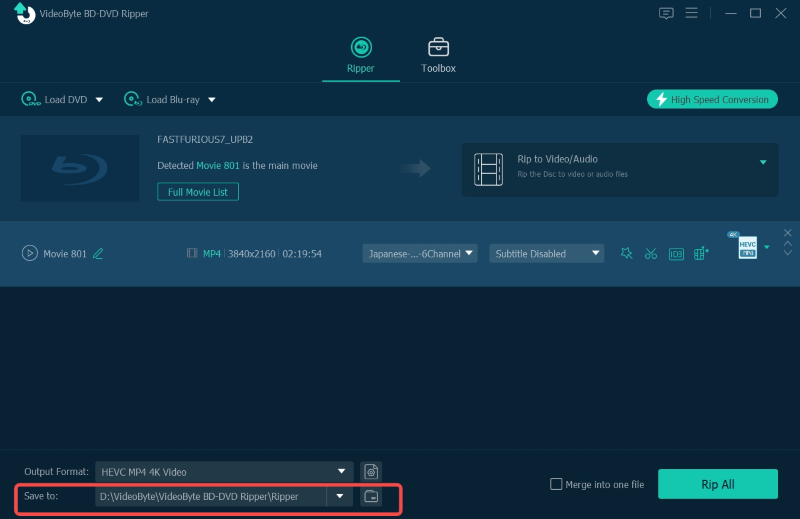 Step 5. Convert Blu-ray Disc
Click the "Convert" button to start converting Blu-ray movie. Then click "Open Folder" to get your converted files once the conversion finished.
As you all known, Blu-ray can store videos in high-definition (HDTV 720 and 1080p) and ultra high-definition resolution (2160p), thus you can rest assure that the videos converted are also with high-definiton of 1080p.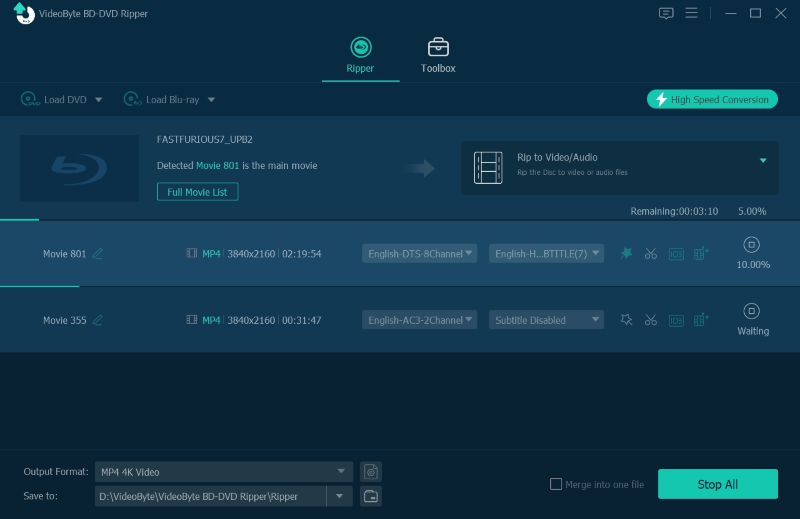 After the conversion from Blu-ray to PS3 friendlier videos, you can transfer the videos to PS3 using a USB and is able for you to enjoy your movie on PS3 right now.
Does PS3 play Blu-ray? Of course! In this article, we have talked about two ways in detailed for you to solve this problem. They are simple and useful, which can help you effectively play Blu-ray on PS3 smoothly. If you are trapped in such situation, why not try the above methods. To put it frankly, VideoByte BD-DVD Ripper is my prior advice for you to convert Blu-ray into other formats. Just with several simple steps then you can get a predefined output format for playing on PS3. It's very fantastic and professional; why not give it a try?