More frequently, MacBook Air users find that they lack a practical Blu-ray player to tackle some intrusive Blu-ray watching problems. Let's see the following situation first.
You may excitedly go home and insert the latest issued Murder on the Orient Express Blu-ray disc into the external Blu-ray drive connected to your MacBook Air, but only sadly to find that the computer media player cannot open the disc. To be honest, this is a common problem for all the MacBook Air users to get a direct way to watch Blu-ray videos.Then how to play Blu-ray files naturally on MacBook Air? The answer is getting a Blu-ray player for MacBook Air.
Why You Need A Blu-ray Player
Yet MacBook Air pride itself on excellent performance and lightweight design, you might already know that this cute machine falls short in Blu-ray access. As Blu-ray file shows great strength in high definition playback yet along with large storage capability, it needs to be processed by a specific Blu-ray player.That's why an external Blu-ray drive is necessarily at your hand.
However, that's not enough. The specialty of Blu-ray determines the unfavorable result with common computer drive as well as common media player. That is, generally the default media player on your computer cannnot decode the Blu-ray file. As mentioned earlier, MacBook Air harbors an unfriendly manner to Blu-ray format so that you cannot use the common media player to play Blu-ray on MacBook Air.
In this way, a subsequent solution is to get a Blu-ray player for MacBook Air. For example, Macgo Mac Blu-ray Player is a nice choice to play available Blu-ray videos on MacBook Air. One exception is, however, that some Blu-ray files are specially treated with copyright protection or region code lock. Once protected / locked, such Blu-ray videos cannot share the authorization to your MacBook Air even with the Blu-ray player. Consequently, it is recommended to try the ultimate tool, VideoByte Blu-ray Player, to get any Blu-ray files freely play on your MacBook Air.
How to Use VideoByte Blu-ray Player
VideoByte Blu-ray Player
is wrestling with any Blu-ray playback errors including those copyright-protected / region-code-locked. As set, it supports Blu-ray Disc, Blu-ray ISO file, and Blu-ray (BDMV) folders on your MacBook Air in good recognition of different regions and countries. Aside from smooth Blu-ray playback, this software offers you pleasant watching experience with high quality. Additionally, VideoByte Blu-ray Player can also serve as a free video / audio player.
Here are four steps to give you an operation outline of the VideoByte Blu-ray Player.
Step 1. Install VideoByte Blu-ray Player
Click "Try it Free" button for Mac OS to download VideoByte Blu-ray Player on your MacBook Air. Follow the given guidance to install the software.
Step 2. Launch VideoByte Blu-ray Player
Double click the software icon and you will enter the main interface. Before the formal purchase, fresh users have a one-month free software trial experience. The trial version will carry a watermark in the course of Blu-ray watching. There are only two striking buttons on the main interface, "Open File" and "Open Disc".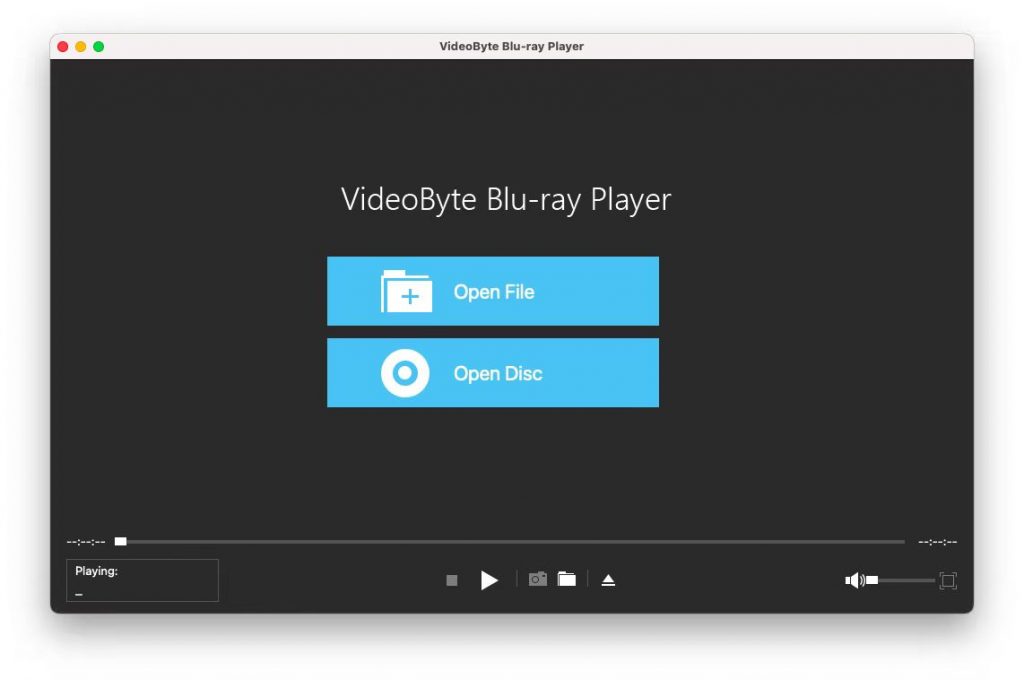 Step 3. Open Blu-ray Movies
Click "Open Disc" and select the Blu-ray disc / folder / ISO file. Be patient with loading if the discfile is a bit large.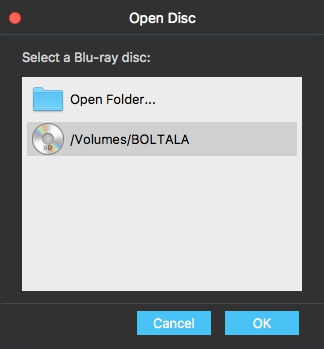 Step 4. Watch Blu-ray Movies on MacBook Air
After successful loading, it will pop up the playback screen with some alternative options like "Play Movie", "Chapter", "Audio", "Subtitle", and "Title". Click "Play Movie" and you can directly watch the Blu-ray movies on your Mackbook Air.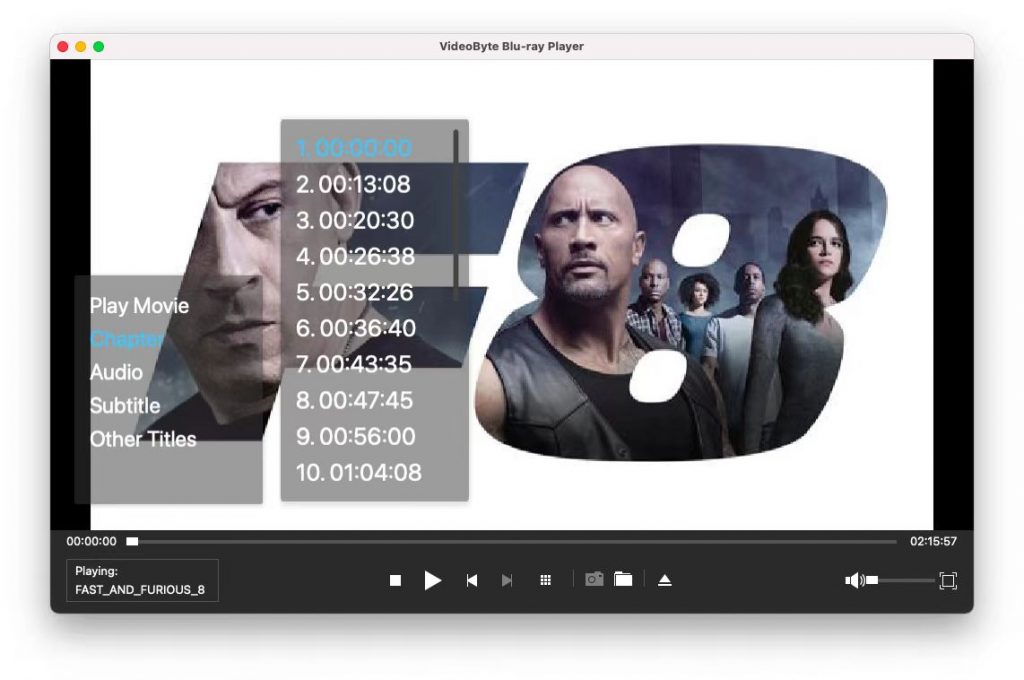 With these four simple steps, now you can enjoy your favorite Blu-ray movies on MacBook Air without any worry about the playback limitation. VideoByte Blu-ray Player is a reliable Blu-ray helper and gives you gorgeous Blu-ray appreciation.
[FAQs] Do You Face These Blu-ray Problems on Mac
Q 1: When I play Blu-ray ISO files on Mac OS X, the whole video runs slowly and even drag out other procedures. What's the matter?
A: Instead of directly opening Blu-ray ISO files, copying the Blu-ray video file out to other positions will do a little improvement.
Q 2: Why I always meet the "fail to play / fail to play Blu-ray disc" problem?
A: To correctly run this Blu-ray player, you have to guarantee two things:
1.An internal or external Blu-ray drive that is connected to your Mac.
2.A good network environment.
If the problems are beyond these situations, please send us the details with e-mail.
Q 3: Can I also play DVDs, CDs or MP3 discs on the external Blu-ray drive?
A: For DVDs, currently all Blu-ray drives can play them, and most can also play DVD-R/RW recordable discs.
For CDs, some earlier product may fail to play them, while the latest Blu-ray drives are all prepared for CD playback, including homemade CD-Rs and CD-RWs.
For MP3 discs, it depends on the individual product specs, but still many Blu-ray drives support MP3 playback.
Then it comes to the end. Since MacBook Air refuses to offer friendly access to Blu-ray format, a successful Blu-ray playback requires preparing with an external Blu-ray drive as well as getting a special Blu-ray player running on your Mac. We've mentioned some useful Blu-ray player tools for your consideration and a few tips associated with Blu-ray problems. It's nice that this helps you a smooth Blu-ray playback on MacBook Air.