Top 20 AI Tools for Business: Use the Best AI Tools
In this rapidly evolving technological landscape, artificial intelligence has emerged as a game-changer, empowering businesses to enhance efficiency, make informed decisions, and unlock unprecedented growth. AI tools have become indispensable assets in the modern 21st-century company, from streamlining repetitive tasks to extracting invaluable insights from massive datasets.
This blog will explore the curated list of the most impactful AI tools that cater to many business needs. Whether you're a small startup or a multinational corporation, these tools offer solutions across diverse domains such as customer service, marketing, finance, and operations. Read on!
Top 20 AI Tools for Business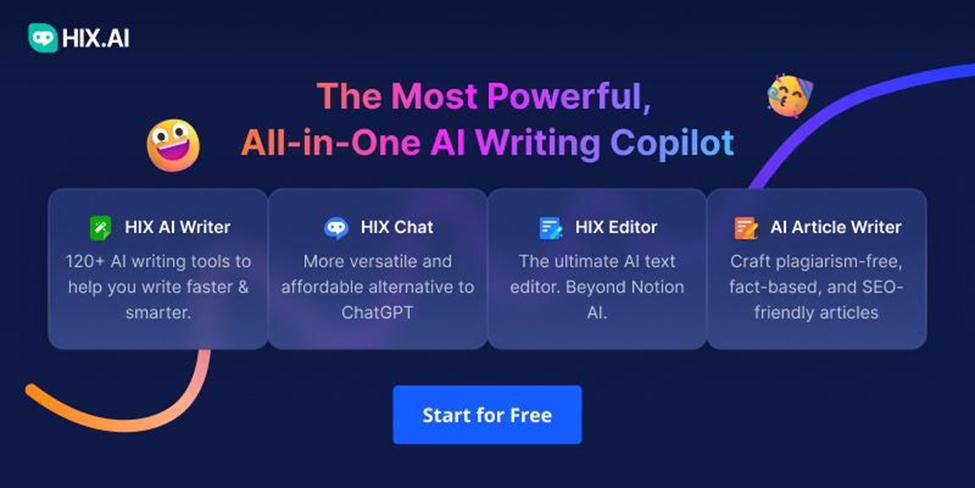 HIX.AI
 is one of the best AI tools for businesses. As an all-in-one AI writing copilot, it helps businesses automate routine writing tasks, freeing up time for more critical business activities. Adopting HIX.AI, businesses can drive operational efficiency, optimize workflows, and herald a new era of productivity. This platform features a ChatGPT-powered AI writer, a conversational AI chatbot called HIX Chat, an AI email writer and a HIX Editor as a Notion AI alternative in the Google Doc. Powered by OpenAI's GPT-3.5 and GPT-4, HIX.AI can write essays, articles, emails, and other types of content. With over 120 AI writing tool sets, HIX.AI caters to all business sizes, offering many features and benefits for companies to explore. In addition, the
HIX.AI long-form article writer
 can help facilitate and streamline content creation. It is particularly useful for entrepreneurs, marketers, and businesses that need assistance in generating SEO-friendly, plagiarism-free, fact-based written materials, such as Amazon product roundups, single product reviews, How-to-Guide, etc.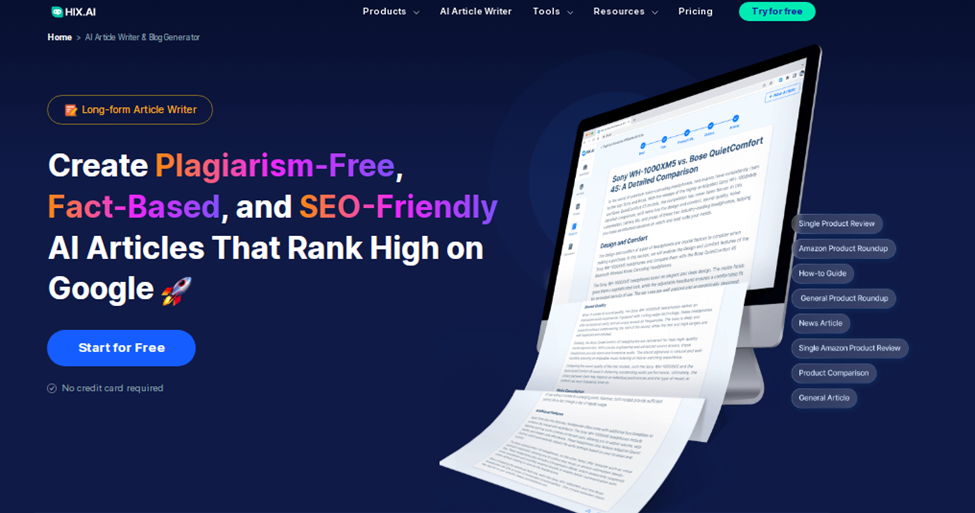 Flexible and customizable.
Multilingual support for 50+ languages.
User-friendly interface, reducing the learning curve and promoting swift adaptation.
Budget-friendly option for businesses of all sizes, providing high value for the investment.
Provides quick feedback, enabling businesses to make improvements in real-time.
Must subscribe to access premium features.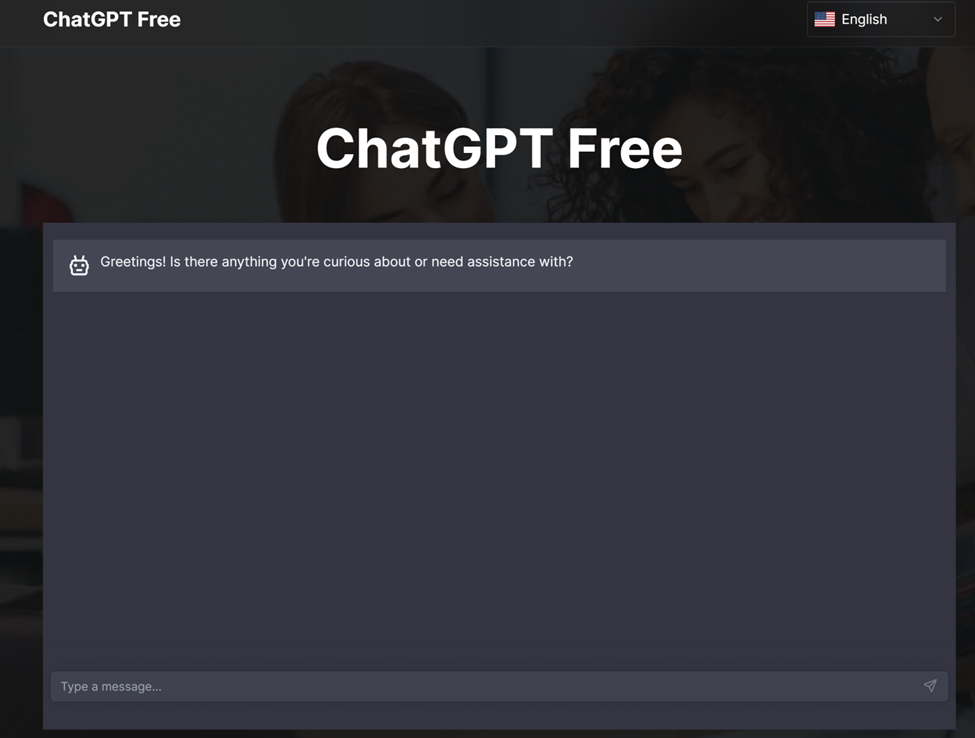 ChatGPT Free
 is a powerful AI tool for businesses to use free and without logging in. Businesses can use it to enhance customer support, engagement, and efficiency. ChatGPT Free can provide real-time responses to customer inquiries through integration into various platforms, reducing response times and enhancing user satisfaction. It can handle various queries, from product information for content creation and troubleshooting to general inquiries. Businesses can deploy ChatGPT on their websites, mobile apps, or messaging platforms to provide automated, 24/7 customer support. This helps streamline operations and reduce the workload on human agents, allowing them to focus on more complex tasks.
Round-the-clock availability.
Free to use
Can handle a large volume of inquiries simultaneously.
Caters for a wide range of businesses in various industries.
May require manual customization to ensure accurate response.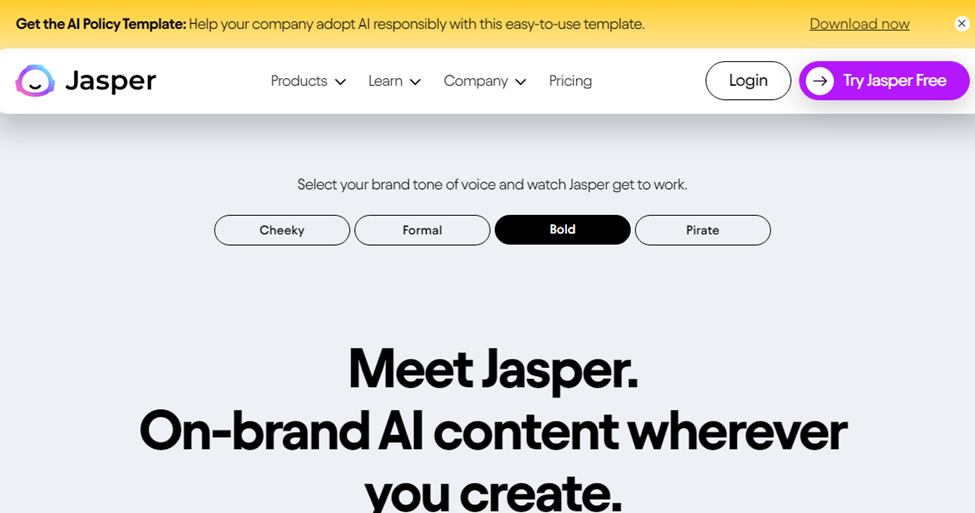 Jasper.ai is an AI tool that helps teams and businesses create high-quality content faster. It offers several features and benefits for businesses. Jasper can be trained on your brand's writing style, allowing you to consistently generate content that aligns with your brand's tone across your team.
Jasper offers an API that allows you to integrate its AI engine directly into your platforms. This enables you to leverage Jasper's capabilities within your existing systems. Jasper prioritizes privacy, security, and reliability. Your data is kept safe and secure and never used to train third-party AI models.
Seamless API integration with different platforms.
Can be trained on a brand's style, ensuring consistent brand voice across all content.
Highly versatile.
Steep learning curve for less tech-savvy individuals.
No free plan.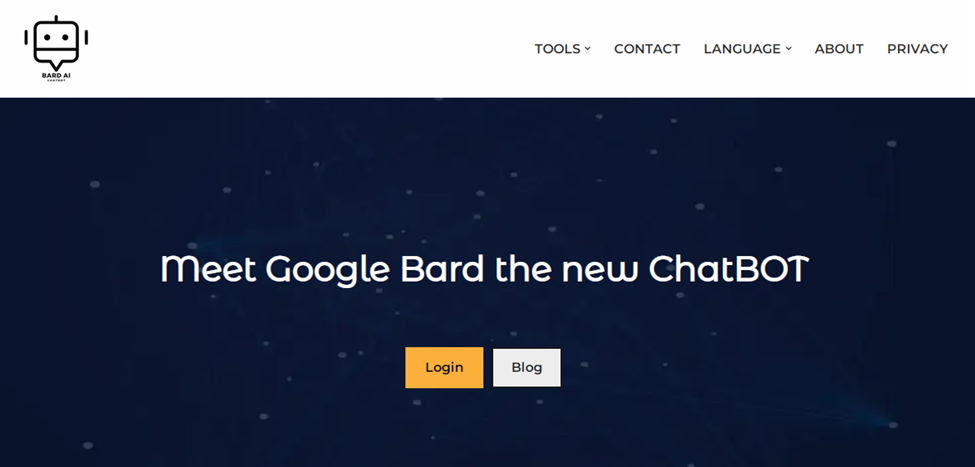 Bard is a large language model (LLM) chatbot developed by Google AI. Bard can be used to generate ideas for new products and services. It can also be used to test new products and services with potential customers. It is also used to create high-quality content for websites and generate product descriptions, marketing copy, and other business-related content.
Bard can automate customer service tasks like answering FAQs and providing support tickets. This tool can also analyze large amounts of data to identify trends and patterns. This information can be used to improve business operations, make better decisions, and identify new opportunities. Bard can create and manage marketing campaigns. It can also be used to track marketing campaign performance and identify improvement areas.
Generates high-quality content.
Automated and efficient customer service.
Can analyze large amounts of data to identify trends and patterns.
Its accuracy may not be perfect.
It is not free.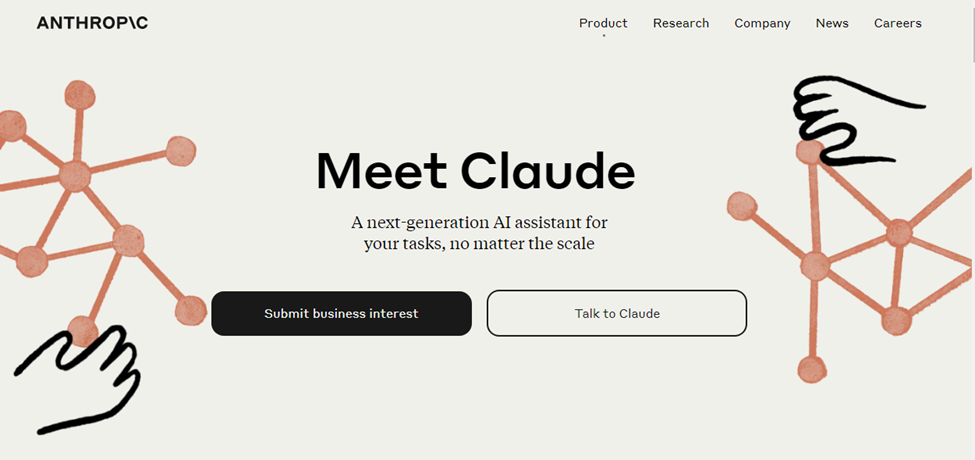 Claude is an AI chatbot developed by Anthropic. It can process many tokens, with an extended version capable of processing 32,000 tokens. Claude's wide context window allows it to understand and analyze text with a broader perspective. Businesses can use Claude to summarize large amounts of text and quickly extract key information from documents, reports, or articles, saving time and effort.
Claude's ability to read and analyze information from books and papers can be valuable for businesses conducting research or competitive analysis. It can quickly process and extract insights from a wide range of sources. Claude can also revolutionize the business planning process. This tool can assist in generating ideas, providing insights, and helping to create comprehensive and winning business plans.
Wide range of use cases.
Competitive alternative of ChatGPT.
A plethora of customization options.
Available only in the United States and United Kingdom.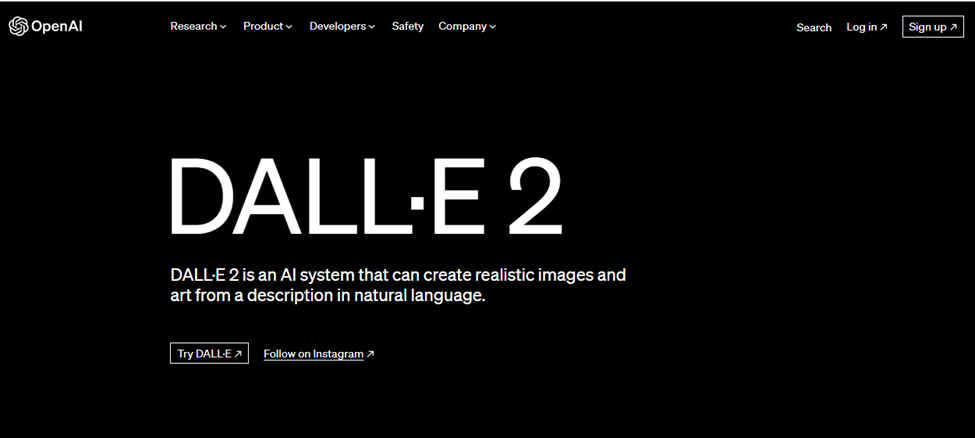 DALL·E 2 is an AI model developed by OpenAI. This tool can generate visual content for blog posts, social media, and website design. This speeds up content creation and allows businesses to experiment with different visual styles effortlessly.
DALL·E 2 can help illustrate products that can be very individual for every client or hard to depict. Also, DALL·E 2 can take an image and create variations inspired by the original, providing businesses with unique and customized images that stand out from stock images.
Allows users to generate realistic images with just a text description.
Caters to photorealistic imagery, paintings, cartoons, and futuristic graphics.
Can generate meta images, ideate physical products, and create a brand identity.
It is not free.
Pricing structure is based on the resolution of generated images.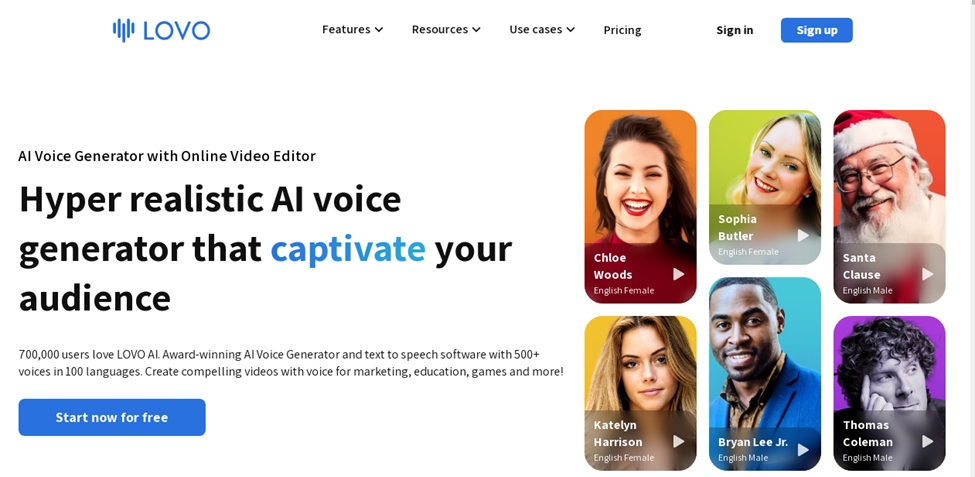 LOVO AI is an AI voice generation platform that businesses can use to streamline their operations and improve customer service efforts. Businesses can use this AI tool to manage customer interactions through chatbots or phone lines. This creates new possibilities for optimal customer service efforts.
With LOVO AI, businesses and creatives can generate engaging audio podcasts quickly and with barely any effort. LOVO AI's text-to-voice generator, Genny, is perfect for podcasters and audio creators. LOVO AI's voiceover generator has a wide choice of voices, with varying pitches and accents, to spice up recordings.
Provides algorithms to clone voices that sound human-like.
Offers a wide choice of voices, with over 200 voices in dozens of languages.
24/7 customer support.
Steep learning curve.
May sometimes sound robotic.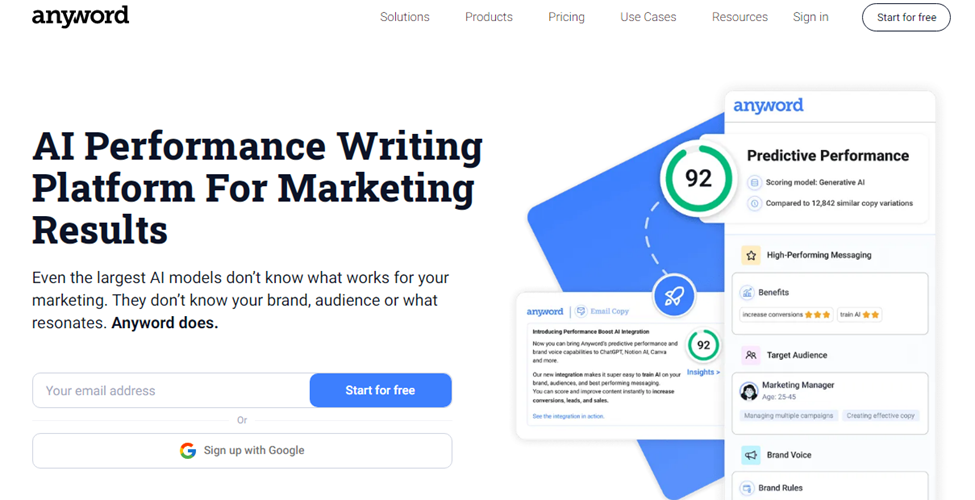 Anyword is an AI writing tool built for marketing results that can help businesses save time and improve their content. Anyword can generate any copy that marketers or copywriters may need, including ad copy, blog posts, promotional emails, and landing page assets.
This tool also assigns each copy variation a Predictive Performance Score, indicating the copy's conversion and performance potential. This can help businesses make smarter decisions about which content to use.
Saves time in content creation.
Offers in-built SEO tools.
User-friendly and easy to integrate with existing business processes.
May require human input to optimize and enhance outputs.
May not be suitable for businesses with very specific or niche content needs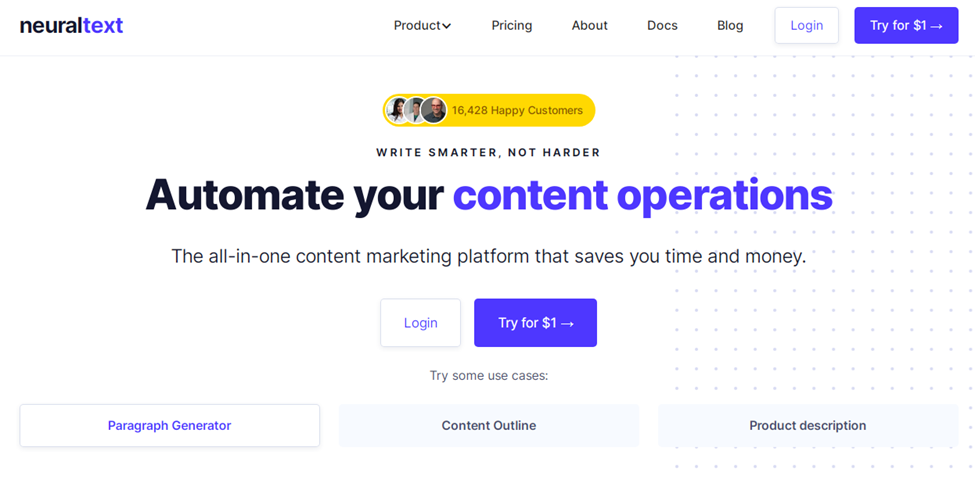 NeuralText is an AI writing assistant and tool that can be used in various business processes, particularly in content creation and optimization for SEO purposes. NeuralText provides a keyword research tool that allows users to generate a list of related keywords based on a given topic. This can help businesses identify relevant keywords to improve their search engine rankings.
NeuralText offers sentiment analysis capabilities, which can help businesses gauge the emotional tone of their content and ensure it aligns with their intended message. This tool also provides features like an editorial calendar and template management to streamline content management processes. This can help businesses stay organized and ensure a consistent publishing schedule.
Can optimize content for SEO by providing insights to improve the content.
Includes spell and grammar-checking features to ensure that the content is error-free.
Utilizes over 50 AI formulas to generate compelling content.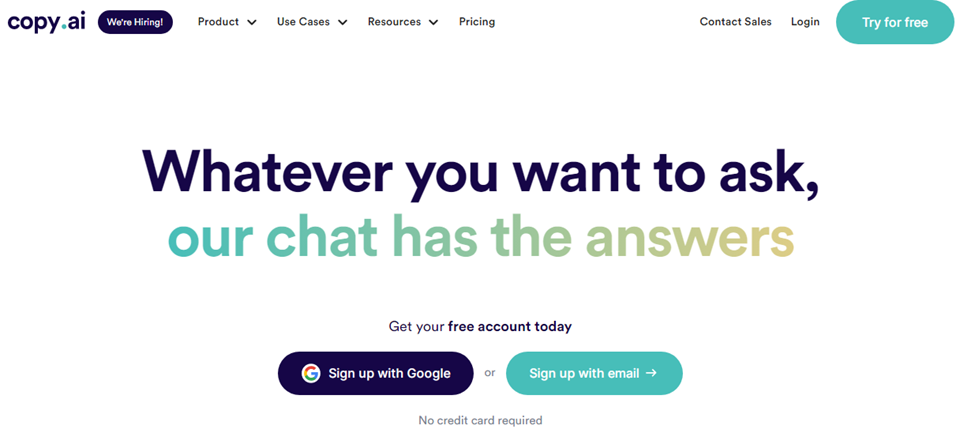 Copy.ai is an AI tool for businesses that use machine learning to generate various types of content, such as blog headlines, emails, social media content, and web copy. It is designed to help marketers and business owners streamline the copywriting process and create great content more efficiently.
Copy.ai contains over 90 content templates and tools, allowing users to generate sales copy, digital ads, e-commerce product descriptions, and more. Copy.ai is useful for business owners, marketers, content writers, and digital agencies who want to enhance their content and increase conversion rates and engagement activity.
Available in more than 25 languages.
Provides a Google Chrome extension that allows users to work simultaneously with Google Docs and Gmail tools.
Must subscribe to access advanced features.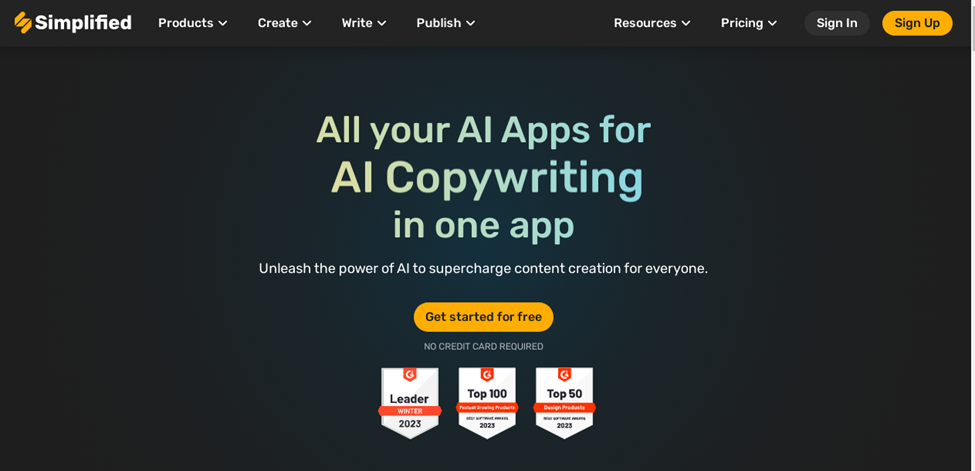 Simplified AI is an AI tool that can be used for content creation and marketing purposes. It is designed to help businesses and creators scale their marketing efforts, collaborate with teams, and streamline their workflows. Simplified offers many features, including graphic design, AI content calendar, writing marketing ad copies, AI rewriter software, long-form text, and more.
Can generate a large volume of content in a short amount of time.
Can create relevant content tailored to a specific target audience.
User-friendly interface.
Easy to use tool.
Limited creativity.
Limited customization.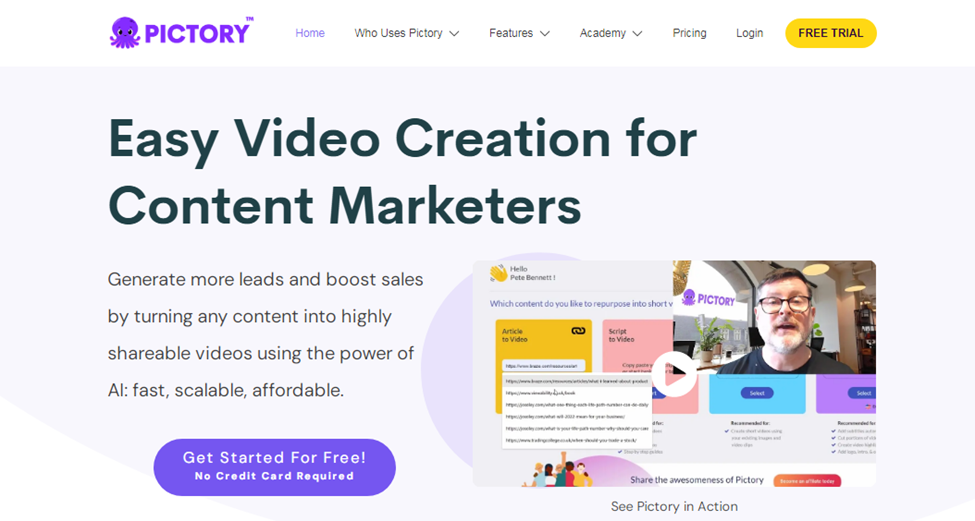 Pictory is an AI-powered video creation tool that can help businesses create engaging videos for various purposes. Pictory can be used to create training videos for employees. It can also be used to create explainer videos for products or services.
It can turn scripts or blog posts into compelling marketing videos that engage the audience.
Pictory can automatically create high-conversion video sales letters with stock footage, music, and voiceovers. Additionally, this tool can add captions to videos automatically, increasing reach and making videos more accessible.
User-friendly dashboard.
AI-enabled for automation.
Allows users to create videos from articles, scripts, or long videos in minutes, with automatic voiceovers, captions, and branding.
Limited flexibility in matching the right audio or visuals to the content.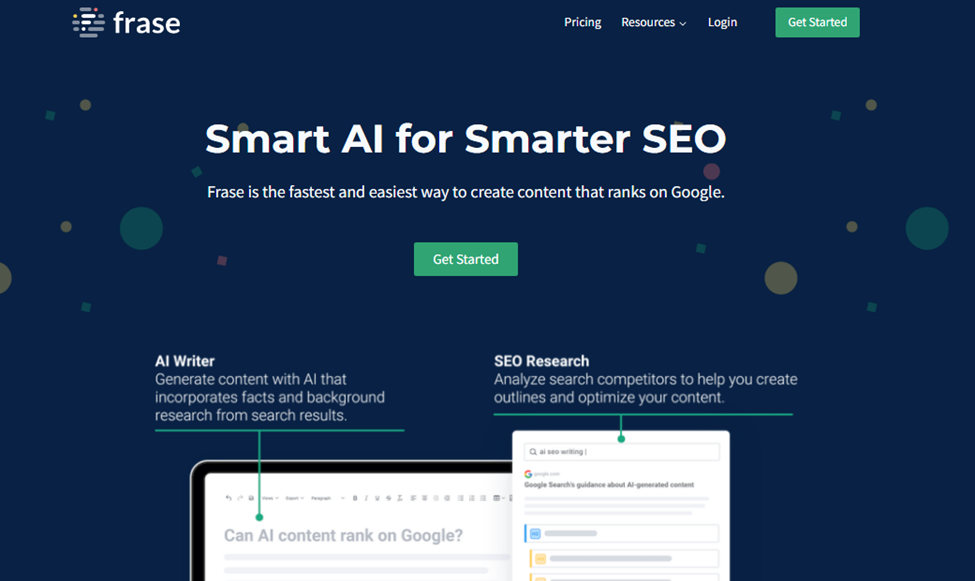 Frase is an AI tool with an AI writer who can generate original content based on top-ranking search results. Frase analyses existing content and provides insights on optimizing it for search engines. It offers suggestions on keywords to target, content gaps, content scores, and more. Frase has an intuitive Outline Builder that allows businesses to easily organize their content outline by dragging and dropping headings. This tool's analytics dashboard provides insights on key performance indicators (KPIs) related to content revisions over time.
Has an analytics dashboard that provides insights on key performance indicators (KPIs) over time.
Provides advanced SEO metrics such as search volumes, keyword difficulty, domain authority, SERP analysis, and backlinks.
Lacks NLP features.
Has some copywriting issues.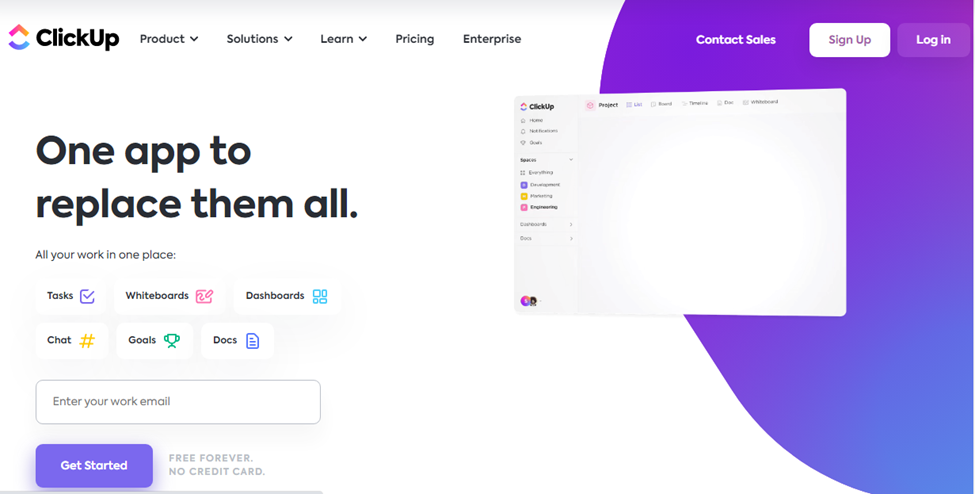 ClickUp is an AI tool for business and a cloud-based project management software. This tool is designed to help businesses and teams streamline their tasks, improve productivity, and enhance content quality. ClickUp provides prompts tailored to specific roles, ensuring high-quality content creation. This tool also helps individuals and teams streamline task planning and management. It offers features such as task and subtask creation, project and standup summaries, and pre-built AI tools for different departments.
Flexible and customisable.
Offers over 100 automation that can automate routine and repeat tasks.
Seamlessly integrates with over 1,000 outside tools for free.
Limited time tracking.
Steep learning curve.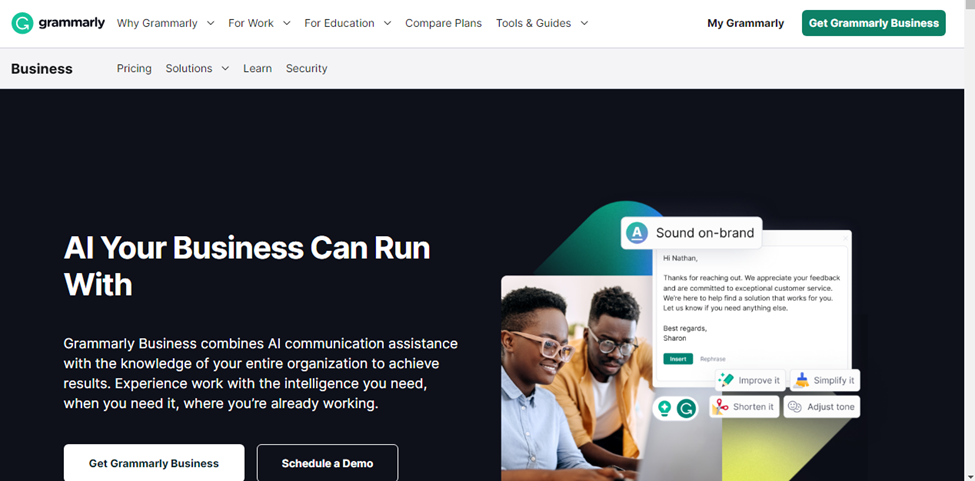 Grammarly Business is a software tool designed to help businesses improve their written communication. It is ideal for small businesses, marketing teams, web publishers, and anyone who collaborates with others using the written word.
Grammarly Business is designed to help every member of the team produce polished, high-quality writing that enhances internal communication and reflects well on your organization. Grammarly Business provides a team analytics dashboard that supports a team of up to 149 working on secure documents and writing projects across locations.
Highly accurate grammar, style, and voice correction.
Provides real-time feedback on writing.
Excellent collaboration features.
Requires an internet connection to work.
Occasionally unduly critical and marks valid statements as errors.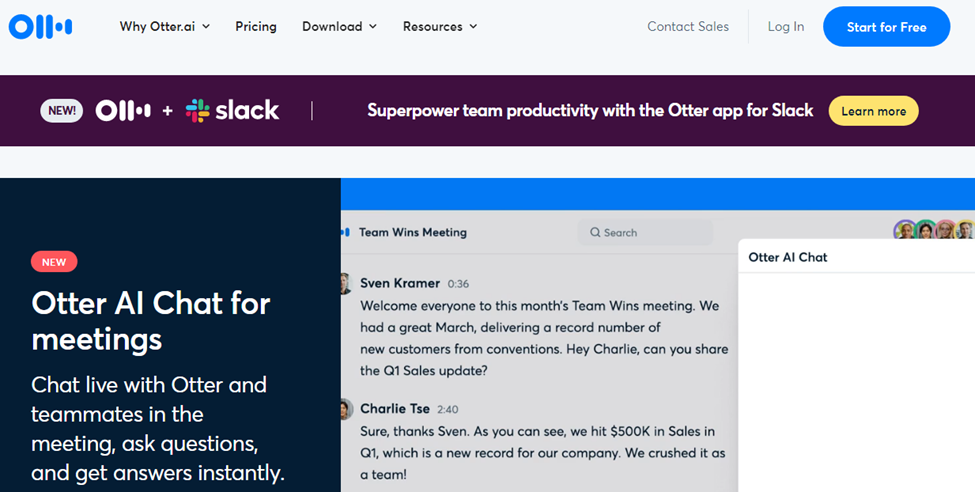 Otter.ai is a voice meeting notes and real-time transcription tool that can be used by businesses in various ways. Otter.ai can automatically transcribe meetings and provide notes that can be shared with attendees. This tool can help companies transition to remote work and distributed teams by providing a virtual work environment where information can be consolidated and accessed easily. Otter.ai also includes real-time updates, user-friendly mechanics, accurate transcriptions, and a wide variety of features to meet the needs of distributed teams.
Excellent audio transcriptions.
Useful for live meetings and conversations.
User-friendly interface.
Provides additional features such as speaker identification and custom vocabulary.
May struggle with complex audio.
Limited video capabilities.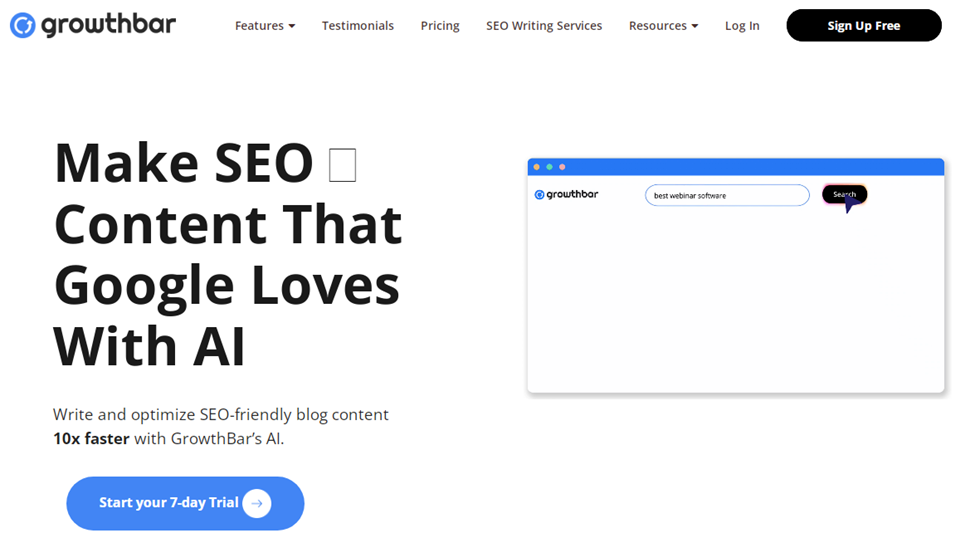 GrowthBar is an AI-powered SEO tool for marketers, bloggers, and content teams. It is an all-in-one tool that combines AI copywriting features with basic SEO tools at a low price point. GrowthBar's AI and proprietary algorithms guide users in researching, writing, and optimizing content. The tool has been trained on 175 billion parameters. GrowthBar offers a variety of features that make it a valuable tool for businesses of all sizes, including an AI writing tool, AI blog outline, keyword research tool, and On-page SEO audit tool.
Easy to use tool.
The on-page SEO audit tool helps businesses optimize their website pages.
The keyword research tool performs advanced keyword research.
No social media management features are included in the tool.
It may not be suitable for businesses that require more advanced features.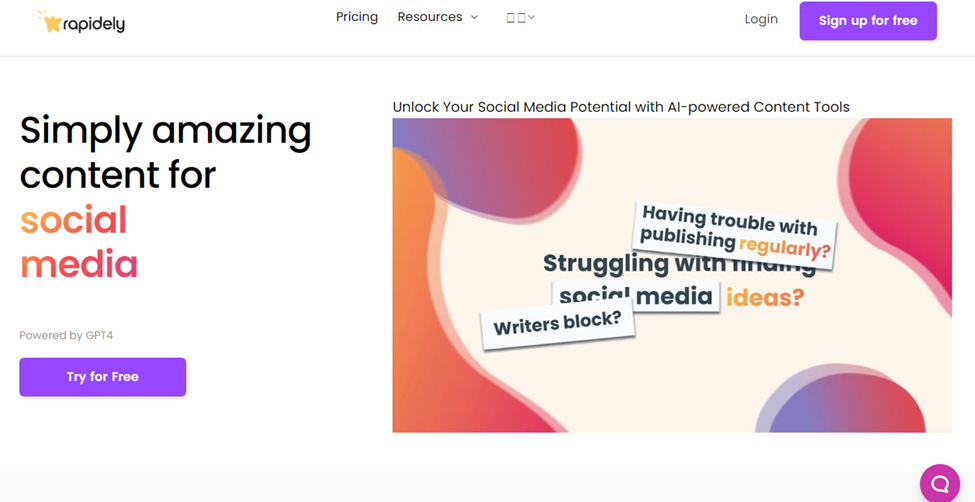 Rapidely is an AI marketing software that leverages sophisticated GPT-4 technology to offer entrepreneurs and social media professionals an unparalleled experience. Rapidely generates business content, including social media posts, blog articles, and email marketing campaigns. This tool allows businesses to set the tone of their content to match their brand voice. It also uses machine learning to improve the quality of its content generation over time. Rapidly also offers customizable templates, making it easy for businesses to create professional-looking content.
AI can automate repetitive tasks and save time for more productive tasks.
Continual availability.
Limited flexibility and customization options.
Needs a stable internet connection to function.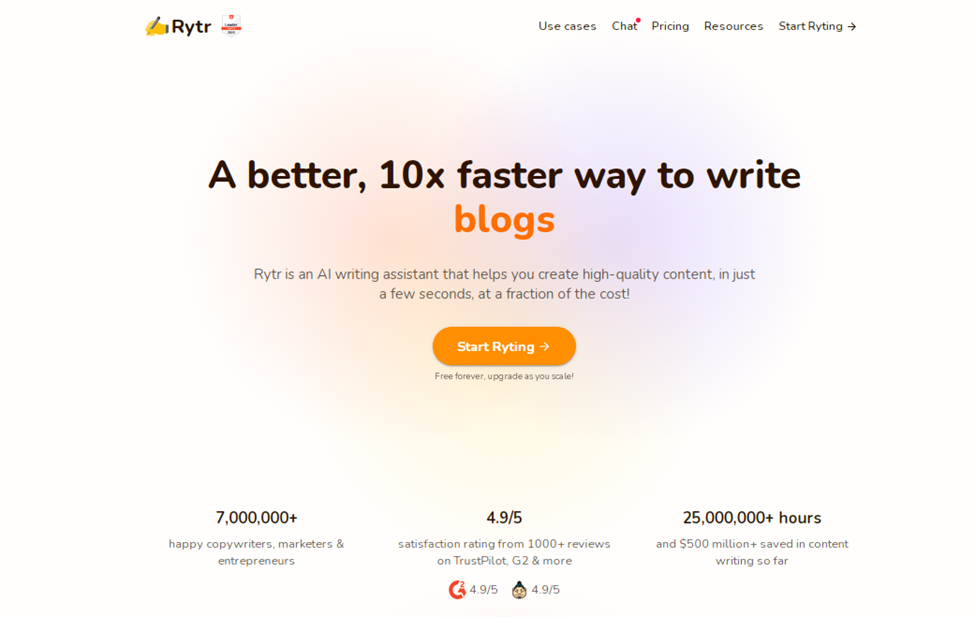 Rytr is an AI writing assistant that can help businesses create high-quality content in just a few seconds at a fraction of the cost. Rytr can help businesses write compelling product descriptions that highlight the features and benefits of their products. Rytr provides seamless collaboration, team billing, and robust project management features, making it easy for businesses to store and organize all their projects in one place. Most importantly, Rytr offers plugins for apps like WordPress, Shopify, and more.
Easy to use.
Fast and Efficient.
Seamless collaboration and project management.
Steep learning curve.
Limited advanced features.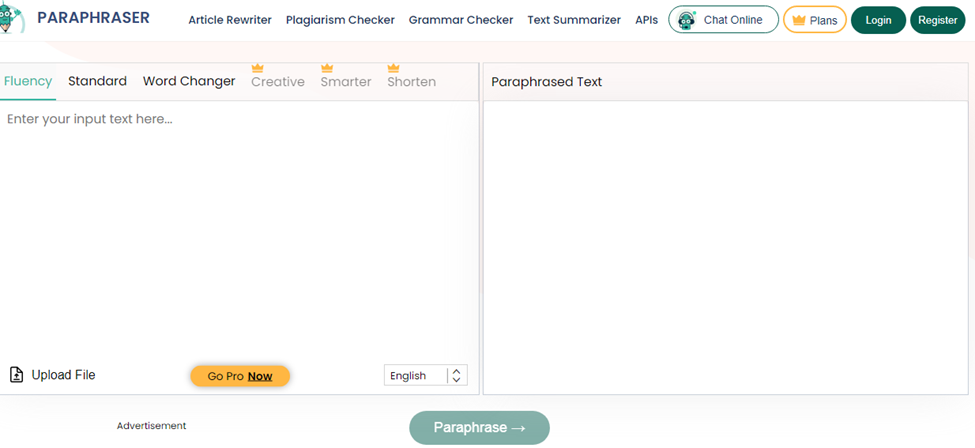 Paraphraser AI tool utilizes artificial intelligence to automatically rephrase existing text in a way that retains the original meaning but presents it in a new way. It is designed to assist businesses in creating high-quality content in bulk without wasting valuable time on manual writing. This tool can automatically rephrase sentences or paragraphs without manual rephrasing. It can improve the accuracy of communication by reducing over-repeated word usage and enhancing the clarity of the message.
Can promote creativity and critical thinking skills.
User-friendly interface with the latest features.
Reduces plagiarism risk by generating alternative versions of content.
Generated content may contain errors and inaccuracies.
In conclusion, AI tools are becoming increasingly popular in the business world, and a wide variety of options are available to help businesses improve their marketing, content creation, and other activities. When selecting an AI tool, it's important to consider factors like quality and reliability.
Users should also consider the specific needs of their businesses and how efficient the tool can be. With the right AI tool, businesses can save time, improve their marketing efforts, and engage more customers faster.