WinX DVD Ripper provides a free version but you may find you can only use limited functions. For example, it lets you copy to ISO and MPEG2 only. So is it worth upgrading to the WinX DVD Ripper Platinum? Are there any better choices? To give you reference, we make a detailed WinX VD Ripper Platinum review and pick a widely-used ripping tool VideoByte BD-DVD Ripper to compare. If you are seeking an answer, just move on!
VideoByte BD-DVD Ripper supports both Blu-ray/DVD, while WinX DVD Ripper Platinum is only compatible with ripping DVDs.
Ripping Features Comparison - Which One Suits You Better?
WinX DVD Ripper Platinum is capable of ripping any DVDs/ISO images to hard drive, such as rip DVD to MP4, H.264, AVI, HEVC, MPEG, MOV and M2TS. It also converts practically any DVD into formats playable by practically any device: iPhone, iPad, Apple TV, Android phones, Windows Phones, Kindle Fire, Chromecast, etc.
VideoByte BD-DVD Ripper is an all-in-one desktop ripper that can be used to rip Blu-ray disc/BDMV folder/ISO image and DVD disc/folder/ISO image. It's available on Windows 10/8/7 and Mac computers. VideoByte supports more than 300 video/audio formats and outputs Lossless video/audio quality. Users can also add external subtitles and audio tracks to the Blu-ray/DVD discs.
In the following, we will review them from the perspectives of supported ripping types, software compatibility, DVD ripping speed, output quality, and user interface.
As the name suggested, WinX DVD Ripper Platinum is only available on DVD, while VideoByte BD-DVD Ripper supports DVD and Blu-ray. If you are a disc collector, it's more suitable for you to choose a ripper that can be used to tip both Blu-ray discs and DVD discs to digital.
For the supported DVD types, WinX DVD Ripper is awesome if you want to restore or reuse your old DVD discs. You can even add ones that are not readable, damaged, or scratched and try your luck with it. The real secret in this mechanism stems from the deactivated protection algorithms on a DVD disc, where WinX is able to extract files. This feature is only available in WinX DVD Ripper Platinum.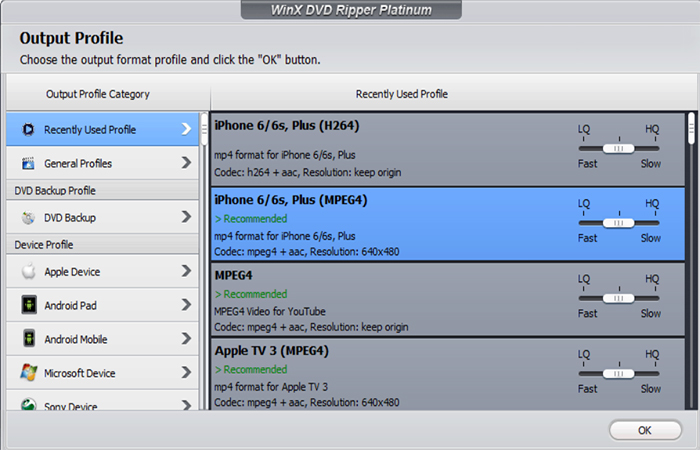 VideoByte BD-DVD Ripper is popular for its powerful ripping Blu-ray/DVD types. No matter what region it is, VideoByte can unlock the region code and rip the discs to digital successfully. If you own some old and outed discs, you can try this to save your movie in case of data loss or scratched. Protect your DVD files by ripping them – even for damaged/scratched DVDs !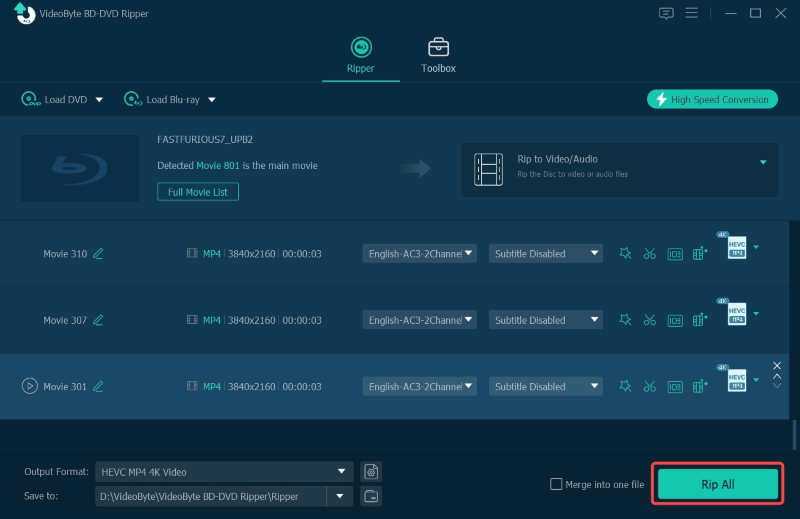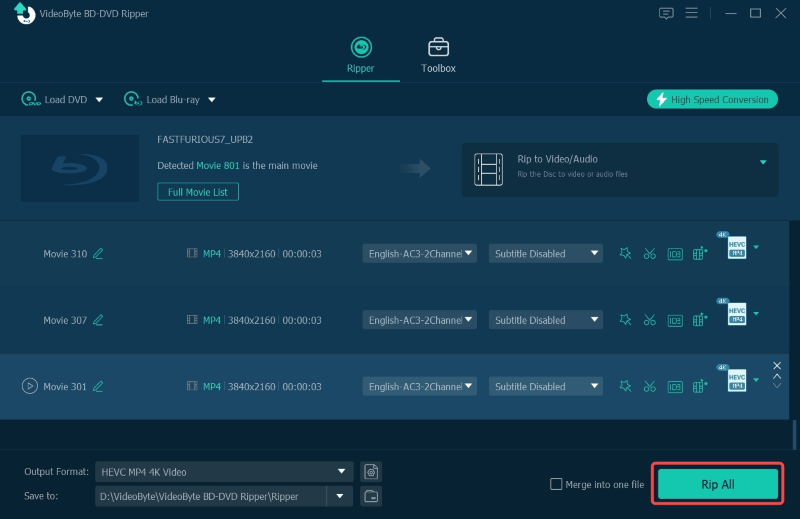 In general, the ripping time largely depends on the time length, the number of subtitles/audio tracks, quality and so on. Besides, the acceleration speed is also one of the selling points. Scroll down to check who performs better.
VideoByte BD-DVD Ripper has made great efforts to improve the conversion speed in various aspects, including multi-threading, multi-core and GPU acceleration technology. The hardware processing tech is powered by Intel QSV, NVIDIA NVENC/CUDA and AMD APP. (Conversion time also depends on your CPU and DVD driver speed.)
WinX DVD Ripper Platinum also performs excellently. During our WinX DVD Ripper review, we find that the ripping speed is almost the same with VideoByte. It's the only DVD Ripper with Level-3 hardware acceleration. The exclusive Hardware Processing Tech powered by Intel® QSV and NVIDIA® NVENC/CUDA speeds up DVD ripping by at least 50% while keeping maximum video quality, preferable output file size and lowest CPU usage. But you need to notice that sometimes it needs a long time to load the DVD discs.
Output DVD Video/Audio Quality
For DVD or Blu-ray collectors, one thing is certain, that is, we never compromise the video/audio quality.
VideoByte BD-DVD Ripper actually regards lossless quality as their first place. VideoByte supports over 300 output formats such as MP4, MKV, MOV, MP3, AAC, etc. If you don't know how to choose, you can choose the device that you want to output. It has also predefined output files for popular devices such as Apple iPhone/iPad/, Samsung/Sony/Huawei smartphones/tablets, or PS3/PS4 game consoles.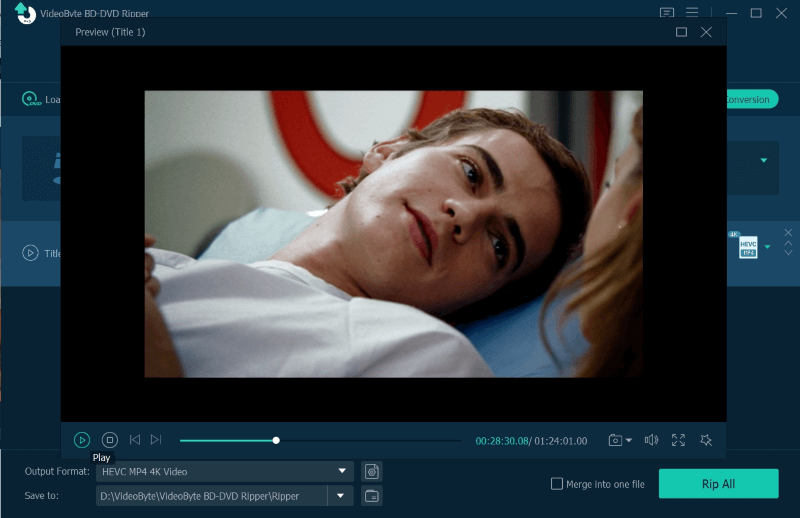 You're able to keep all of the audio tracks and subtitles if you set the lossless MKV (for Blu-ray disc) or Lossless MPG (for DVD disc) as the output format. And these audio tracks and subtitles can be selected when you play the ripped movie on the media player. If you have higher requirements, you can adjust resolution, aspect ratio, bitrate, frame rate, video encoder, audio channels, sample rate, audio encoder, etc on "Profile Settings".
In the latest version of VideoByte BD-DVD Ripper, you can set "3D Red-Blue" and "3D Left-Right" in the main interface. If you need more settings of 3D to make your video more brilliant, you should go to "Toolbox" > "3D Maker" to set up.
It's no doubt that WinX DVD Ripper Platinum does a great job on output video/audio. We can set the quality here to HD when we choose profiles. However, We'd still like to recommend the default for a better balance between quality, size, and time. Meanwhile, you can also go OPTION and set a higher bit rate or enable the High-Quality Engine for better output quality.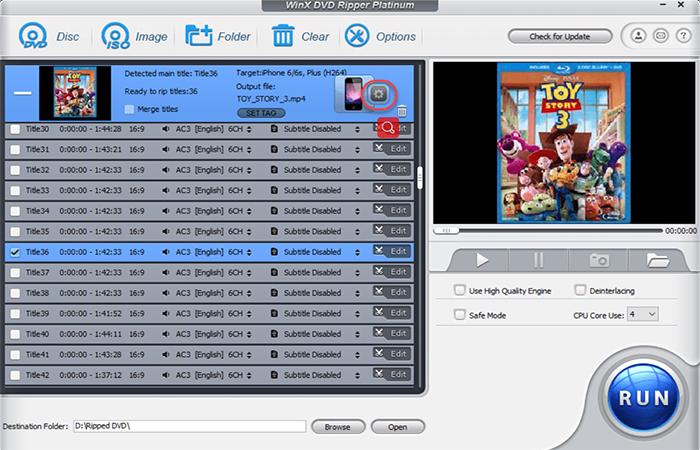 User Interface of DVD Ripper
The hue of VideoByte BD-DVD Ripper is dark blue and fresh green. There are two main interfaces: Ripper and Toolbox. It's very clean and clear. No annoying ads are on the interface. Users can easily know what they should do first and what to do next.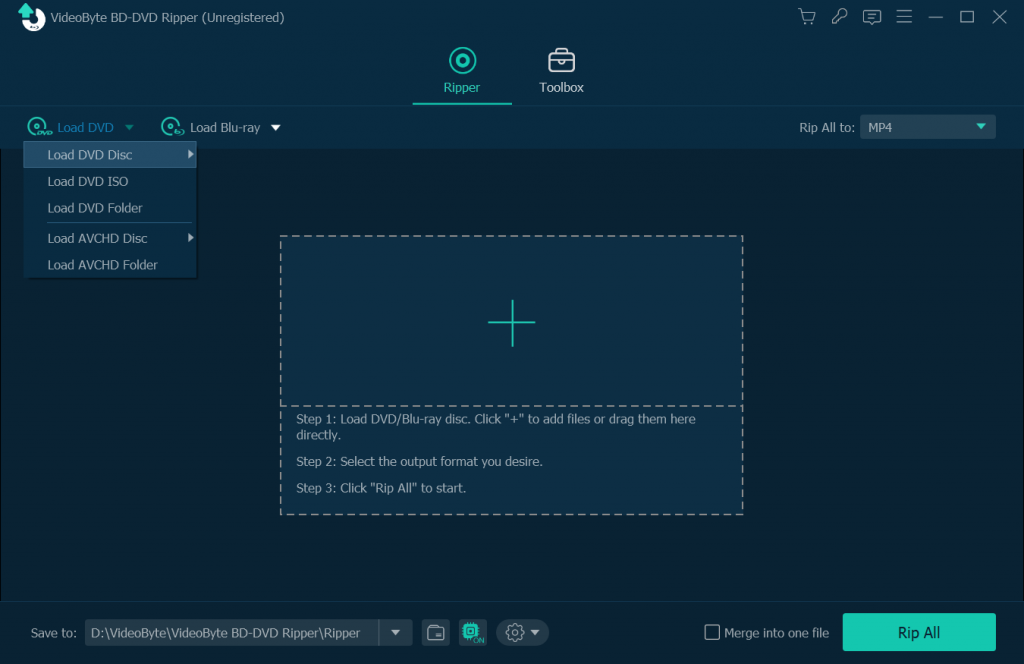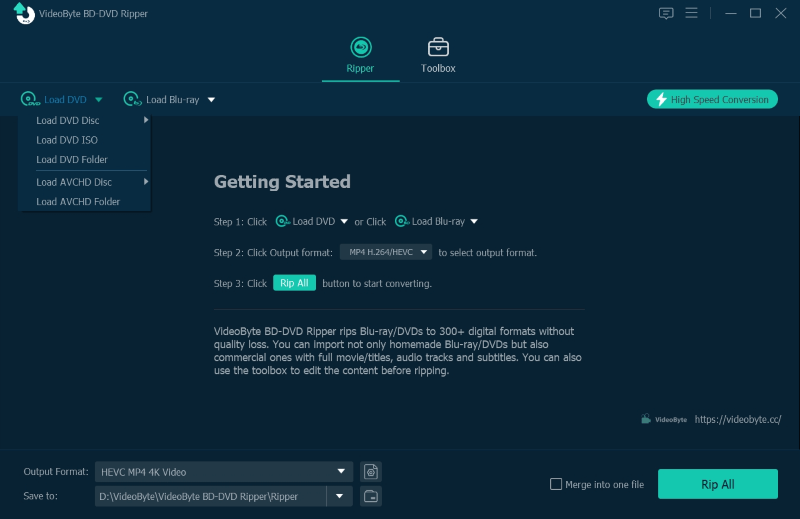 The interface of WinX DVD Ripper Platinum is made up of grey, white and blue. It's also clean. But for me, I thought it's not so fashionable. Well, but my teammate likes the design of this.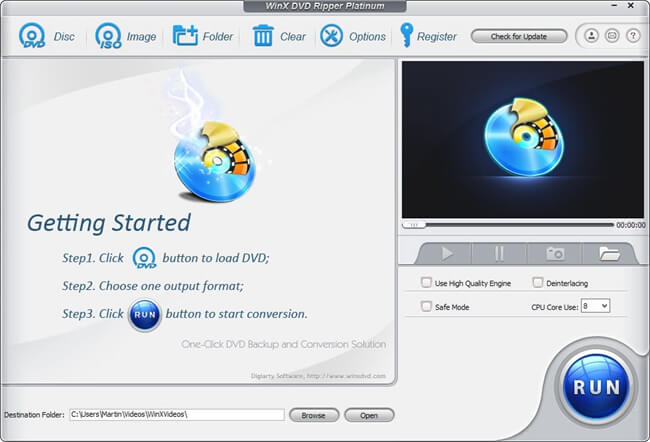 Technical and Customer Service - Are they in-prompt?
VideoByte BD-DVD Ripper has a professional technical team. They are developing the functions of this tool and provides regular technical supports to users. You can receive a pop-up window where they inform you of a technical upgrade. When you meet some using problem, you can contact their support team. We have tried this service and receive an e-mail within 2 hours in the working day.
As for the WinX DVD Ripper Platinum, if you have any problem on placing orders, you can call their online payment processor 2Checkout (also known as Avangate) for help. It's very convenient.
In the following, we list their price plan for your reference.
| | | | |
| --- | --- | --- | --- |
| Product | 1 Year Subscription | Single Lifetime | Family License |
| VideoByte BD-DVD Ripper | $ 34.95/ 1 PC | $ 49.95/ 1 PC | $69.95/ 2-5 PCs |
| WinX DVD Ripper Platinum | / | $59.95/ 1 PC | / |
As we can see, VideoByte BD-DVD Ripper provides various price plans for users. Furthermore, it's more cost-effective to purchase the single license of VideoByte than WinX's.
After the WinX DVD Ripper Platinum review and make a comparison with VideoByte BD-DVD Ripper, our verdict is that VideoByte BD-DVD Ripper is the winner! Not only for it has more functions on ripping, but for its cost-effective price plan. Hope this article can help you!