There is still demand for DVDs nowadays since they always offer users the cinema-like experience when they are enjoying the high-quality videos and audios on the computer screen. Also, a DVD can store plenty of videos, songs and computer data. As a user of DVDs, you might encounter the following problems: loss of data might occur if the DVD is damaged. And it is troublesome to play DVDs on your PC or laptop once they're not supported by your picky DVD player, as well as some DRM encryption issues. To solve these problems, 「
WinX DVD Ripper
」, as one of the most popular DVD ripping software will help you convert DVD to digital formats and avoid these dilemmas anymore. If you are still wondering whether WinX DVD Ripper is the best choice, you've come to the right place! This article will comprehensively review WinX DVD Ripper and recommend the best choice to you.
Part 1. What is WinX DVD Ripper?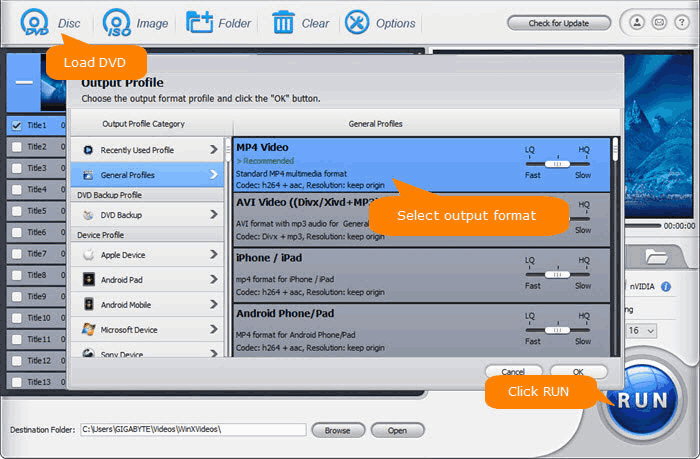 WinX DVD Ripper nowadays accumulates over 5.8 million users all over the world which makes it unquestionably one of the most popular DVD rippers. The main function of it is to digitalize DVD for easier backup, archiving, editing and sharing. With this software program, you can convert ISO image or DVD to MP4, AVI, WMV, FLV, MOV, MPEG, MP3, etc., edit and backup DVD to digital format.
Furthermore, Winx DVD Ripper supports all types of DVDs and it is known for its fast speed of converting a full disc to digital in 5 minutes while it can still keep a good balance between quality and file size optimally and consume GPU usage minimally. More importantly, the ripped file can be viewed on different devices including PC, HDTV, Android, iPhone, iPad, etc.
Part 2. Main Features of WinX DVD Ripper
Reliable Ripping Features
Support multiple disc types: Winx DVD Ripper can be used to rip a wide range of DVDs, including homemade DVDs, business DVDs, damaged DVDs, ISO images, Video_TS and DVD folders, etc.
Fast speed: With the help of Nvidia, Intel & AMD GPU acceleration technology, Winx DVD Ripper can do ripping incredibly fast while still maintaining the high quality of the video or the files.
Easy conversion: with more than 350 preloaded profiles including iPad, iPhone, HD TV, Samsung, Sony, mobiles, tablets, PCs, game consoles, etc., Winx DVD Ripper can easily convert ISO image or DVD to various formats including MP4 (H.264/HEVC), AVI, WMV, FLV, MOV, MPEG, MP3, etc., and backup DVD to hard drive HDD/USB/NAS/Plex.
Convenient viewing: After being ripped, the ripped files can be viewed on various devices, including computer, HDTV, Android, iPhone, iPad, Xbox One S, PS4/5, etc.
Multiple Supported Input & Output Formats
Supported input formats: any types of old and new DVDs, including 99-title and damaged ones.
Supported output formats: MP4 (H.264/HEVC), AVI (DivX/XviD), MP3, MPEG, MKV, WMV, MOV, etc.
Powerful Tools to Customize and Edit DVD
The editing tools can be used to customize and edit the DVD, among which the main functions are introduced as follow:
If you have any problems with WinX DVD Ripper, you can feel free to turn to its responsive customer support, which will help you get out of trouble timely. Both the WinX DVD Ripper Free and Platinum version offer support channels, which include:
The customer support team is not available 24/7, which is a must for this kind of product (with millions of users around the world).
Yes, WinX DVD Ripper offers two options: Free and Platinum Edition. Though the Free Edition is somewhat limited, it is a great chance to start with and explore the tool in detail. If you just want to rip DVDs without editing them and copy them to ISO and MPEG2 files only, it is good choice for you. It should be noticed that compared with the Platinum Edition, the ripping speed of the Free Edition is much slower.
More differences between two editions are shown in the below table: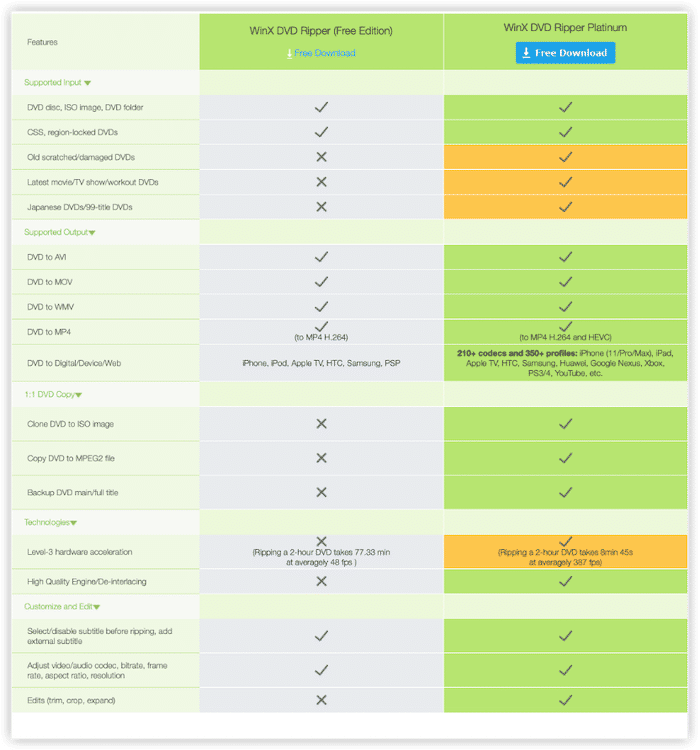 Yes, WinX DVD Ripper is 100% safe and legal, and you don't need to worry that any data will be leaked. There is no malware, spyware, advertising software and user tracking in the WinX DVD Ripper software program.
WinX DVD Ripper Platinum Review: Is It Worth It?
Though WinX DVD Ripper Platinum brings some high-profile features, it is somewhat limited. Thus, a more versatile DVD Ripper--VideoByte BD-DVD Ripper that can rip the DVD/Blu-ray movie disc into digital format for flexible watching is introduced. To compare VideoByte BD DVD Ripper and WinX DVD Ripper Platinum more intuitively, you can turn to the table below:
Features

WinX DVD Ripper Platinum

VideoByte BD DVD Ripper

Blu Ray Ripping

×
√

Price

higher

lower

Speed

Almost the same (Both with hard drive support provided by Nvidia、Intel and AMD)

Easy Operation

√

√

Clear Interface Design

√

√

Customer Support

√

√

Supported Outputs

MP4 (H.264/HEVC), AVI (DivX/XviD), MP3, MPEG, WMV, MOV, etc.

300+ video/audio formats, including MP4, MKV, MOV MP3, AAC, M4A, etc., 2D to 3D is also supported. Also equips comprehensive editing tool box.
Does WinX DVD Ripper Platinum Rip Blu Ray?
Unfortunately, any of the WinX DVD Ripper versions including Platinum does not support Blu-Ray ripping. If you need this kind of feature, you should use another DVD ripper that can support Blu Ray ripping.
Overall, the Free Edition of WinX DVD Ripper can satisfy the basic needs of ripping DVDs. If you want to use more functions and now you are considering whether to purchase the Platinum Edition, it is highly recommended to try both the free version of WinX DVD Ripper and VideoByte BD-DVD Ripper first. VideoByte BD-DVD Ripper supports Blu Ray Ripping, operates at a higher speed and more importantly, it is sold at a lower price. Thus, VideoByte BD DVD Ripper is a better choice compared with Platinum Version of WinX DVD Ripper.