To back up DVD copies or have a cinema-like DVD movie streaming experience at home without a DVD driver required, you need help from a professional DVD ripper - to decrypt DVD protections and rip DVD to digital formats for streaming like regular video files.
For such a purpose, the well-known WinX DVD Ripper (also known as WinX DVD Ripper Platinum) claims to offer reliable help. But for beginners who have never known about this software, you probably desire to take an overview of it to see if it is what you need. Hence, this comprehensive WinX DVD Ripper review is provided to help. Before getting started, grasp more details about WinX DVD Ripper first.
Part 1. What is WinX DVD Ripper?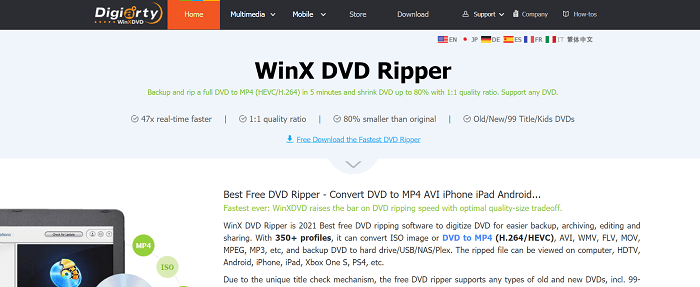 WinX DVD Ripper
is a DVD ripping sotfware, which mainly develops to digitalize DVD for easier backup, archiving, editing and sharing. With this software program, you can convert ISO image or DVD to MP4, AVI, WMV, FLV, MOV, MPEG, MP3, etc., edit and backup DVD to digital format. When Winx DVD Ripper also ensures professional decryption ability to unlock protected DVDs, you are able to preserve them in unencrypted status and then transfer them to any device to stream without limitations. WinX DVD Ripper is also equipped with efficient speed to deliver you a quick process to rip DVDs without hassle. It can also keep a good balance between quality and file size optimally and consume GPU usage minimally. Nowadays, WinX DVD Ripper has accumulated over 5.8 million users all over the world which makes it unquestionably one of the most popular DVD rippers.
Part 2. Main Features of WinX DVD Ripper
Now, let's grasp more about what great features can WinX DVD Ripper bring to you.
#1. Fully Compatible with Different DVD Disc Types
Winx DVD Ripper can be used to rip a wide range of DVDs, including homemade DVDs, business DVDs, damaged DVDs, ISO images, Video_TS and DVD folders, etc. For most types of DVD protection, the software performs to decrypt and process the DVD ripping reliably for you.
#2. Customized Output Options
With more than 350 preloaded profiles including iPad, iPhone, HD TV, Samsung, and various mainstream output formats including MP4 (H.264/HEVC), AVI, WMV, FLV, MOV, MPEG, MP3, etc. to select, you are able to rip DVD to the any format you need to increase the DVD movie compatibility, thus makes it easy to play on all devices as well as media players without limitations.
#3. Accelerated DVD Ripping Speed
With the help of Nvidia, Intel & AMD GPU acceleration technology, Winx DVD Ripper can do ripping incredibly fast while still maintaining the high quality of the video or the files, helping you to save much time as you only need several minutes to complete a DVD disc containing hours long video content.
#4. Powerful Tools to Customize and Edit DVD
WinX DVD Ripper is also equipped with a powerful built-in editor, providing convenient in-app video editing and customization features to help you adjust video effects for creating awesome video outputs. There is also an embedded toolbox available to manage videos like compressing them or tagging the files with metadata information in requirements.
Part 3. How to Rip a DVD with WinX DVD Ripper
Also designed with an intuitive interface, WinX DVD Ripper also ensures the simplest process to help every beginner quickly get started to rip DVDs without hassle. Now, also grasp the brief guide to see how it works:
STEP 1. After installing WinX DVD Ripper, insert the DVD disc to desktop and launch the software. By hitting the "Disc" icon in the upper-left corner, you are able to insert the DVD first.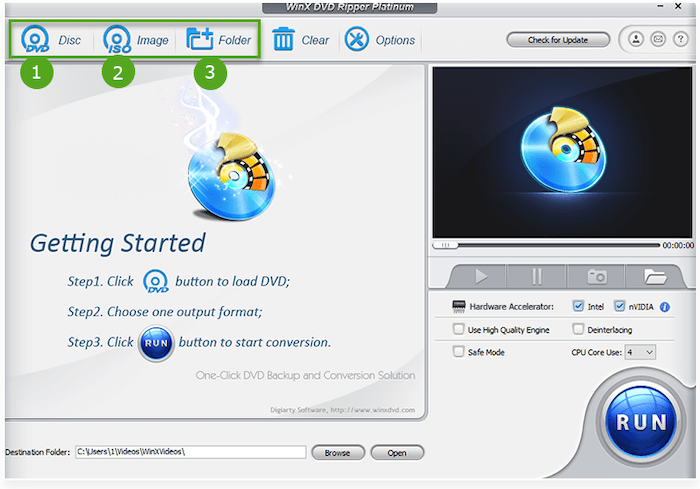 STEP 2. Once the DVD titles are all imported, select those you desire to rip. Then click "Output Profile" to select format and quality in requirements. Tap "OK" to save your choice.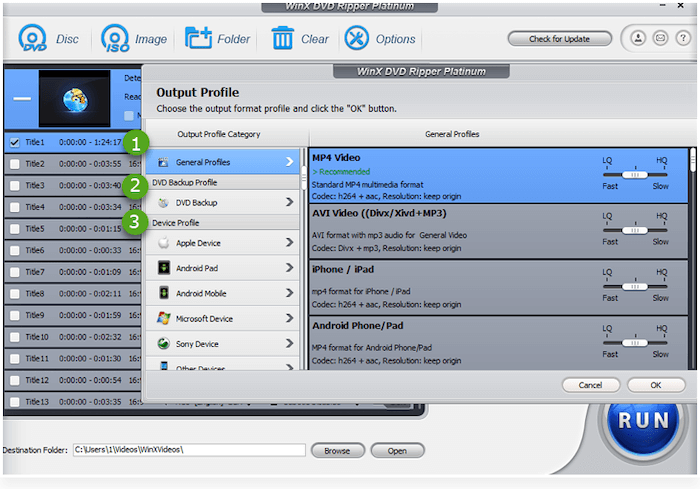 STEP 3. Finally, move to the right panel and select the acceleration methods you desire to apply. Then, simply give a go on the "RUN" icon, then WinX DVD Ripper will process the DVD ripping for you right away.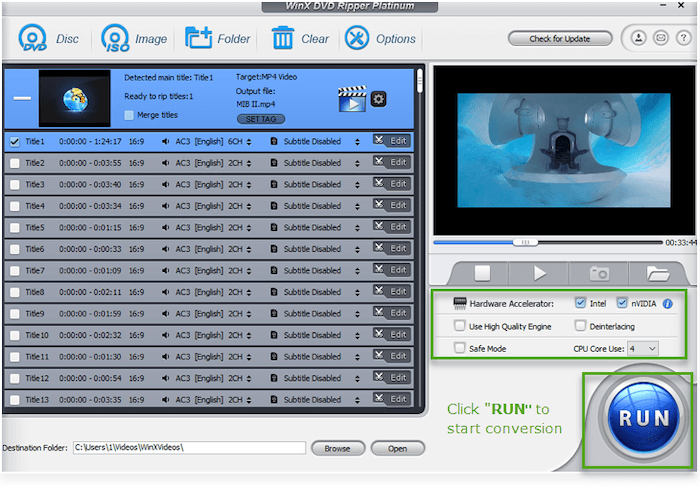 Part 4. WinX DVD Ripper Price Plan
WinX DVD Ripper has offered the free trial for new users to experience the ripping features. However, it sets limitations in using. For example, you are not available to rip a complete DVD disc, but only limits to convert the first 5 minutes of every DVD video.
To remove such limitations, you are required to upgrade to the registered version in advance. The pricing options provided by WinX DVD Ripper are as follows:
One-year subscription: US$34.95
Lifetime license: US$59.95
4-in-1 bundle lifetime license: US$144.95 (including WinX DVD Ripper, DVD Copy, Video Converter Deluxe, and Media Trans)
For more information, you are available to navigate to WinX DVD Ripper's official site to learn before making a purchase.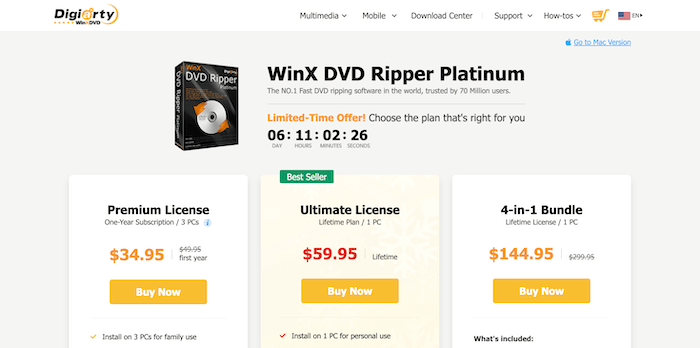 Overall, WinX DVD Ripper's pros and cons can be concluded as the following ones:
Pros
350+ mainstream formats and profiles to select;
Compatible with encrypted DVD discs ripping;
Multiple hardware acceleration teches to ensure speedy performance;
Equipped with built-in editor to adjust video effects;
Preservation of subtitles for DVD outputs.
Cons
Incomplete DVD ripping under free trial;
Not available for Blu-ray ripping;
Sometimes it will get stuck while running to rip DVDs;
Limited formats supported to rip DVDs to.
Best Alternative: VideoByte BD-DVD Ripper
Although WinX DVD Ripper also delivers professional functionality to rip a DVD for you, its bulky software size sometimes will cause crash and drag down your computer performance greatly. If you wish a smoother and stabler experience to rip DVD on desktops, the best WiX DVD Ripper alternative, VideoByte BD-DVD Ripper is your ideal pick.
Like WinX DVD Ripper, VideoByte BD-DVD Ripper is equipped with powerful decryption functionality to rip all types of DVD discs to over 300 digital formats, with lossless resolution retained. Better than WinX DVD Ripper, VideoByte also supports ripping Blu-ray Discs for you. Hence, no matter if you get a DVD or Blu-ray Disc, you can turn to VideoByte BD-DVD Ripper to digitalize them without hassle.
VideoByte BD-DVD Ripper is designed in a lightweight size, with advanced acceleration teches applied to ensure at least 6X faster speed to process DVD ripping within just minutes. In addition, its low CPU consumption will keep the software and your desktop performance running with no lag. By comparison, VideoByte BD-DVD Ripper delivers much stabler DVD ripping than WinX DVD Ripper.
Overall VideoByte BD-DVD Ripper Highlights
Compatible with both commercial and homemade DVD/Blu-ray ripping;
Over 300 mainstream formats supported;
Maintain at 1:1 ratio to rip DVD/Blu-ray Discs losslessly;
Full preservation of audio tracks, subtitles, and chapter menu;
Multiple acceleration teches to ensure speedy and no log ripping performance at least 6X faster;
Built-in editor available to customize parameters and video effects before ripping flexibly.
Here also guides you simply to convert DVDs to digital formats via VideoByte BD-DVD Ripper:
STEP 1. Import the DVD disc and launch VideoByte BD-DVD Ripper to load it from the upper-right "Load DVD" > "Load DVD Disc" option.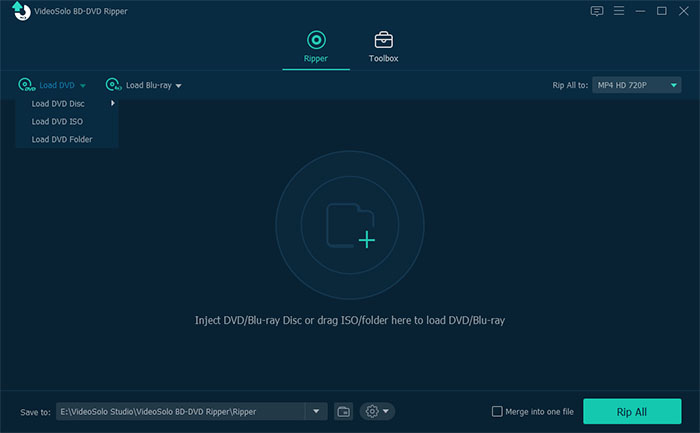 STEP 2. Select DVD titles as well as subtitles, audio tracks before the ripping. Then also move to the upper-right "Rip All to" to define both the format and quality settings in requirements.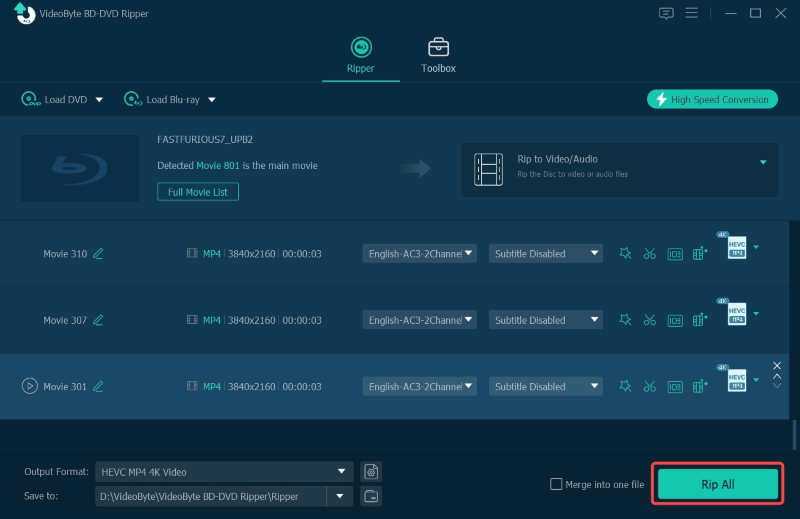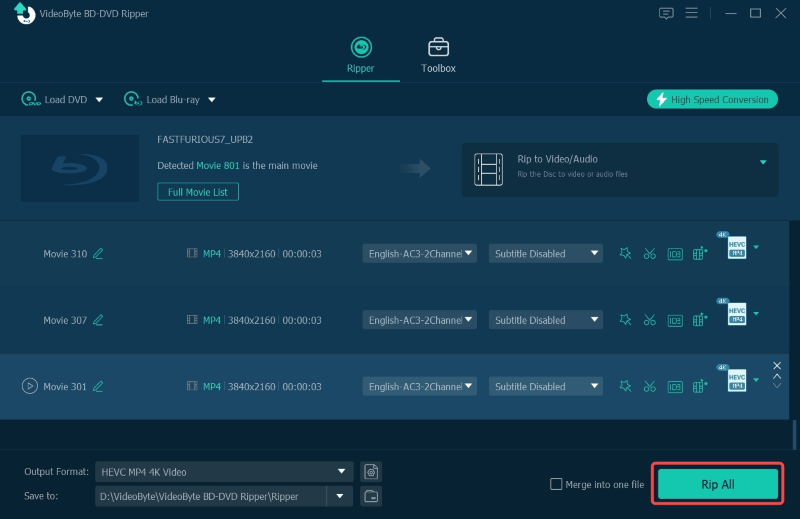 STEP 3. Tap the "Rip All" icon to process the DVD ripping right away.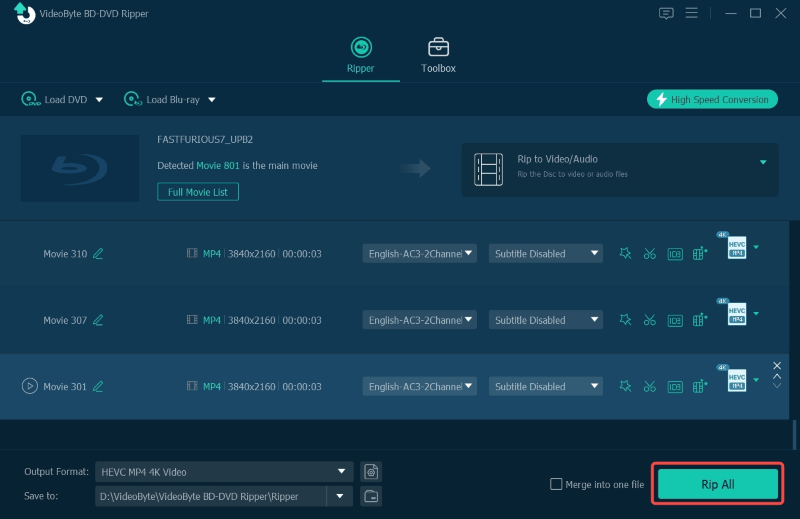 Grasp more FAQs about WinX DVD Ripper to decide whether to select it to rip DVDs for yourself.
Yes, WinX DVD Ripper is 100% safe and legal, and you don't need to worry that any data will be leaked. There is no malware, spyware, advertising software and user tracking in the WinX DVD Ripper software program.
Does WinX DVD Ripper Platinum Rip Blu Ray?
Unfortunately, any of the WinX DVD Ripper versions including Platinum does not support Blu-Ray ripping. If you need this kind of feature, you should use another DVD ripper like
VideoByte BD-DVD Ripper<
 that can support Blu Ray ripping.
Yes, WinX DVD Ripper offers free trials. However, you are limited to use its ripping feature, which only supports converting incomplete DVD videos at up to 5 minutes, and not all output formats are available to select. Hence, if you desire to get rid of such free trial limitations, you need to purchase a subscription and upgrade to the registered WinX DVD Ripper instead.
Overall, the Free Edition of WinX DVD Ripper can satisfy the basic needs of ripping DVDs. If you want to use more functions and now you are considering whether to purchase the Platinum Edition, it is highly recommended to try both the free version of WinX DVD Ripper and VideoByte BD-DVD Ripper first.
VideoByte BD-DVD Ripper
 supports Blu Ray Ripping, operates at a higher speed and much stabler performance, without sudden crashes happened like WinX DVD Ripper. Thus, VideoByte BD DVD Ripper is a better choice compared with Platinum Version of WinX DVD Ripper.