VLC Subtitles Delay: Ways to Adjust VLC Subtitles [2023]
Although the open-source VLC media player delivers high compatibility to play videos/audios of mainstream formats smoothly and freely, the VLC subtitles delay issue has been an annoying situation to prevent users from having an enjoyable video streaming experience, especially when you import external subtitles to play with the videos.
Therefore, this post has provided several ways to adjust VLC subtitles and avoid their delay effectively, no matter how the issue results from, VLC's instability or the mistaken operation. Please scroll down reading if you are also running into such trouble.
3 Useful Ways to Have VLC Subtitle Synced on Computer
When VLC subtitles delay unexpectedly occurs, there are actually some tricky ways you can utilize to stabilize the video streaming experience through processing some easy settings within the program. They can all be done by clicks and no third-party extensions are required. Now, walk through them and try to adjust subtitles delay effortlessly in VLC.
Method 1. Manual Extended Settings
The first in-app setting you can adjust to avoid VLC subtitle delay is by taking advantage of its synchronization feature. Please follow the procedures below to complete the settings:
1. First, open the video with VLC and also load the subtitles you wish to play with it. Subsequently, click on "Tools" > "Track Synchronization".
2. When you will see "Adjustment and Effects" window pops up, hit on the "Synchronization" tab and you can find the "Subtitles/Video" section. In this section, you can delay or speed up the subtitles in seconds to the value calculated by you.
Tip: If you are watching a movie and the subtitles display 3 seconds behind the movie. You need to put a negative value "-3.000 s" in "Subtitle track synchronization". On the contrary, if the subtitles are ahead of the movie for 3 seconds, you can enter a positive value "3.000 s" here.
3. After determining the settings, please click the refresh sign to save the changes. Now you are done with it and you are sure to play video in VLC without subtitle delay anymore.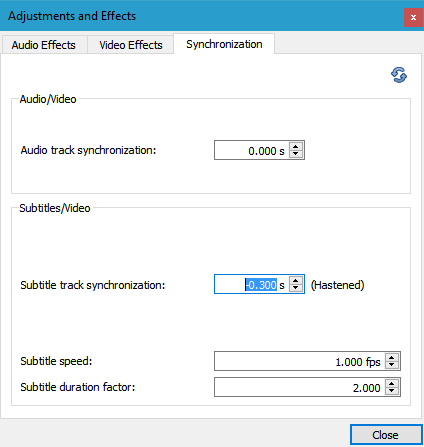 Many of you may neglect utilizing hotkeys to control the media playback function in VLC. Actually, this is a workable path to help you sync subtitles with videos and prevent delays effectively. Here will lead you to walk through manipulation on both Windows and Mac respectively.
Sync Subtitles in VLC on Windows
During playback, you can use "G/H" key to sync VLC subtitle. Press "H" key to delaying the VLC subtitle. Press "G" key to speed up the VLC subtitle. You can hit these keys on the keyboard to make the VLC subtitle perfectly sync with the video.
Sync Subtitles in VLC on Mac
While utilizing a Mac computer, the hotkeys would be a bit different. On Mac, "H/J" will be the buttons you will use to adjust the VLC subtitle delay. When the subtitle appears earlier than the sound, you will need to press "J". On the contrary, use "H" to speed up the subtitles to match the sound.
Note: Be aware that closing the video resets the synchronization, so if you load the video again later, you'll have to re-synchronize the subtitles.
Method 3. Speed Up Subtitles to Match Audio
If you discover that the VLC subtitle delay only happens to match the audio, you can try speeding it up to synchronize with the sound manually. You only need to manipulate several easy taps to achieve your goal:
1. Once you sense the subtitles are out of sync with the soundtracks, press Shift + H on keyboard while hearing the sentence.
2. Subsequently, hold Shift + J and read the sentence matched in the subtitle.
3. Finally, simply press Shift + K to speed up subtitles to make them match the audio once again.
Avoid VLC Subtitle Delay - Using Professional Movie Player
Although the mentioned solutions above can instantly give you a favor in synchronizing subtitles to match the video playback in VLC, you may need to manually control the synchronization frequently once the problem appears - the changes are temporary. Therefore, to fix VLC subtitle delay permanently, replacing doing it again and again in VLC, you'd better seek an alternative method to resolve the issue.
Here, VideoByte Blu-Ray Player is the best VLC alternative that can resolve VLC subtitle delay error and help insert correct subtitles to the video that makes synchronization permanently. Similar to VLC, this third-party player also supports streaming videos of all popular formats and definitions on PC with smooth image and high video quality.
As a rational VLC alternative, VideoByte Blu-Ray Player can bring the following attractive features to you:
High definitions to stream high-quality media files, including HD 1080p and even 4K.
Support a majority of common formats and also protected Blu-ray/DVD discs.
Full original visual and sound effects like Dolby and DTS support can be retained.
Easy-using navigation menu is provided to let you take full control of the playback flexibly.
Video effects the hue, brightness, contrast, saturation, and gamma can be adjusted.
GPU acceleration technique is ensured to avoid errors like VLC subtitle delay.
How to Play Movies Using VideoByte with Subtitle Synchronized
In the following, the manipulation guide of VideoByte Blu-ray Player will guide you on playing videos with full subtitle synchronization and help resolve VLC subtitle delay permanently.
Step 1. First, you ought to download, install and launch the best VLC alternative player, VideoByte Blu-ray Player on desktop. Once accessing its main feed, simply click "Open File" to load your video to the program. If you want to load the Blu-ray disc or DVD for playback, make sure your computer is equipped with Blu-ray/DVD drive and click "Open Disc".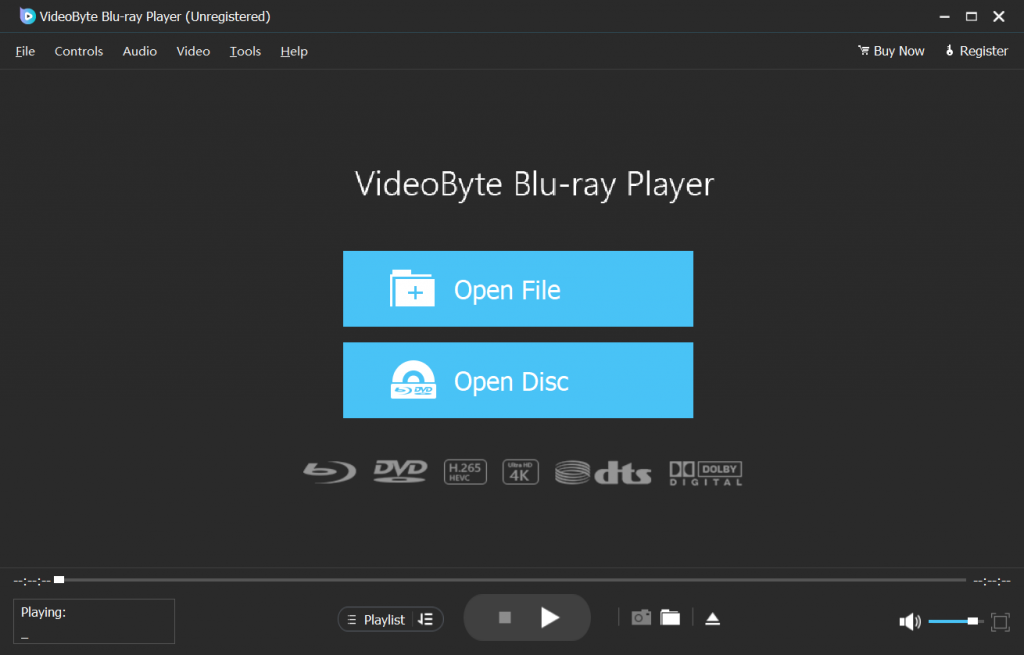 Tip: You need to be connected to the Internet so that the software can decode the copy-protection used on the Blu-ray/DVD discs.
Step 2. After loading the video, you will see a menu list containing Play Movie, Chapter, Audio, Subtitle and Other Titles. Here, you can tap "Subtitle" option to import your *.srt, *.ass, *.ssa subtitle file you've downloaded. When everything is OK, click "Play Movie" to save and sync the subtitles.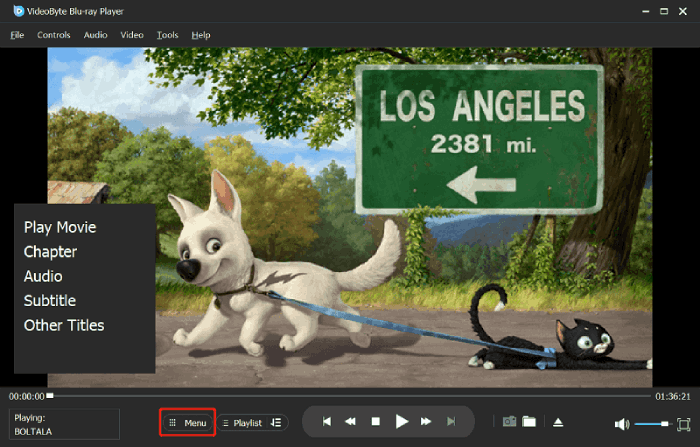 Step 3. Once the subtitles are loaded, confirm playing the video and the software will automatically match the subtitles in the video for you. It seldom appears subtitle delay issue like VLC does.
Attention: VideoByte Blu-ray Player requires subscirption to unlock all its advanced functions. But a free trial is provided for you to try out the program before determining whether to pay for it. You can actually access all the core features even under the free trial period!
If you also discover the VLC subtitle delay issue has greatly affected your video streaming experience, try fixing the error with the methods introduced in the post in VLC instantly. They are all workable to help. Nevertheless, if you wish to get rid of this situation and enjoy video streaming without subtitle delay locally, the VLC alternative, VideoByte Blu-ray Player will be your best partner. Now, freely install the software and try it. Enjoy!