Blu-ray players make it possible for people to play back and enjoy Blu-ray movies on the computer easily. When it comes to the best Blu-ray players for PC, some people may vote for Leawo Blu-ray Player, while some people like VideoByte Blu-ray Player or others. So which is the best Blu-ray player and which one suits your needs better? In the following, we pick the two most requested Blu-ray players
Leawo Blu-ray Player
and
VideoByte Blu-ray Player
to make a full comparison.
Verdict in advance: Download the Blu-ray Player we prefer to start your Blu-ray Movie night!
User Interface - Which is More User-friendly
Leawo Blu-ray Player and VideoByte Blu-ray Player are very popular in the market. For users, the first impression we verdict on a program must be the user interface.
Unlike the new-released programs today, the icon and main interface of Leawo Blu-ray Player are not so fashionable but clear. Its hue is dark-blue. You can easily find the "Open File" button and a registration button. The control bar is set at the bottom which is in line with users' habits. It's worth mentioning that this program needs to install an extra program to support playing Blu -ray discs on your Windows 10/8/7. It's a little bit annoying. So is Leawo Blu-ray Player safe? We tested and found no problems. Its executing file is over 100 MB.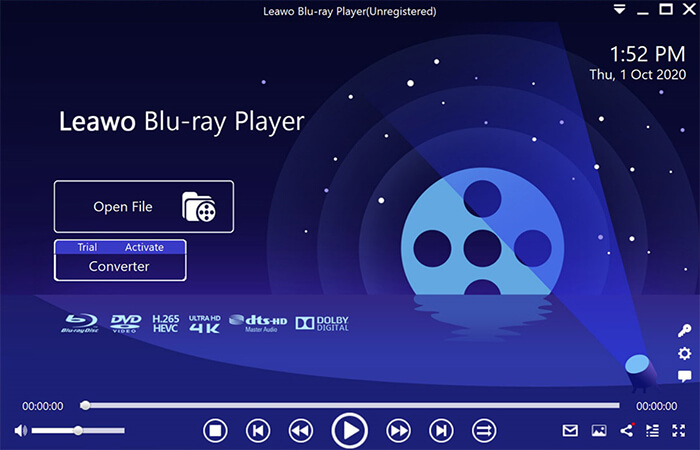 VideoByte Blu-ray Player gives us a good first impression. It attaches great importance to the new users' using experience. Users can easily find where they open the Blu-ray disc, Blu-ray folder or BDMV file. In the top column, users can change the audio tracks and subtitles. It's very easy to download and install VideoByte Blu-ray Player. It .exe file is only 56.2 MB which takes little space of the computer memory. The important point is that it's 100% safe. We like VideoByte's user interface more than Leawo's.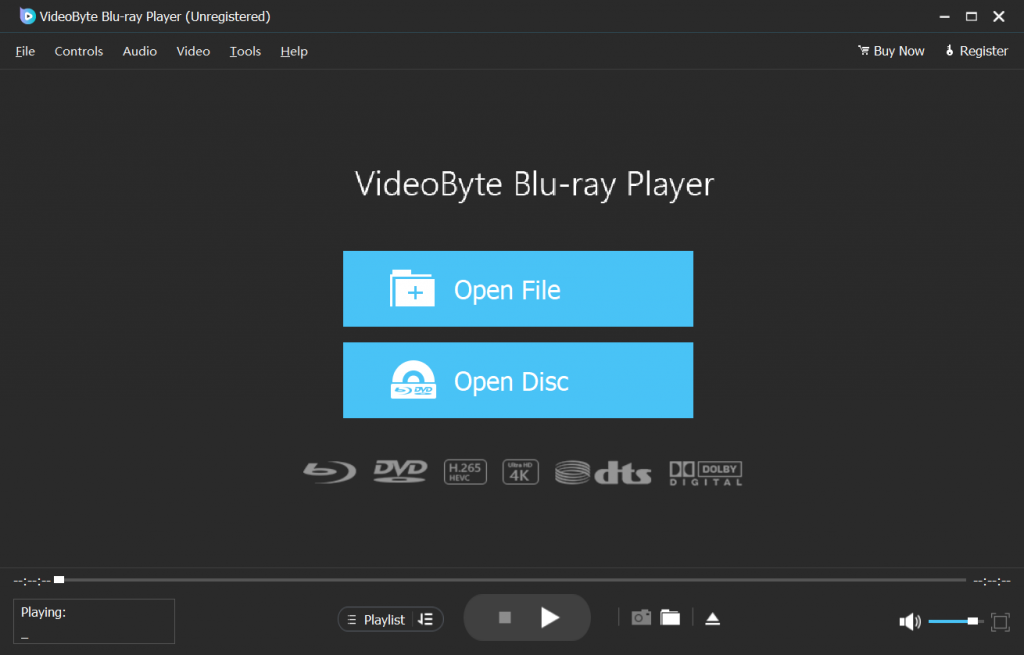 Blu-ray Playback Features Comparison
Why VideoByte stands out of hundreds of Blu-ray software? Why do many people regard Leawo Blu-ray as a good Blu-ray player? In this part, we will make a full review & comparison of their Blu-ray playback features. Let's dive in!
Play Blu-ray Disc/Folder/ISO Image
VideoByte Blu-ray Player is a region-free Blu-ray player that can play back Blu-ray disc, Blu-ray folder and ISO Image on Windows and Mac. Its Windows version also supports DVD disc/folder/ISO playback. Embedded with advanced technology, it can unlock the region code when you input your Blu-ray disc into the program. So you can easily enjoy your Blu-ray movie on your computer.
As a Blu-ray player, Leawo can also play Blu-ray discs from many countries and regions on Windows and Mac. It also performs excellent compared with VideoByte. But it makes us upset because Leawo Blu-ray Player not working problem occurs sometimes. This problem is also a big hit on Reddit. Hope their technical team can upgrade and fix this problem.
Video & Audio Quality of Blu-ray Playback
Video and audio quality are the main factors of user experience. VideoByte and Leawo Blu-ray Player obviously realize. They upgraded several times to make it better. But they still have obvious differences in video/audio quality which can decide on who the winner is today.
VideoByte
preserves the original quality and audio effects of a Blu-ray disc. By using VideoByte, you don't worry about the quality loss and it can keep 4K and 1080P HD quality. For the audio effects, VideoByte is equipped with multiple cinematic audio decoding systems like DTS and Dolby Digital. Of course, you can also watch Blu-ray movies with full screen or other screen sizes. If you are intersted on how to play Blu-ray on Windows 10, you can check this article:
Solutions - How to Play Blu-ray on Windows 10
(Mac also Applied).
Leawo Blu-ray Player performs not so satisfactory in video and audio effects. It cannot upscale standard-definition movies to HD resolution (like DVD). It means the picture may seem pixelated when you're watching on an HD monitor. So if you have high requirements on video/audio quality, it's not a good choice for you.
Blu-ray Menu and Keyboard Control
VideoByte has a navigation menu on Blu-ray and DVD and preserves all the scenes, chapters, multiple audio tracks, and multiple subtitle tracks in the Blu-ray or DVD disc. Users can freely and conveniently control the movide playback by the menu. Of course, it's available to adjust volume with yout scroll wheel, fast forward and backward, fast jump to previous and next chapter.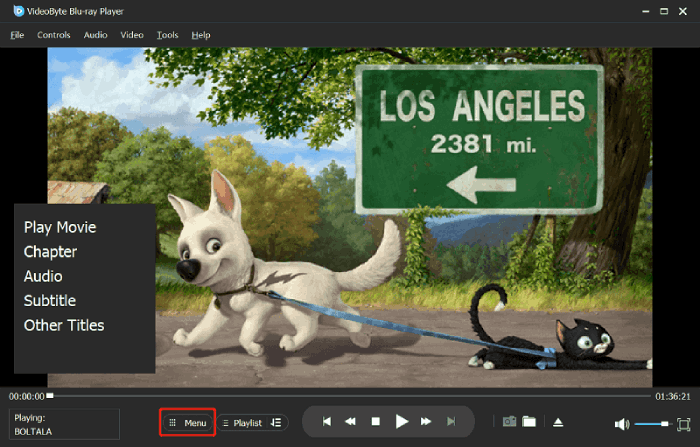 Leawo Blu-ray player also provides a menu for users to have quick navigation. Users can choose top menu, scenes, setup, user guide, etc on the menu. But if you have ever tried it, you may find the menu is hard to control. Many people are confused with Leawo blu-ray player keyboard controls. You can only use your keyboard to control the Blu-ray menu, not your mouse.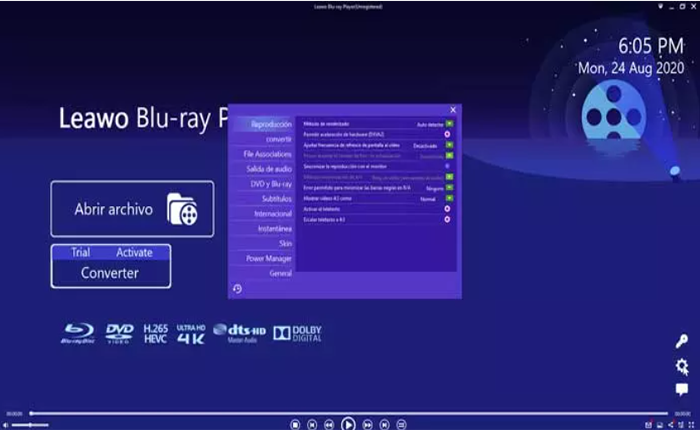 Loading speed means how much time a Blu-ray player needs to load the Blu-ray disc. After testing, Leawo Blu-ray Player needs 28 to 32 seconds to load a Blu-ray disc. VideoByte Blu-ray Player needs 23 to 29 seconds to load a disc. They both did a great job!
Price Plan - Which is the Cost-effective One
When it comes to choosing a program, price is the last part. We need to choose the cost-effective one, of course.
Leawo Blu-ray Player has two versions: free version and paid version. Actually, the free version cannot read some protected discs and is ad-supported. It means when you stop playing, it will pop up ads like the picture below. So you need to upgrade to the pro version. Its lifetime license is $49.97 for 1 PC. It is more expensive than common Blu-ray players in the market.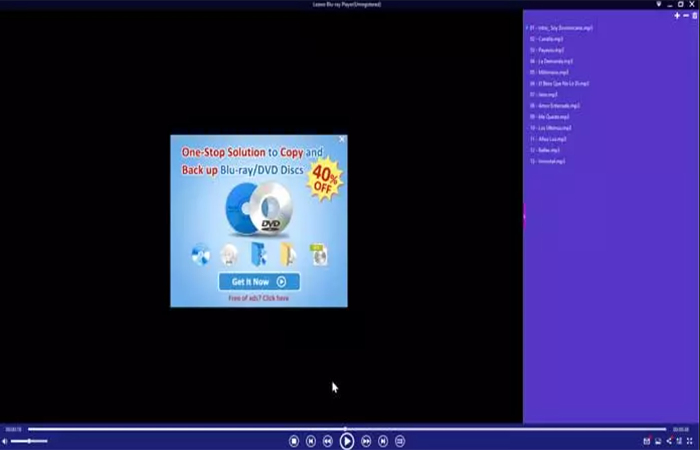 VideoByte Blu-ray Player provides a trial version and pro version also. Users can try it before purchasing. VideoByte offers three price plans as follows:
1 Year Subscription: $24.95
Single Lifetime License: $34.95
Family License: $59.95 (2-5 PCs)
After the detailed comparison, you may have your own choice. We list the pros and cons for you to make further consideration.
VideoByte Blu-ray Player:
Play Blu-ray disc/folder/ISO image fluently
Region-free Blu-ray player
Cinematic watching experience and crystal-listening effects
Navigation Blu-ray menu to control playback easier
Cost-effective price plan
In-prompt technical upgrade and support
No extra functions like conversion or funny audio effects
Play Blu-ray movie and DVD disc with CSS protection
Doesn't dominate computer CPU very much
Selectable subtitles and audio tracks
Play Blu-ray Player on Windows 8 with touch interface smoothly
An extra program needs to be installed to play back Blu-ray disc
Sometimes Leawo Blu-ray Player does not work
Hard to control Leawo Blu-ray Player Blu-ray menu
Too expensive price plan and controversial refund service
Hope this article can give you some references. If you have a better choice on Blu-ray player, feel free to tell us!