How to Rip Subtitles from DVD [All Subtitles Available]
"Is it possible for me to rip subtitles from DVD to save them as independent files for learning a foreign language? Actually, this can be a great material for me!"
Instead of simply helping you to understand the content of DVD movies or shows, some foreign language learners have discovered the subtitle files are pretty good learning materials for them to grasp how foreigners use languages in daily life. Hence, they desire to rip subtitles from DVD to preserve them as independent files for reading.
In this blog, an ultimate guide on teaching you how to extract subtitles from DVD will be introduced. Keep reading and grasp the correct way to process it.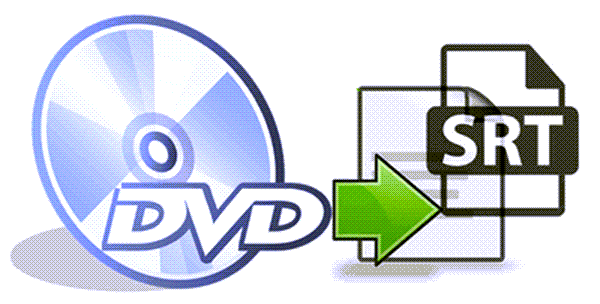 Is It Possible to Extract Subtitles from DVD?
Compared with subtitles ripping from normal digital videos such as the MP4, MOV, MKV, etc. and media files of other mostly-used formats, extracting subtitles from DVD is not a direct process - you are required to decode the graphic teches specially applied by DVD disc, then grasp and export the text-based subtitle file with the media content first.
Hence, it becomes essential for you to select the software which is capable of this whole process. In other words, you will need help from a professional DVD ripper to rip subtitles from DVD disc, then extracting them from the ripped video with extra operation. For this purpose, VideoByte BD-DVD Ripper is highly recommended.
Best DVD Ripper to Help You Rip Subtitles from DVD to SRT
VideoByte BD-DVD Ripper
provides professional functionality to detect the DVD subtitles and will export them together with the videos just by clicks. It also ensures high-quality ripping to save videos off Blu-ray/DVD discs at 1:1 ratio without affecting the viewing experience.
To guarantee that all Blu-ray/DVD discs of all types can be smoothly converted, VideoByte BD-DVD Ripper is equipped with bypassing copy protection feature, including APS, CSS, ARccOS, CPRM, AACS, BD+, and Cinavia. Besides, for most commercial encrypted discs, the software is able to strip the region codes and rip the media content to files of mainstream formats without hassle.
Highlighted Features of VideoByte BD-DVD Ripper
Compatible with ripping both homemade and commercial Blu-ray/DVD discs powerfully;
1:1 ratio maintained to export ripped DVD videos for high-quality streaming experience;
Available to process fast experience with multiple hardware acceleration teches applied;
Over 300+ mainstream formats and presets provided to select;
Built-in toolkit available for processing video editing and adjusting with ease.
Another highlight of VideoByte BD-DVD Ripper should be its great ability to rip any type of Blu-ray disc, including both the homemade and commercial ones. Besides, VideoByte BD-DVD Ripper provides a free trial for people to experience using the program to convert Blu-ray to digital formats. You can freely download and install it on Windows and Mac by clicking the "Download" button provided now.
How to Extract Subtitles from DVD with VideoByte BD-DVD Ripper
When you have installed VideoByte BD-DVD Ripper on your computer and make sure the device has connected to a stable network, you can start ripping Blu-ray to digital formats with VideoByte BD-DVD Ripper. The detailed steps are as the following part shows.
Part 1. Rip Videos with Subtitles from DVD Disc
As mentioned, the first thing you will need to do is to rip the videos offline the DVD disc with subtitles embedded:
STEP 1. Firstly, insert the DVD disc to your computer and launch VideoByte BD-DVD Ripper for loading the disc. Simply hit the "Load DVD" option on the upper-left corner and select "Load DVD Disc" to import the content.
STEP 2. Then, as the media content saved in the DVD disc is loaded in the software, click "Full Title List" then you are able to select the videos you desire to export as the normal media files.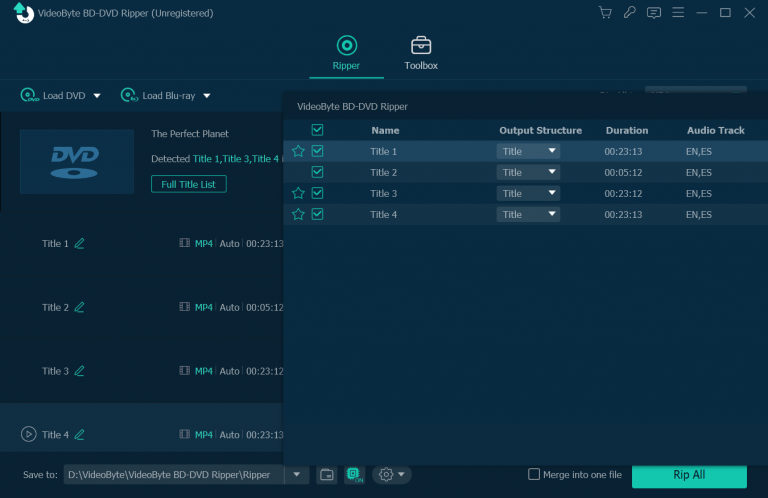 STEP 3. Below the item, there are drop-down menus available for you to select the audio tracks as well as subtitles for ripping via the video. You are able to select the option you need directly.
Note: You are even allowed to add subtitles to merge with the video if need.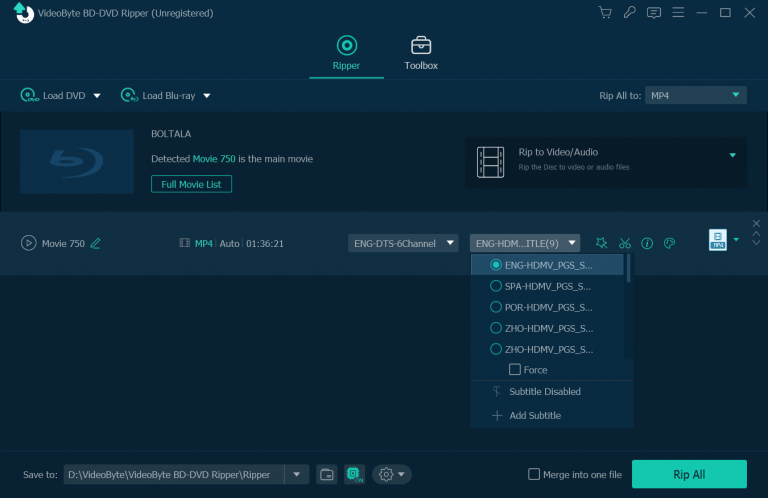 STEP 4. Now, move to the upper-right "Rip All to" menu and choose an output format as well as quality before processing the DVD ripping.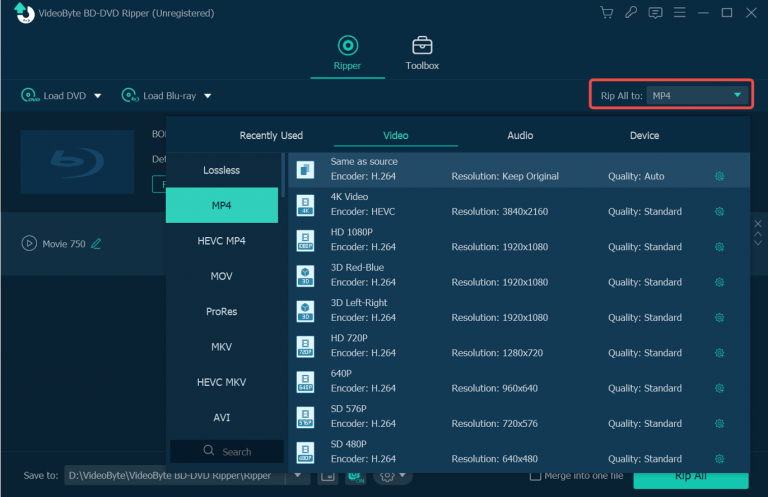 STEP 5. Once all the settings are completed now, simply hit the "Rip All" icon and the media will be ripped with the subtitles you select right away.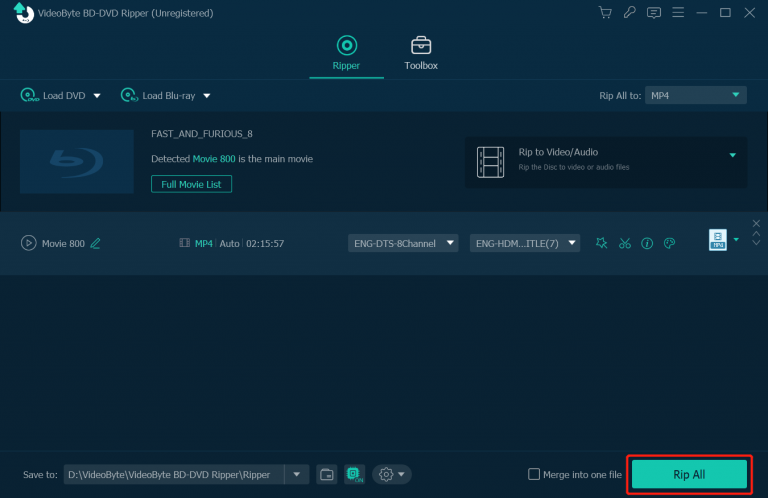 Part 2. Extract Subtitles from DVD Videos
Once you get the ripped videos with subtitles, the next process is to use a free tool for extracting them to SRT files to save offline. As there are many free online or offline subtitle extractors on the market, here will recommend one of them, the online Subtitlevideo tool to help. Let's see how it works:
STEP 1. Open a window in browser and directly navigate to this online subtitle extractor.
STEP 2. Tap "Browse" and upload the ripped DVD video to the platform, then simply select the subtitle language you want to save.
STEP 3. Hit the "Extract Subtitle" icon. Once the online extracting process completed, there will be a "Download" icon provided to let you save the SRT subtitle file to desktop.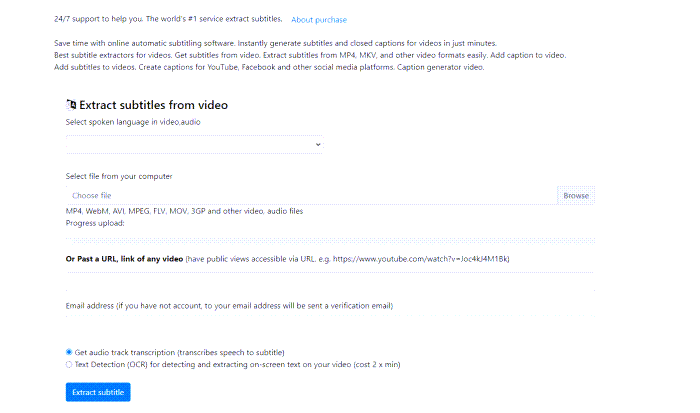 Although there have no online tools or direct ways to rip subtitles from DVD, VideoByte BD-DVD Ripper still provides the easy-to-grasp functionality, helping you to save videos with subtitles without hassle. If you also get such demand in extracting subtitles from DVD media, it would be the most ideal pick for you. Now, install it and get started trying for free!