How to Rip Region 2 DVD & Play It Freely [Ultimate Way]
Many DVDs are locked with DVD region codes, in order to protect the copyright of the DVD content and prevent some illegal use of the content or causing the DVD distributors and companies losing their profits. Region 2 is one of the DVD protection codes that would be used on the protected DVD discs. However, it becomes inconvenient to us because the region 2 DVD can only be played with the DVD players that support this code.
Therefore, this article mainly provides the way to help rip region 2 DVD to common video files for making the playback more flexible on all devices. Now, you can keep reading and learn how.
What Does Region 2 Mean on DVD
You may be the first time hearing DVD region code 2. So what is it exactly? What limitations will it bring to us?
Many commercial DVDs are protected with different region codes to make the DVD content can only be played in certain countries, which is a way to control some contents from being exported to other places without permission. Therefore, different region codes are actually used to represent different regions where you can play and watch the DVD contents with the players that can detect the discs.
In total, there are 8
DVD region codes
that are used today to represent almost all regions on Earth. They are:
Region 1 - Canada, the United States and U.S. territories.

Region 2 - Japan, Europe, South Africa, the Middle East (including Egypt) and Greenland.

Region 3 - Southeast Asia, and East Asia (including Hong Kong).

Region 4 - Australia, New Zealand, the Pacific Islands, Central America, Mexico, South America, and the Caribbean.

Region 5 - Eastern Europe, Russia, the Indian Subcontinent, Africa, North Korea, and Mongolia.

Region 6 - China.

Region 7 - reserved for unspecified special use.

Region 8 - Special international venues for air and oceanic travel.
So, if you own a DVD disc which shows "Region 2", it means that the disc is only playable in Japan, Europe, South Africa, the Middle East (including Egypt) and Greenland. When you take the disc outside these regions, it won't be possible to watch the content anymore.
How to Rip Region 2 DVD for Playback with the Best DVD Ripper
Except for the regional limitations, another inconvenience brought by region code 2 should be its supported playback hardware and software. You need to use DVD players that can decode region code 2, or it is still not possible to enjoy the DVD playback even if you are staying in the regions where the region 2 DVD disc has been distributed.
To remove these limitations and enjoy the DVD disc playback flexibly, some of you may want to rip region 2 DVD and convert the movies to common video files, then play them as usual without DVD players needed. Actually, VideoByte BD-DVD Ripper can bring professional help to do this. Now, let's see how this tool can help.
VideoByte BD-DVD Ripper
has a powerful
DVD unlocking
function, which can support ripping region 2 DVD and all types of DVD/Blu-ray discs of different protection technologies with high quality at 1:1 ratio. For the audio tracks and subtitles, it will keep original options for you to select downloading. Meanwhile, to make the ripped region 2 DVD can be played on all devices and players, it has prepared over 300 popular formats to select from. When you get the ripped DVD videos saved in common formats, you can transfer them to all devices and enjoy the playback without carrying the DVD discs everywhere anymore!
Key Features:
Supports ripping Blu-ray and DVD discs of all region codes and other protection technologies

Offers 1:1 ratio to rip DVD with high quality

Provides more than 300 video as well as audio formats to select ripping DVD discs

Detects all audio tracks and subtitles to select ripping based on your needs

Provides the in-built editing functions to adjust videos before starting ripping
How to Convert Region 2 DVD to Region 1 or Other Regions with VideoByte
Now, you can see how to use VideoByte BD-DVD Ripper with the detailed tutorial below and learn the way to rip region 2 DVD just by clicks.
Step 1. Load Region 2 DVD
When you have installed VideoByte BD-DVD Ripper on your computer, open it and then insert your region 2 DVD. In the software, click the top-left "Load DVD", then choose "Load DVD Disc" and select adding the region 2 DVD disc.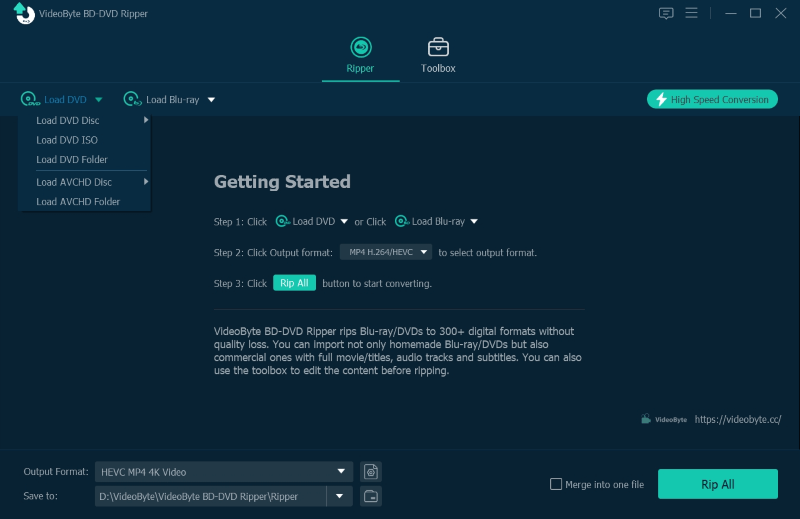 Step 2. Choose DVD Titles to Rip
When the region 2 DVD is loaded, you can click "Full Title List" and select the titles you want to rip to common video files.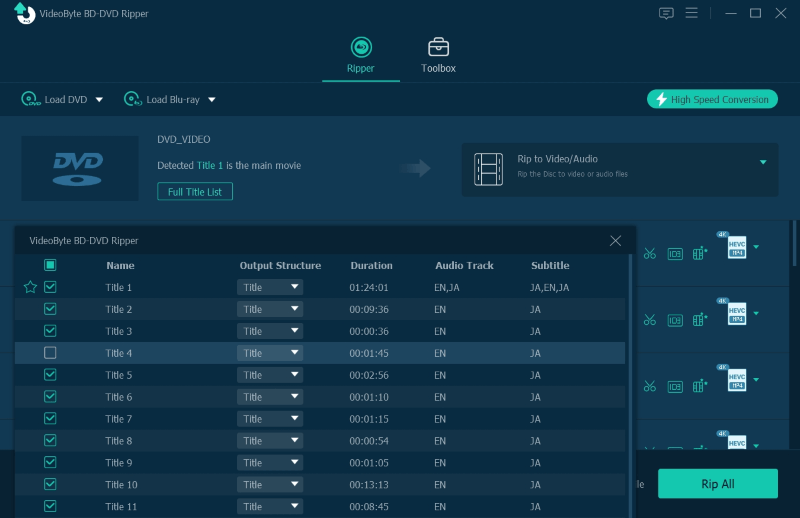 Step 3. Choose Audio Tracks and Subtitles
After selecting the titles, you can directly choose the audio tracks as well as subtitles from the video list as well.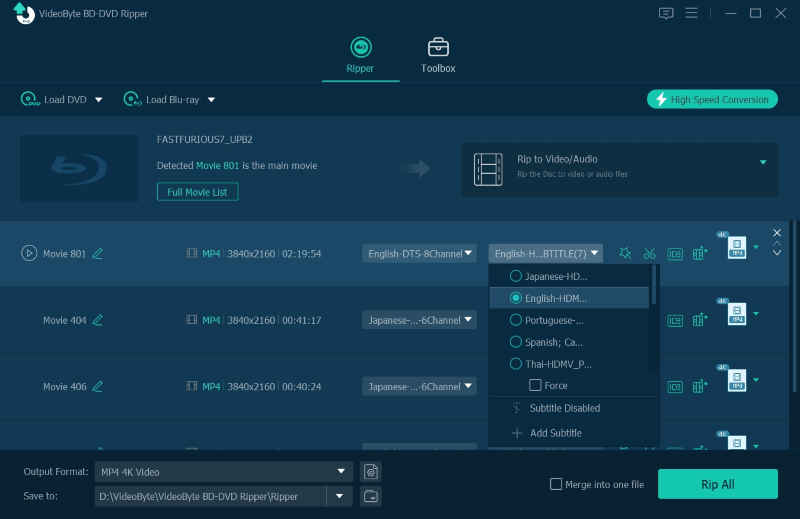 Step 4. Select Format and Quality
Now you can go to the top-right "Rip All to" format menu. Here offers the popular formats and high quality options for you to select to rip the region 2 DVD to. Just choose the one based on your needs.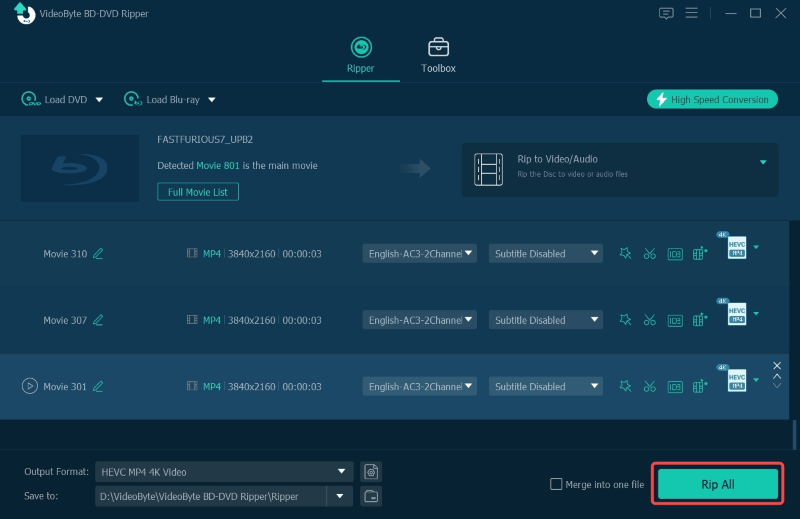 Step 5. Rip Region 2 DVD
Finally, when the output format and quality are both selected, just click the "Rip All" button to start ripping region 2 DVD to common video files for playback without any limitation!
Bonus: Change Region Code of DVD Player Directly to Play Region 2 DVD
Here provides a tricky way that can let your DVD player recognize the region 2 DVD and play it even if you are not staying in the places where the region 2 has included - that is to change the region code of your DVD disc. However, you are not allowed to change the region code too many times but can only do it 5 times. Now, both tutorials are provided for Windows and Mac users. You can follow to do it now.
Step 1. To change the DVD region code of your DVD drive, right click on it in "This PC" in "File Explorer".
Step 2. Select "Properties" and then switch to "Hardware".
Step 3. Now, click "Change settings" and then go to the "DVD Region" tab to select your wanted DVD region code.
Step 4. Finally, click "OK" to change it.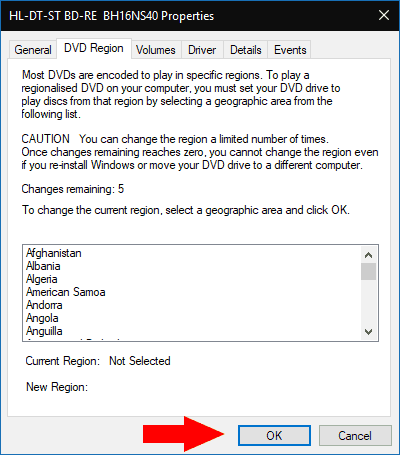 Step 1. Open your Mac computer and then use an external hard drive to connect and insert the region 2 DVD.
Step 2. When a dialog box opens, you need to select a region for the DVD drive.
Step 3. After selecting the region code you want to use instead of directly using region 2, you can select "Change Drive Region to" in the menu and click "Set Drive Region".
Step 4. Finally, just click on "Lock" and the region code will be changed for you.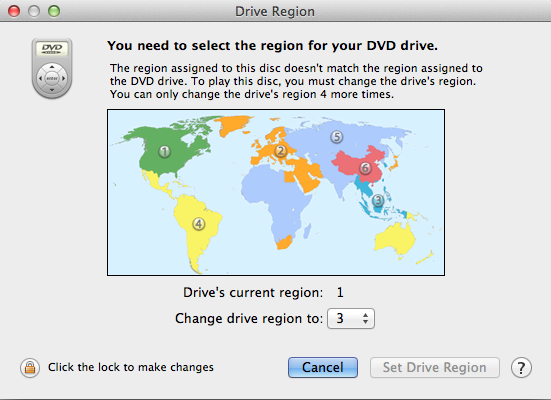 When your DVD is protected in region 2 code, you can only play it in the places that support the code, or use software like
VideoByte BD-DVD Ripper
to rip the disc to common video files for playing without such limitations. Also, changing the region code of your DVD drive is also a good idea, though it only allows you to do it 5 times. Now, try the method you need if you are also facing the inconvenience brought by region code 2.