We all know that there are a great number of DVDs concerning movies and television plays. Sometimes when we want to rip the DVDs, we try to preserve all the information like all kinds of subtitles and audio tracks with the help of DVD rippers. However, most DVD rippers cannot do these due to their limited technology. To make you better understand and enjoy movies, this article will provide you with the easiest way to rip DVDs with forced subtitles and add external subtitles with a versatile tool - VideoByte BD-DVD Ripper.
Part 1. What are Forced Subtitles in a DVD?
Subtitles usually appear at bottom of the screen, which is a textual version of a movie or television play's dialogue and it's nothing special at all. However, every viewer has surely seen forced subtitles across numerous movies as they are quite widespread nowadays. For example, if a movie is in English, and one of the characters is speaking in Italian, German, or other languages, then forced subtitles will be displayed when this character is speaking. That is to say, the forced subtitle is the subtitle shown on screen when the characters are speaking a foreign language. Forced subtitles could also be some other sign, text, and location that needs to be explained but cannot be translated in the localization or dubbing.
In a word, you shall never miss these forced subtitles when ripping DVDs. Unlike general DVD ripper software, VideoByte BD-DVD Ripper can recognize forced subtitles well. So, if you don't want to miss the text information brought by forced subtitles, just try this excellent tool.
Part 2. The Best DVD Ripper-VideoByte BD-DVD Ripper
Firstly, VideoByte BD-DVD Ripper can rip the DVD with 6X faster speed. It is also supported by acceleration technology which is powered by Intel QSV, NVIDIA NVENC/CUDA, AMD APP. Secondly, it provides 300+ video/audio formats. Besides, you can choose to save or delete the audio tracks or subtitles freely. Thirdly, VideoByte BD-DVD Ripper offers you tools to adjust resolution, aspect ratio, bitrate, frame rate, etc. Before you rip a DVD, you can preview the contents and select the main parts of the DVD through the preview window it provides. And there is a preset guideline about the output device.
In brief, VideoByte BD-DVD Ripper not only has remarkable output quality and advanced technology support but is also easy to operate. Some bonus functions like clipping video, editing metadata, compressing video make it more multifunctional.
Ripping protected DVDs for commercial purposes is not recommended.
How to Rip DVD with Forced Subtitles?
VideoByte BD-DVD Ripper can easily recognize the forced subtitles, and you can make it with only three steps.
Step 1. Load the source DVD
Once you insert the DVD into your computer's DVD drive, open the VideoByte BD. Tap on "Load DVD" > "Load DVD Disc" to inject the content. It will analyze the main movie automatically, and you can also check it on the full list.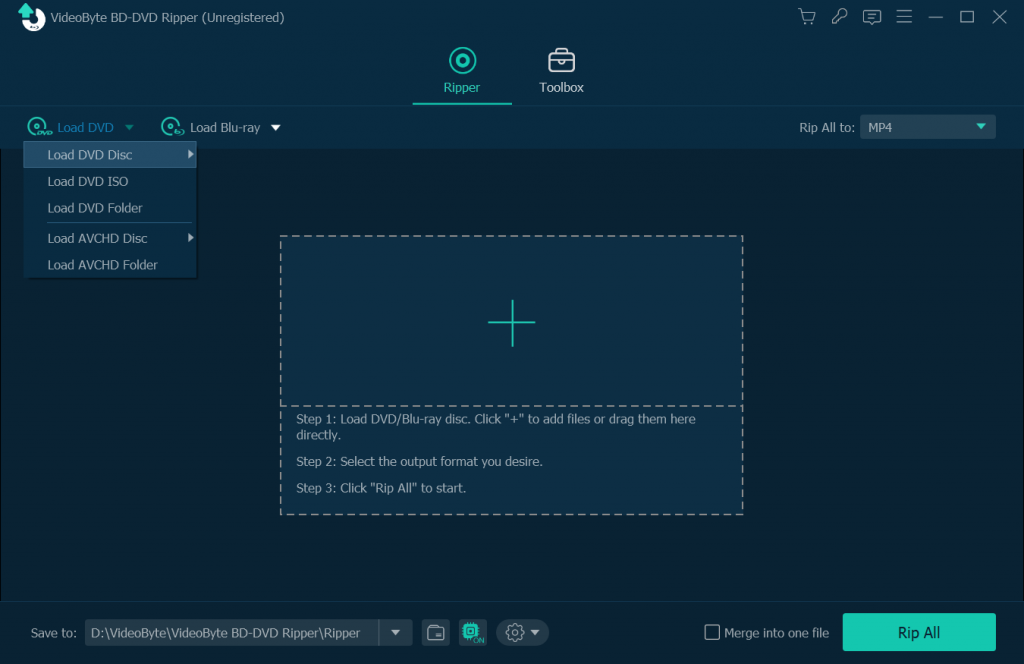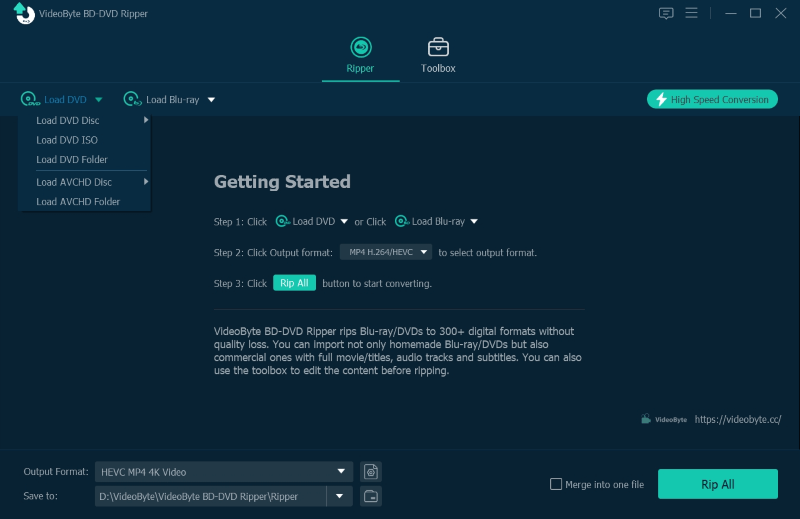 Step 2. Choose the output format that you want and select forced subtitles
Lots of output formats can be selected, like MP4, MKV, MOV, M4V, etc. You can choose whichever you want. Then click "Forced" to keep forced subtitles after finishing ripping.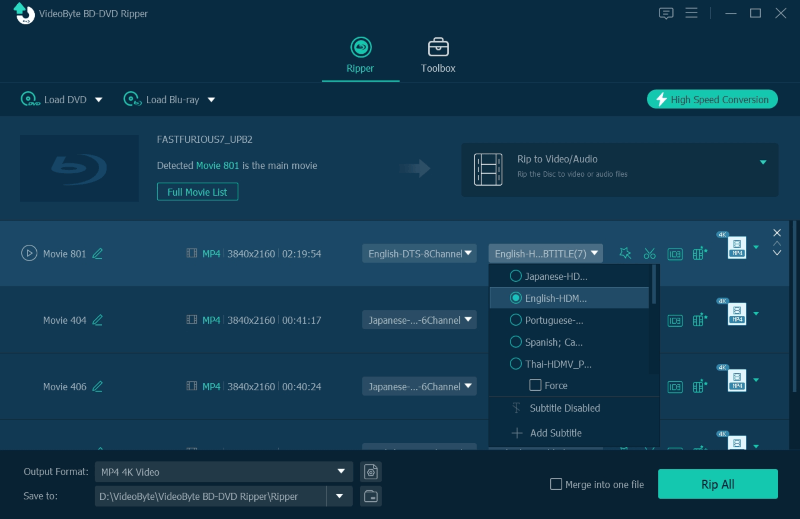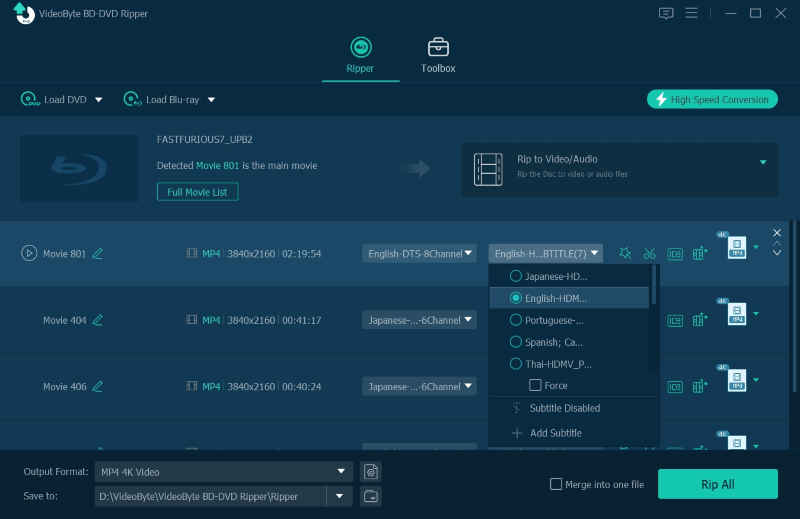 Step 3. Converting the DVD
Tap on the "Rip All" button to start the conversion if you have all the things done. The "Stop All" button allows you to stop the conversion freely. Once the conversion is finished, VideoByte BD-DVD Ripper has ripped DVD with forced subtitles successfully. So just open it and check the converted video and the subtitle.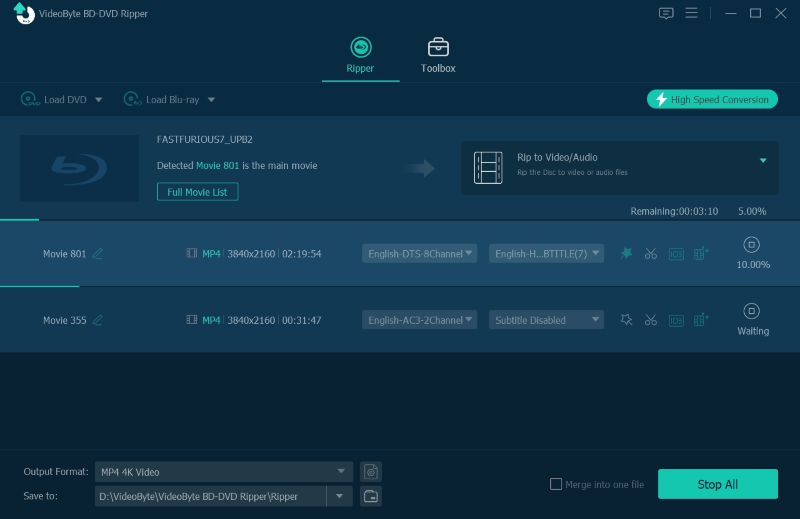 How to Add External Subtitles to DVD Before Burning?
Sometimes, if you bought DVDs with foreign subtitles only, it is necessary for you to add external subtitles when ripping. You can download subtitles in formats of SRT or ASS for your preferred languages from a safe and reliable subtitle download site like opensubtitles.org. Then you can use VideoByte BD-DVD Ripper to add external subtitles to the DVD.
Step 1. Load the source DVD
Insert the DVD and click "Load DVD".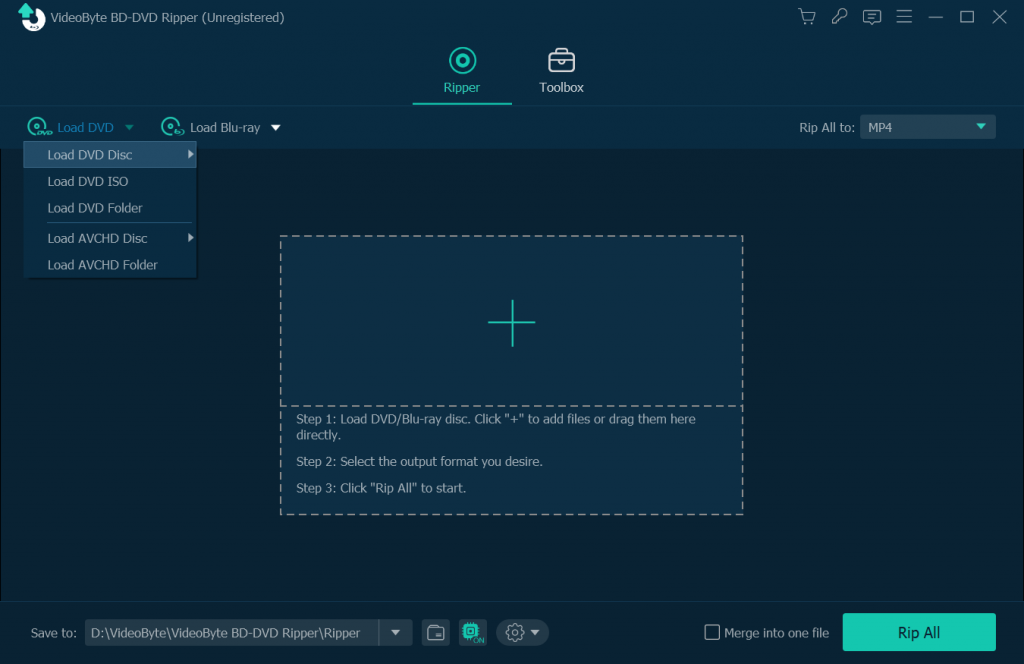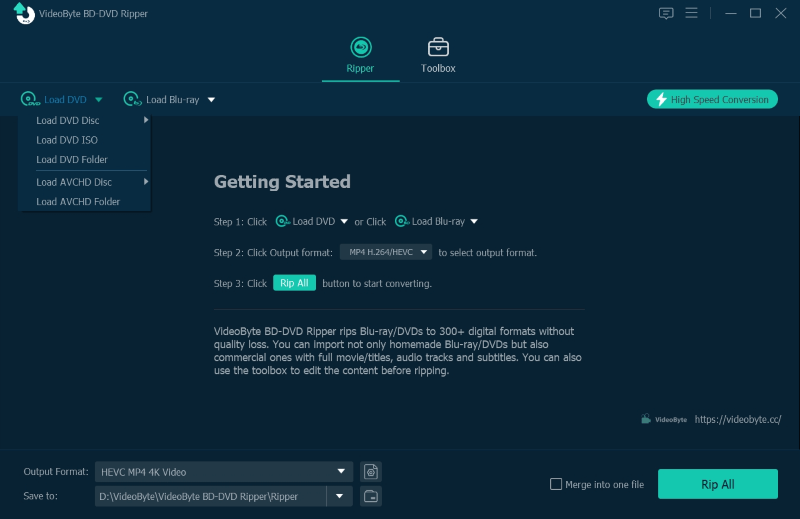 Step 2. Add external subtitles to DVD video
Choose the output format of DVD you preferred and click "Add Subtitle" to add the external subtitles you prepared.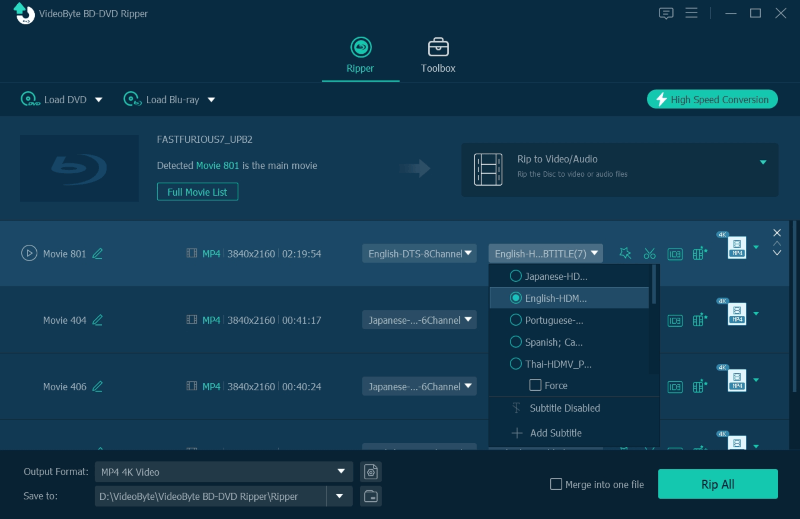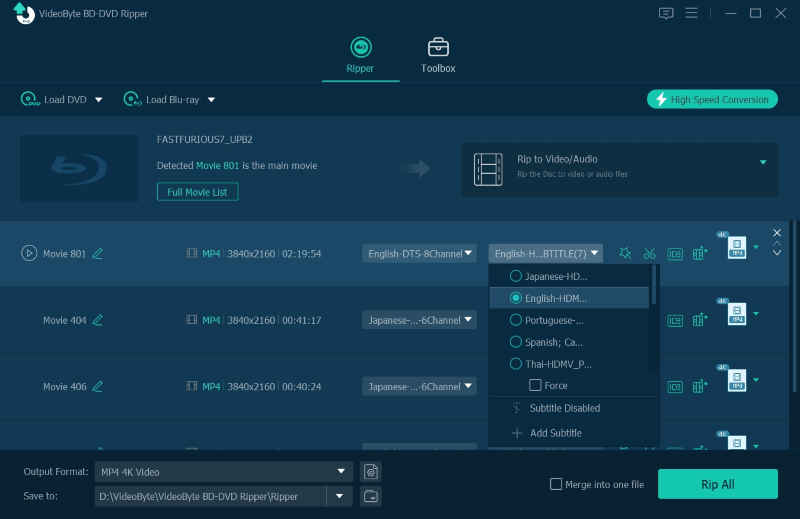 Step 3. Start to Rip DVD with Added Subtitles
Tap "Rip All" button to start adding external subtitles and you will get a brand-new movie with subtitles you preferred.
Part 3. More Information about Subtitles
Closed Captions VS Subtitles
Most people think that captions and subtitles are the same, but they are not actually. They both appear as text on the bottom of the screen, and generally represent the talk between characters on the television or phone. This can be puzzling for someone trying to find out the difference between closed captions vs subtitles. However, captions are a transcription of dialogue, while subtitles are a translation.
Closed captions are specially used for individuals who are deaf or have difficulty in hearing, this may include public noises, speaker differentiation, and other situation. Closed captions are the words spoken in a video, or information that cannot be heard. The audio or information is transcribed into text.
Subtitles are translations of the spoken audio in a video which is usually shown on the bottom of the screen. Subtitles aren't only for understanding a foreign film in your native language. They are also beneficial for those who intend to learn another language.
Soft Subtitles VS Hard Subtitles
Soft subtitles are also called inner subtitles, encapsulated subtitles, subtitle streams, etc. That is, the subtitle file is embedded in the video as part of the stream. It means the video and the subtitles are in two different files. by using a player like Potplayer/VLC, you can play them together. It's great because the video is the same one as the raw, it's not altered by converting. You can choose to show/hide the subtitles. Soft subtitles are always editable while hard subtitles are not.
Hard subtitles are burnt to the video perpetually. That means you can't separate them from the video and they are always together with the video. You cannot show/hide because they are part of the video. It's good for watching videos on a television or mobile device, e.g. The advantages of hard subtitles are they can be accurate and timely and you can play them everywhere with the movie, but you can never edit them.
How to Rip DVD with Subtitles Using VLC
VLC Media Player as one of the most popular and free tools in the market is able to play almost every file format. And it supports playing DVDs both in Mac and Windows. Here are some steps that can help you rip DVDs with subtitles using VLC.
Step 1. Install VLC, click Media, choose the DVD files you want to rip.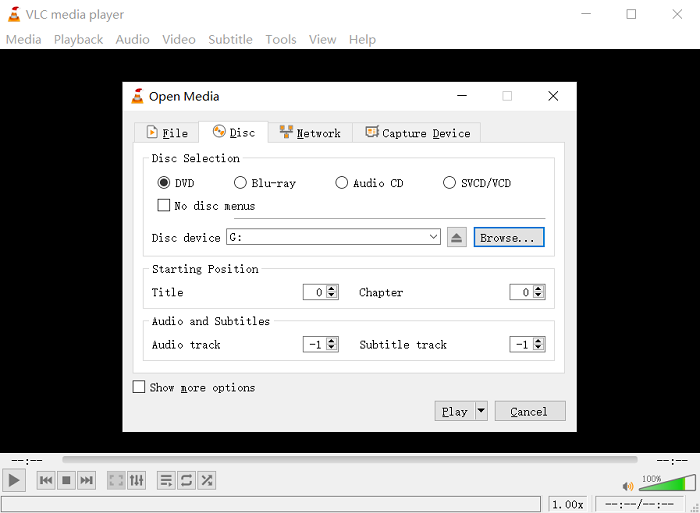 Step 2: Find Disc tab, choose target DVD. Find the Subtitle track and select the subtitle you want to rip the DVD with. Then tap "Convert".
Step 3. Besides, you can also click the Subtitles tab and choose "Add Subtitle Files" to add external subtitles you want.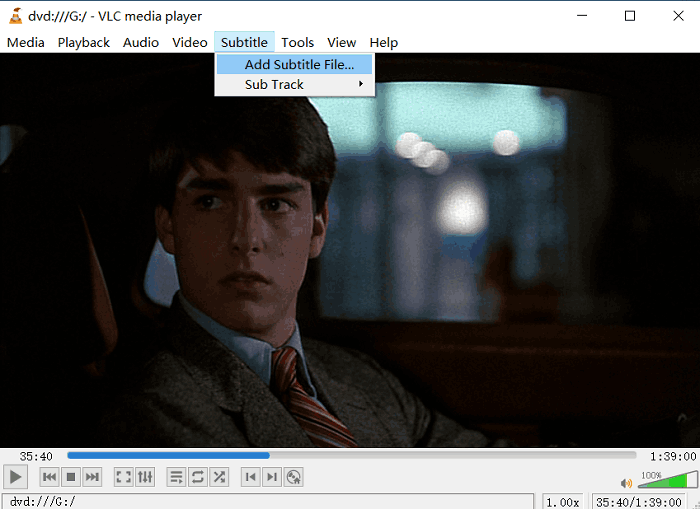 Step 4. After all the settings are done, just choose the destination file and click "Start". The VLC will begin ripping DVD with subtitles.
Subtitles are of great importance in our daily life, we can see many types of subtitles on any device. And with the development of modern society, movie lovers are able to access more and more foreign movies. Therefore, they will definitely have a better understanding of the movies with the help of the subtitles. If you are one of them and the best DVD ripper - VideoByte BD-DVD Ripper will be your quick solution. Just click your mouse and download it and it will never disappoint you.