How to Rip DVD with Subtitles [Forced Subtitles Included]
It would be a problem when you find that the ripped DVD movies are not saved with subtitles - especially when you are watching a foreign movie but without subtitles interpreting what the characters are talking about! Therefore, many users would really want to rip DVD with subtitles when the discs contents are made in foreign languages.
So today, this article has provided the most professional way to help you easily rip DVDs with subtitles without doing complex operations. Now, let's just first see what tool you should have to process the DVD ripping.
Most Recommended Tool to Keep Subtitles When Ripping DVDs
One of the most reliable DVD ripping software chosen by plenty of users should be VideoByte BD-DVD Ripper. This software is popular for keeping all subtitles stored on DVD after ripping. It's fast, but the great and even lossless output quality is ensured to save the ripped videos for you. It will keep 1:1 ratio without any quality loss while ripping both the DVD and Blu-ray discs.
You may notice that some of your DVDs are protected, which are very common nowadays. Don't worry! Because VideoByte BD-DVD Ripper also supports ripping DVD content with protection added. It will easily bypass the protections automatically, and offers all mainstream formats (more than 300 options) for you to select and save the ripped videos/audios. To conclude, VideoByte BD-DVD Ripper can help the DVD ripping process to be much simpler but still in the most professional ways.
Key Features:
• Keeps 1:1 ratio and all subtitles as well as audio tracks while ripping DVD/Blu-ray contents
• Supports ripping all types of DVD/Blu-ray discs, including those with or without protection
• Offers 300+ common formats to save ripped videos (MP4, MKV, etc.)
• Allows to set parameters based on your needs freely
• Provides some basic editing functions to customize the videos before saving them on computers
• Supports improving the ripping speed to 6X faster and saves your time
How to Rip DVD with Desired Subtitles on VideoByte (A Complete Guide)
Don't worry even if you are the first time using VideoByte BD-DVD Ripper, because it has kept the operations simple enough for even beginners to get started. Now, you can check the tutorial provided below and learn about using the software to rip DVD with subtitles in easy steps.
Step 1. Insert DVD Disc to Computer and Load It
Firstly, you should insert the DVD disc you want to rip its contents to your computer. Then by opening VideoByte BD-DVD Ripper, you can click the "Load DVD" then "Load DVD Disc" to select importing the content to the software.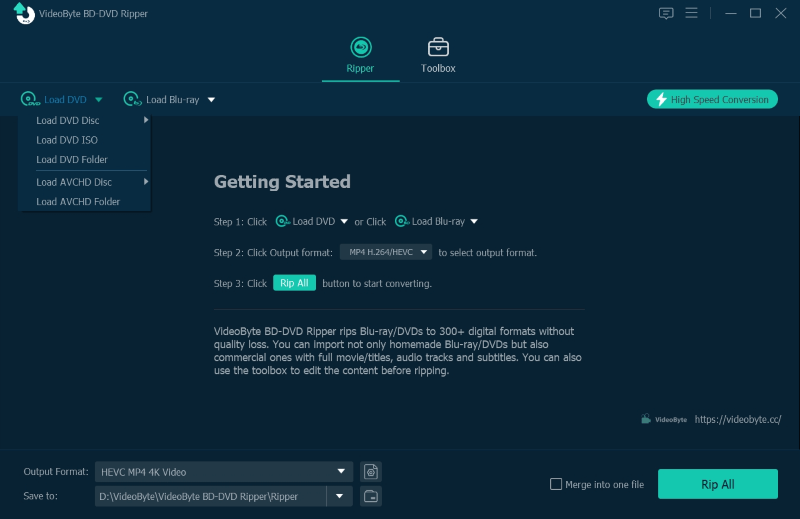 Step 2. Select Movie Titles to Rip
After the DVD content is loaded, click the "Full Title List" and select the titles you want to rip to common video files for streaming without the disc.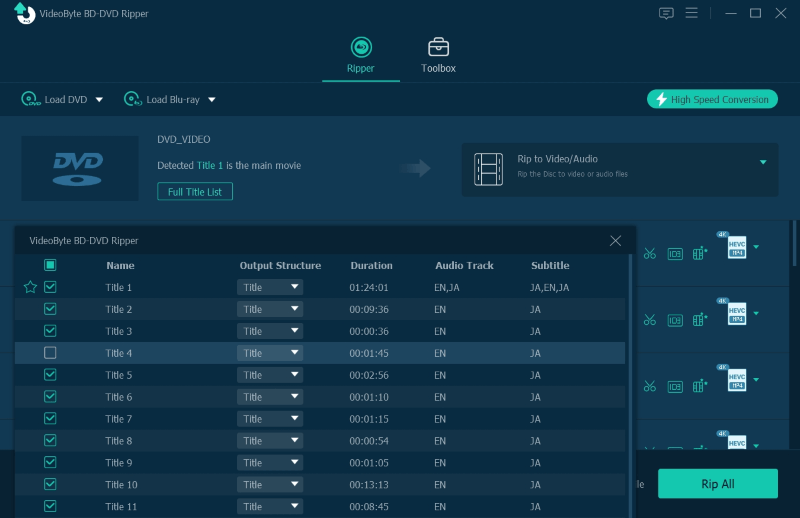 Step 3. Choose Subtitles and Audio Tracks
Now, under loaded DVD content, you can see the detected audio tracks and subtitles for the DVD videos. So just select the subtitles and audios you want here to rip with the content. VideoByte BD-DVD Ripper also allows you to select ripping DVD with the force subtitle, and you just need to select it while choosing the subtitles here.
It is also possible for you to disable subtitle or even add another external subtitle to merge with the DVD videos before ripping. All these flexible adjustments can just be made in this selection menu.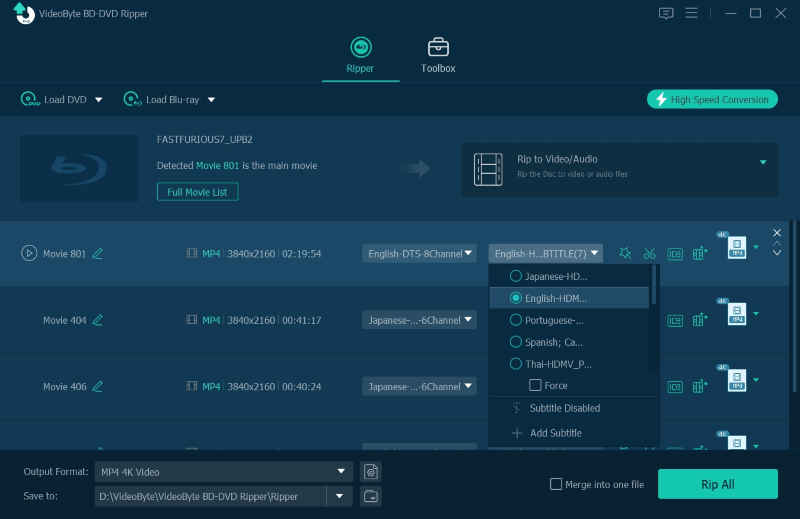 Step 4. Choose Output Format and Quality
After selecting the subtitles, now you can also choose one output format and quality to rip the DVD disc. Just go to the top-right "Rip All to" menu, then you can select the different formats based on the devices or players on which you need to play the contents with. It is recommended to choose MP4, MKV, and MOV because they are widely-supported by most devices and players.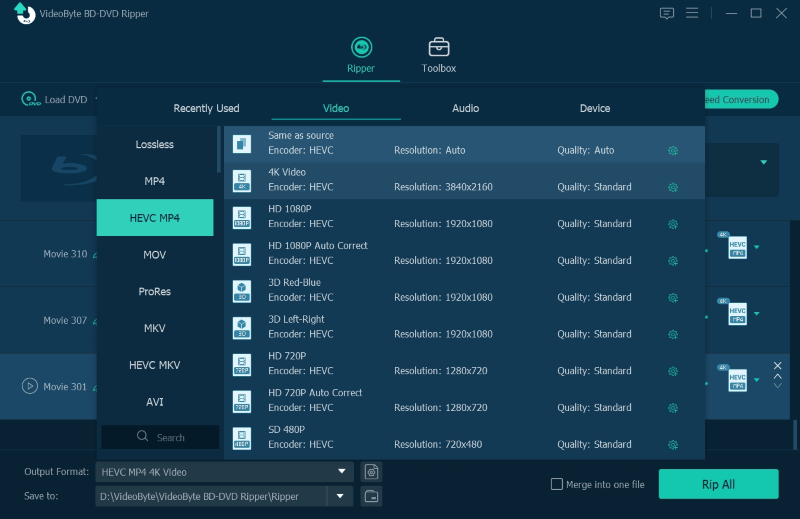 Step 5. Rip DVD with Subtitles
Finally, just click the "Rip All" button to start ripping DVD with subtitles to the format you have selected. VideoByte BD-DVD Ripper will keep the best quality and perform at fast speed for you to complete the ripping quickly!
Extra Tips: Different Subtitles in DVDs
As for DVD subtitles, there are mainly 3 types that are mostly used. They are soft subtitles, hard subtitles, and force subtitles. The following information has concluded who are them and the differences among them.
• Soft subtitles: Soft subtitles are text files which are not contained in a video file. Normally, soft subtitles be enabled on or off flexibly while playing the video file in a video player.
• Hard subtitles: Unlike soft subtitles, hard subtitles are permanently burnt into the video, which can't be separated them at all. As a part of the video, the hard subtitles will always appear in the video when you play it in a player.
• Forced subtitles: Forced subtitle is once one type of hard subtitle, which is used to provide clarification of the plot and other details of the video for audiences. But when today many modern discs use forced subtitles in the form of an overlay on top of the movie, it becomes different from hard subtitles.
As you can notice, not all DVD rippers support ripping DVD discs with subtitles, or some of them are quite expensive for you to select. Based on these, VideoByte BD-DVD Ripper can be a better choice for its professional ripping functions and the ability to rip DVD with subtitles and original quality. Now, you can install it for free, then purchase it at a cheaper price to rip DVDs professionally!