How to Rip DVD on Mac/MacBook Easily (2023 Ultimate)
Most new models of Mac, such as the MacBook Air and MacBook Pro with Retina, no longer come equipped with a disc drive. If you have a collection of classic movie DVDs, you may be wondering how to watch them on your Mac.  One solution is to purchase an external DVD drive. However, bringing an additional accessory with you can be inconvenient.
Thus, you may want to know how to rip DVDs to your Mac. This article provides practical solutions for Mac/Macbook users on how to rip DVDs. If you need trustworthy Mac DVD-ripping software, you've come to the right spot.
Method 1. Rip DVD to Mac with Professional Mac DVD Ripper
Ever wondered how to save a DVD to Mac for long-time storage or offline playback without an external DVD drive? Directly copying the DVD content may sometimes work, but commercial DVDs are usually encrypted so you can't edit or copy. In this case, ripping a DVD to your Mac will be your best solution.
There are many different software tools you can use for ripping DVDs. Here, we will introduce a professional and powerful all-in-one DVD Ripper for Mac to you: VideoByte BD-DVD Ripper.
It supports ripping both DVDs and Blu-ray DVDs. It helps you rip DVDs/Blu-ray DVDs to common video files, and provides a video enhancer for improving your video quality as well as a video editor for you to personalize your video with only a few clicks.
Key Features of VideoByte BD-DVD Ripper
Removes copy protections, supports ripping DVDs to MP4/MKV/MOV, or extracting the DVD audio to MP3, and other common open-source files.
Keeps the original quality, while delivering the fastest DVD ripping speed.
Supports converting DVDs to other devices, including almost all smartphones.
Provides a built-in video enhancer and a video editor for further customizing your DVD content.
How to Rip a DVD on a Mac with VideoByte
For preparation, get an external DVD drive, DVDs you want to rip, and a MacBook.
Download the new version of VideoByte BD-DVD Ripper to your Mac, launch it, and follow the steps below to rip your DVD movies to Macs with ease.
Step 1. Load DVDs/Blu-ray DVDs into the DVD Ripper
Put your DVD disc into the DVD drive and click the "+" in the center of the program to begin uploading files.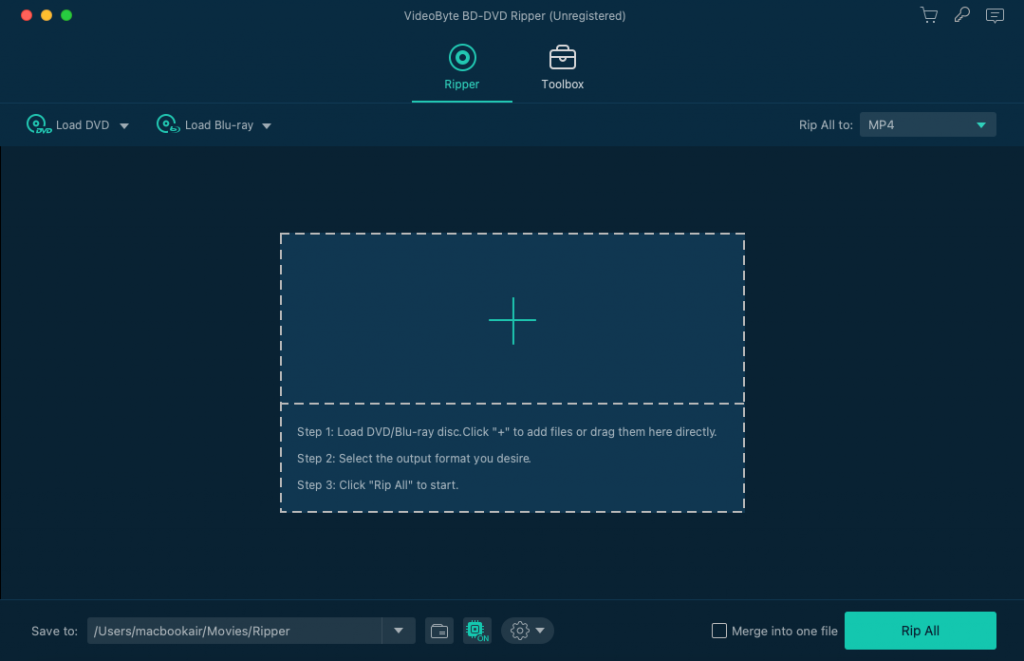 Step 2. Select Output Video Format
Choose an output format before you start to convert it. Click the drop-down list of the "Rip All to" and go to the "Video" category. Scroll down and select the video format you want. Or you can directly search the format in the search box at the bottom left.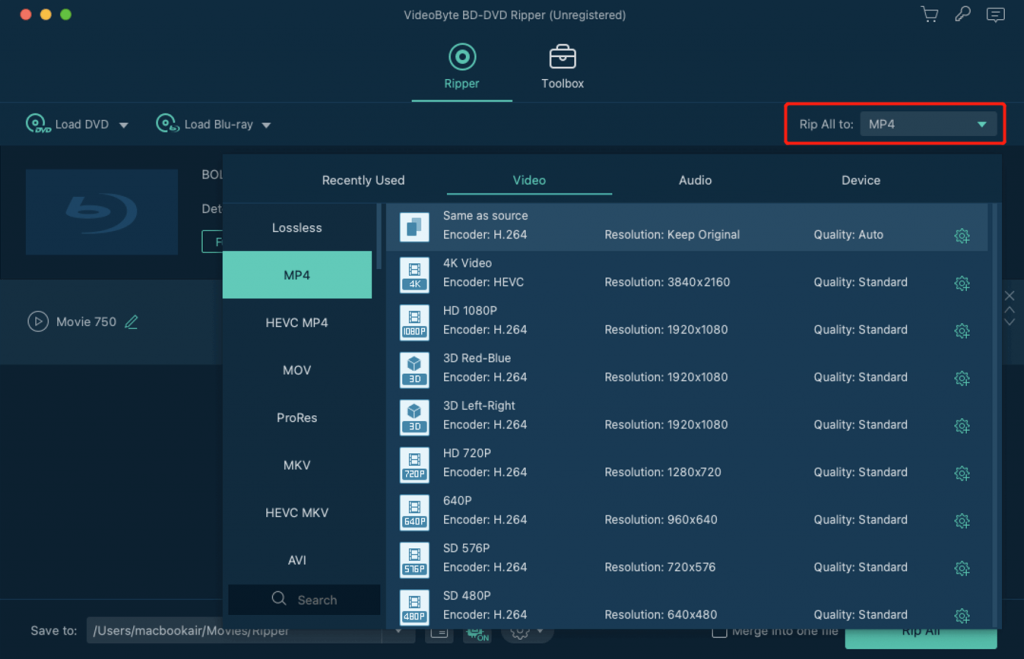 Step 3. Confirm Other Output Parameters and Settings
You can change the default destination folder by clicking the "Save to" at the bottom to reset the destination folder. Also, you can tune other parameters according to your needs.
Step 4. Start to Rip DVDs to Mac
When you're satisfied with all settings, click the "Rip All" button on the main interface to start ripping your DVD to Mac.
You can choose to rip DVDs to MOV format files as it is the default format of QuickTime Player on Macs. But you are also recommended to convert the DVDs to open-source MP4 files for they are compatible with most devices.
Method 2. Rip DVD to Mac Free with VLC
As you may already know,
VLC Player
 is a powerful open-source free media player. But what you may not know is that it can also serve as your DVD to MOV, MP4, MKV, etc. ripper on Mac. How to
rip a DVD with
 V
LC
?  Download and install VLC Player, and launch it. Connect the external DVD drive to your Mac, and insert the DVD into it. Then, check the following simple guidelines:
Step 1.
 Open VLC Player, choose
"File"
 and then
"Open Disc"
.
Step 2.
From the pop-up
 "Open Source"
 window, go to the
 "Disc"
 tab. VLC will automatically detect your inserted DVD. Now you need to turn on both the
"Disable DVD Menus"
 and
"Stream Output"
 buttons.
Step 3.
Click the "Settings" button to choose the output format you need from the
"Encapsulation Method"
 option.
Step 4.
 After confirming all settings, click the "Open" button and VLC will start to rip the DVD.
VLC Player as a DVD ripper is not available for DVDs with some latest copy protections. If you want to rip encrypted commercial DVDs, we still recommend you try VideoByte BD-DVD Ripper.
Bonus: How to Copy DVD Content to Mac or Another Blank Disc
Ripping DVDs to Mac means you convert the DVD content to files in other formats. But sometimes you may want to copy the content from an original DVD disc to another blank disc. This happens when you borrow a game from your friend, and you want to continue to play it after you return the Game Disc. Then you need to copy the disc to another blank disc.
There is also software for copying DVD content to Mac. We recommend you try the VideoByte DVD Copy, for it can copy your DVD content with 1:1 original quality in just a few steps.
It supports 3 copy modes:
Copy a DVD to another DVD disc.
Back up the DVD to your hard drive on Mac as a Video_TS folder or ISO image file.
Burn ISO image DVD Folder to DVD
A simple guide to copying DVD content to Mac or another blank disc:
Download, install, and then launch the VideoByte DVD Copy, then follow the instructions as follows:
Step 1. Load the DVD disc. Click on "File" and then "Select Source" to load your DVD disc, ISO image file or DVD folder. Or directly click to expand the "Source" pull-down menu to choose your inserted DVD disc.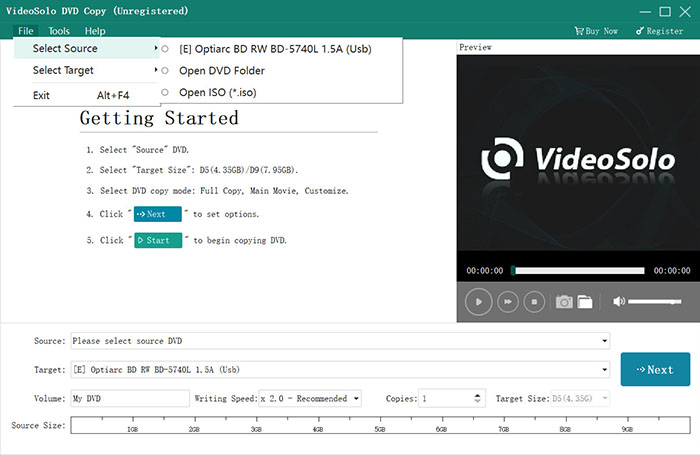 Step 2. Confirm the "Target" file format. Choose the blank DVD disc if you want to copy DVD to another disc.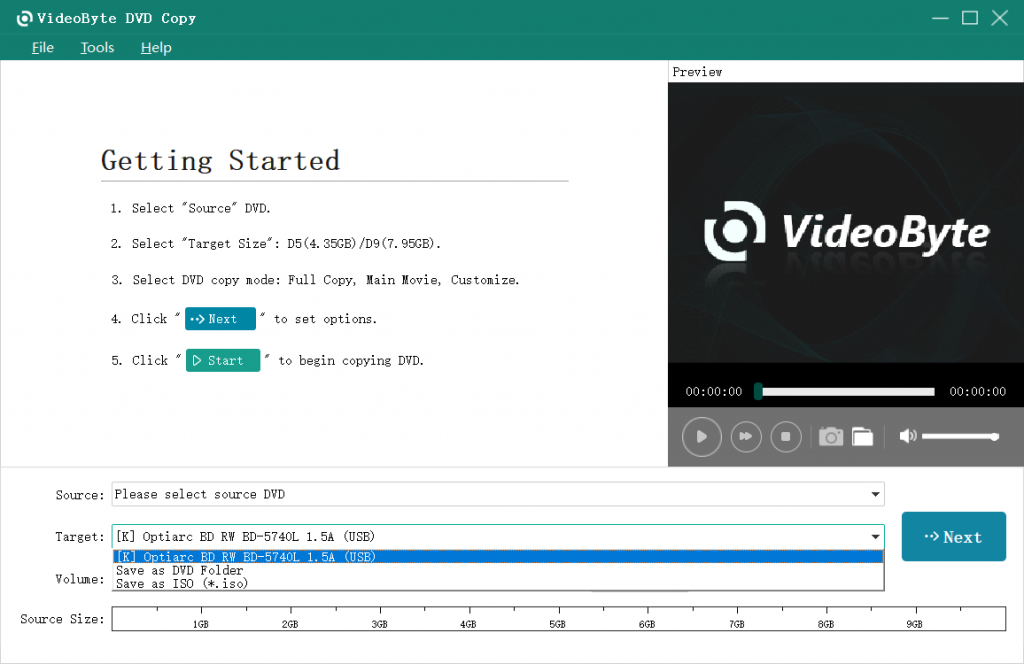 Step 3. Choose DVD copy mode from "Full Copy", "Main Movie", and "Customize".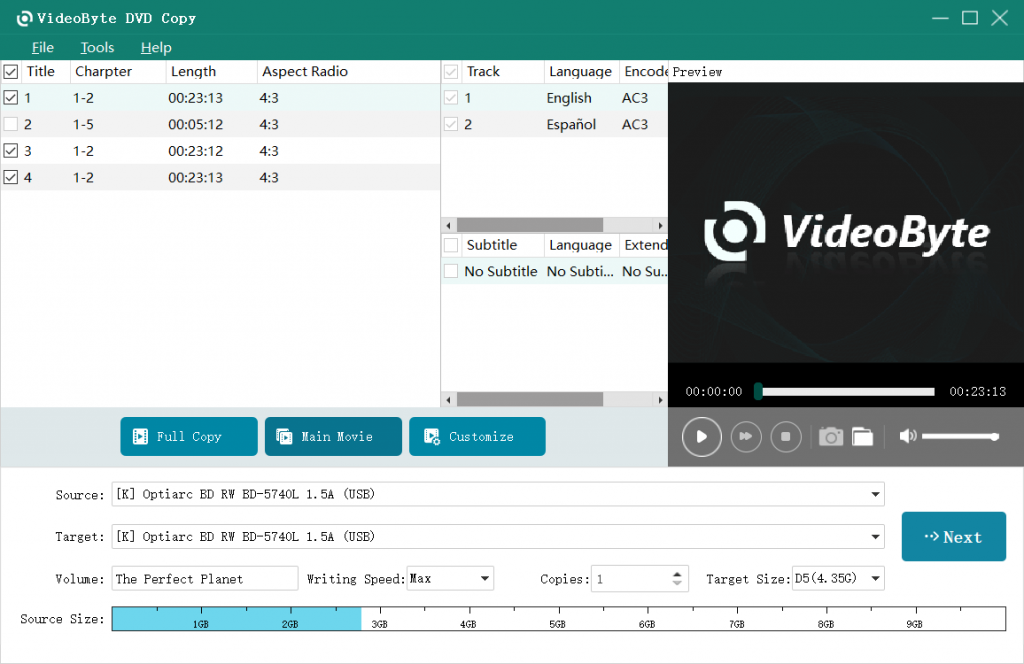 Step 4. Decide output options. You can choose to "Remove Menu" or "Skip Menu" here.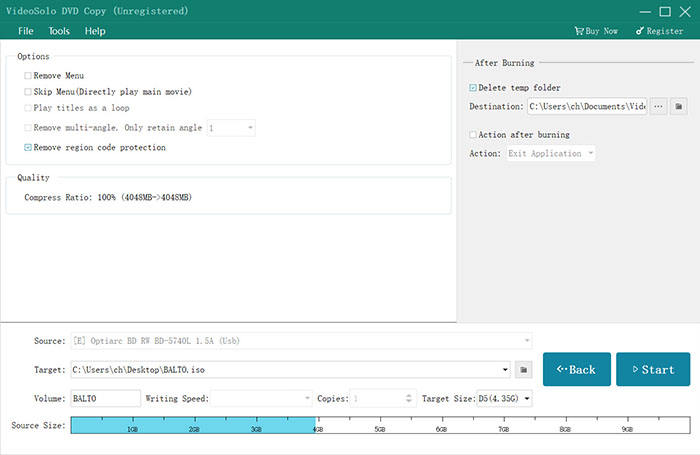 Step 5. Click "Start" to copy the DVD.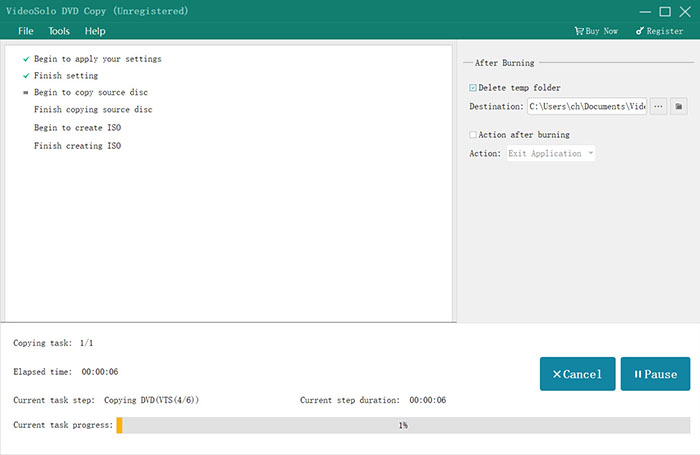 If you have 2 disc drives and are able to connect them both to your Mac, you can directly insert the original DVD disc into one drive and the blank disc into the other. If you only have 1 disc drive, you need to first copy them as the ISO image file, then burn the created ISO image file to the blank DVD disc.
FAQs of Ripping DVDs on Mac
Q: Can I rip a DVD to Mac online?
Currently, there are no online DVDs to Mac rippers. That's because DVD ripping can be complicated and needs to consume high CPU to complete the process. It can't be held on a web page. If you are worrying about the space on your Mac, you can try the VideoByte BD-DVD Ripper because it only takes up relatively small space.
Q: Can I rip a DVD with multiple episodes?
Yes. If your DVD contains a full TV series with multiple episodes, you can use VideoByte BD-DVD Ripper to rip them to Mac. You can even select which episodes to be ripped. All ripped episodes will be output in separate video files.
Q: Is it possible to rip audio from DVDs?
Yes. We understand that sometimes you only want to extract the audio track from a DVD. With the help of the VideoByte BD-DVD Ripper, you can extract the disc audio to MP3, AAC, M4A, etc, while keeping the original sound quality.
Q: How long will it take to save a DVD on a Mac?
It depends on the ripping tool you choose to use. If you are ripping a DVD to a Mac via VLC, it may take some time. But with VideoByte BD-DVD Ripper, you can enjoy a fast ripping speed because it supports up to 6X faster ripping speed to boost efficiency.
For those who don't know how to rip a DVD on a Mac/MacBook, this article provides easy yet practical solutions. If you are looking for a DVD to MP4 Ripper on Mac, try the user-friendly VideoByte BD-DVD Ripper. It removes copy protections from DVDs and rips them into files with commonly used video formats.
You can finish the ripping process in just a few steps via the ripper, and can also further customize the DVD content with VideoByte BD-DVD Ripper's built-in video enhancer and video editor. Free download the have a try.