How to Rip DVD Chapters Individually [Best Method]
It's widely known that regular DVDs contain one or multiple titles. And each title on the DVD has one or more chapters. Typically, when we convert DVDs to new formats, we often keep the title and chapter so that we can switch to the next thing quickly. However, each content in the DVD is separated by title and chapter. If you want to rip chapters from DVDs and save them individually, you can convert them directly to chapters instead. Keep reading this post and we will help you reach this goal.
1. Rip DVD Chapters to Separate Files: What You Need
To convert your DVD chapters into individual files, all you need to do is use a third-party DVD ripper. Here VideoByte BD-DVD Ripper is strongly recommended. With it, you can individually rip DVD chapters to digital formats like MP4, FLV, MOV, AVI, MP3, WMV, M4V, etc. and ALL can be done chapter by chapter. In addition, all kinds of content you rip is available on any device. Sounds really amazing, doesn't it?
Have more fun with VideoByte BD-DVD Ripper:
Unlock copy encryption and region restriction easily
Offer 300+ different digital formats for DVD ripping
Convert mainstream video/audio output formats in a lossless way
Give you advanced technology with a 6x faster ripping process
Keep all your captions and audio tracks by default
With these features in place, we have reason to believe that the VideoByte BD-DVD Ripper stands out as other DVD-ripping programs. The main course is yet to come. Next, we will show you how to rip the DVD chapters into individual files.
2. How to Rip DVD Chapters Individually with VideoByte (Step-by-Step)
First, check your computer to see if it has a built-in drive to read your DVD disc. If not, prepare an external one before you download it. You can view the video tutorial below in advance.
Step 1. Load DVD Disc Source
Insert the DVD disc into your drive and click on the "Load DVD" button option. Then, add DVD files by clicking the "+" button or dragging them to the main interface directly.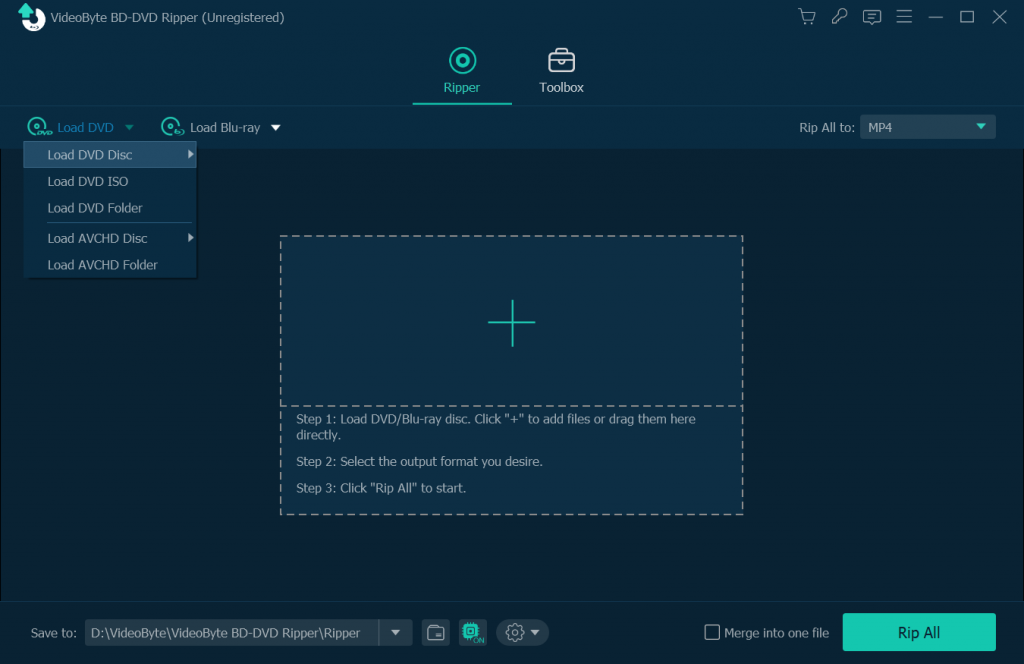 Step 2. Set Your Desired Format
When you get to this step, you will see the "Rip All to" icon on the top right. Click it and select the output format you want in the "Video" part. MP4, FLV, MOV, AVI, etc. are available to rip individually.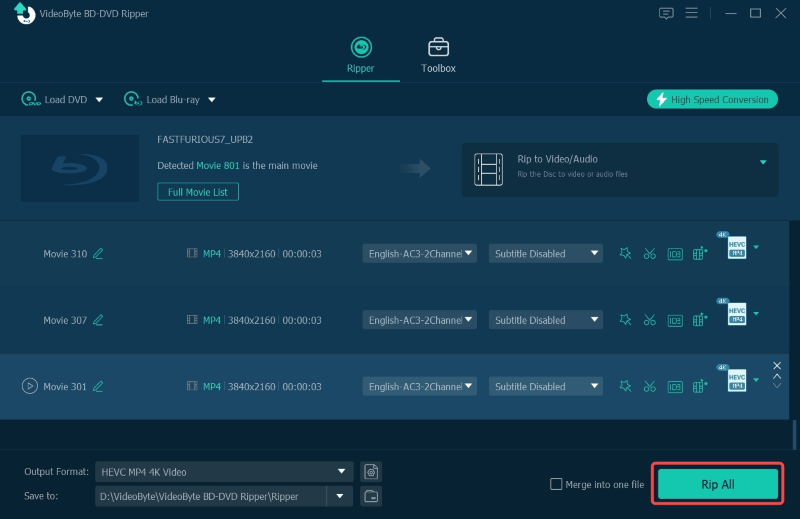 Step 3. Choose Your DVD Chapters
After step 2, this app will present the content to you automatically. Just simply select your target one and rip it out. If you want more content, go to the "Full Title List" to preview additional titles you want.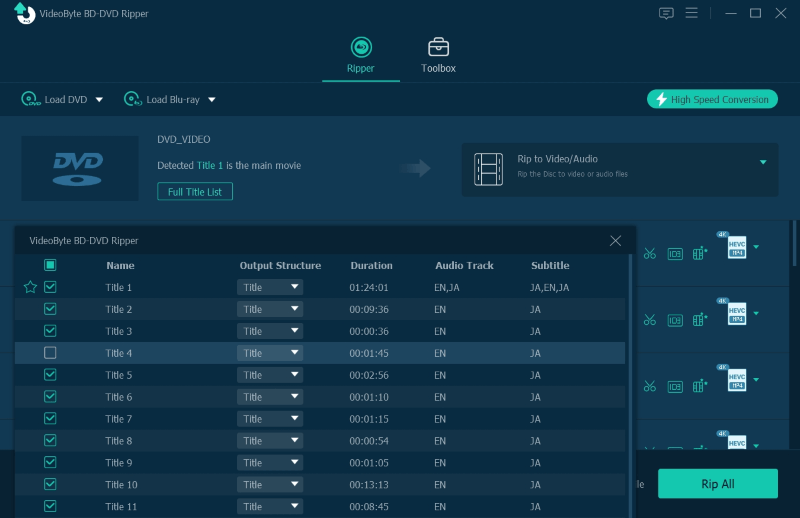 Step 4. Rip DVD Chapters Individually
You simply need to tap on "Rip All", then it will start ripping DVD chapters individually. After that, you will get the DVD episodes converted to individual files in the destination folder.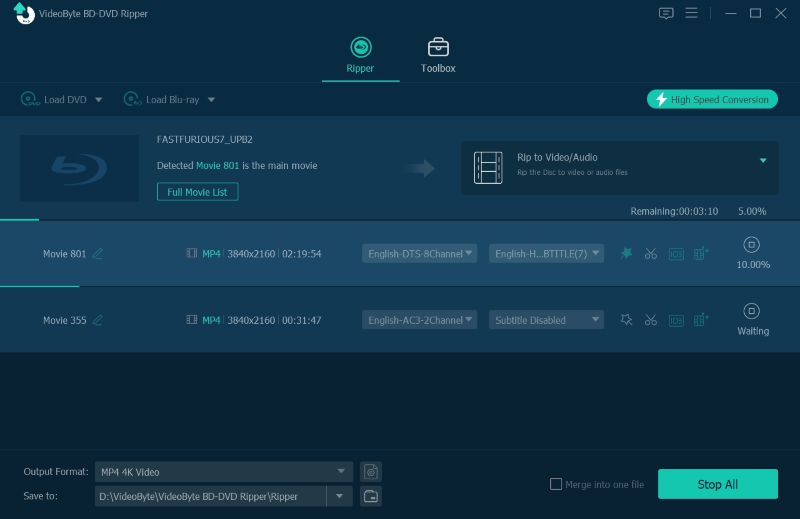 Tips: The speed of the ripping process depends on the size of your file. But VideoByte BD-DVD Ripper boosts the ripping process to be 6X faster, which has greatly enhanced its efficiency.
3. FAQs About Ripping DVD Chapters Individually
Now you've known how to rip DVD chapters individually. If you still have some puzzles, you can check the frequently asked questions and find the answers.
Q1: Can you rip DVD chapters to separate files with Handbrake?
Handbrake is an open-sourced and multi-video format ripper. Although HandBrake is always the first option that appears in our minds when it comes to DVD ripping, it is unable to handle copy-protected DVDs due to a lack of DVD decoding. As a result, Handbrake can't rip chapters into separate files.
Q2: Can MakeMKV convert DVD chapters individually?
MakeMKV is another third-party tool for ripping DVD files. Although it can preserve the original quality and bypass some copy protections, it's only available in MKV format. That's not user-friendly for devices without MKV video playing as you need to prepare an extra media player to play. Therefore, you can't use MakeMKV to convert DVD chapters individually.
In this article, we have shown you how to implement ripping DVD chapters into separate files. As you can see, DVD chapter ripping is more convenient than ever if you consider VideoByte BD-DVD Ripper. Frankly, we can't wait to see how you feel with VideoByte BD-DVD Ripper. Hope this program can truly help you.