3 Best Ways to Rip Blu-ray to MKV with Lossless Quality
MKV is an uncompressed format available to save video content in original quality without any loss. For many users who want to back up Blu-ray movies in high quality, MKV should be one of the best format options. But how exactly to rip Blu-ray to MKV?
In this article, there are 3 helpful methods to do it without any quality loss. Now, read and select the best way to rip Blu-ray to MKV and save your favorite Blu-ray movies for having a more convenient playback experience later!
Method 1. Rip Blu-ray to MKV Losslessly with VideoByte Blu-ray Ripper
The best way to help convert Blu-ray to MKV in lossless quality can be using a professional Blu-ray converter. As many Blu-ray Discs are protected by Blu-ray region codes or other protection methods, you need to pay attention to whether the tool can offer help to bypass such limitations. Therefore, here would like to recommend the best tool to rip Blu-ray to MKV, which is the VideoByte BD-DVD Ripper.
VideoByte BD-DVD Ripper is widely selected by users from all over the world, helping a lot to rip Blu-rays and DVDs with the best services provided. The popularity of the software is owing to its useful and powerful functions on converting Blu-ray to digital formats such as MKV, MP3, MP4 or 300+ other options. Moreover, with the help of VideoByte Blu-ray Ripper, you can rip the Blu-ray at super-fast speed because of the wonderful software performance, especially the support for hardware acceleration.
For backup Blu-ray to MKV, you must pursue high video and audio quality at 1:1 ratio without loss. In addition, it offers customized settings and you are free to heighten the resolution and bitrate in settings to get an extreme Blu-ray backup.
Like other products of VideoByte, this program has trial versions for both Windows and Mac systems. You can freely install it now and try the powerful ripping function to rip Blu-ray to Mac/Windows in MKV without any cost!
Rip Blu-ray to MKV Lossless At Fast Speed Using VideoByte BD-DVD Ripper
VideoByte BD-DVD Ripper offers a really simple service to help you rip Blu-ray to MKV losslessly in a user-friendly and quick way. Now, you can read this tutorial and learn about how this Blu-ray decrypter works exactly:
Also check the detailed instructions to follow ripping Blu-ray to MKV carefully if you are the first time using the software:
Step 1. Load Blu-ray Disc
Insert the Blu-ray Disc into your computer. Then open VideoByte BD-DVD Ripper and select "Load Blu-ray" from the top-left corner and choose to "Load Blu-ray Disc" in the software.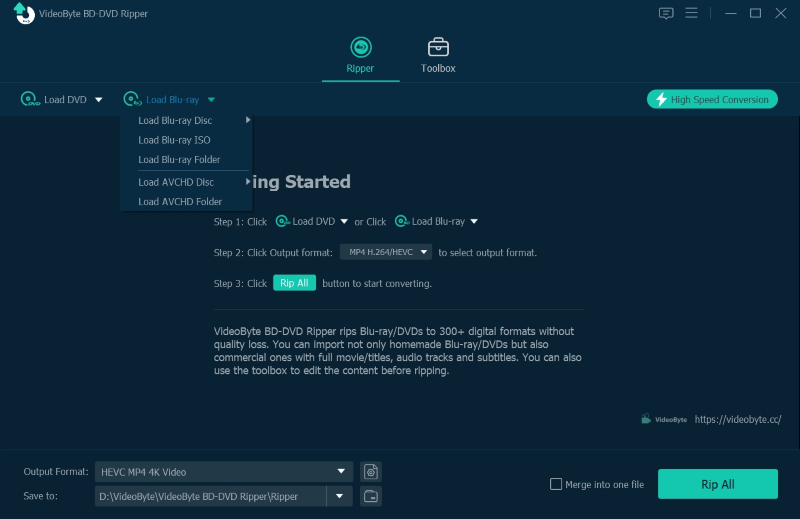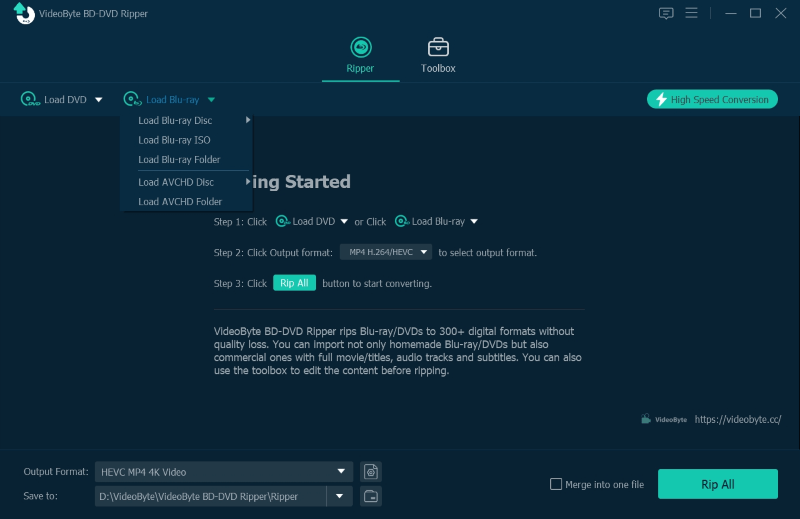 Step 2. Select Blu-ray Movies to Rip
When the Blu-ray media is loaded, you can click the "Full Movie List" and select the Blu-ray movies you want to rip to MKV. If you skip this step, the software will only rip the main movie for you by default.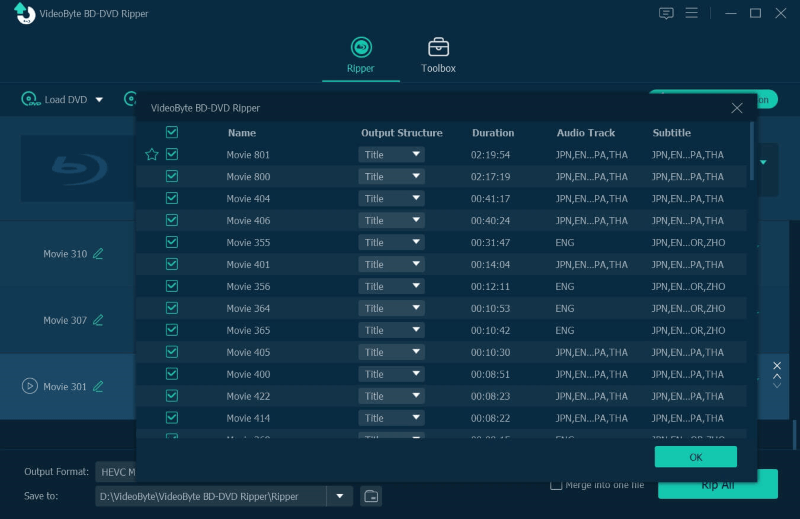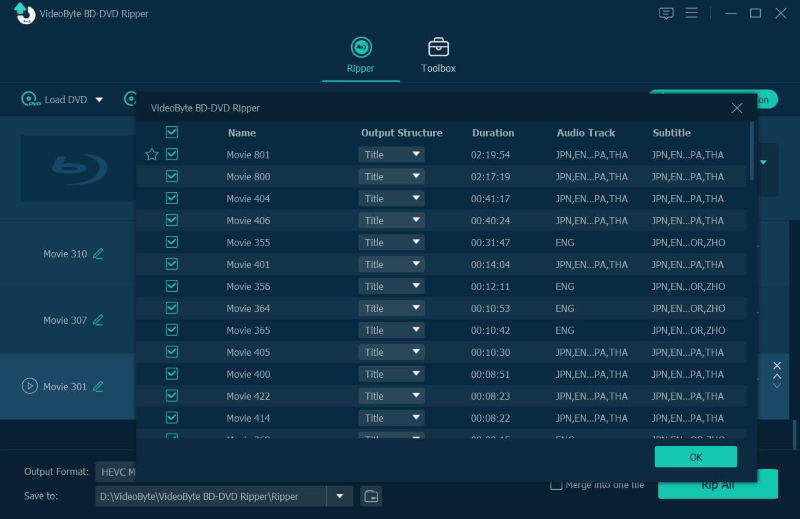 Step 3. Select MKV Format to Convert
Click the button of "Rip All to" to choose an MKV format. The fastest way is to input "MKV" in the "Search Profile" and in general, "Lossless MKV Format" will be a great choice for ripping Blu-ray.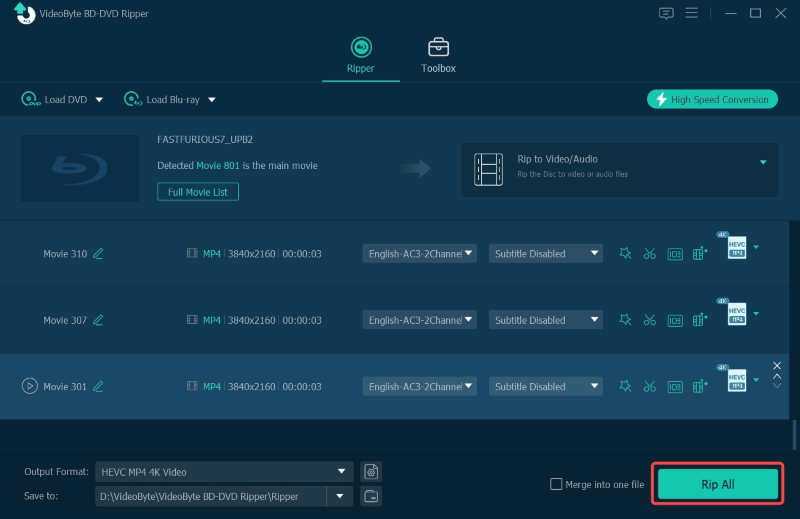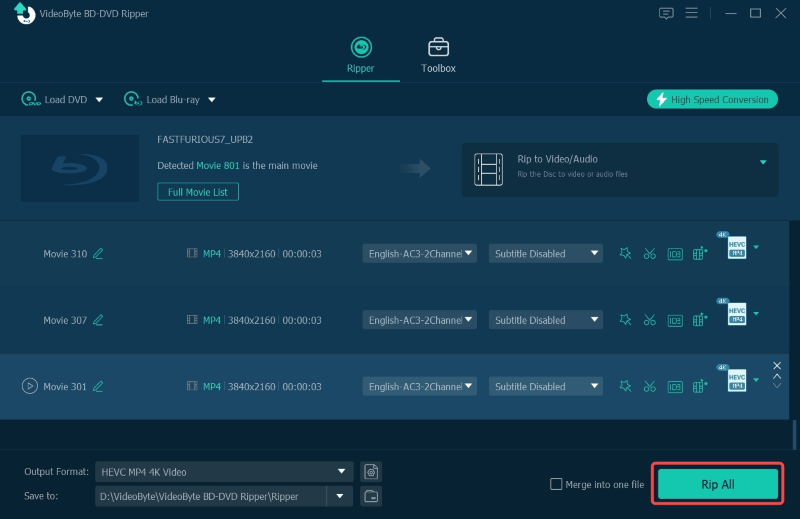 Notwithstanding, this program has made preset profiles for you, you can still custom many options such as resolution and bitrate. Just click the "Settings" icon next to the "Profile".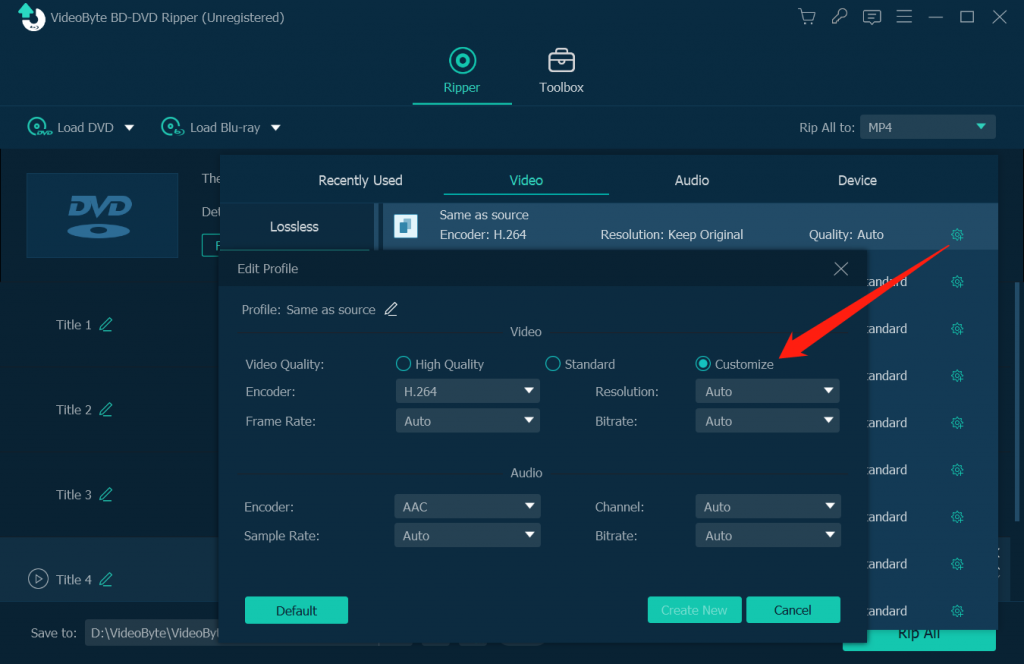 Step 4. Start Ripping Blu-ray to MKV
Click the icon of "Rip All" to rip Blu-ray to DVD immediately. The software will only take a short to to complete the ripping for you with its acceleration technologies working. Just wait a moment and you can get the Blu-ray movies saved in MKV lossless files!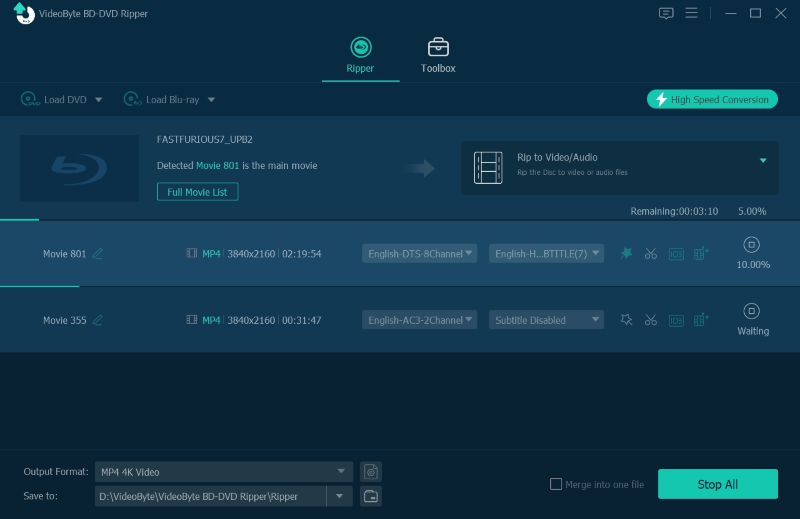 Method 2. Rip Blu-ray to MKV for free with MakeMKV (Only for MKV)
Another quick and lossless way to rip Blu-ray to MKV is by using a free tool, MakeMKV to help. This software is specialized in backing up Blu-ray Discs in MKV format, and it will keep the output files in totally uncompressed condition for you.
However, as it won't compress any quality of the Blu-ray movies, the output sizes of the MKV files will be really large, and its ripping speed is a little slow because MakeMKV is not equipped with any acceleration technologies like VideoByte BD-DVD Ripper. Also, if you want to rip protected Blu-ray Discs, MakeMKV only works to detect those with BD+ and AACS protections. Except for them, the software can't work to rip at all.
Pros:
Completely free to use
Offers very simple operations
Keeps uncompressed quality to output MKV files
Cons:
The conversion speed is very slow
The output file sizes are large
Only supports 2 types of Blu-ray protections
How to Rip Blu-ray to MKV with MakeMKV
Here, you can see how to rip Blu-ray to MKV in very simple operations with MakeMKV.
Step 1. When you have installed MakeMKV, insert your Blu-ray Disc and open the software to load it.
Step 2. After the Blu-ray media is imported, you can check the movie list and select the titles as well as audios, subtitles you want to rip.
Step 3. Then, move to the right place and click the folder icon in "Output folder" to select an output path.
Step 4. Finally, simply by clicking the "Make MKV" button beside and MakeMKV will begin to rip Blu-ray to MKV for you. Wait patiently because it will take a little long for the software to complete the process.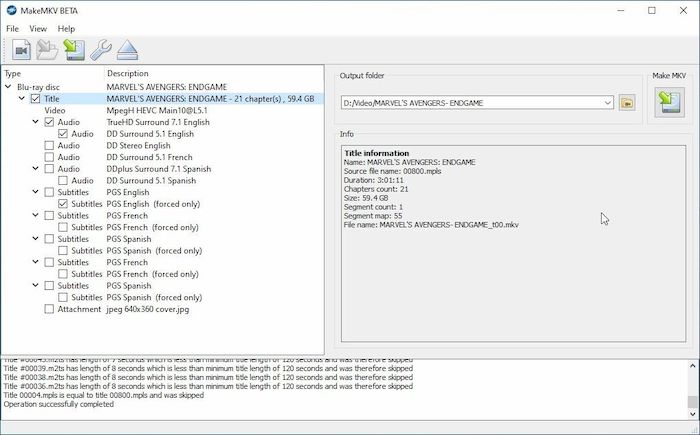 Method 3. Rip Blu-ray to MKV for free with HandBrake (No Encryption)
For a faster and more friendly free tool to rip Blu-ray to MKV, also consider HandBrake. But pay attention that this software only supports ripping homemade Blu-ray Discs without any protections. Compared with MakeMKV, HandBrake offers more formats than MKV. Also, it allows you to customize output parameters more flexibly.
However, the conversion speed and editing, and adjusting features that HandBrake are still on basic levels. If you need more professional help, VideoByte BD-DVD Ripper is a better choice.
Pros:
Customized parameter settings provided
Offers user-friendly operations
Free software to install and use without any cost
Supports different device systems
Cons:
Not supports ripping protected Blu-ray Discs
The conversion is not so fast
How to Rip Blu-ray to MKV Using HandBrake
Also, learn how to use HandBrake to rip Blu-ray to MKV on Windows/Mac without cost at all.
Step 1. Open HandBrake after installing it. Then insert the Blu-ray Disc and select "Open Source" in the software to load Blu-ray movies.
Step 2. After importing the Blu-ray Discs, you can choose the titles and chapters you like to rip to MKV.
Step 3. Then also make sure to select MKV as the output format. Meanwhile, you can do some settings before starting the ripping process.
Step 4. Finally, tap "Start Encode" and HandBrake will begin to rip Blu-ray to MKV for you.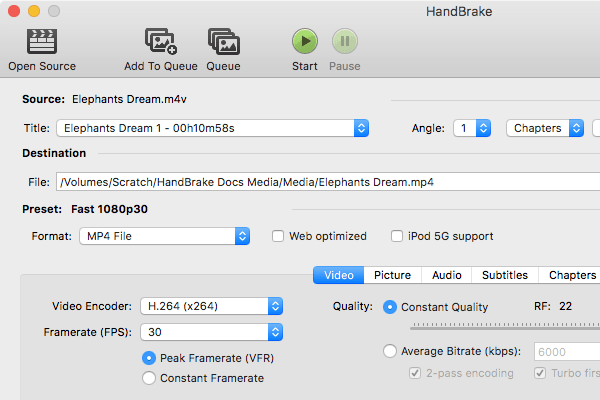 Extending Reading: Blu-ray Protection
Normally, the Blu-ray Discs you can purchase from the market today are protected by different Blu-ray protections, which are some encrypting technologies used to lock up Blu-ray media from being played or copied illegally.
There are 3 main types of Blu-ray protection you can mostly see, including:
AACS Encryption
BD+ Protection
Cinavia Protection
Because of these Blu-ray protections, you can't directly rip Blu-ray to MKV at all. Instead, finding a tool working to bypass them can only help. So if you get a protected Blu-ray Disc and want to rip it to MKV, you need the software supporting to process these types of Blu-ray protections, and VideoByte BD-DVD Ripper can be the best choice supporting all of them!
FAQs About Ripping Blu-ray to MKV
How to Check Whether a Blu-ray Disc Is protected or not?
Normally, the encryption method used by the Blu-ray Disc will be presented on the appearance of the disc. You can turn around to check the disc and see the protection method logo printed on it. If the Blu-ray Disc doesn't show an encryption logo at all, it means that it is completely protection-free.
Is It Illegal to Rip Blu-ray?
If you only rip Blu-ray for personal use, such as collecting for watching personally, or to back up the movies to avoid disc damage, it is completely legal. But when you use the ripped Blu-ray movies for any commercial purposes and lead to actual loss of the disc issuers, you will be accused of breaking the copyright laws.
What Is the Best Software to Convert Blu-ray to MKV?
In most cases, we will consider the ripper to be safe enough and can work to rip high-quality Blu-ray movies without quality loss at the quickest speed to save time and effort. So considering all these aspects, VideoByte BD-DVD Ripper is recommended as the best one to rip Blu-ray to MKV at present.
When all these 3 methods contain both pros and cons to rip Blu-ray to MKV, you can select the best option based on your real needs. But to compare them, VideoByte BD-DVD Ripper can surely bring the most professional help, with high quality, fast speed, and also more customized options. You can freely install it and try now!