As you know, Apple doesn't give its Mac computer the capacity to play the majestic Blu-ray discs. But that hasn't stopped the video enthusiasts to enjoy high definition Blu-rays on Mac. You can hook up an external Blu-ray drive to your Mac and watch them, or rip the Blu-ray to your Mac local hard disk, so that you can keep Blu-ray discs from scratching and watch them at any given time. This page will describe the best way to rip the Blu-ray movies to Mac easily and quickly.
How to Rip and Convert Blu-ray on Mac
To make full preparation before the task, here I listed essentials what you will need:
Blu-ray drive. Since almost all Macs haven't shipped with an optical drive, you need to get an external Blu-ray drive for ripping Blu-ray disc on Mac.
Hard drive space. As Blu-ray disc stores a large amount of data, the amount of free space required depends on what Blu-ray you have and the quality you want in your final movie file. Generally, 30 to 60GB of hard disk space should suffice.
A nice Blu-ray Ripper. Last but not least, a perfect Blu-ray ripper will let you get twice the result with half the effort. There are a ton of Blu-ray disc ripping and encoding programs out there, but I will recommend you the VideoByte Blu-ray Ripper.
VideoByte BD-DVD Ripper is a full-featured Blu-ray ripper software for Mac OS and Windows. With it, you can easily rip and convert Blu-ray movies to more than 300 output format choices efficiently and effortlessly. What's more, this Blu-ray ripping tool provides the various predefined output profiles for popular digital devices, such as Apple iPhone/iPad/iPod/TV, Samsung/Sony/LG/Huawei smartphones/tablets or PS3/PS4 game console, etc. for easier enjoyment. It also allows you to personalize your videos with the built-in powerful editing features.
So, now that you have your Blu-Ray drive and the best ripping tool, I'll guide you through the process of transferring an entire Blu-ray onto your Mac, and then play it with QuickTime or edit with iMovie. The whole process is easy enough for both advanced user and newbie.
The Windows version of VideoByte BD-DVD Ripper released a new version which has big changes compared with the old version. But the new version for Mac is still under the development. That means the interface and the operation of Windows and Mac will be different.
Steps to Rip the Blu-ray to Mac with VideoByte Blu-ray Ripper
Step 1. Add Blu-ray Content into the Program
Put the Blu-Ray disc into BD-ROM and run VideoByte Blu-ray Ripper for Mac. Click on "Load Disc > Load BD Disc", browse to target drive and load your Blu-ray movies. The Blu-ray titles and chapters will be listed on the program within a few seconds depending on the content of your disc. After loading, you can select subtitles and audio tracks for each title and preview source files. Batch conversion and file merging are all supported.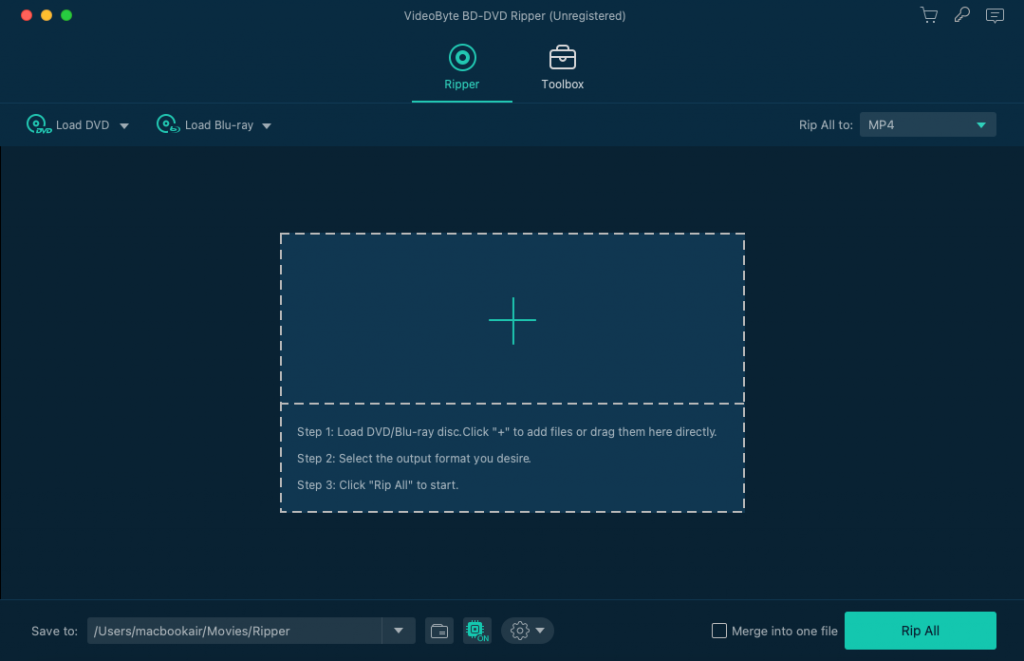 The program supports ripping both Blu-ray and DVD disc, so here you can also import DVD sources to rip.
Step 2. Set Output Format
This step is pretty easy, just click "Profile" button and a drop-down menu will open, scroll up and down with your mouse to view and choose an output format for the resulting video. Choose QuickTime compatible formats, like MOV, MP4, AVI as output format or find a corresponding device from the digital device group.
Next, optional, click "Settings" icon to bring up a new window, where you can customize video and audio parameters, such as resolution, bitrate, frame rate as well as audio bitrate, sample rate, etc.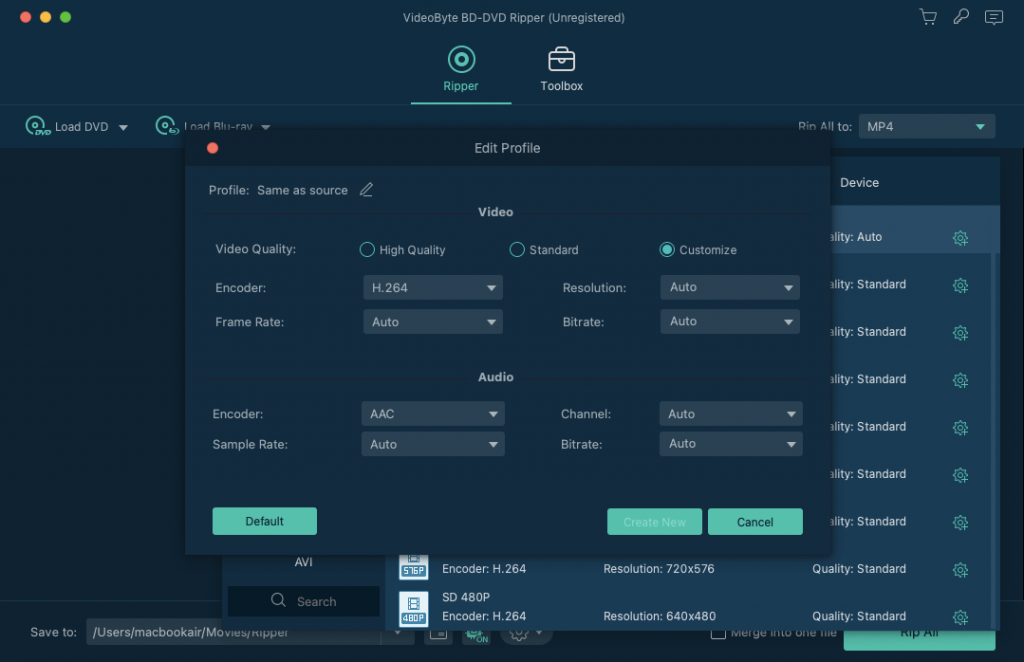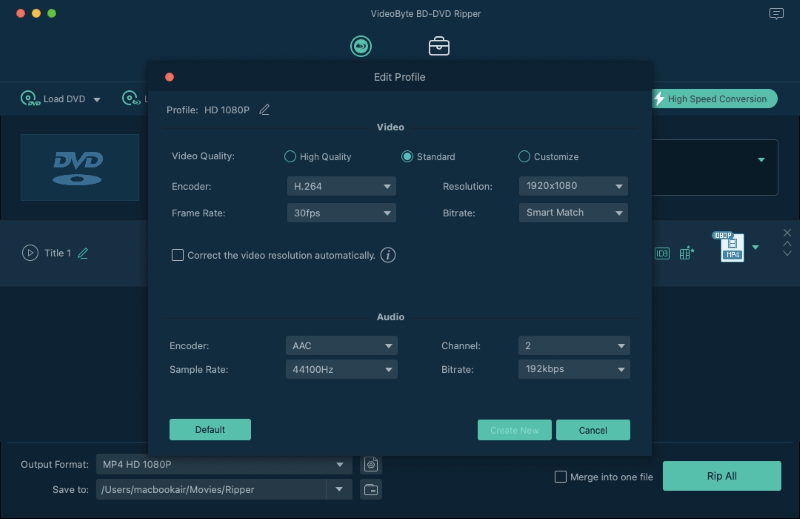 Step 3. Edit Video (Optional)
This Blu-ray Ripper for Mac allows you to clip output files and remove the unwanted segments. In addition, it enables you to crop, rotate, add 3D or watermark to the videos. What's more, you can also adjust other effects like brightness, contrast, saturation and hue of the video.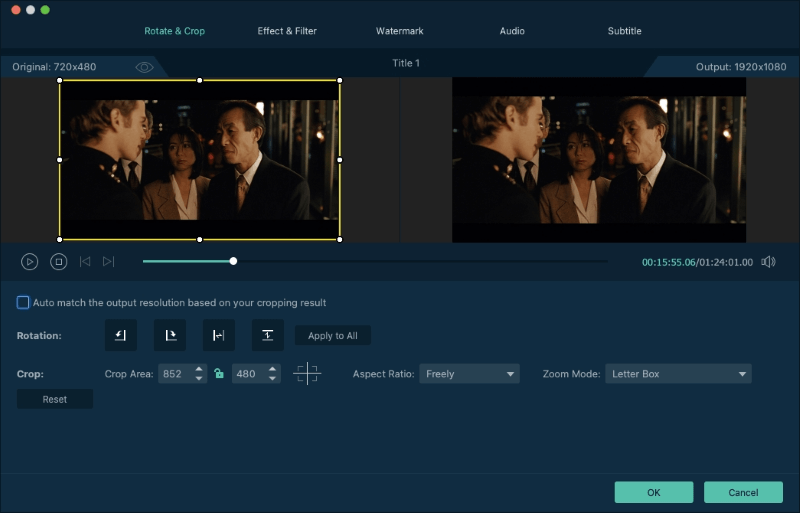 Step 4. Start Ripping Blu-ray to Mac
When you have all previous steps set how you want, click the "Convert" button to start ripping Blu-ray to Mac. From the pop-up window, a grey bar will show you the progress of the encoding. The elapsed time and remaining time are calculated for you. You can set "Shut Down Computer" or "Open Folder" automatically after conversion.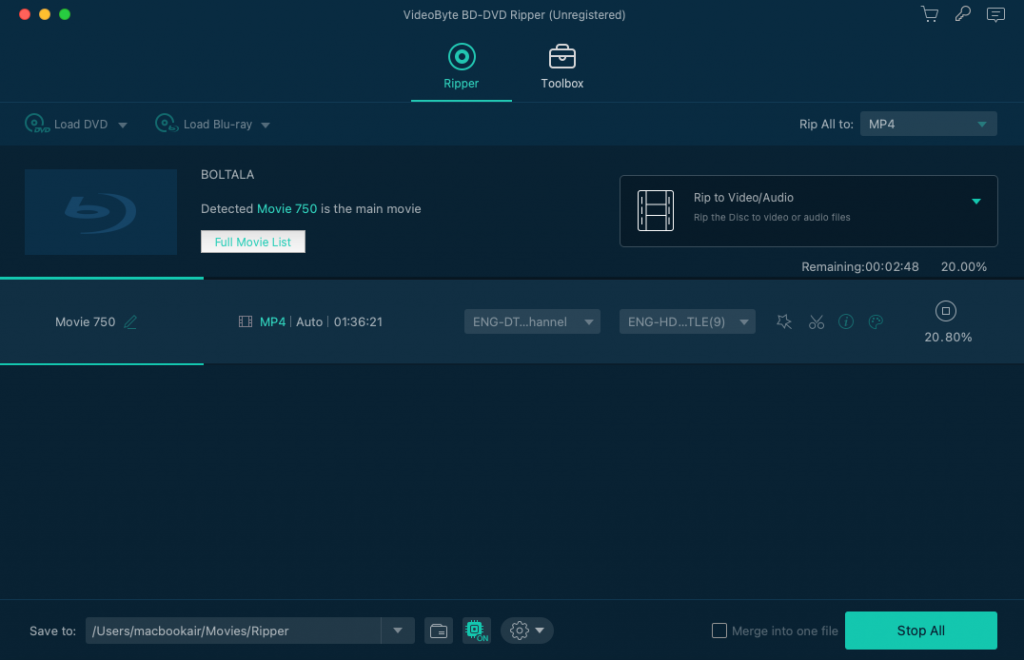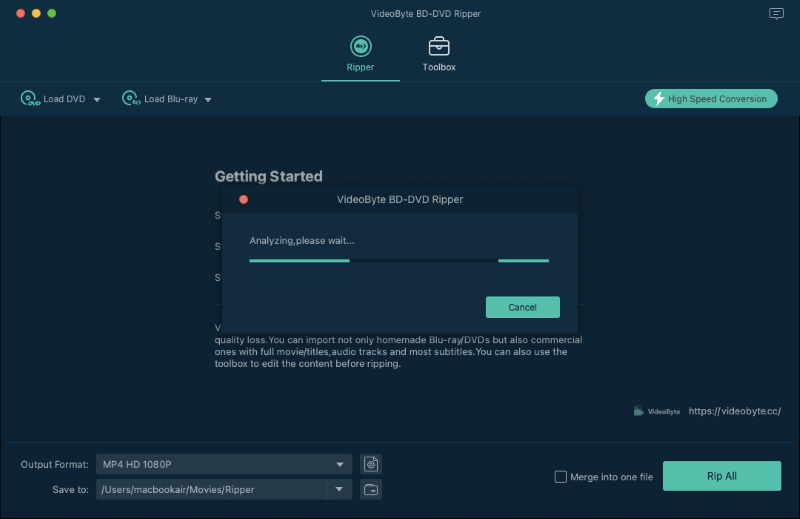 When the conversion complete, you can watch the newly created file from Blu-ray on QuickTime Player and edit with iMovie. But how to do that? Keep reading to find the short tutorials.
External User on Mac - Play/Edit the Ripped Blu-ray Disc
Play Videos on QuickTime:
First, open a video file in QuickTime Player, double-click the file in the "Finder" or choose "File > Open File". Then use the playback controls or Touch Bar to play the file. You can explore more tips on their official QuickTime Player Help.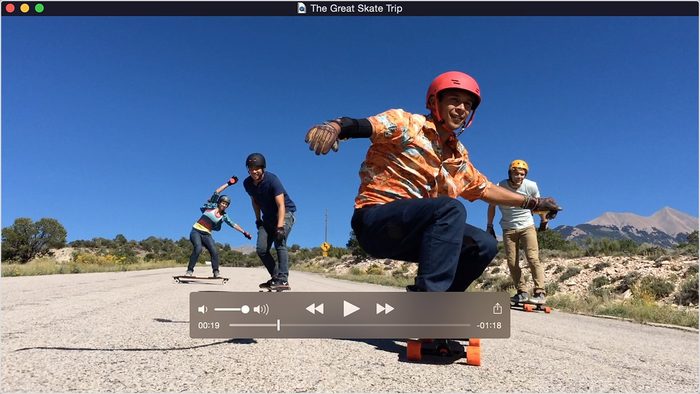 Edit Videos with iMovie:
The latest version of iMovie includes options to modify and enhance video color settings, crop and rotate of a video clip, stabilizing shaky videos, adding video "effects" (such as fade), and changing the speed (speed up or slow down) of clips. iMovie can also manipulate and enhance the audio of a project by reducing background noise and boosting audio levels of quiet clips.
Choose "File>New Project"
Type a name for your project.
Select the aspect ratio (or screen dimensions) for your movie.
Choose the frame rate.
Click a Project Theme thumbnail to select a theme to apply to your finished movie.
Click Create.
If you need more topics and resources for iMovie, just find it from official iMovie Support.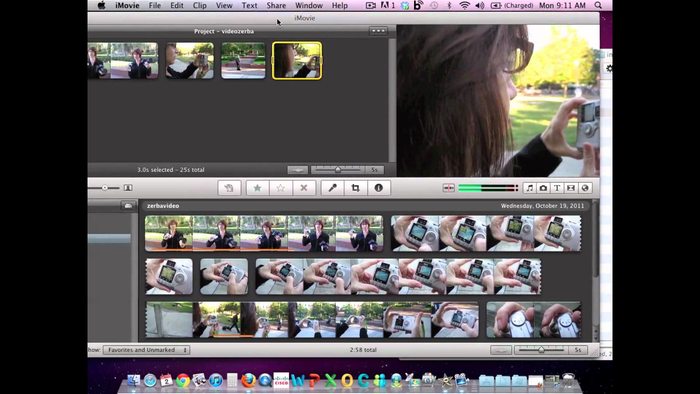 Ripping a Blu-ray to Mac can be a nightmare if you don't get the right direction. Thankfully, there are plenty of ripping utilities you can try to make the process easy. When choosing a Blu-ray ripper, top considerations are video quality, ripping speed and usability.
VideoByte BD-DVD Ripper is the best option for serving your purpose.