How to Play DVD on MacBook Air (3 Best Ways)
Optical drives are uncommon nowadays for new MacBook Air, so it's hard to play DVDs on MacBook Air directly. If you are Mac users, you have to buy an external optical drive so as to enjoy watching movies and videos on DVDs.
However, you cannot play commercial and protected DVDs even with Apple USB SuperDrive. Therefore, no need to waste $79. This article will provide 3 different methods that you can choose according to your current needs.
Play DVD on Mac by Ripping Protected DVD to MP4
Many DVD players are unable to play protected or commercial DVDs on MacBook Air. There are restrictions set in DVD with Digital Rights Management to prevent buyers from accessing the data. So, this brings up a nuisance - How to play encrypted DVDs on MacBook Air? The first method is listed below.
VideoByte BD-DVD Ripper
is an expert helper for DVD conversion, be it unprotected or protected. The software runs an advanced decryption technology to decode and rip DVD to digital media files in HD MP4 and MKV with ease. Since then, you are allowed to play DVDs directly on any player or transfer movies/videos to another device.
What VideoByte BD-DVD Rippet Can Do?
Professional decryption for commercial and protected DVDs.
Intuitive operation in the whole process.
High quality and lossless quality output available.
Ultra-fast encoding performance.
Extra Toolkit for video compression & enhancement.
How to Rip and Play DVD on MacBook Air?
Ripper software is indeed foolproof to use even for novices. Follow the tutorial and it takes only a few minutes.
STEP 1. Get VideoByte BD-DVD Ripper
Complete the setup and click the icon to start up the program.
STEP 2. Insert Commercial DVD
Commercial and encrypted are fully supported. You should insert the DVD you want to rip and choose Load DVD - Load DVD Disc to start loading the DVD data. After that, you should see a movie list and select all or some of them to rip.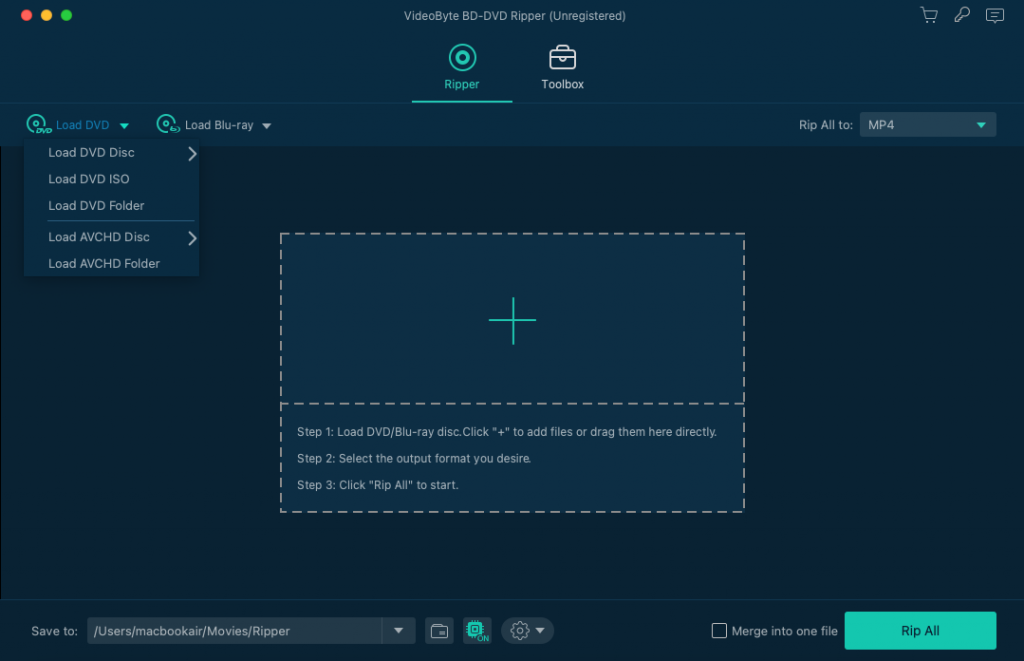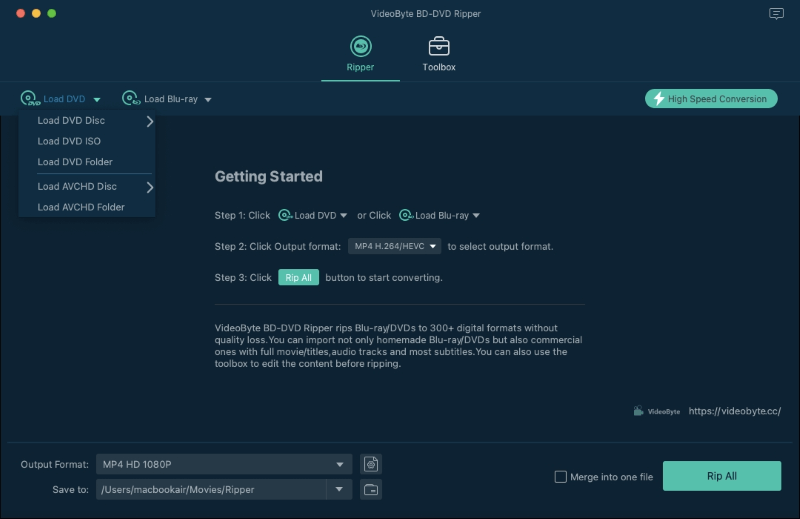 STEP 3. Start Ripping DVD to MP4
Click
Rip All to
and a dropdown menu is displayed. You can see options with different resolutions in the
MP4
section. For a lossless video format, consider
ripping DVD to MKV
. Pick your desired choice and click
Rip All
to start the encoding process.
To have better output quality, you can switch to High quality in the MP4 section.
To boost up the encoding process, enable Hardware Acceleration in Preference.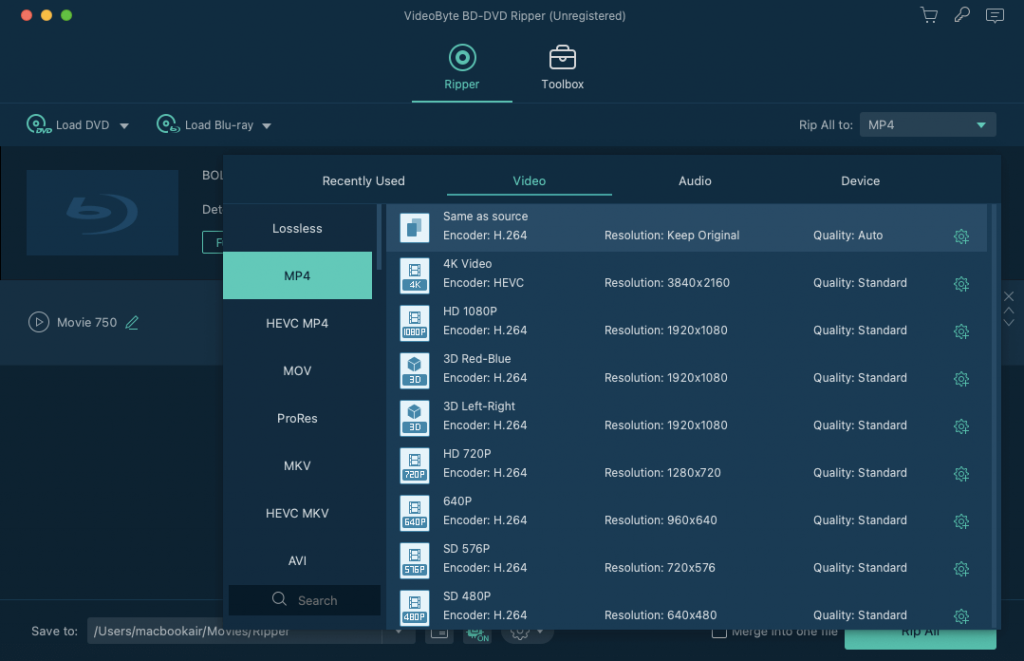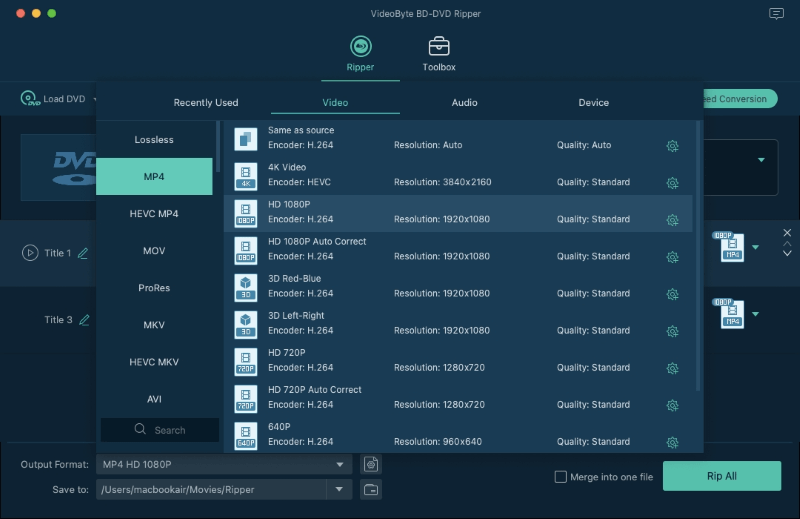 It takes no time to finish the process. Now, the protected DVD will be transcoded and you can play the videos on any player without restrictions or an optical drive. Here, you may need a superb media player to enjoy a cinema-like experience. Let's get down to the next part.
Play Converted DVD on Mac via Region Free Blu-ray Player Software
After you rip DVD to MP4, you can play it with almost all media players. But if you want to have the same movie-like enjoyment as the original DVD can offer, you need to select a reliable player. Here we recommend you VideoByte Blu-ray Player, an applicable media player that allows you to drag the MP4 file to the player interface for playback.
VideoByte Blu-ray Player Mac version is a wonderful media player that not only supports MP4 and other commonly-used formats playback, but also play Blu-ray movie with the original quality. Therefore, with this helpful tool, you can play the ripped MP4 content that comes from DVD smoothly with high quality reaching 4K. To know more about VideoByte Blu-ray Player, you can view the following list:
Highlighted Features of VideoByte Blu-ray Player
Advanced DVD/Disc decryption technology.
Region-free DVD Player.
Intuitive interface for users.
Fast DVD/Disc loading speed.
Superior playback with 1080P HD, 4K Ultra HD quality.
GPU acceleration for smooth playback.
How to Play Videos ripped from DVD on MacBook Air?
Now that you have already finished the conversion to rip DVD to digital files in the first part, let's take the steps below and dive into the online cinema to enjoy an excellent movie for leisure.
STEP 1. Launch VideoByte Blu-ray Player
Click on the Download button above to automatically download the compatible installation pack. Then, simply follow the on-screen instructions to finish the setup. Now, launch it.
STEP 2. Open to See a Movie
The interface has a simple and intuitive user interface. To play the MP4 file you just rip from the DVD. Click the Open File option and navigate to the file manually.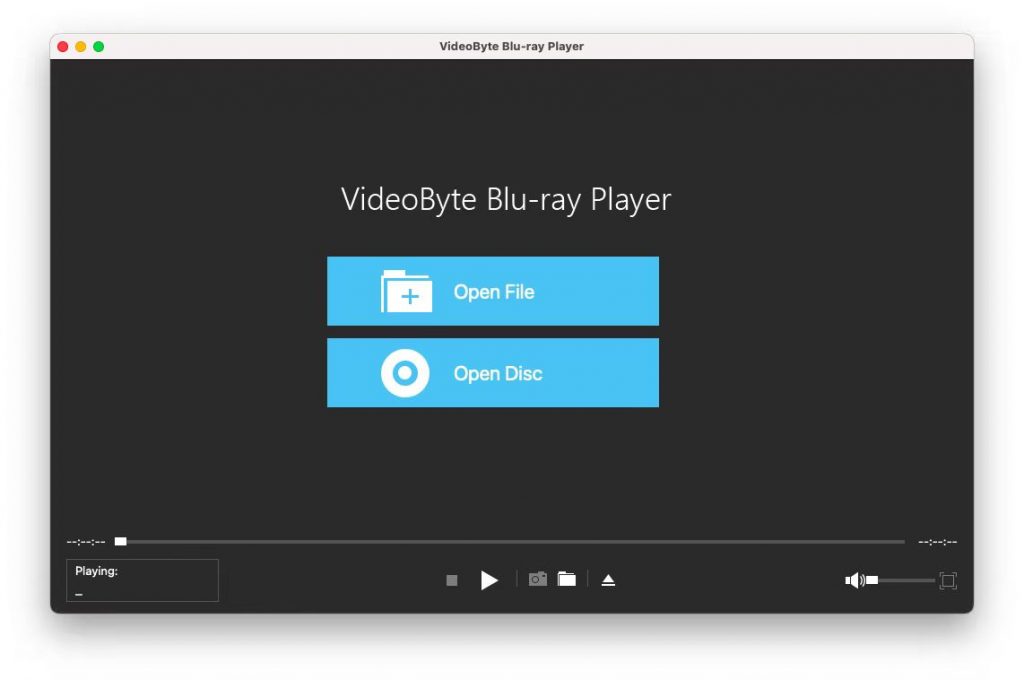 After the loading is completed, you should see the movie. Start your fantastic trip by clicking on the Play Movie button. You are able to play another video by Chapters. Now, prepare some snacks and have fun.
Play DVD on Mac with Built-in DVD Player App (Unprotected DVDs Playback Only)
Mac computers also come with a built-in DVD Player that allows users to play homemade DVDs. However, you should learn in advance that:
It cannot play commercial and protected DVDs.
It cannot play Blu-ray discs.
It cannot play region-restricted DVD and discs.
You need an Apple USB SuperDrive as an external optical drive.
You cannot choose videos or movies manually.
There are a few steps for you to know how to play DVDs on Mac.
STEP 1. When you insert your DVD into Mac, the DVD Player should automatically launch. If not, open it in the Application folder.
STEP 2. Insert the DVD onto Mac. If your Mac doesn't have an optical drive, you should buy an external drive for help.
 STEP 3. The movie will automatically play as a rule. If not, press the Space bar to start.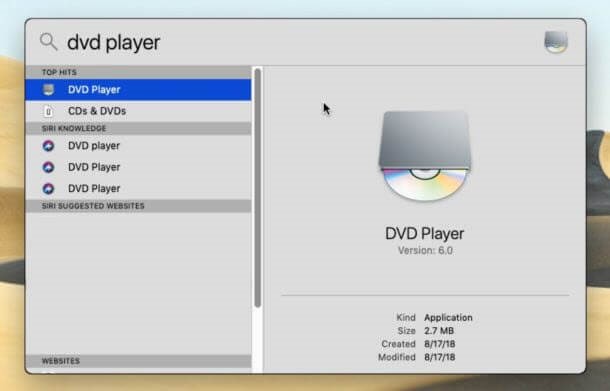 It's easy if you want to play your own DVD on MacBook Air directly with its DVD Player. You may nevertheless try the help of professional software - VideoByte to rip and play commercial DVDs in MP4 files. Hope this post resolves the nuisance. If you're having any problem, welcome to leave it below.