It's no accident that Blu-ray videos grow prevalent for a congenial watching experience with a high resolution of 1080p and almost lossless sound quality. The pity is that, though, Windows Media Player's incompatibility resists any attempts to open a Blu-ray disc.
But, such plight can be salvaged in some form, and that's what we are to debate to make Blu-ray disc available on Windows Media Player. (Keep reading and you'll know more)
Why Windows Media Player Fails to Play Blu-ray Videos
Fortunately, the Blu-ray problem on Windows Media Player is not a hard text to read. But it should be admitted that the liability rests with both parties. That is, the specialties of the Windows Media Player and Blu-ray format itself result in the current playback failure.
1.As regular customers know, Windows Media Player is not granted extensive compatibility as designed a basic player for Windows OS. Normally, it can support common video formats such as WMV, MP4 and AVI, but falls short in some special issued formats like Blu-ray.
2.The Blu-ray discs are specially treated that you need the related codec to process it. So, the Windows Media Player fails to play Blu-ray movie due to the lacks of certain codec.
3.Some Blu-ray discs are forced upon DRM encryption and region code lock to defend against illegal abuse, has compounded the situation.
Get Windows Media Player Blu-ray Codec
As mentioned above, Windows Media Player cannot play Blu-ray videos due to the deficiency in Blu-ray codec. So comes the idea that a Blu-ray codec supplement to the player would do a good favor. By installing a proper Windows Media Player Blu-ray codec/plugin, Windows Media Player can play the Blu-ray movie successfully.
At present, there are a string of Windows Media Player Blu-ray codec packs available on market. For example, you can resort to Windows Media Codec Pack or Media Player Codec Pack. Or the website is worth having a careful look.
Play Blu-ray on Windows Media Player with Alternative Software
If you don't want to download the unknown codec from Internet, you can choose to rip your Blu-ray disc to Windows Media Player supported format. Of course, there are so much program out there that allows you to quickly convert Blu-ray to digital files. Here, VideoByte Blu-ray Ripper is our choice.
At first, let's know some basic information about VideoByte BD-DVD Ripper. This program is a good helper for the people who need to rip Blu-ray or DVD disc to common video format for flexible playback. By ripping the disc to digital, you can transfer the Blu-ray movie to your phone, tablet, or other portable devices for playing without a Blu-ray/DVD drive. With the advanced GPU acceleration technology, the ripping process will be 6X faster than usual.
• Download the VideoByte Blu-ray Ripper from the button above, and the install it on your Windows computer.
• Insert the Blu-ray disc to your external Blu-ray drive.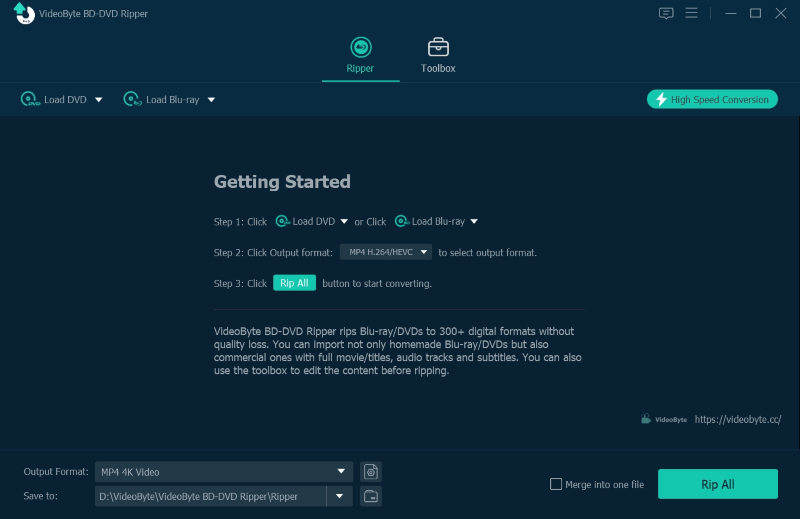 Step 2. Load the Blu-ray Disc
Click on the "Load Disc" button to import the Blu-ray content to this program. It will takes you 1-2 minutes to finish the loading.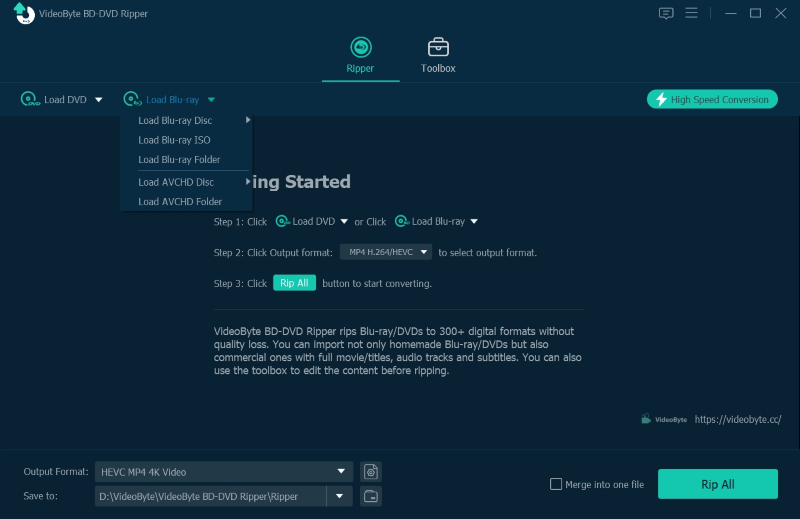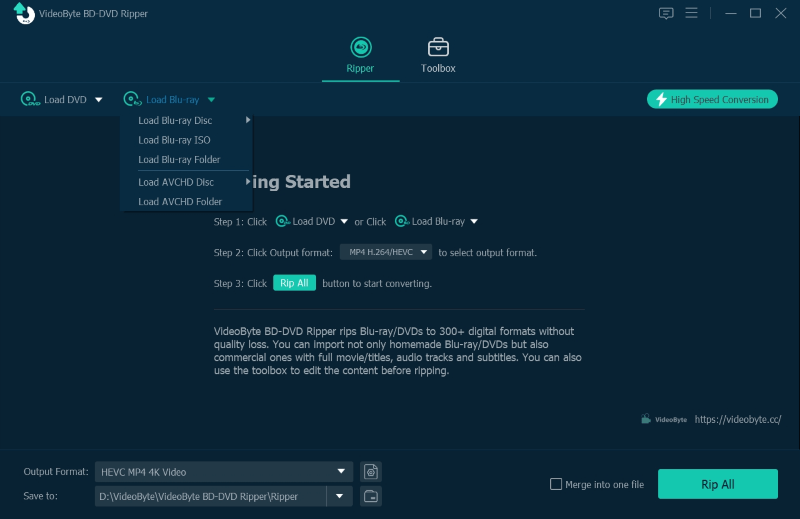 Step 3. Choose the Output Format
Now you need to select a output format that supported by Windows Movie Player, such as MP4 and WMV. As there are so many preset format, you can use the "Search" feature in the "Profile" Window.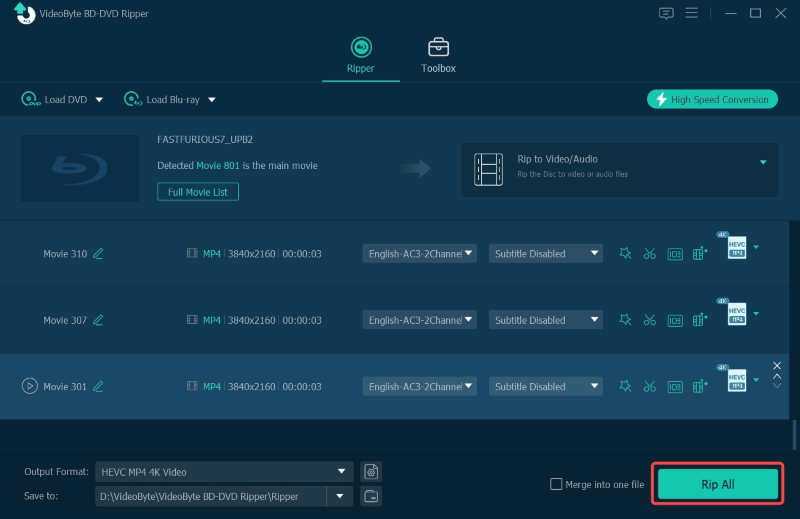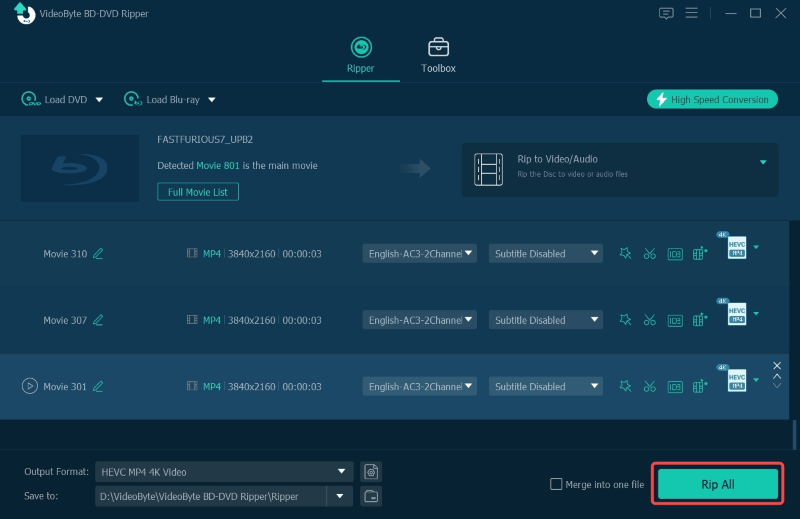 Step 4. Start Blu-ray Ripping Process
To change the output folder path, you can click "Browse" button on the bottom of main interface.
Then, you can start ripping your Blu-ray disc to Windows Movie Player via clicking the "Convert" button.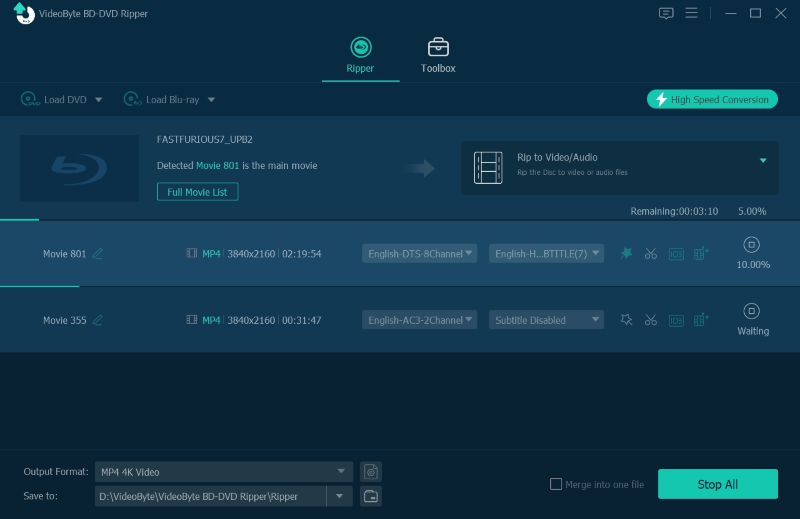 When you get the Blu-ray movie in digital format, you can open it with the Windows Movie Player easily.
Try Other Blu-ray Player Software
Besides these methods above, you can try other alternative players to help you play Blu-ray on computer. The related methods were all wrote in the posts below:
How to Use VLC to Play Blu-ray on Windows PC
How to Play Blu-ray Disc on Computer
Today, we listed all possible methods which can help you play Blu-ray disc with Windows Media Player. It would be grateful that you can manage to play Blu-ray on your Windows computer from our advice.