How to Play Blu-ray on Laptop [All Windows & Mac]
Almost all blockbusters will be on sale on Blu-ray. But as laptops are getting thinner and lighter, CD-ROM drives have long since ceased to be common hardware equipment. Thus, how to play Blu-ray on laptops seems to be an intractable problem. Then what other solution can you have besides using external drivers? In this post, you can learn the other best solution to help you play Blu-ray on Windows and Mac with no sweat. Now, let's dive in!
Preparations for Playing Blu-rays on Laptop
A Blu-ray player is the basic element for playing a Blu-ray disc. And before you play a blue-ray disc on laptop, there are three things that need to be confirmed:
Blu-ray disc: the loader of Blu-ray videos.
Blu-ray drive: the bridge to connect Blu-ray disc and your laptop. Blu-ray discs can only be played on a device with a Blu-ray drive.
Blu-ray player: a good Blu-ray player is the key point for getting a better experience of watching Blu-ray videos.
If your laptop carries its own Blu-ray drive, you need to choose a Blu-ray player and then you can play Blu-ray on laptop. But as most laptops have only a DVD drive, you need to buy an external Blu-ray drive that matches your laptop, and choose a Blu-ray player and then you can play it.
A good player makes a great difference in the feelings of watching Blu-ray videos. On the market, there are many kinds of players for selecting, but some of them will make the quality compressed, thus, the quality will not be like the original Blu-ray one. So I would like to recommend a useful tool to you--- VideoByte Blu-ray Player, a player that helps you to watch Blu-ray videos without losing images and audio qualities.
How to Play a Blu-ray Disc on Laptop with the Best Blu-ray Player
VideoByte Blu-ray Player is a professional Blu-ray player for both Windows and Mac. It is designed to play Blu-ray, DVD, or 4K videos on computers. No matter which type of Blu-ray, homemade or commercial Blu-ray disc, they are supported by VideoByte, including Blu-ray disc, DVD Disc/Folders, etc. Then you might wonder, since there are many Blu-ray rippers in the market, what makes Videobyte BD-DVD Ripper special? Why should you choose it but not others? Here come its advantages:
VideoByte Blu-ray Player Superior Features:
Free from protection restrictions, it plays Blu-ray of regions A, B, C
Excellent playback of 1080P/4K quality videos, superior Blu-ray decryption technology, and minimal quality frame loss
Support all kinds of Blu-ray items or regular items and cover all types of media formats
Convenient and clear menu lists for easy operation
Keep all images and audio as the original, home theater experience
Support snapshot and video effect adjustment
Help to cool down CPU quickly and save power.
From the above, you can see that there are many advantages to using VideoByte Blu-ray Player to play Blu-ray disc. So, how to get this useful tool for your laptop? After you installed and registered, please operate it by the following steps.
Step 1. Get Preparation and Open VideoByte Blu-ray Player
Before you run the application, connect the Blu-ray drive to your laptop. Also, the player needs to connect to the internet to decode the Blu-ray disc, so make sure that the internet is connected before you open the player. After preparation, open the VideoByte Blu-ray Player.
Step 2. Insert Your Blu-ray Disc to the Drive
Choose the Blu-ray disc from the drive, and then click on the "Open Disc" button on your screen. After your operation, a window will pop up for you to select.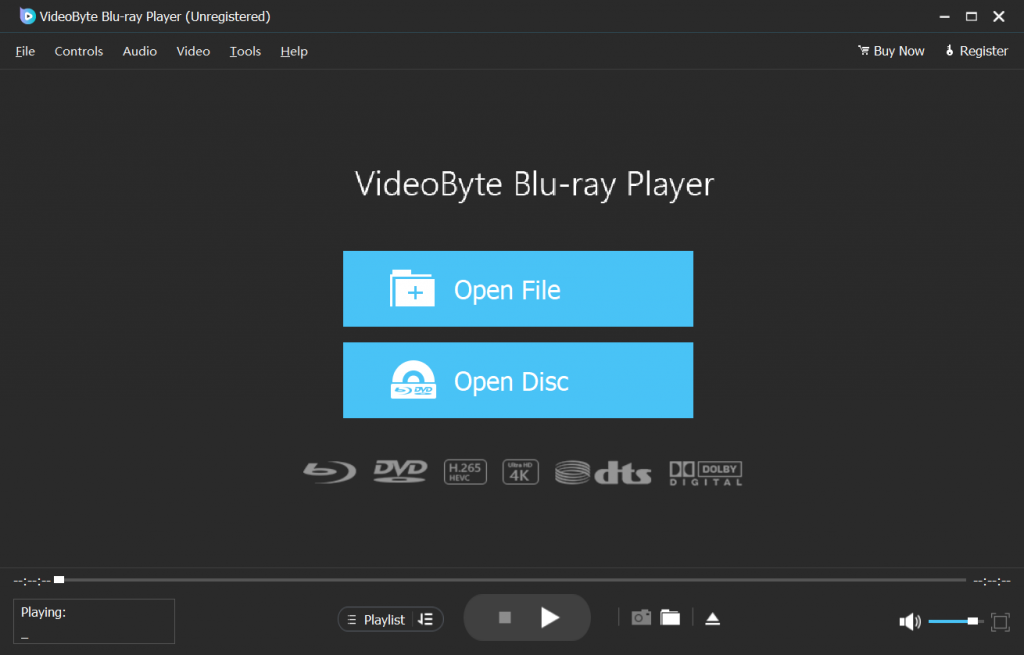 Step 3. Play and Enjoy Your Blu-ray Movie on Laptop
For this step, after a few seconds loading of the Blu-ray movie, you can start watching. You can see the navigation menu with "Play Movie, Chapter, Audio Tracks, Subtitles and Other Titles", which means you can choose the chapter and the audio you want. You only need to click the "play movie" button then you can enjoy your movie.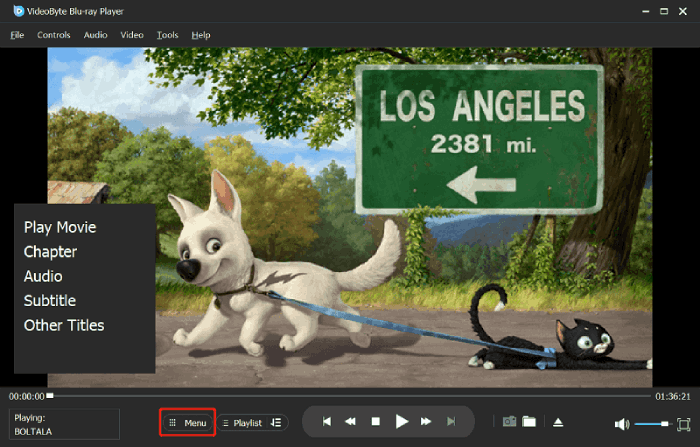 Playing Blu-ray on laptop makes you enjoy Blu-ray HD movie at anytime and anywhere. With advanced Blu-ray decryption technology, VideoByte Blu-ray player offers you the same viewing experience as that in the cinema, which means that you can watch the original Blu-ray movie on your own laptop! If you want to watch Blu-ray movies without quality loss, I believe VideoByte Blu-ray Player must be the best choice for you. So just don't hesitate to download it for a try!