How to Play Blu-ray ISO on PC & Mac (3 Ultimate Ways)
These days, watching Blu-ray movies is not limited to inserting and playing discs. For backup purposes, many people are saving movies from Blu-ray discs as ISO image files on their PCs for backup purposes. This method is not only practical but convenient, as ISO files also eliminate the need to use discs and optical disc drives.
However, not all media players support ISO files, so it's important to choose a professional Blu-ray ISO player that can read and smoothly play back your Blu-ray collections so that you can fully experience the excellent visual and audio effects.
Therefore, without further ado, let's now dive in and discover how you can unlock the full potential of your Blu-ray ISO files on your PC or Mac!
Method 1. Playing Blu-ray ISO with Best Blu-ray ISO Player (Recommended)
Choosing a full-featured Blu-ray ISO file player with a user-friendly interface and versatile decoders can definitely improve playback performance and ensure a smooth experience. Among optimal Blu-ray ISO player selections, VideoByte Blu-ray Player is one of the most efficient software that provides Blu-ray discs, folders, and ISO file playback functions.
As a player that can bypass regional Blu-ray protections such as AACS, BD+, Cinavia, etc., VideoByte Blu-ray Player provides the software a functional basis to read the message contained within the ISO such as the content, subtitles, audio, and so on. Moreover, due to its GPU acceleration technology that keeps fluent playback, coupled with its support of 1080HD, 4K Ultra HD quality, you can smoothly watch your favorite Blu-ray movies with simple clicks.
How to Play Blu-ray ISO with VideoByte Blu-ray Player
Thanks to the VideoByte Blu-ray player's intuitive interface design, playing Blu-ray ISO image files on the software can be a piece of cake. Let's now give it a try, and go through the procedures below:
Step 1. After downloading and installing the software, go to "file", and choose "Open File".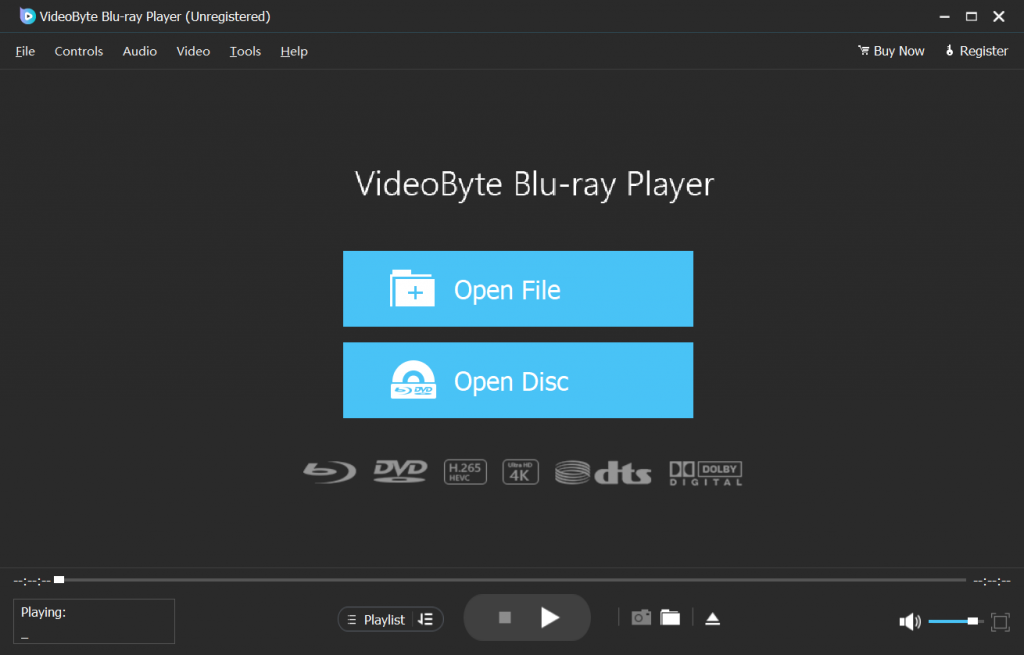 Step 2. Locate your target Blu-ray ISO image file, select it, then hit "Open".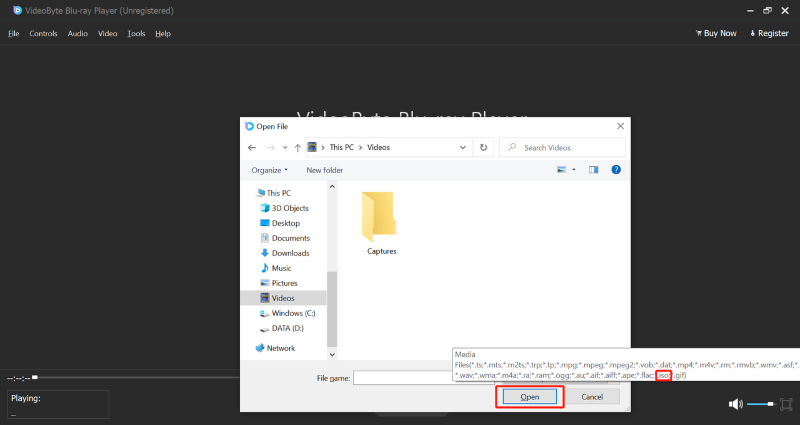 Step 3. After decoding and loading, you can play your favorite Blu-ray movies and select chapters, subtitles, audio tracks, and other titles on the Blu-ray menu.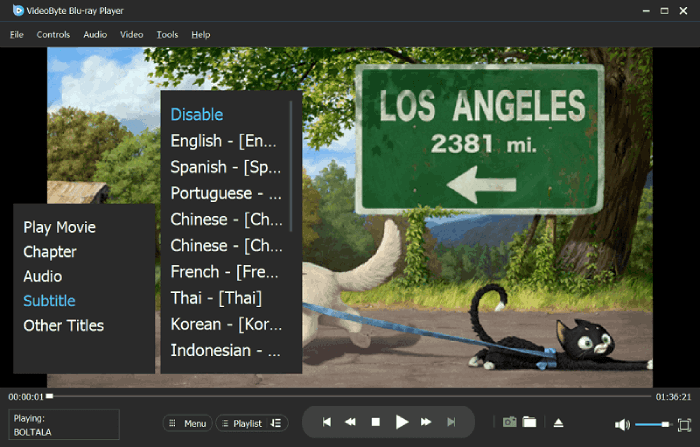 Method 2. Playing Blu-ray ISO via Mounting & Virtual Drive
A virtual drive emulates a physical Blu-ray/DVD/Ultra HD disc drive, allowing you to access and play the contents of the ISO file as if it were inserted into a real disc drive.
DVDFab Virtual Drive
is the software that is specifically designed for this purpose. Let's take Blu-ray as an example. DVDFab Virtual Drive emulates up to 18 drives and works with Blu-ray ISO images. So, in this case, to play a backup of a Blu-ray on a PC , you first need to mount your Blu-ray ISO files with DVDFab Virtual Drive, and then choose a player such as VLC Media Player that supports Blu-ray. Here are the steps for your reference:
Step 1.
Download and open DVDFab Virtual Drive, navigate to "settings", and click on the "set number of drives" section, choose your desired number of virtual drives.
Step 2.
Locate your target Blu-ray ISO file on your computer, right-click on it, and select the option that says "mount to".
Step 3.
Open VLC Media Player and choose the virtual drive where you have mounted the Blu-ray ISO file, and then you can start your playback.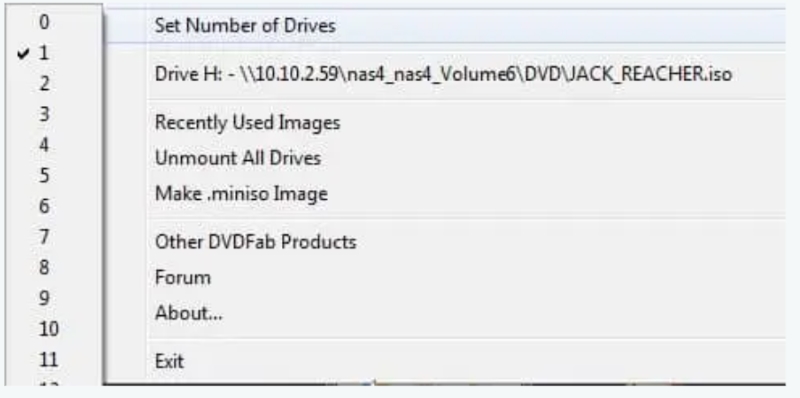 More Information: Although this method has its benefits, it also comes with some drawbacks. The entire operation process can be quite complicated, requiring you to download two pieces of software, VLC and DVDFab Virtual Drive. Additionally, when using VLC for playback, it is possible that the content section may not be available, making navigation and viewing inconvenient.
Method 3. Playing Blu-ray ISO by Burning It to Blu-ray Disc
If you still haven't found a satisfactory Blu-ray ISO player and don't want to go through the trouble of downloading a virtual drive, or your original Blu-ray disc is broken or missing, you can try burning the Blu-ray ISO file to a blank Blu-ray disc. Then select the best Blu-ray player to play.
For a reliable and hassle-free way to burn your Blu-ray ISO files, VideoByte Blu-ray Copy is a great option. It's an easy-to-use program that maintains the quality of your Blu-rays through 1:1 ratio copying and lets you preserve the original 3D effects in your movies. You can choose from four different modes - Full Disc, Main Movie, Clone, and Write Data - to copy your Blu-ray ISO files, and even select specific soundtracks and subtitles.
Now, simply follow these basic steps to burn your Blu-ray ISO to a Blu-ray Disc using VideoByte Blu-ray Copy :
Step 1. After installing the software, insert your blank Blu-ray disc into the external disc drive connected to the computer.
Step 2. Choose "Full Disc" mode. Import the Blu-ray folder or mount the ISO virtual drive in the "Source" tab.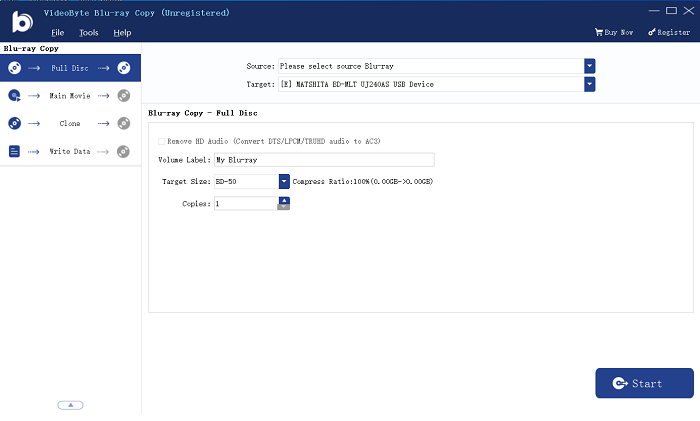 Step 3. Navigate to the "Target" section, and select the Blu-ray drive that has the blank disc.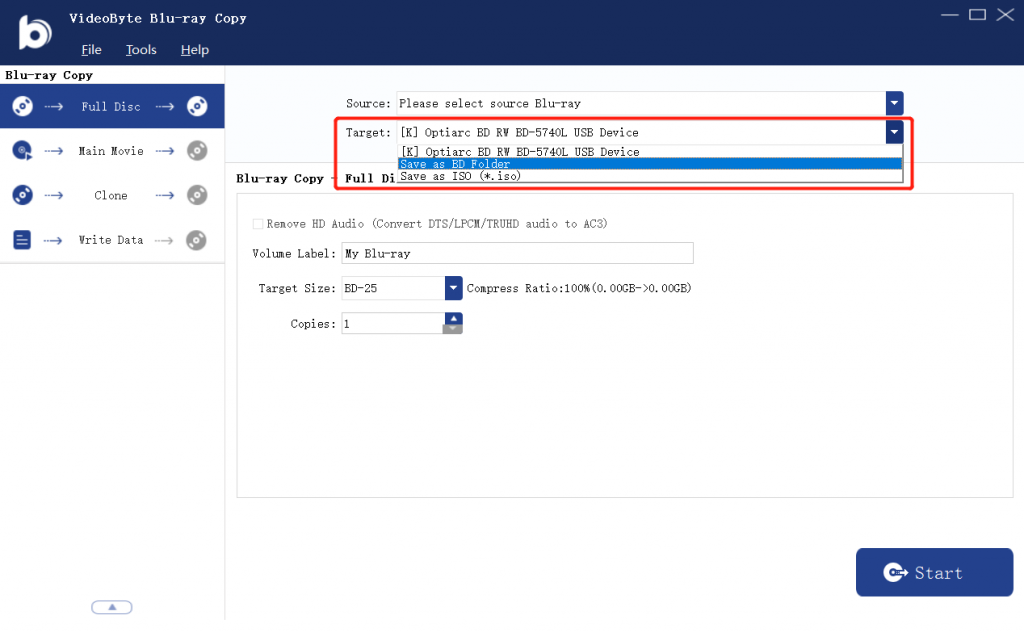 Step 4. Hit "Start" and let the burning process begin.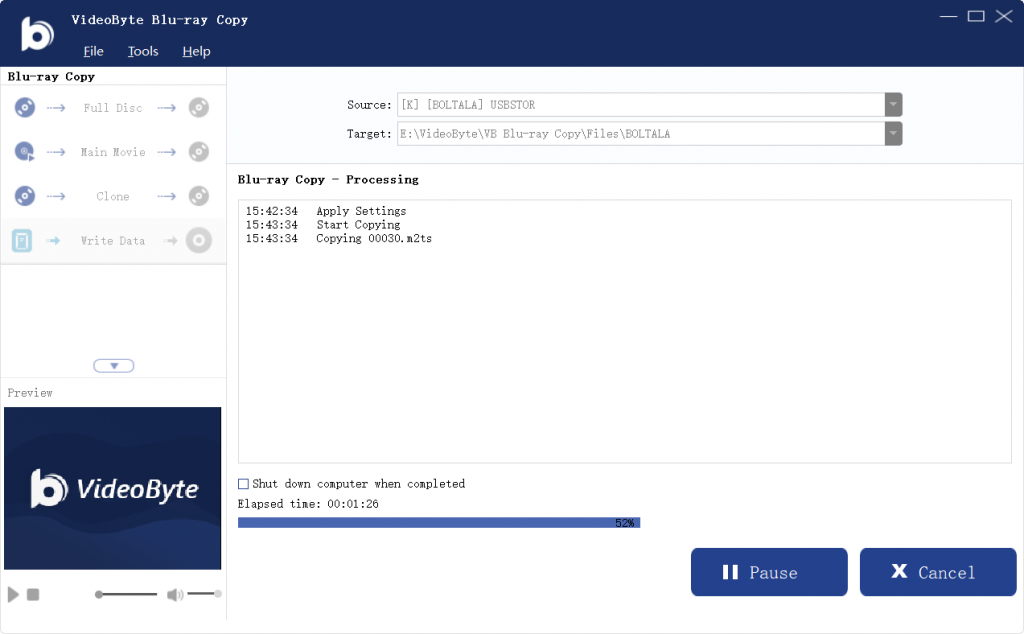 Extra Tip: What is an ISO File?
An ISO file is a disk image file that contains the entire contents of a Blu-ray CD, or DVD disc. It is an exact replica of the original disc, including the video, audio, subtitles, menus and navigation features, etc.
DVD and Blu-ray ISO files differ mainly in their storage capacity and media quality capabilities. DVDs with standard definition content and lower capacity are best suited for DVD ISO files. On the other hand, Blu-ray ISO files are ideal for high-definition content with higher-capacity Blu-ray discs.
Moreover, saving Blu-ray content as ISO files offers several benefits: it preserves the entire content and structure, saves physical space, and allows for easy sharing and transferring. Also, it retains high-quality video and audio codecs, while providing more control over the viewing experience.
By now, you should be familiar with the three best ways to play Blu-ray ISO files on both PC and MAC after reading this how-to guide. All three methods presented in this article are effective, but VideoByte Blu-ray Player stands out by offering a perfect balance of excellent Blu-ray ISO file decoding technology, efficient CPU acceleration technology, and clear picture presentation, resulting in an exceptional viewing experience.
If you are interested, don't forget to download the free trial version and give it a shot.