Can a DVD Player Play Blu-ray? [Ultimate Solution]
In the multimedia era, many of our homes have a modern DVD player as an essential part of home entertainment. Some of us desire to own a set of Blu-ray Disc players for the high-end movie-viewing experience and premium sound. But for DVD player users, you might wonder if you can play a Blu-ray Disc on a regular DVD player.
Unfortunately, despite it increases our leisure opportunities, Blu-ray discs still cannot be read by a DVD player for some technical reasons. But that does not mean you cannot enjoy Blu-ray discs with DVD player. In this post, we will tell you the reason why a DVD player cannot play Blu-ray discs and bring you ultimate solutions to tackle this problem.
Why can't a DVD Player Play Blu-ray Discs?
The main discrepancy is the disc pits & laser colors. The pits on the disc are where video and audio information is stored. In general, Blu-ray discs are mostly built with more video and audio information in the pits that DVD players can't completely read.
What's more, it adopts a blue laser to read the pits on the disc, while a DVD player uses red laser technology to scan the disc for video and audio information. That's to say, scanning a Blu-ray disc is not the same as scanning a DVD disc, which is the reason you cannot play a Blu-ray disc on a DVD player.
Tips: Why do Blu-ray Disc players play DVDs? Because manufacturers understand the technology of DVDs and think it is not a task to add a red laser to a Blu-ray drive. As a result, all the Blu-ray Disc players they built added blue and red lasers to scan older formats both Blu-rays & DVDs/CDs.
How Can You Play Blu-ray on DVD Player (Best Method)
As mentioned above, if you want to watch a Blu-ray disc on a DVD player, you do not have to buy a Blu-ray player. All you have to do is encode the Blu-ray into digital format and watch the ripped Blu-ray movie on your DVD player. If you are in search of helpful assistance, then look no further than the VideoByte BD-DVD Ripper.
VideoByte BD-DVD Ripper can rip Blu-ray discs to the format that the DVD player can recognize like MPEG-1 and MPEG-2. Therefore, if you use it to convert Blu-ray disc to the formats mentioned above, your DVD player will easily open your Blu-ray movie for you.
What's more, VideoByte BD-DVD Ripper addresses the latest protections such as APS, CSS, ARccOS, CPRM, AACS, BD+, and Cinavia, so any of your Blu-ray disc can be supported by the software. With this best-in-class DVD and Blu-ray ripping software, you can even rip your Blu-ray to digital formats that most common video players can play.
Features of VideoByte BD-DVD Ripper:
Easy to rip various Blu-ray/DVD discs, folders, ISO files
Support copy protection like AACS, Cinavia, APS, CSS
Keep Original Quality with Lossless Output
Save All the Audio Tracks and Subtitle
Faster ripping process and Flexible Parameter Settings
How Can You Rip and Play Blu-ray on DVD Player?
Step 1. Install and Download VideoByte Blu-ray Ripper
You can download a free trial to test the VideoByte BD-DVD Ripper. And then, launch it.
Note: To begin with, if you want to rip a Blu-ray to a format supported by a DVD player, you must first use a Blu-ray player that can read Blu-ray discs. But it will no longer be needed after your first conversion.
Step 2. Load the Blu-ray Disc
Connect your Blu-ray drive to your computer and insert the Blu-ray movie disc into the drive. Launch the VideoByte BD-DVD Ripper and click the "Load Blu-ray" button to import the Blu-ray content.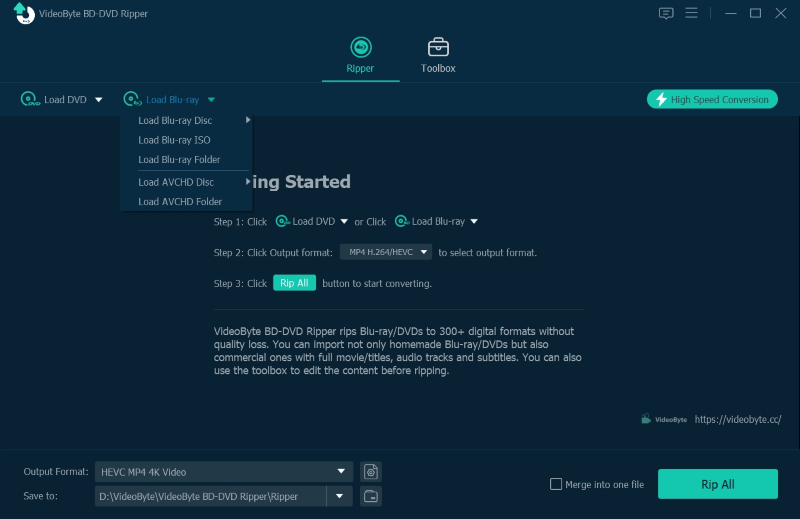 Step3. Select the Needed Content You Want to Rip
This step will automatically pick out the main movie for you. You can click the "Full Movie List" to choose different content you want to convert.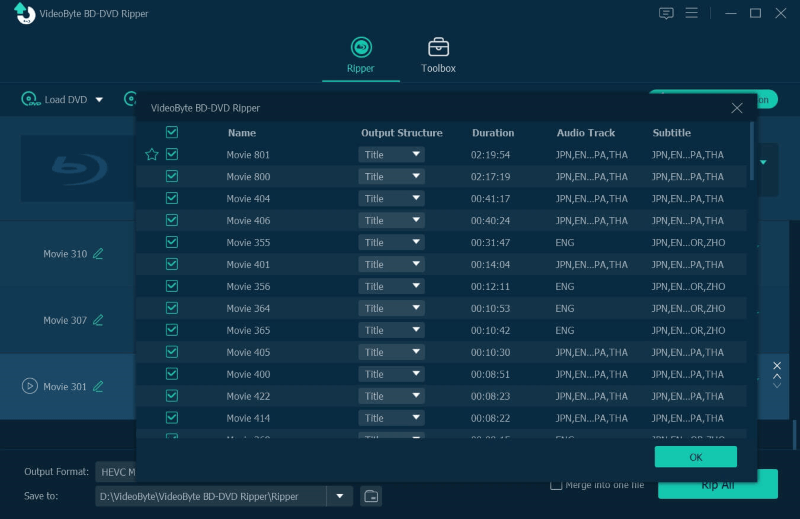 Step 4. Select the Output Format
Click on the drop-down list of the "Rip All to" button. It then pops up a window where you can choose the output format. Here, you can choose the formats that DVD player supports, like MPEG-2. You can also click on the rightmost icon of the listed movie clip to open the output window.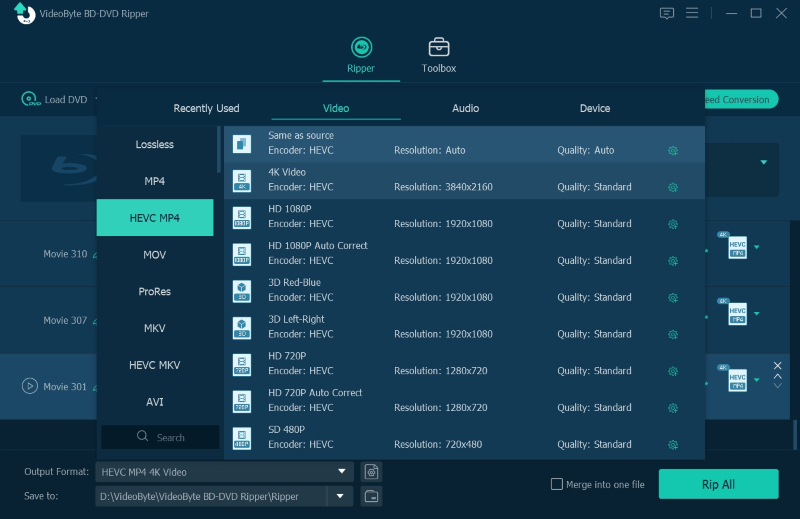 Step 5. Start to Rip
Click"Rip All" Button on the main interface to start ripping Blu-ray movie discs to digital video files. The progress bar will show you the percentage completed and the remaining time.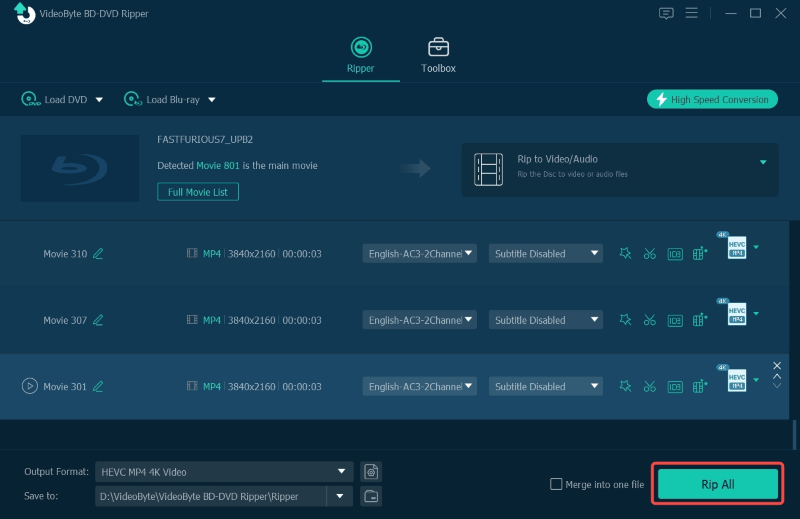 After you finish the process, you can find the ripped file stored in the chosen folder. Now, your DVD player can easily read your converted Blu-ray file. For more flexible Blu-ray movie playback, you can choose to rip Blu-ray to MKV or other digital formats that most video players support with VideoByte. There are 300+ mainstream video formats in VideoByte BD-DVD Ripper for you to choose.
Will a DVD player play Blu-ray discs? We believe you already have an answer after reading this article. VideoByte BD-DVD Ripper is fast, easy, stable, and fairly versatile to rip Blu-ray to every format. You simply download the VideoByte Blu-ray Player directly to start your high-end video journey on a DVD player.