Is Leawo Blu-ray Player safe? Can I play 3D Blu-ray disc on it? Why my Leawo Blu-ray player not working? The overwhelming majority seems to have such problems when using Leawo Blu-ray player.
You know that Leawo Blu-ray Player is a good free option for people who want to play the Blu-ray disc on computer, even it also brings some troubles. Today, we are going to make a detailed review for Leawo Blu-ray Player and give the answers for your questions about this free Blu-ray Player. Just read on if you want to know more.
Main Features of Leawo Free Blu-ray Player
Leawo Blu-ray Player
, previously available for $50, has been turned into a free program. From it's official website, we list its main features below:
• Play Blu-ray disc of all regions even that comes with different disc protections;
• Play DVD disc from region 0 to 6, even with CSS protection;
• Play common video in popular video format such as MP4, MKV, AVI, etc.;
• Play all kinds of audio files, including music, narrations, broadcast, etc.;
• Select subtitle and audio track from source media file;
• Add external subtitles for video playback;
• Provide two different kinds of menu control for the disc playing and media playback.
Actually, almost all Blu-ray player programs own these feature to play Blu-ray, DVD, and common video/audio on computer. So, the most attractive point of Leawo Blu-ray player might be free. We have downloaded it and did a test with it.
Our Test Report for Leawo Free Blu-ray Player
The installation is the same with other program. Do not have the spyware and ads. Then we comes to a clean and intuitive interface.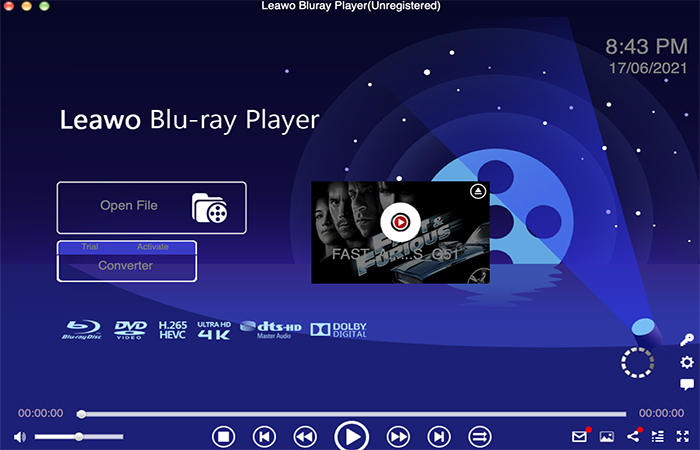 Note: The default interface doesn't have "Open Disc" option. You have to insert your Blu-ray/DVD disc into your computer. After you computer recognize it, you disc will appear on the main interface.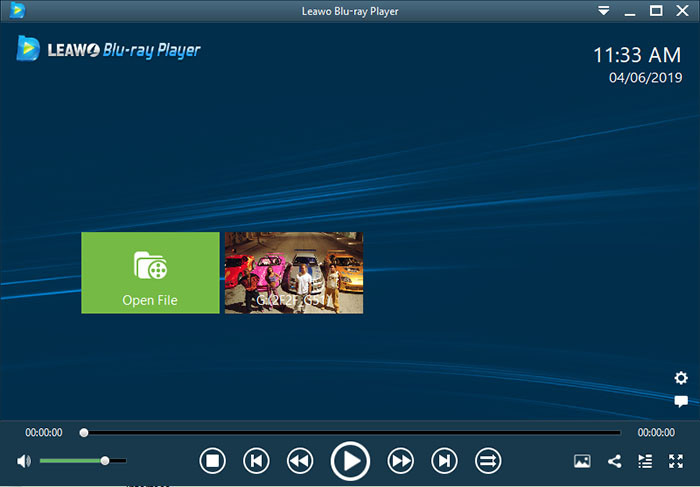 Click on the disc and it will prompt the attention that "Mouse operation on disc menu is not applicable now. Please try to use Virtual Remote Controller or keyboard". After you choose "Yes", you can select the subtitle and go the the Blu-ray menu, which comes from the source disc. From the menu, you can choose to play the main movie, select scenes, play bonus features of the movie, etc.
It takes 32 seconds to load this Blu-ray disc. And when loading this disc, the CPU it took to run is too high.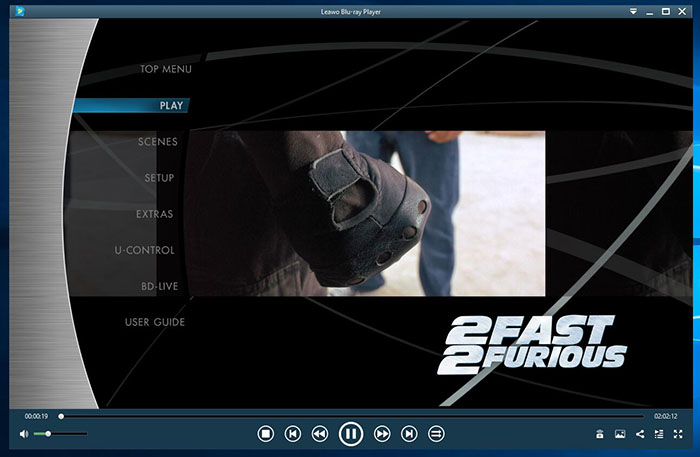 Well, now we can enjoy this Blu-ray movie on the computer with Leawo Blu-ray Player. When the movies plays to the 12 minutes, it froze and I can't even close it. We wait for a long time to let it recovery to play but it failed.
Then, we restarted this program and repeat these steps to play another disc. However it also crashed. After we tried several times, it only played one disc successfully.
In addition, there is however an annoying pop-up whenever you pause a movie asking if you want to "copy and backup the disc" - an advertisement for other Leawo software.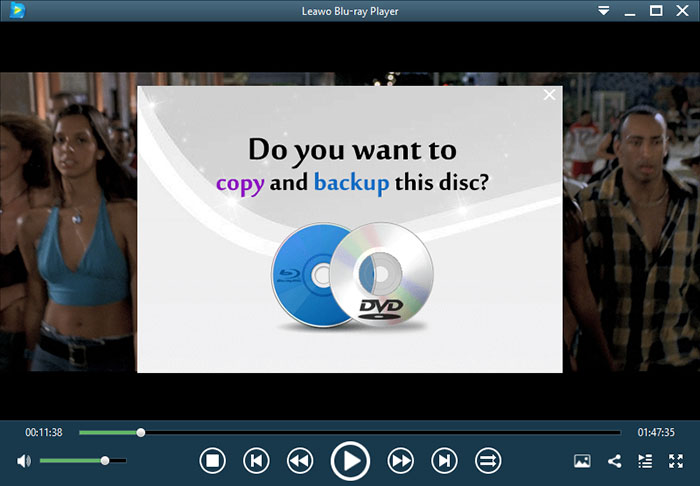 That's all for our test to play Blu-ray disc with Leawo Blu-ray Player. We also played some video and audio files with it, it just work good, without any problems. The DVD disc playback also have the same problem that it crashes most of the times.
The Pros and Cons of Leawo Blu-ray Player
According to our test, we summed up the advantages and disadvantages of Leawo Blu-ray Player. Just follow use to see it.
1.Free, simple and safe.
2.Work perfect for playing video/audio files.
3.Powerful DVD/Blu-ray menu from source disc to control the playback.
1.It has ads to recommend their software after paused the playback.
2.When playing DVD/Blu-ray disc, it crashes 9 times out of 10.
3.It uses too much CPU of your computer when using this program.
4.Actually, it can't read some protected discs.
An Alternative for Leawo Blu-ray Player - VideoByte Blu-ray Player
Comparison between Leawo Blu-ray Player and VideoByte Blu-ray Player
You should know that free options always have its limitations. Leawo Blu-ray Player is not stable and you can't watch your Blu-ray movie smoothly. The crashes will drive people crazy.
So, to enjoy Blu-ray/DVD disc on computer, you can try another program - VideoByte Blu-ray Player. It's not free but the performance is good and stable. At first, follow us to see the features of VideoByte Blu-ray Player.
The VideoByte Blu-ray Player also have all the main features that Leawo Blu-ray Player owns. It can plays Blu-ray disc, DVD disc and common video/audio files on computer. Also, it can provides a Blu-ray/DVD menu for playback control.
You don't need to worry about the crashes. The stable performance can help you play the DVD/Blu-ray disc smoothly. There is a free trial version which allows you to evaluate it.
Step 1. Launch the VideoByte Blu-ray Player and you'll come to the intuitive interface.
Step 2. Insert your DVD/Blu-ray disc to your external drive and go back to the program and select "Open Disc" button after the computer reads the disc successfully. Note: To read the Blu-ray disc, you have to use a Blu-ray drive. The default drive of computer is a DVD drive.
Step 3. Usually, the program can load the disc successfully. You just need to enjoy it on your computer. It won't crash like the Leawo Blu-ray Player. But sometimes, it will also fail to load DVD/Blu-ray disc due to the DVD/Blu-ray copyright protection.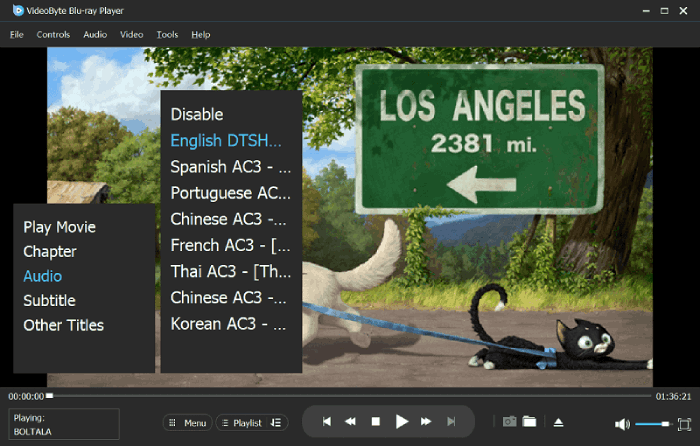 Leawo Blu-ray Player VS. VideoByte Blu-ray Player
| | | |
| --- | --- | --- |
|   | VideoByte Blu-ray Player | Leawo Blu-ray Player |
| Price | $34.95 | Free |
| Support Media | Blu-ray, DVD, Common Video/Audio | Blu-ray, DVD, Common Video/Audio |
| Support OS | Windows/Mac | Windows/Mac |
| Blu-ray Menu | No | Yes |
| Loading Time | 5s(average) | 12s(average) |
| CPU Usage | Low | High |
| Performance | Stable | Terrible |
| Ads | No | Yes |
Though Leawo Blu-ray Player is free, it's not a good option for playing Blu-ray disc on computer. It needs to be improved on the disc loading and playing side of things as it is always crashes. If you want to enjoy your movie with more ease, then VideoByte Blu-ray Player is the better choice.