iSkysoft DVD Creator Review in 2023: All You Need to Know
To burn videos or audio tracks to DVD discs, you need to utilize a third-party program to assist. iSkysoft DVD Creator, a popular DVD burning software for desktop computers, provides brilliant services to assist people to burn videos/audio to DVDs through easy-using procedures. Also equipped with personalized features, iSkysoft DVD Creator can help create DVDs with full characteristics.
Nevertheless, people still wish for a full review for getting to know all-rounded of the program before trying or purchasing. Therefore, this review will walk you through iSkysoft DVD Creator in-depth. Let's have an overview of it to check if it meets your demands.
Part 1. What is iSkysoft DVD Creator?
iSkysoft is a company developed in 2004 for inventing as well as providing different sorts of software solutions to people around the globe. The company develops several product branches, including multimedia software, office productivity programs, utilities, and design tools for global users. For years, iSkysoft has kept updating all its programs regularly for enhancement and provides the best experience for people to hand in their files as well as documents.
iSkysoft DVD Creator
 is one of the programs that enjoy a high reputation under the iSkysoft brand. As an industry-leading tool, the program comes with both positive reviews and critical comments. In order to help you know about iSkysoft DVD Creator comprehensively before trying or purchasing, the following parts will be of great help. Please continue reading.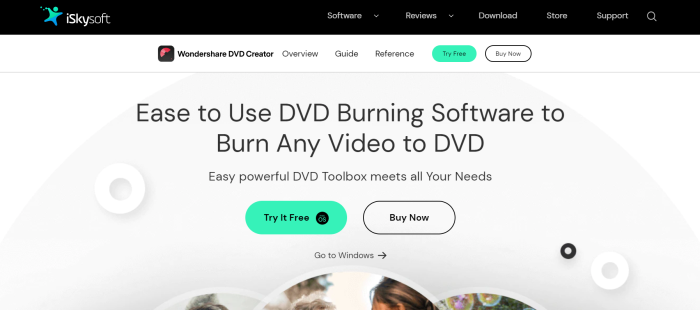 Part 2. Comprehensive Review: Main Features of iSkysoft DVD Creator
iSkysoft DVD Creator is a DVD burning software developed for burning digital videos/audio to the DVD/Blu-ray disc/folder/DVD, and media/ISO files for keeping as collections. The program runs well on both Windows and macOS systems. In the following sections, a comprehensive review of iSkysoft DVD Creator will be offered, including its main features, supported formats, built-in DVD editing tools, and free trial limitations.
#1 Main Features of the Powerful DVD Maker
The core features provided by iSkysoft DVD Creator all attribute to its popularity:
Is able to burn videos of more than 150 formats to DVD 5 and DVD 9, BD-25, BD-50,and BD-100 for fulfilling different people's needs.
A built-in editor is provided for personalized videos and DVD menus.
Photos and music can also be burned to DVD using iSkysoft DVD Creator.
Supportcopying a DVD to an ISO file or DVD folder directly.
It also supports burningmusic to CDs.
The user-friendly interface lets people easily complete the DVD-creatingprocedures effortlessly.
#2 Main Supported Input & Output Formats
Preview the supported input and output formats of iSkysoft DVD Creator here.
Supported Input Formats
Standard Video
HD Video
AVI, DV, NUT, FLV, MP4, M4V, 3GP, 3G2, MOV, MPG, MPEG, VOB, DAT, TP, WMV, ASF, DVR-MS, MOD, TOD, RM, RMVB( when RealPlayer installed )
HD AVI (VC-1, MPEG-4), MTS/M2TS/TS/TRP (AVHD H.264, VC-1, MPEG-2 HD),HD WMV (VC-1, WMV HD), HD MKV (H.264), HD MOV (H.264),HD MPG (MPEG-2 HD), HD MP4 (H.264, XviD)
Supported Output Formats
DVD
DVD Disc, ISO, DVD Folder
#3 Built-in DVD Editing Tools to Personalize Your Video
iSkysoft DVD Creator also provides extra DVD editing tools for personalizing videos to create perfect and unique DVDs. The popular functions include the following:
Crop: adjust video size to fit the screen.
Enhance:adjust the brightness of the videos and apply special effects to p
Watermark:image or text watermark can be added to the video for protecting copyright.
Subtitle: subtitles of .srt, .ass, and .ssa extensions can be inserted into the DVD.
Chapter:create chapters for a long video to enjoy quick navigation and flexible playback.
Slideshow maker:create photo slideshows with music to generate a DVD album.
DVD Menu:personalize the DVD menu for people to enjoy the content more flexibly.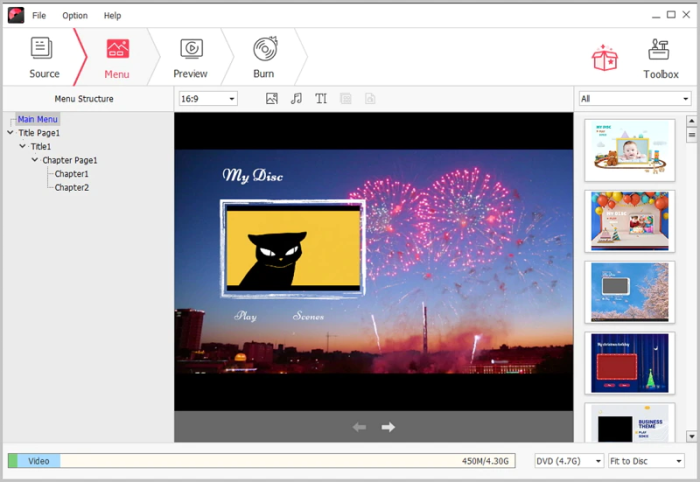 #4 Free Trial Limitations
Of course, iSkysoft DVD Creator provides a free trial for people to experience the features for double-checking before making a purchase. You can preview the core differences between the free and registered versions here.
Free trial restrictions:
Awatermark will exist in the output content.
Only provide 3 templates for personalizing the DVD.
There willbe ads when using the Data Disc and CD Burner functions.
Video Editor is not allowed to use.
Photo slideshows feature is not allowed to be used to burn DVDs from photos;
Part 3. Verdict: Pros and Cons of iSkysoft DVD Creator
After the knowledge of iSkysoft DVD Creator above, we drew a simple conclusion on the pros and cons of iSkysoft DVD Creator to help you decide whether it deserves a try.
Pros
Easy-using functions
Compatible with both Windows and macOS
The convenient built-in editor provided
Preset menu templates for direct usage
More formats and popular disc types supported
Support burning photos to DVD
Cons
Expensive pricing at around$56
Incompatible with macOS Monterey and Ventura
A sudden program flashbackissue happened
A watermark will exist under thefree trial
Provided video editor is too basic for advanced users.
Only suitable for burning relatively small-sized videos to standard DVDs
There is no doubt that iSkysoft DVD Creator is a very handy software for beginners. It provides some basic functions for creating DVDs, but at the same time, its high price may scare off some of you. Moreover, the problem of its occasional flashback is also very annoying. Therefore, if you are a macOS Monterey, Ventura user and looking for a DVD Creator with a reasonable price and stable performance, you may need an iSkysoft DVD Creator alternative like VideoByte DVD Creator which can solve all the issues you may encounter mentioned above.
Part 4. Alternative: The Best DVD Creator-VideoByte DVD Creator
Feel unaffordable to purchase iSkysoft DVD Creator? Are you Looking for
the best DVD Creator software
? You can find an ideal alternative that requires a cheaper price but the same powerful DVD-burning functions for creating a unique DVD. This alternative is VideoByte DVD Creator.
VideoByte DVD Creator
 delivers industry-leading functions to create DVDs on Windows and macOS, including macOS Monterey and Ventura, featuring high quality, speedy but stable performance, a secure platform, and easy-using manipulation. Unlike iSkysoft DVD Creator, VideoByte DVD Creator provides basic DVD-creating features with advanced video editing helpers for users to explore at a relatively low price that many people can afford. Moreover, it offers 3 times to burn DVD/Blu-ray for free, then, you can enjoy the features of VideoByte DVD Creator with no ads in the free version. Despite these, it also includes the following features:
Create DVD/Blu-ray discs/folder/ISO files and folders witheasy manipulation.
Select provided theme templates to create and customize DVD menus.
Insert subtitles and audio tracks to videos before creating a
Adjust thebrightness, saturation, contrast, or hue settings of the videos to have a better visual experience.
Preview videostatus before burning.
Homemade movies and downloadedvideos from online sites can be burned into DVD or Blu-ray.
How to Use VideoByte DVD Creator?
The following steps show you how to burn videos to DVD with VideoByte DVD Creator.
Step 1. Install the program and launch it for importing DVD/Blu-ray media files by clicking the upper right "Add Media File(s)" button.
Step 2. Click on the Edit button to edit and adjust the video to your preferences. There are multiple video parameters available to be customized by users. When you finish editing, confirm Apply and the changes can be made.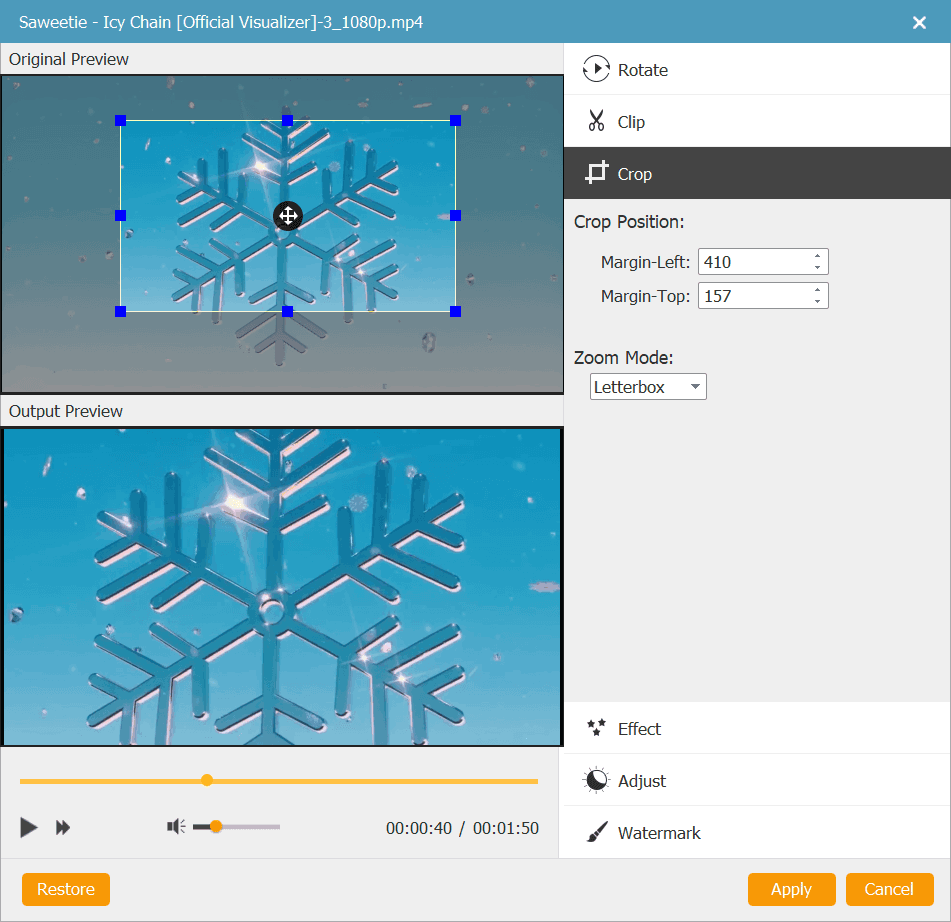 Step 3. Turn to Audio Track, Add Subtitle, or insert the audio track as well as subtitles to the video. You can adjust them as well.
Step 4. Create a special DVD menu for the disc now. There are fixed templates provided on the right panel, and you can also select to customize one based on your requirements.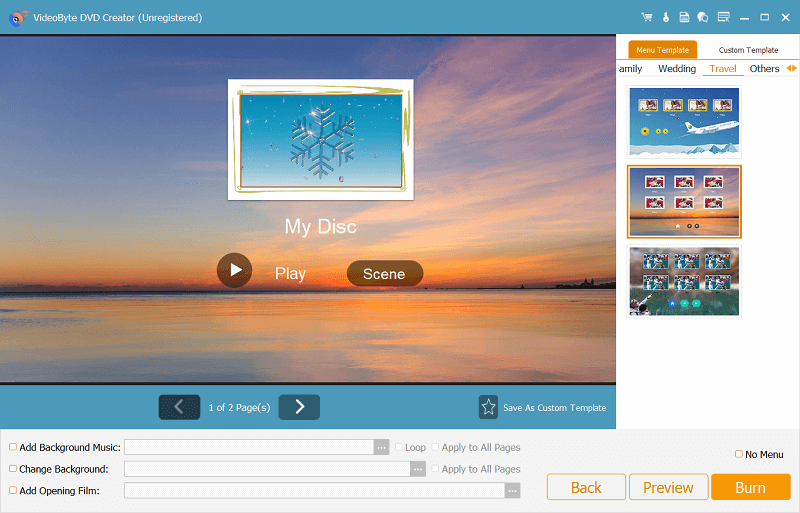 Step 5. Select the output format and folder for burning the videos to DVD files or discs. After that, click on the "Burn" button to start the burning procession.
FAQs of iSkysoft DVD Creator & Its Alternatives
#1 iSkysoft DVD Creator VS Wondershare DVD Creator
You may wonder why iSkysoft DVD Creator would have a pretty similar main interface and functions as Wondershare DVD Creator. It should be dated back to 2020 when iSkysoft established the cooperation with Wondershare. Since then, the iSkysoft products all come under the Wondershare brand, so the iSkysoft DVD Creator altered its name to Wondershare DVD Creator. If you download the DVD Creator from the iSkysoft product page, you will actually discover that the program is Wondershare DVD Creator. And the only difference you can tell might be the color of the font.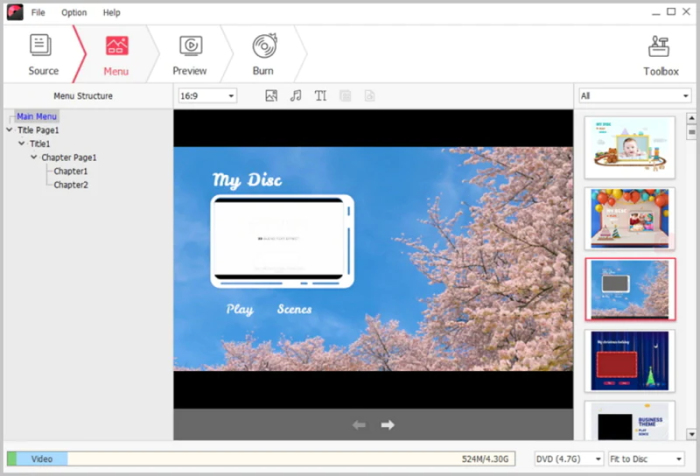 #2 Is iSkysoft DVD Creator Safe to Use?
Yes. iSkysoft DVD Creator is safe to download and use as it has gained a reputation in this field for many years, helping millions of users to burn DVD/Blu-ray to Windows and Mac. It is very unlikely that it will bring a virus and do badly to your computer's performance. Thus, you can feel at ease downloading and using this safe iSkysoft DVD Creator.
#3 Why Does My Burned DVD from iSkysoft DVD Creator Not Play?
There are several reasons why your burn DVD does not play. For example:
It is a DVD that failed to burn.
It is a DVD that has not been fully burned.
It is a DVD that does not fit your DVD Player.
It is a DVD that has been physically destroyed.
In fact, we can avoid all the above issues in advance. First, we can use an intact DVD to burn. Then, we use a stable DVD creator, such as
VideoByte DVD Creator
, to successfully burn a complete and highly compatible DVD for most DVD players.
After reading the review, you should have a deeper understanding of iSkysoft DVD Creator, and its economical alternative, VideoByte DVD Creator. Based on your targeting aims, you can select the most suitable option to utilize for creating a DVD disc. Enjoy!