7 Best iDVD Alternatives for Mac (2023 Recommended List)
For Mac users, iDVD is a piece of useful software to burn DVD on Mac. It is part of Apple's iLife software suite. However, you will find iDVD not burning or exists many unpextected issues while using, no enhancement provided, and even find it no longer installed on your new Mac desktops. All theses happen because Apple has regarded iDVD as "old technology that interests us not" and stopped its maintenance. So when iDVD is fading in the market, you need some iDVD alternatives to process DVD burning on Mac. Hence, the blog has collected the top 7 best iDVD Alternatives to create DVDs on Mac without iDVD. Now, let's get started with the top-ranking VideoByte DVD Creator.
7 Best iDVD Alternatives for Mac (2023 Recommended List)
Actually, there are a variety of iDVD alternatives on the market available for Mac users to process successful DVD burning without hassle. From all of them, we tested a few and select the 7 best alternatives to iDVD and listed them here. Keep reading to grasp them and select an ideal pick to try right away!
With powerful DVD burning feature equipped, VideoByte DVD Creator is a top-ranking iDVD alternative providing lossless video burning service, enabling users to easily create DVDs, Blu-rays, iSO images at lossless quality and with customized themes designs. The software will well maintain nice original resolutions to burn high quality videos (even up to 4K) to the most commonly-used disc types as you desire.
Meanwhile, VideoByte DVD Creator will provide a handy in-app editor with various helpful tools to enable an easy editing and adjusting on the videos before burning them to the discs. There are also some prepared templates, availing you to create as well as personalize a unique for the DVD/Blu-ray discs to make them memorable.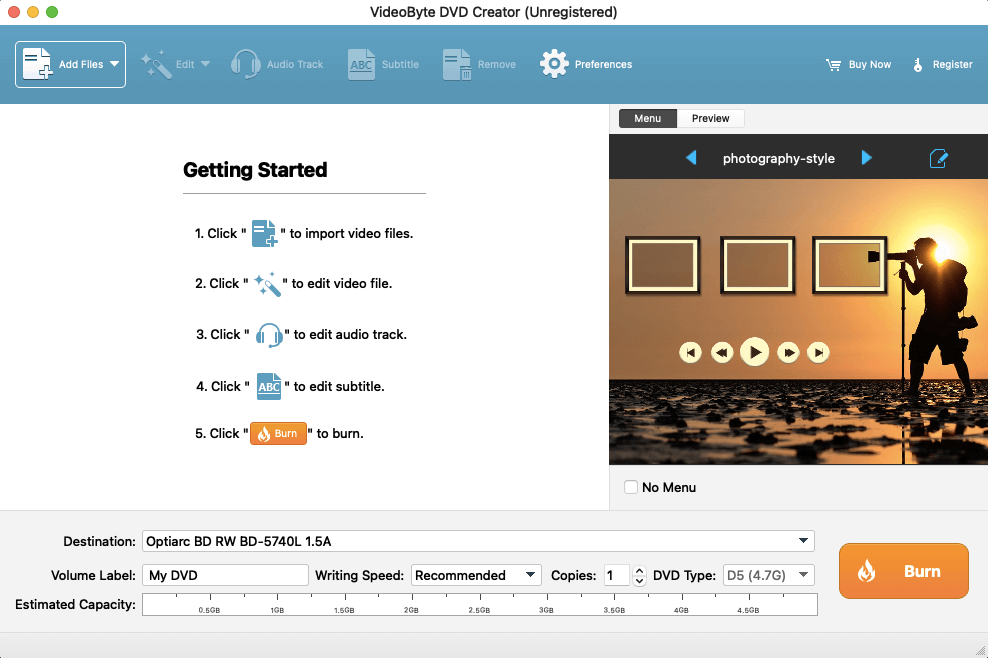 Highlights of VideoByte DVD Creator
Available to burn high-definition (up to 4K) and even 3D videos to most disc types of DVD, Blu-ray, and also ISO images without hassle;
Well maintain lossless quality while burning DVDs on Mac/Windows;
Built-in video editor with a variety of editing features to customize videos as you desire;
In-app acceleration teches applied to ensure quick burning process to save your time;
Audio tracks and subtitles creation is possible;
Previewing mode provided to double-check the effects before the burning begins.
Another recommended iDVD alternative for Mac can be Roxio Toast. It can perfectly replace iDVD as Roxio Toast has equipped with all basic burning features to help Mac users create DVDs on Mac with motion menus, chapters info, subtitles as well as audio tracks equipped. Its clean interface also helps boost the burning process to be easier for grasping.
Roxio Toast is also equipped with some basic editing features to adjust video effects before burning them to the discs. Meanwhile, if you wish to convert the format or record screens, this all-in-one software can also satisfy your demands. However, unlike VideoByte DVD Creator or iDVD, which are developed for the burning only, it will consume higher CPU and slower down your computer performance while running in the background. Also, Roxio Toast is not a freeware and it requires high expense to pay for its full functionality.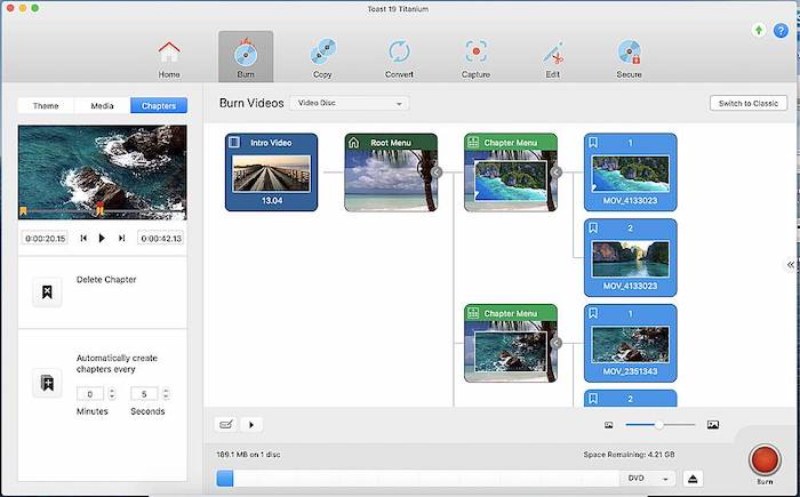 Highlights of Roxio Toast
Clear interface and intuitive functions to use;
All-in-one software providing more video managing features than DVD burning simply;
Equipped with editing tools to adjust videos before burning them to DVD discs;
Customized menus feature available to create unique DVDs.
Burn app can be a nice iDVD replacement because it is also a default application available for users to burn DVDs on Mac without paying a penny. This free alternative to iDVD won't cost you any fee, and provides you with flexible burning settings to create DVDs on Mac according to your requirements.
Despite DVD burning, Burn app is also available to create CDs and Blu-rays from high-quality music as well as video files. Although comparing with the professional and best DVD burning software like VideoByte DVD Creator, it lacks the editing or menu creating functions to further enhance the DVD outputs, its convenient operations also attract many Mac users to try. You are able to start with this free iDVD alternative from now right away!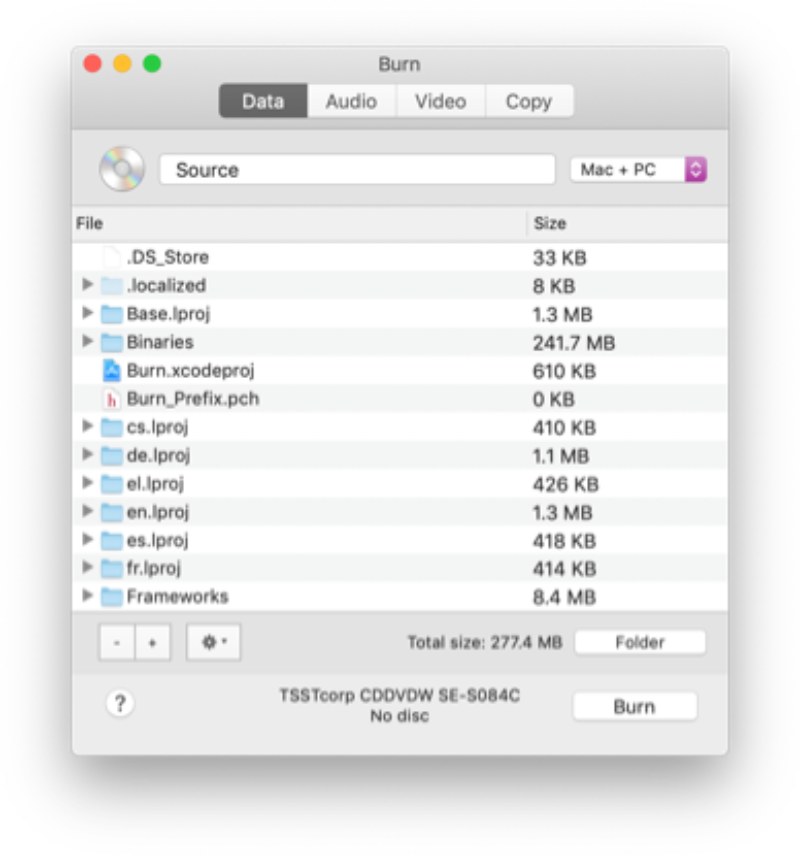 Highlights of Burn App
Freeware to use without paying a penny;
No extra extension or bundle software installation required to process the burning on Mac;
Burning settings provided to ensure a convenient process to create DVDs;
Simplified process to burn DVDs on Mac;
Nice quality ensured.
#4 Wondershare DVD Creator
Wondershare DVD Creator is also an all-featured iDVD alternative that can replace iDVD to provide Mac users a stable and user-friendly DVD burning experience. It supports importing videos of over 150 types of formats and allows burning them to almost all popular disc types at high quality without any loss.
Like VideoByte DVD Creator, Wondershare DVD Creator is also equipped with the feasible in-app editor, enabling you to customize videos and even the DVD menus simply by clicks. With Wondershare DVD Creator, you are able to create vivid DVD discs in ways you like easily and flexibly.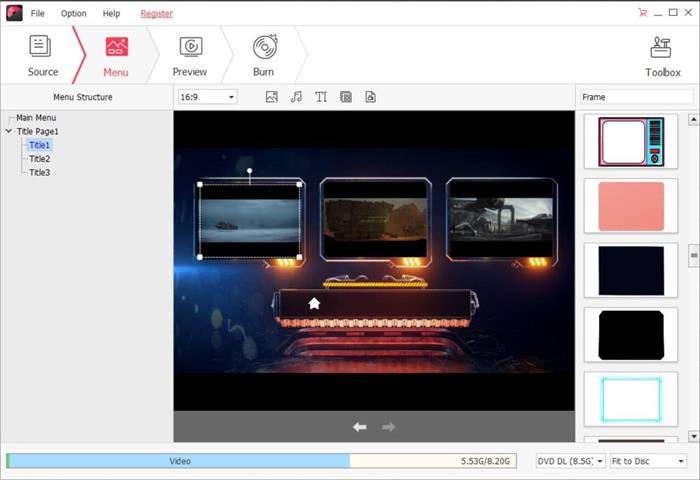 Highlights of Wondershare DVD Creator
Over 150+ formats supported;
Available to burn to most types of DVD/Blu-ray/CD discs;
Built-in video editor to adjust videos and customize DVD menus with ease;
Ensure high quality to burn DVDs for you;
Rapid speed guaranteed to save your time in waiting.
If you prefer a free iDVD alternative, then also take SimplyBurns into considerations. This software is designed to focus on DVD burning, so it won't provide you any video editing feature at all (this may be a pity for those who wish in-app editor to edit videos or menus for the DVD discs). But in SimplyBurns, it will allow you to define burning speed and customize burning settings to ensure a stable as well as efficient DVD creating process.
SimplyBurns is also equipped with a ripping mode to help you grasp media files back to common video/audio files again from the DVD discs. Hence, some users would also use the software as a ripper to convert DVDs to mainstream video files just by taps!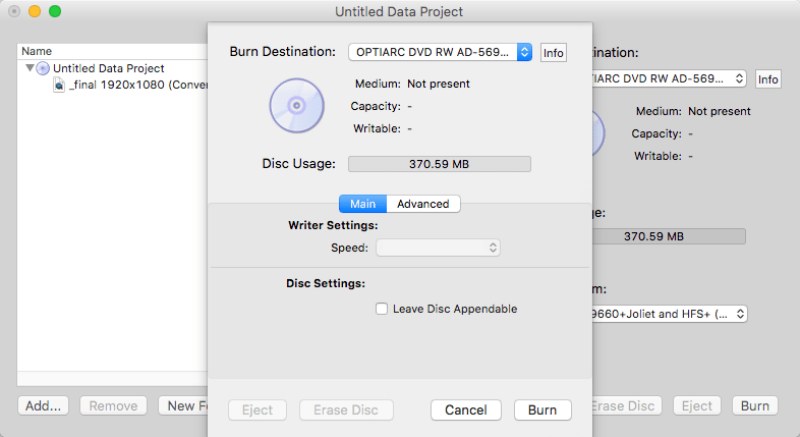 Highlights of SimplyBurns
Intuitive interface to ensure an easy process to burn DVDs;
Customized burning speed as you desire;
Also perform as a DVD ripper to convert DVD discs to video files of mainstream formats;
Entirely free for usage.
With both flexible burning settings and DVD disc editing features equipped, DVDStyler also works as a reliable iDVD alternative for Mac users to burn DVDs on Mac - even without paying any fee! DVDStyler is a freeware that needs no cost to install and further create DVDs. The software also provides the built-in features, enabling users to design DVD menus and set chapters info for the videos with ease.
Although it performs at a comparatively compressed quality, equipped with multi-core processor, it is still a reliable choice for Mac users to use as an iDVD replacement to burn DVDs quickly on desktops.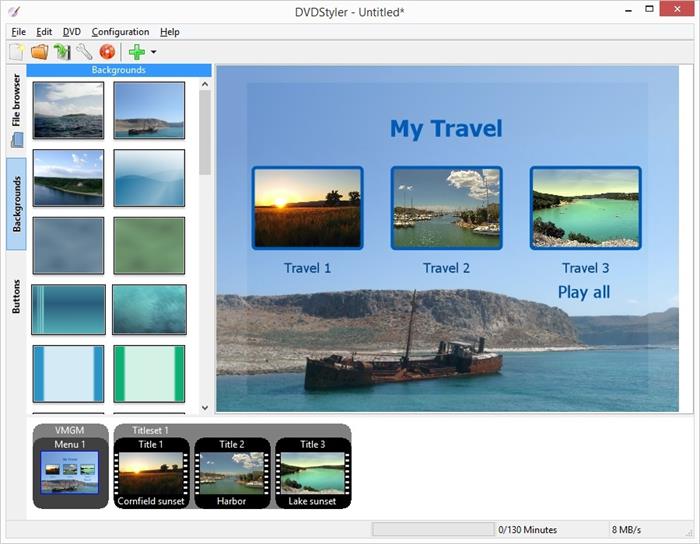 Highlights of DVDStyler
Freeware to process DVD burning on Mac and Windows without paying any fee;
Equipped with handy editing features to adjust videos and create menus with ease;
Compatible to import mainstream formats;
Multi-core tech applied to ensure fast DVD burring speed;
Customized settings to burn DVDs in ways as you desire.
The final recommended iDVD replacement can be Express Burn. Like its name goes, the software provides quick DVD burning ability to ensure an efficient experience for Mac users to create DVDs without wasting time. It is equipped all basic features you can discover in iDVD, making it a perfect choice if you are finding an iDVD alternative.
However, Express Burn is not free at all. For the basic CD burning features, you are able to use it without any fee required. But to further create DVDs/Blu-rays/ISO images or adjust videos or edit them with better effects, upgrading to the pay version is needed. But still, it will ensure a stable performance to process DVD burning on Mac for you.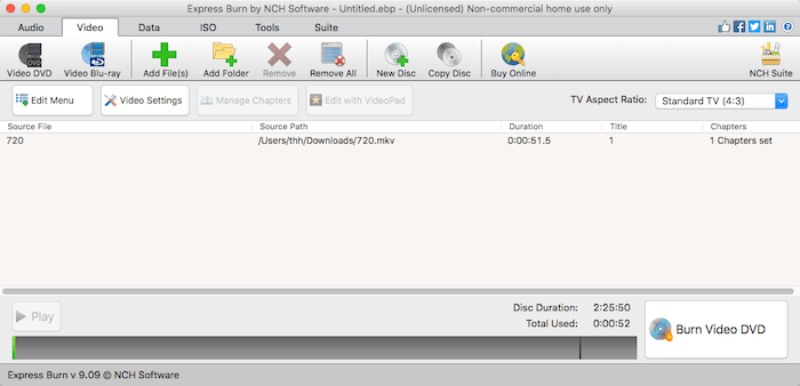 Highlights of Express Burn
Available to create HD-DVD, Blu-ray, and ISO images from mainstream video files;
Menus and chapters customized supported;
Ultra-fast speed to create DVDs for you quickly;
Create MP3 CDs by clicks with good audio quality maintained.
Comparison Between 7 iDVD Replacement Software
After going through the 7 best iDVD alternatives for Mac, here simply draw a comparison among them to better help you sort out the best option to burn DVDs on Mac with ease:
 

Free or paid

Burning speed

Burning quality

Built-in editor equipped

DVD menu creating feature

Ease of use

Paid (free trial equipped)

Ultra-fast

 

Lossless

✅

✅

✅

Roxio Toast

Paid

Fast

Medium

✅

✅

✅

Burn

Free

Medium

Meidum

❌

❌

✅

Wondershare DVD Creator

Paid

Fast

High

✅

✅

❌

SimplyBurns

Free

Medium

Medium

❌

❌

✅

DVDStyler

Free

Fast

Medium

✅

✅

✅

Express Burn

Paid

Ultra-fast

High

✅

✅

❌
FAQs of Alternatives to iDVD for Mac
If you still have problems in selecting an iDVD alternative, go through the FAQs below seeing if they are able to help you out:
Q1: Can you still use iDVD?
A: Although iDVD no longer sets as a default application for Mac computers, it can still run smoothly on macOS El Captian and previous Mac systems. For Mac computers with Sierra and High Sierra, iDVD can still run for you, but its performance can be a bit slower. Hence, for later Mac desktops, it is recommended for you to seek an iDVD alternative for a more efficient DVD burning experience.
Q2: Do I need software to burn a DVD on a Mac?
A: Certainly yes. DVD burning requires a professional DVD burner to help. And from this blog, you are able to grasp the 7 best iDVD alternatives to help even when it no longer offers service on new systems. They are all reliable to help.
Q3: Why is DVD not permitted on Mac?
A: If you just create a DVD and desire to play it, but your Mac notifies you the DVD disc is "Not permitted". This happens because the DVD player fails to recognize the disc type you select. Hence, you are able to try burning videos to another disc types supported by the DVD players installed on your Mac to make the disc playable (or you are able to install another player supporting the disc type you select as well).
When the blog has gone through the 7 best iDVD alternatives, you are able to select the best option to process DVD burning on your Mac desktops later on without using iDVD anymore. As these iDVD replacements all have their own pros and cons, now, simply select your ideal pick in your own requirements!