How to Copy DVD to Hard Drive on Mac/PC (Protected DVD)
As time goes by, physical DVD discs may wear out and fail to work probably. That's why it's always a great idea to copy DVD to hard drive. After that, you can enjoy flexible playback without an optical drive and keep your DVD collections forever. If your DVDs are protected, you may want to try VideoByte DVD Copy to copy DVD movies to hard drives with lossless quality and selected content.
Now, let's walk through the ways of storing DVD movies on hard drives.
Why Can't I Copy DVD to Hard Drive Directly?
For DVDs without the protection of DRM and homemade DVDs, you can directly copy them to an external hard drive directly for a backup since they don't have copy protection. While for commercial DVDs, you might find errors occur when you're trying to copy them to a hard drive on Windows or Mac. The reason is that the copyright of these DVDs is protected and they cannot be directly copied.
In fact, almost all DVD movies and TV shows are armed with one or more copy protection schemes, which can protect these files from being copied directly. In addition to DVD copy protection schemes, other reasons such as overheating computer and firmware faults, etc. might also lead to the failure of copying DVD to an external hard drive. Therefore, professional DVD copy software is required to copy DVD to hard drive successfully and easily in a professional way.
The Best Software to Copy DVD to Hard Drive on Mac/Windows
VideoByte DVD Copy is the ideal tool to copy DVD to hard drive, internal or external. It ensures lossless quality with a 1:1 ratio to copy your DVDs as VIDEO_TS folder or ISO image files. Also, it offers 3 copy modes for you to copy the entire DVD or selected movies to a hard drive. Better yet, you can set the writing speed to 2x or max and take no time to copy all your DVD collections.
Amazing Features to Explore
Removal DRM Protection: With advanced decryption technology, VideoByte DVD Copy can remove DVD protection like CSS and Region Codes and take no effort to copy protected DVD to hard drives.
In-Built DVD Player: This dedicated DVD to hard drive software allows you to select subtitles and audio tracks and preview real-time changes with its in-built DVD player.
Lossless Burning: VideoByte DVD Copy makes it easy to burn DVDs, ISO Images, and DVD Folder to a blank disc with lossless quality to ensure the best playback as the source.
It's not recommended to copy DVD to hard drive for commercial purposes for it might be a violation of copyright laws.
How to Copy Protected DVD to Hard Drive with VideoByte
Now, let's take a tour and see how to copy DVD movies to hard drive as a DVD backup. It's basically the same to burn DVDs to an internal or external hard drive. Also, you may want to check out the video tutorial for a vivid overview afterward.
Step 1. Load DVD Source
Download and install VideoByte DVD Copy on your Windows 11/10/8/7 or Mac and then launch it. Insert the DVD disc you wish to copy to a hard drive. VideoByte DVD Copy will ask you to load the DVD into this disc. Or you can go to File > Select Source to import your DVD.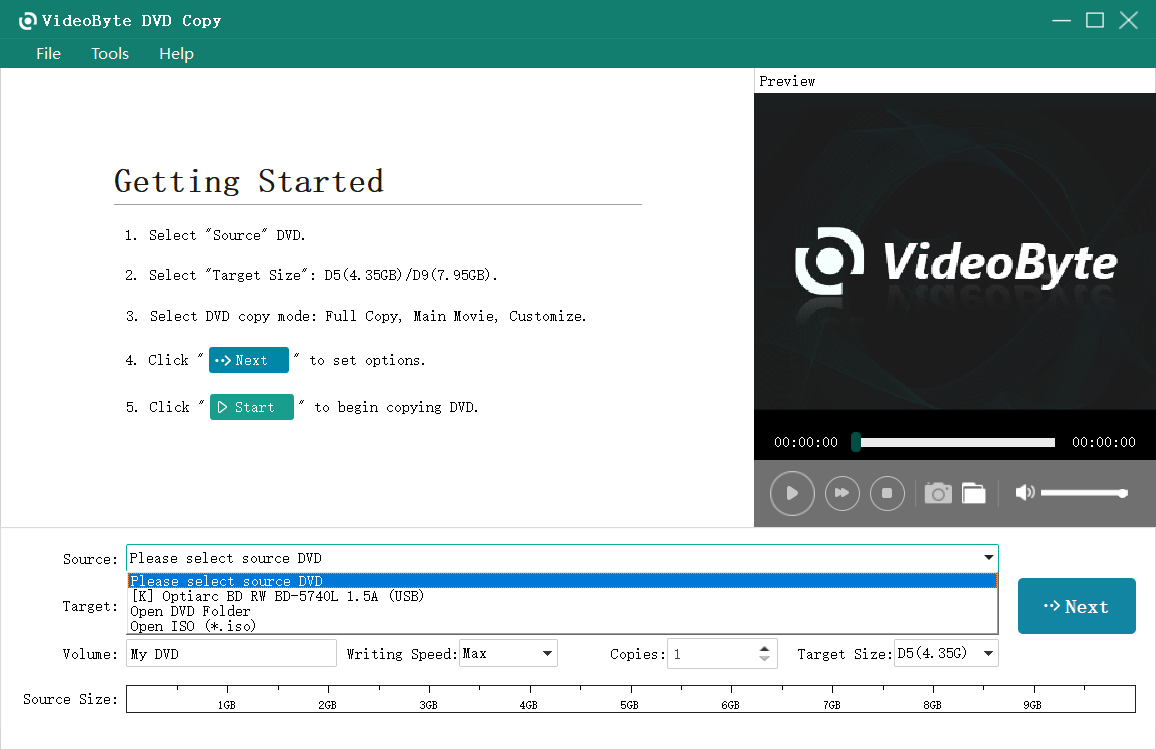 Step 2. Choose DVD Copy Mode
VideoByte DVD Copy provides three copy modes including "Full Copy", "Main Movie" and "Customize". You can choose the proper one according to your situation.
Full copy: Copy the entire DVD video including the credits, the advertising, etc.
Main Movie: Clone the main movie without unnecessary clips.
Customize: You can copy the video contents you want as you like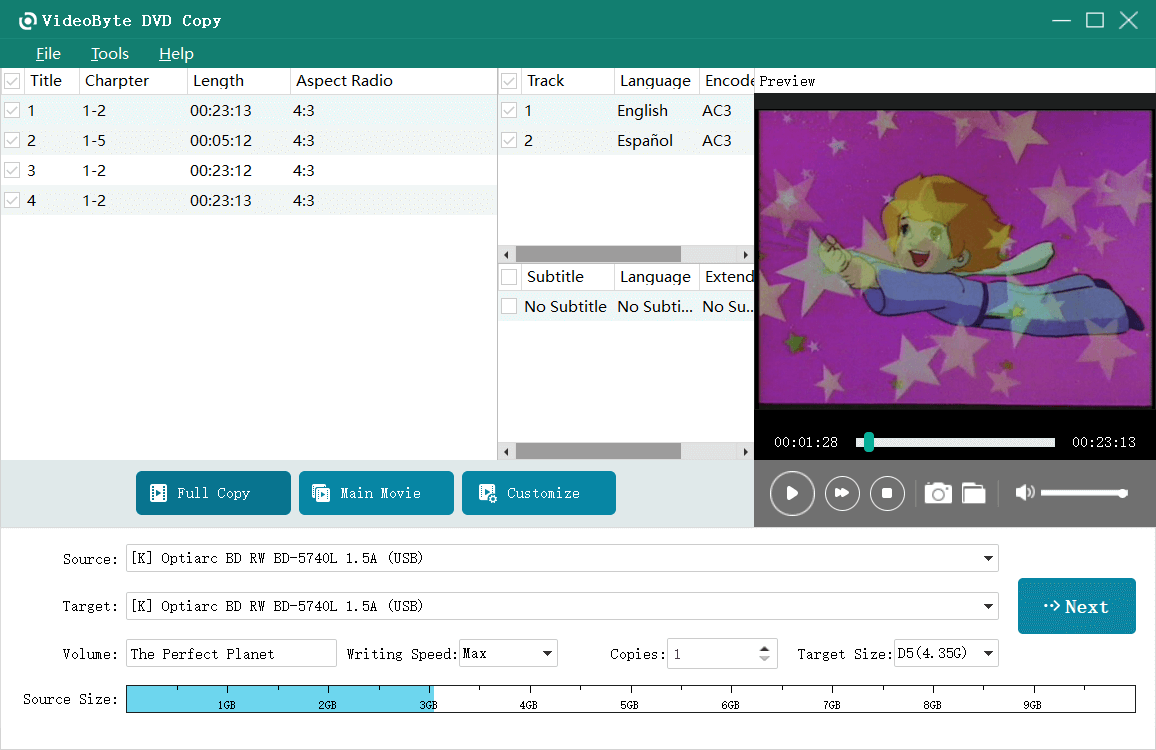 Step 3. Start to Copy DVD to Hard Drive
Before the copy process starts, go to Target to choose "Save as DVD Folder" or "Save as ISO". Then, choose a hard drive to store DVD movies. After that, tap Next to set other options according to your need, and tap Start to begin the copying process. Don't forget to set up the writing speed and it'll be done in no instant.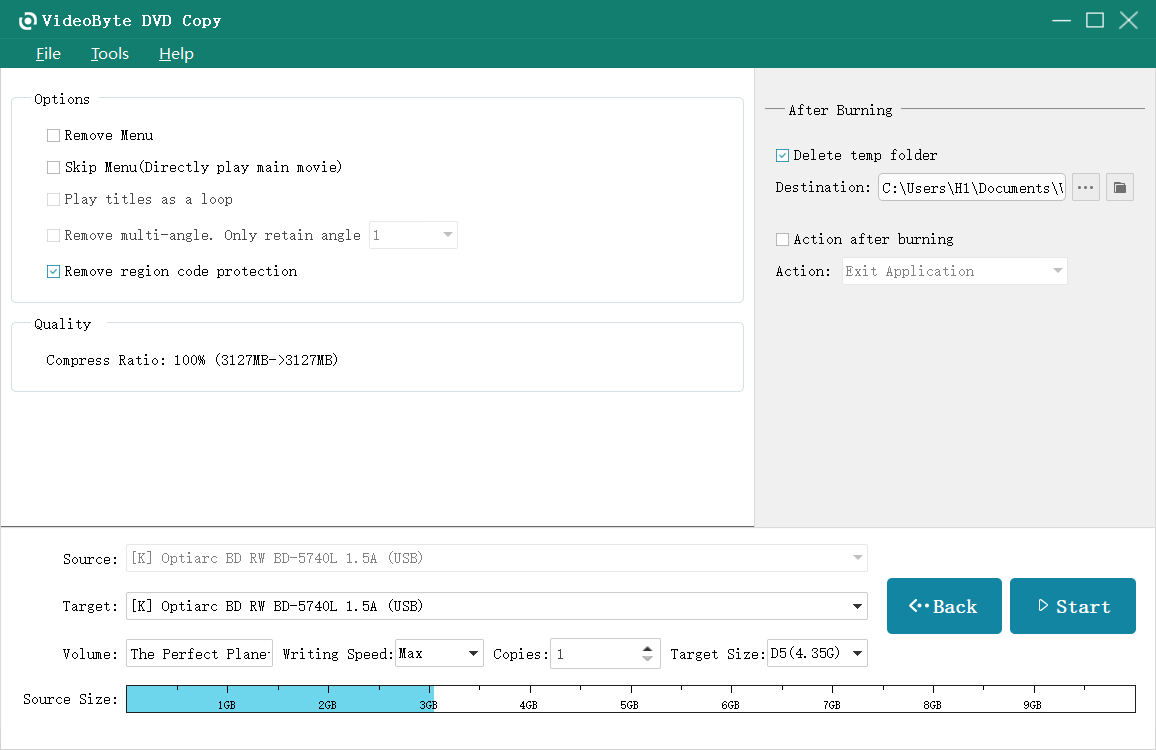 That's all about storing DVD movies on hard drives. Also, you may want to check out the following video tutorial to see how to copy DVD to hard drives for a clearer process.
How Do I Copy a DVD to My Hard Drive Using VLC Media Player?
As a popular media player, VLC is more multi-functional than you expect. It enables you to copy DVD to hard drives in digital formats like MP4, WebM, WMV, and DIV3. It's recommended to use H.265 codec to encode your DVD movies for lossy compression in a smaller file size. However, you should be aware that it cannot copy DVD to ISO or DVD folders on Windows or Mac. Now, let's see how to copy DVD to hard drives using VLC below.
Step 1: Insert the DVD into an internal or external optical drive on your computer.
Step 2: Download and install VLC, and then launch it. From the toolbar, please click Media > Open Disc.
Step 3: In the Disc section, select DVD and click Browse to select the DVD disc as the source. You can also choose to start from which title or chapter as well as the subtitle and audio tracks.
Step 4: On the bottom-right corner, open the drop-down menu beside the Play button and choose Convert.
Step 5: In the pop-up window, choose MP4 as the profile format and click Browser to choose a hard drive as the Destination. Finally, click Start to copy DVD to hard drive in MP4 with VLC.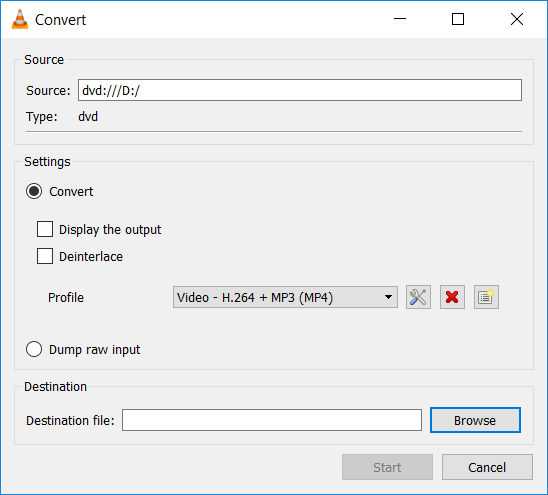 Why Can't I Rip a DVD with VLC Media Player?
Actually, the VLC media player itself doesn't have the ability to decrypt protected DVDs. If you want to rip DVD to hard drive with DRM protection, it'll fail with no doubt. Yet, don't be frustrated. To rip protected DVDs or Blu-ray discs, you may want to refer to this post for a detailed tutorial - Rip Encrypted Blu-ray with VLC.
Extra Tip: How to Copy DVD Movie to Hard Drive by Ripping it to Digital
The best way to ensure a lossless copy of a DVD is to copy it as an ISO image file or DVD folder. However, both ways are less compatible. Therefore, it's worth considering storing DVD movies on hard drives in digital formats like MP4 or MKV so that you can watch on TV or play your favorite movies anywhere. In this case, VideoByte BD-DVD Ripper is a handy helper for you. Unlike VLC, this DVD ripper can handle protected DVDs and even Blu-rays well. Now, let's grasp the idea below.
Step 1. After you download and install the software, launch VideoByte BD-DVD Ripper on your Windows/Mac.
Step 2. Insert the DVD into the optical drive and click Load DVD to open it in the program.
Step 3. Now, select desired titles to save DVD movies on hard drive.
Step 4. Drop down the Rip All to menu and choose a digital format/codec/resolution/quality.
Step 5. Finally, choose the destination and click Rip All to copy DVD to hard drive in a digital format.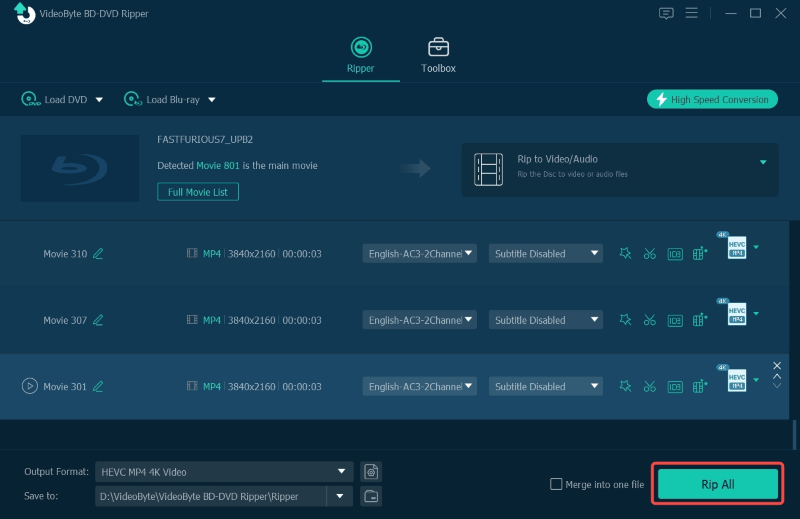 FAQs on Copying DVD to Hard Drive
Still having lingering questions? No worries. Check out these answers to questions about storing DVD movies on hard drives. Then, you'll clear your mind.
It depends on the use of DVD content. According to Digital Millennium Copyright Act (DMCA), it is illegal to copy DVDs for the purpose of commercial use without the permission of the copyright owner.
However, the Fair Use Doctrine allows you to use copyrighted materials without acquiring the permission from the original copyright holder if you purchase these materials for personal use. Therefore, it is legal to copy DVDs in case of DVD damage, loss or for educational purpose.
What are the Commonly Used DVD Protection Encryption Technologies?
Some commonly used DVD protection encryption technologies that usually cause trouble when you want to back up your DVDs to hard drive are listed in the following:
Content Scramble System (CSS): This system includes both player-host mutual authentication and data encryption, which is used to the content of DVDs from piracy and to enforce region-based viewing restrictions.
Sony ARccOS Protection: Corrupted sectors on DVD disc are created deliberately by the system, then a majority of regular DVD copy software will produce bad section errors.
Disney DVD Copy Protection: it disorders the DVD content so that users can hardly locate the right title which contains the main part of the movie. If you try to copy full DVD content, you will get a large size file and videos that are completely out of order and useless.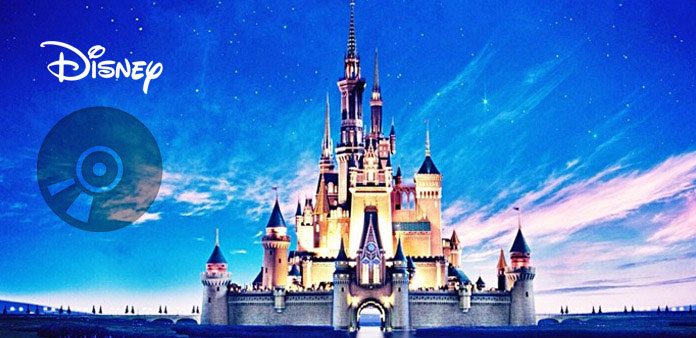 How Long Does It Take to Copy a DVD to a Hard Drive?
That depends on the content of the DVD you want to copy to a hard drive. Normally, the copy of a 2-hour movie may take up at least 30 minutes to complete if you're using VLC. If you have a pile of DVDs and cherish your time, VideoByte DVD Copy can speed up the process at least 2 times faster than other DVD copy software does.
What is the Best Format to Rip a DVD to an external hard drive?
If you want to keep the lossless quality of your DVD, it's recommended to save DVD movies in ISO files or DVD folders. If you want to digitize DVDs for flexible playback, you may consider MKV as a more lossy video format than MP4.
To copy DRM-free DVDs or homemade discs, the VLC media player may be enough to use. However, if you want to copy protected DVDs to hard drives, VideoByte DVD Copy is the easiest way to strip off DVD protection and save a lossless copy as an ISO file or DVD folder with custom content. Better try it out and explore its outstanding features on your own.