6 Best DVD Burning Software for Windows & Mac [2022]
Although the world has ushered in the era when the streaming media thrives, some people would still use DVDs to create backups as the streaming content can be easier to get lost. Therefore, the demands towards DVD burners still exist, which are the programs available to assist people to write on DVDs and save the streaming media for them.
If you also wonder a free way to burn DVDs on Windows 10 or other Windows systems as well, the following 6 recommended DVD burning software may be your reliable partner to help. Now, let's dive in to choose the best one.
Does Windows 10 Have Built-in DVD Burning Software?
Price: From US$19.95 (free trial available)
Before proceeding to install a third-party program, people may wonder, if there is built-in DVD burning software available on Windows 10 to utilize directly. Fortunately, as Microsoft has considered that people would have such needs, it has equipped the DVD burning feature within the embedded Windows Media Player for everyone to access without any charge. You can manipulate it to create DVDs on Windows 10 simply by following the procedures below:
1. Insert a blank DVD to your Windows 10 computer, meanwhile, open Windows Media Player on it.
2. Tap the Burn option on the right panel.
3. Please select the burning disc types you wish to create. For video burning, you'd better choose the Data CD or DVD option. For audio, Audio CD is recommended.
4. Subsequently, open File Explorer (Windows Explorer) and access the media files you wish to burn to the DVD disc. You ought to drag them to Windows Media Player now.
5. When the media files are imported, people can tap the Start Burn button provided on the Burn list, then Windows Media Player will process the burning for you in no time.
Although this free DVD burning feature for Windows 10 definitely helps to back up media files to DVD or CD discs without cost, it still contains the following disadvantages:
There doesn't provide any built-in editing function to enhance the video/audio quality before proceeding the burning process.
The burning speed would be quite slow as Windows Media Player isn't equipped with any hardware acceleration to improve the burning speed.
The quality of the burned videos/audios may be compressed.
It doesn't provide any menu templates to customize the DVD content in preferences.
Considering the downsides of the built-in DVD burning feature, some people would need an alternative to proceed more professional DVD burning process to store their valuable media files. Therefore, the following 6 DVD burning software for Windows 10 are evaluated and now bring the full review to you. Keep reading and take the best one to create awesome DVDs at home!
Alternative: 6 Free DVD Burning Software for Windows 10
Operating systems: Windows, macOS

Operation difficulty: ★★☆☆☆

Pros:

Support to create DVDs, Blu-rays, DVD folders, and ISO files of common-used disc types.

DVD menu templates are preset for selecting to create personalized DVD content.

Video enhancement settings are provided to improve the video quality before the burning process initiated.

It is compatible with media files of all popular formats and high definition.

Menu builder is available to create a clear navigation menu to access corresponding content in one shot.

Rapid speed is ensured to facilitate the DVD burning efficiency.

Cons:

Only 3 opportunities to burn full videos to DVD for free.

Watermarks will be added while utilizing the free quotas.
VideoByte DVD Creator is an excellent and easy-using DVD burning software for Windows 10, as it can deliver the simplest manipulation to assist people to back up media files to DVD discs of common types without quality loss. The program also provides rich DVD customization functions, such as the menu templates, audio/subtitles editing feature, and video enhancement options inside to improve the DVD outputs with higher quality and creative ideas.
How to Burn DVD with VideoByte DVD Creator
You can also follow this manipulation guide to proceed the DVD burning utilizing VideoByte DVD Creator on your Windows 10 and experience its features.
Step 1. Select DVD disc type. When you first open VideoByte DVD Creator on Windows 10, you can choose to burn DVD Disc or Blu-ray Disc accordingly.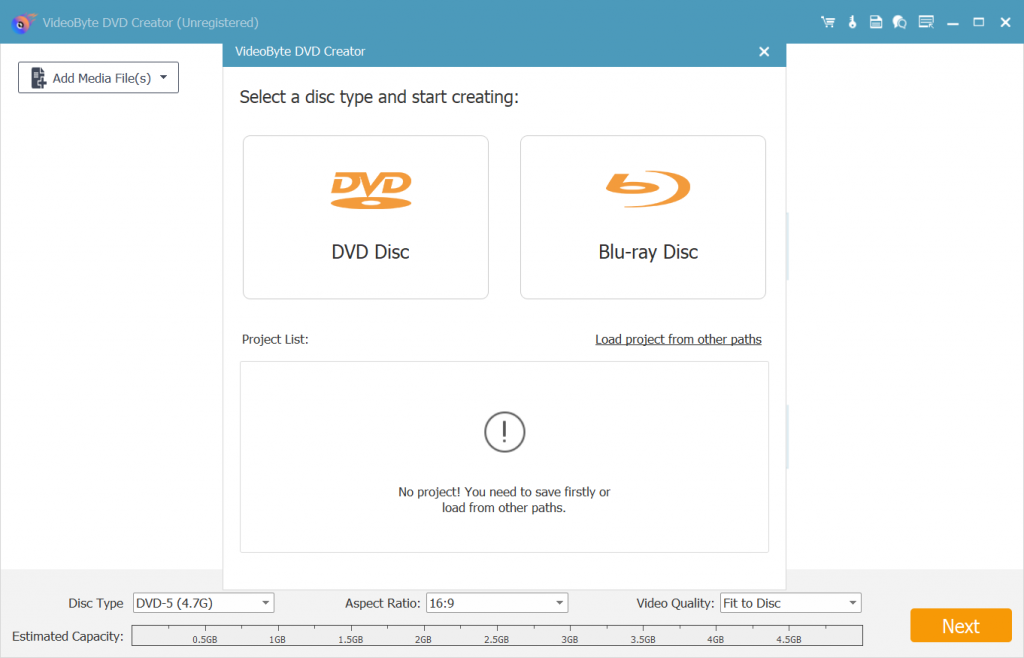 Step 2. Add videos. Subsequently, click on the Add Media File(s) button in the middle and you can browse your desktop to select the videos you wish to burn to DVD, then import them to VideoByte DVD Creator.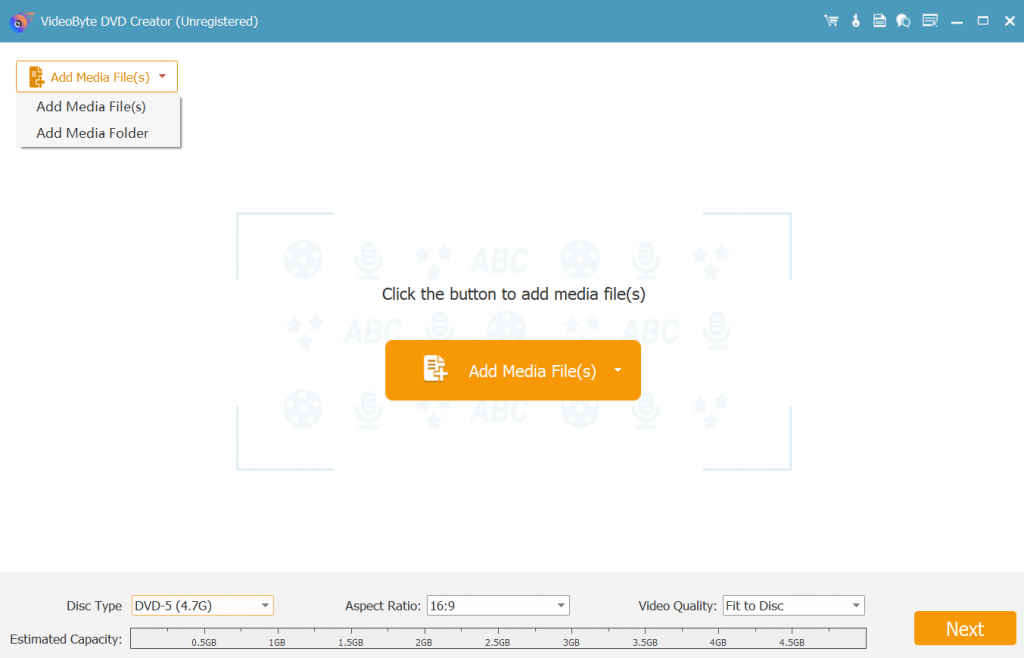 Step 3. Edit video. After importing the videos, you can click on the Edit option and enhance the videos or rotate, cropping, clipping them freely.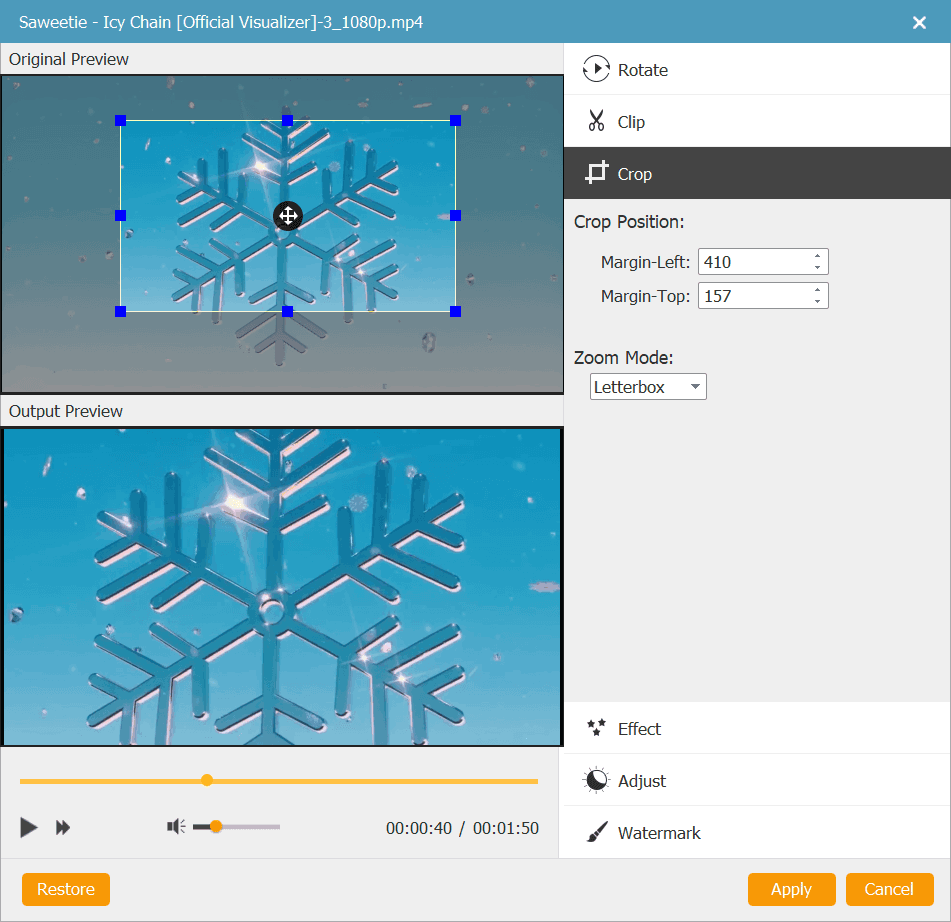 Step 4. Add subtitle and audio track. If you need to add or edit the audio tracks and subtitles of the videos, by clicking on the Audio Track or ABC Subtitle button from the main feed, and you will be turned to the pop-up window for customizing them freely.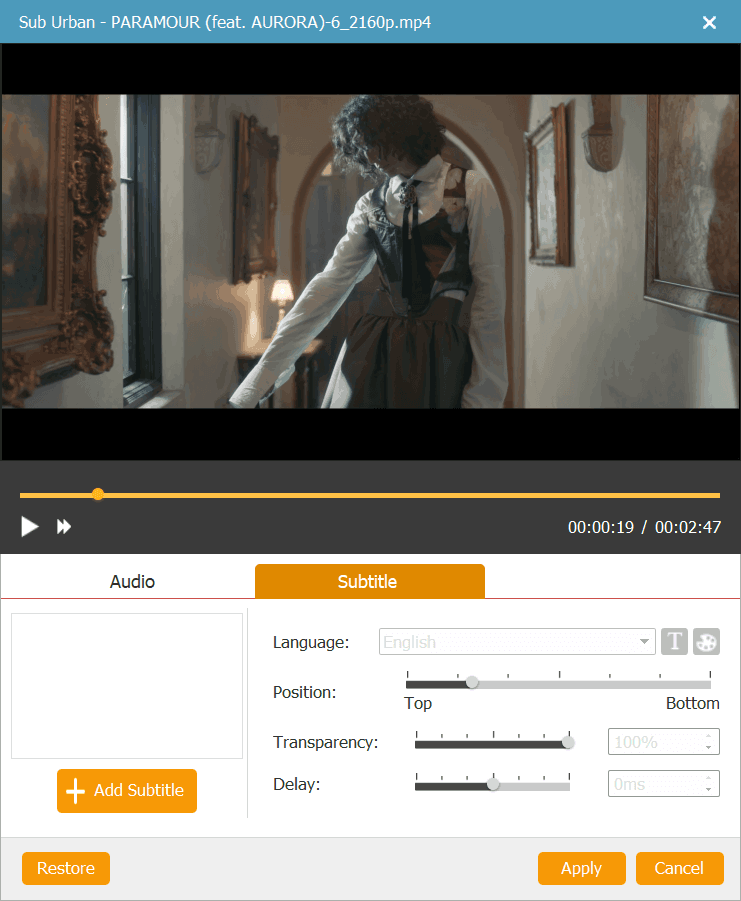 Step 5. Create DVD menu. By turning to Menu module, there will be some theme templates available for people to customize the DVD content in a vivid way. People can choose the template for applying freely, and also customize the settings as you wish to create a special and unique DVD for yourself.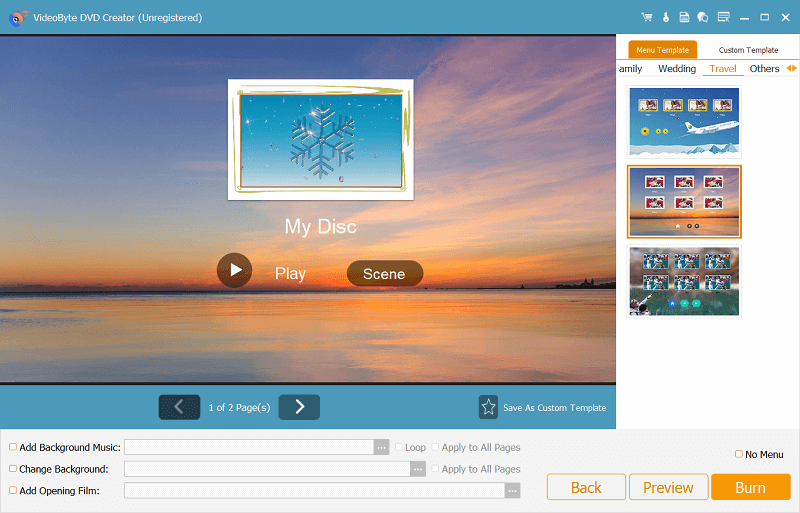 Step 6. Configure output settings and burn. When the editing process ends, now we come to the final configuration before burning the DVD. You ought to go to Preferences and determine the output format, resolutions, aspect ratio, video bitrate, and other settings in preferences. The DVD type can also be selected here. Then just click "Burn" to start burning.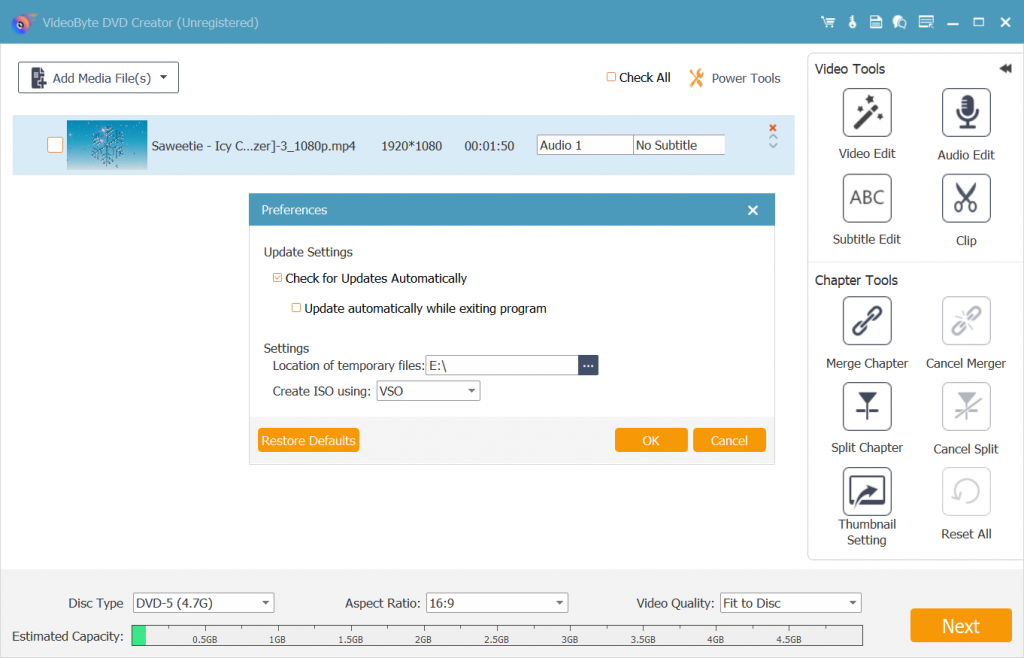 Operating systems: Windows

Operation difficulty: ★★★☆☆

Pros:

It is a free program without subscription required

Provide handy and logical manipulation for beginners to get started easily.

Burn media to any DVD, Blu-ray, and CD discs casually.

The program will retain full HD quality with refined compression technology utilized.

Cons:

The program sometimes crashes for no reason.

Email registration to utilize the program is required.

Create shortcut on computers by default without asking for permission.
With customized burning settings, Ashampoo Burning Studio Free is also a versatile disc burner that can be well compatible with the latest Windows 11 and other popular Windows systems (10, 8, 7 included). The program can assist people to create discs of different types, including the common DVDs/CDs, and even the high-definition Blu-ray discs just by walking through very easy manipulation.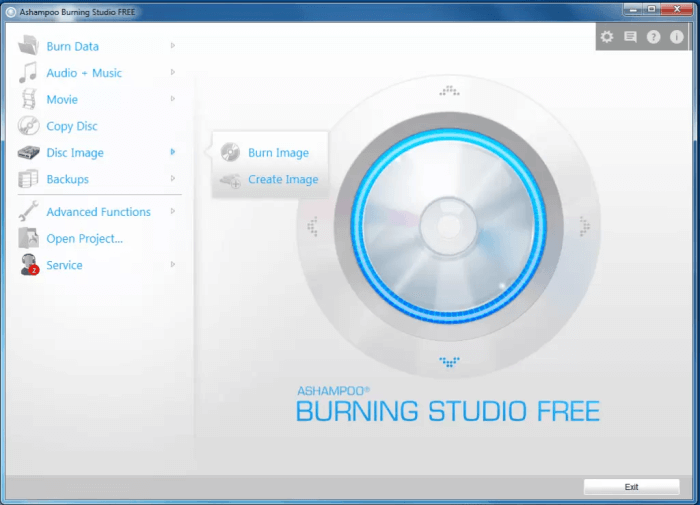 Operating systems: Windows, macOS, Linux

Operation difficulty: ★★★★☆

Pros:

Create DVD with personalized preset templates freely.

The program can run smoothly on Windows, macOS, and even Linux systems.

More editing functions are provided to edit DVDs freely as people wish.

It is compatible with popular video encoders and burns them to DVDs with simple manipulation.

Cons:

The interface is not user-friendly to get started.

Audio and data burnings are not supported.

The Avast Free Antivirus will be installed together with the installer while setup the program.
Although DVDStyler is an open source DVD burning proram, it provides reliable services to help people burn DVDs at home with great experience. The program can support the popular encoders of both videos and audios, in that it can detect the media files and get them burned on the DVD discs directly. DVDStyler is also equipped with some menu templates, which allow people to generate awesome DVDs vividly!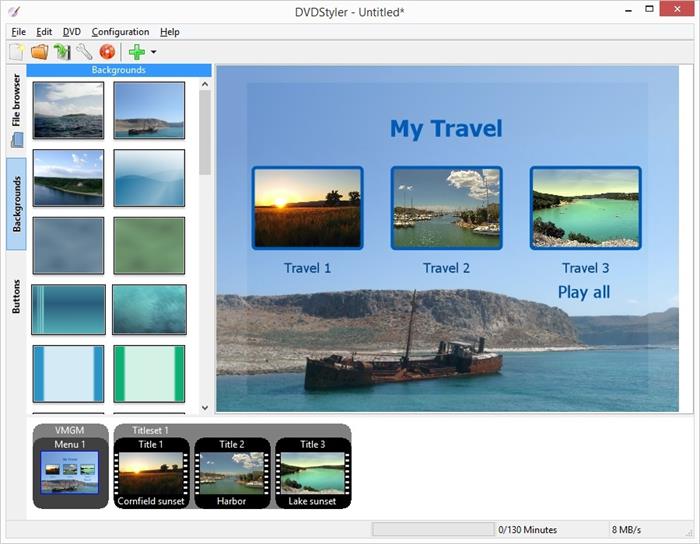 Operating systems: Windows

Operation difficulty: ★★★☆☆

Pros:

The program can support all daily burning tasks.

It is compatible with countless optical disc data storage such as CD, DVD, Blu-ray discs, Double Layer discs, M-Disc and extra large capacity DVD and Blu-ray.

User-friendly UI is designed to easily get started with the DVD burning.

Cons:

You have to upgrade to premium or professional version to unlock some functions.

NET Framework needs to be installed before utilizing the program.
BrunAware provides free, premium, and professional versions to cater people of different DVD burning needs. If you consider the basic functions to creating DVDs at home, then the intuitive BrunAware free version can be suitable to you. It helps to burn videos, audios to DVD, CD, and Blu-ray discs with good quality. Furthermore, the program can support exporting the media content as bootable ISO images for storing locally. Even the free version can meet most of your DVD burning demands.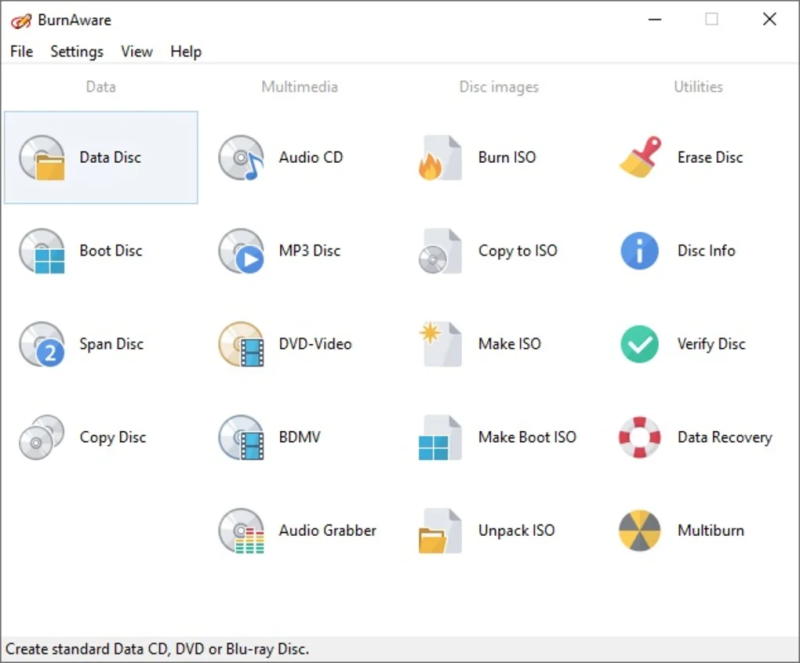 Operating systems: Windows

Operation difficulty: ★★★☆☆

Pros:

Lightweight design makes the DVD burning smoothly on Windows.

It is compatible with CD / DVD / HD DVD / Blu-ray burning in one program.

Suuport a wide range of image, audio, and video encoders.

The program can run on all Windows systems, even for the elder versions.

Cons:

The program installation will add adware to your PC.

Its Audio CD burning feature is a bit buggy.

It takes time to get familiar with the functions as the design is not intuitive enough.
ImgBurn can run smoothly on all Windows sytems, from the latest Windows 11 to the elder version such as Windows 95, 98, and so forth. It provides reliable DVD burning feature to let people easily write ISO images/folders, and media content to DVD disc with decent burning quality. The functions of the program are divided clearly into 5 modes, including Read, Build, Write, Verify and Discovery, allowing people to get started quickly.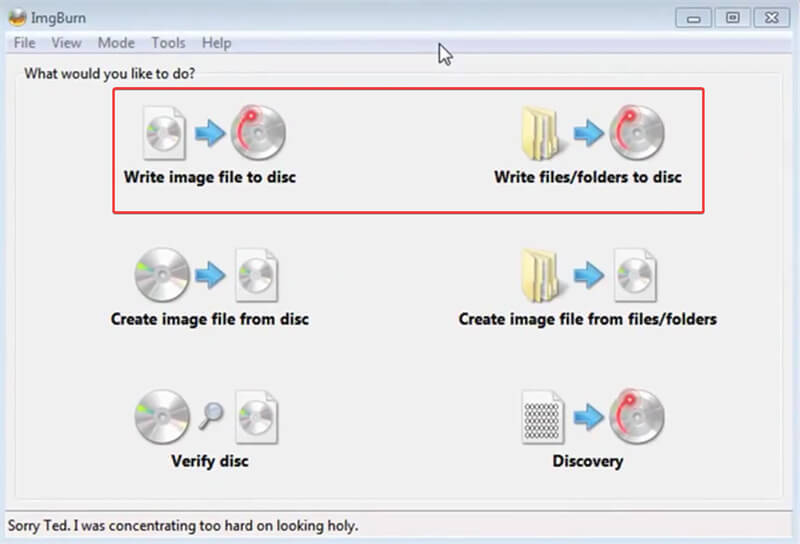 Operating systems: Windows

Operation difficulty: ★★★☆☆

Pros:

It is a lightweight program which only occupies low storage space on Windows.

Support burning images, videos and audios of popular encoders to CDs/DVDs/Blu-rays.

It offers an easy-using interface for everyone to get started quickly.

Cons:

The burning speed of the program is slow.

Unavailable to import files by dragging-and-dropping.
Last but not least, let's come to AnyBurn, another free DVD burning software for Windows 10. This easy-using program provides the easy manipulation for people to burn images, videos, and audios to DVDs/CDs/Blu-rays, or revert to copy disc back to media files for storing locally on PC as well. Even though the program is not maintained with new versions upgraded, it still functions to process smooth DVD burning on Windows with a high success rate. Therefore, AnyBurn is still a rational selection if you consider a lightweight and free DVD burner to replace Windows Media Player.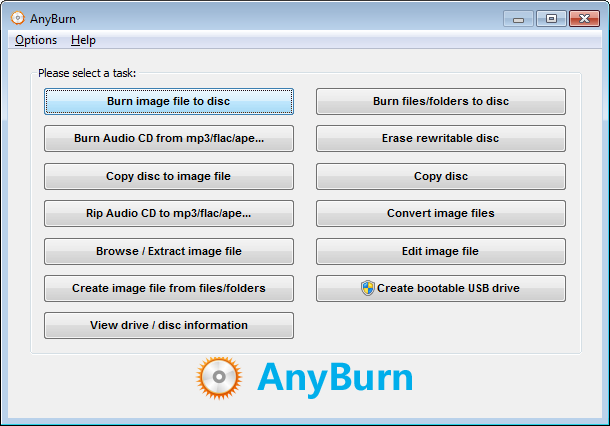 6 Free DVD Burning Software-Feature Comparison
| | | | | |
| --- | --- | --- | --- | --- |
| Program | Supported Disc Types | Built-in Editor | ISO Supported | Free Menu Tempaltes |
| VideoByte DVD Creator | DVD-5, DVD-9, BD-25 and BD-50 | Y | Y | Y |
| Ashampoo Burning Studio Free | CD, DVD or Blu-ray | N | Y | N |
| DVDStyler | DVD | Y | N | Y |
| BrunAware | CD, DVD, Blu-ray discs, Double Layer discs, M-Disc and extra large capacity DVD and Blu-ray | N | Y | N |
| ImgBurn | Audio CD, DVD, HD DVD, and Blu-ray | N | Y | N |
| AnyBurn | CD, DVD or Blu-ray | N | Y | N |
Through comparison, if you consider the DVD burning software with video enhancement and editing features, replacing the programs that only provide sole burning function, multi-functional options like VideoByte DVD Creator will better meet your standards. All in all, feel free to select the best option for yourself after evaluating all aspects! Enjoy the easy DVD creating process now!