I believe there is a general consensus among Blu-ray disc buyers that Blu-ray discs are easy to get scratched or broken and it is never effortless to fix them. Therefore, it is essential for you to backup and copy your Blu-ray discs with the assistance of Blu-ray copy software. However, most of them require you to pay a certain amount of money to gain access to its Blu-ray copy function. Here I would like to introduce some free Blu-ray copy software to solve these annoying problems for you. Recommended free Blu-ray copy programs include Aurora Blu-ray Copy and Blu-ray Master Free Blu-ray Copy.
Aurora Blu-ray Copy – A Simple and Easy-to-Handle Copying Software
Aurora Blu-ray Copy is a Blu-ray copying and burning software which can copy all types of Blu-ray disc as an ISO image file into hard drive directly at a high speed without any quality loss for both Windows and Mac systems. When you run this software on your PC, you will find that it has a simple interface with only two but crucial options including Source and Destination on it. Thus, you don't even need a tutorial to teach you how to copy.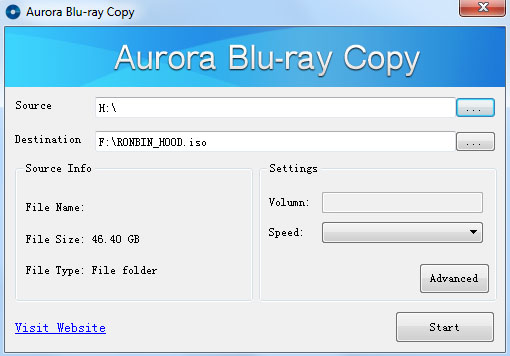 Pros
It can achieve some Blu-ray copy protections removal with its exclusive Blu-ray decryption technology.

Just a few clicks on its easy-to-use interface and you can rip your Blu-ray disc to your PC.

Besides Blu-ray disc copied to ISO file function, it also allows you to burn ISO file into Blu-ray disc.
Cons
Output only supports ISO file format.

When converting an ISO file to Blu-ray disc, it supports only a single-layer disc of maximum size to 25 GB.
Blu-ray Master Free Blu-ray Copy – React Sensibly to Your Operations
Blu-ray Master Free Blu-ray Copy is also a user-friendly and professional copying and cloning program. It is capable of copying Blu-ray disc/folder to Blu-ray disc/folder/ISO file with the identically same quality as the source Blu-ray disc. When I insert a Blu-ray disc and choose the Main Movie mode, it just automatically detects the main movie reacting sensibly to my operations. If you click the setting button on the right, you can see a Temp option which means it will generate temporary files to help you save the information.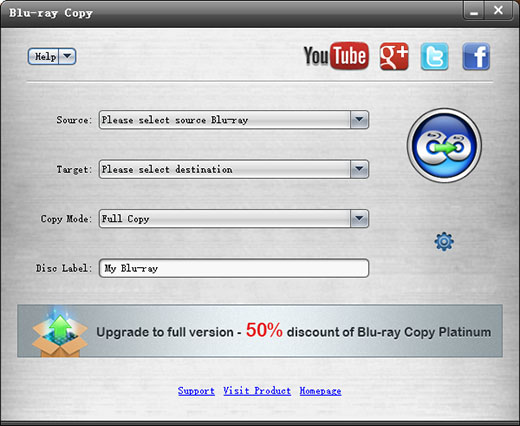 Pros
It has two copy modes to satisfy your specific needs which are Full Copy and Main Movie modes.
Cons
It is only for the Windows system.

Its free version limits you to normal speed when copying Blu-ray disc.
[Especially Recommended] VideoByte Blu-ray Copy – Best Tool for Blu-ray Disc Copy
I think VideoByte Blu-ray Copy may be the best tool for Blu-ray disc copy among the software I have introduced above, though it is not totally free. You can use VideoByte Blu-ray Copy to backup your Blu-ray disc and burn BDMV folder or ISO image file into Blu-ray disc regardless of the storage capacity that it can hold. What's more, it also enables you to compress BD-50 to BD-25 with high quality at fast speed. The functions provided can meet almost most of your needs.
Then, what makes VideoByte Blu-ray Copy the best Blu-ray disc copy software? It allows you to copy the full disc or just the main movie with menus, subtitles, and audio.
It supports all types of Blu-ray disc no matter input or output.

High quality is guaranteed when copying Blu-ray disc or burning ISO file/folder to disc.

Fast speed will not be compromised regardless of BD-25 or BD-50.

Provide a specially designed user interface to lead users to better operations.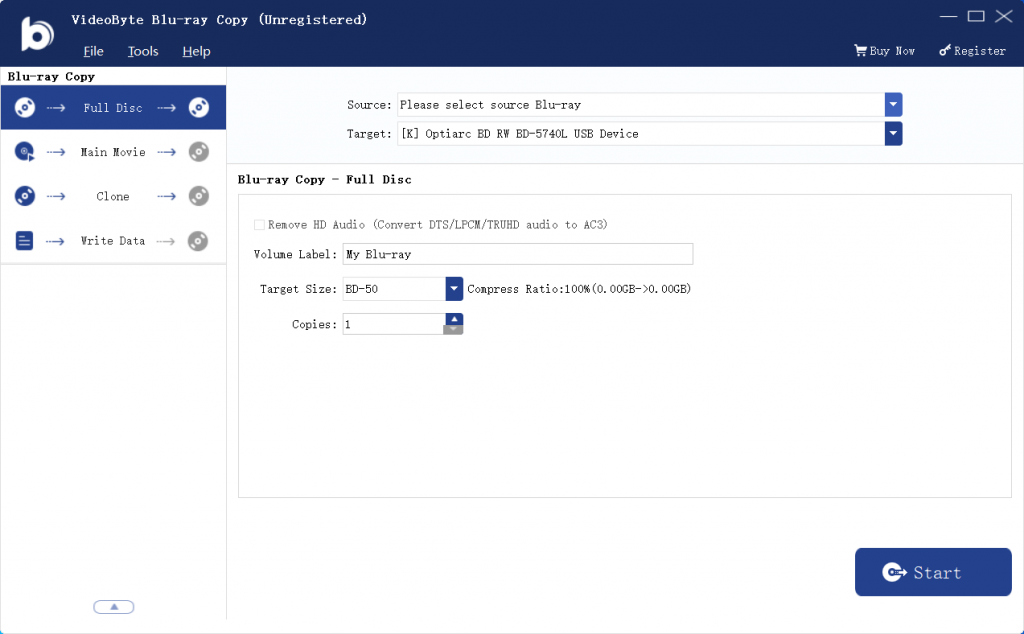 Now, do you guys have any thoughts about which Blu-ray copy software to pick to backup and copy your Blu-ray disc? What I highly recommend is VideoByte Blu-ray Copy which costs you not much but gives you all you need to copy Blu-ray disc.