With powerful ability to provide for both free and professional users, DVD Cloner has provided very easy-to-use but professional DVD copying service to let you easily copy one DVD disc to another for keeping. Till today, the software has helped a lot of people to make copies of their DVD movies and videos with good quality. So in this DVD Cloner review today, we would like to introduce this software to you.
Designed with a very user-friendly UI, DVD Cloner is one of the best DVD copying software today, providing professional help and letting you to easily duplicate the DVD discs you like to make a copy of them with good quality. Even for those protected DVD discs, the software can unlock them and make the copying process finish successfully. So even you get a purchased DVD, don't worry about the limitations because of the disc protection, because DVD Cloner will help you remove it and copy to another disc for you directly.
More than the simple DVD copying function, the powerful DVD Cloner can also work to help you merge several DVD discs onto one Blu-ray Disc! So you can free up your space and just keep the content on one single Blu-ray Disc instead.
Many of you would worry about the copying quality because you don't want the duplicated DVD videos to be compressed. Knowing such needs, DVD Cloner also tries its best to keep the DVD files copied at 1:1 original quality, so you can get the DVD discs copied without loss and still enjoy the high-quality playback experience later.
DVD Cloner: Top Features Overview
After reading the total introduction of DVD Cloner, here you can learn more detailed features of the software too. Read and see what DVD Cloner can bring to you to have a good DVD copying process now.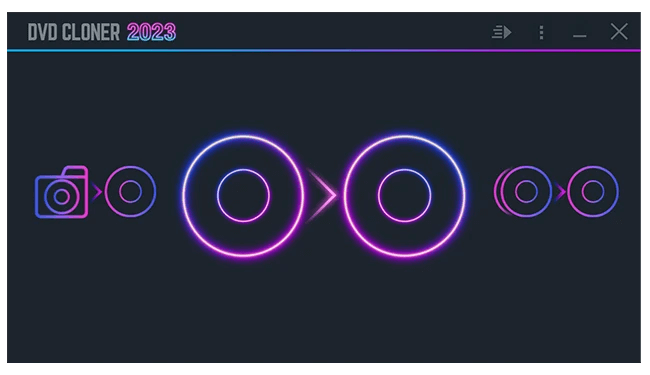 Offers Flexible Modes to Choose​
To let different users use the software to copy DVD conveniently, DVD Cloner has provided 2 different modes, including the "Expert mode" and "Express mode" to select based on your needs. You can choose to process the DVD copying in a quick way with fast speed in "Expert mode", and also process it with more customized features in the "Express mode" flexibly.
Supports 4K/UHD DVD Copying and Ripping
If you get a 4K or UHD DVD disc, using DVD Cloner and you can copy them with 1:1 original quality. Instead of duplicating it to another disc, the software also offers MKV, a lossless format to save the DVD videos for you. Although it is the only format option, it can help you save the movies and videos to play in more convenient ways without bringing the discs everywhere.
Merges Several DVDs into Single DVD/Blu-Rays
Another powerful function provided by DVD Cloner should be its ability to copy DVDs to Blu-rays. Instead of saving one DVD to one Blu-ray Disc, the software even allows you to merge several discs into only one DVD or one Blu-ray Disc directly! So you can save a lot of money without buying more Blu-ray discs but only one for keeping the copies of the DVDs you like at once.
Compresses DVDs to Save Space
Instead of doing the DVD copy only, DVD Cloner can also help you compress DVD-9 to DVD-5 with less quality loss as it can. So by copying DVDs with this software, you can save much space by storing the DVD movies or videos later.
DVD Cloner: Price, Pros & Cons​
As you know, most DVD copying software will need to pay for using the services, so does DVD Cloner. As a result, if you want to use all functions provided by the software, you will need to pay extra fee to use it without any limitation.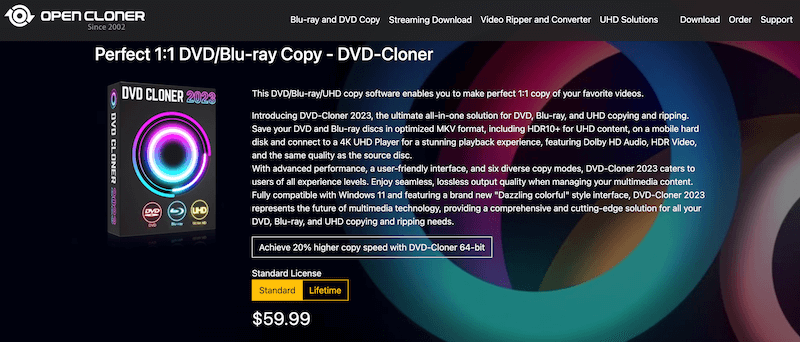 Price: At present, DVD Cloner needs you to pay USD 59.99 for its standard license. If you want a lifetime license, the price will be more expensive, which costs USD 299.99.
Before deciding to choose using DVD Cloner or not, you can first read the concluded pros and cons of the software first. Here is the summary of them.
Pros:
Offers user-friendly DVD copying functions for both beginners and professional users to try
Supports copying DVDs at fast speed
Keeps good quality as it can to provide lossless playback experience later
Allows to rip DVDs to MKV format directly
Helps compress DVD video sizes to free up much of the storage
Also supports copying Blu-rays for you
Helps you copy several DVD discs to one Blu-ray disc easily
Cons:
There are different DVD Cloner versions provided on the website and will make you confuse which one is your need
The price of the software is more expensive
It doesn't supports copying DVD to ISO well
It would be a little inconvenient for you to adjust the video settings before copying them
Is it Worth Using DVD Cloner
If you are finding a workable and reliable tool to help you copy DVD discs, DVD Cloner is a good choice because its convenient functions and the fast speed to process DVD ripping for you. Also, its quality is also good to save the copied DVDs, so you don't need to worry about the DVD playback in bad quality.
But as you can read from the cons, there are still some disadvantages of using DVD Cloner. Actually, this is not a free DVD cloner, so you should pay to use its copying function without any limitation. But the price is not very cheap and many of you may not be able to afford it.
Also, considering its provided functions, DVD Cloner lacks some important features or just can't do that well for you. For example, it won't be hard for you to copy DVD to ISO file, and there are very few settings to let you adjust the DVD effects or edit the videos in it as you want.
So whether you want to use DVD Cloner or not, it really based on whether it can meet your needs for processing DVD copies.
Alternative to Copy DVD: VideoByte DVD Copy
If you don't feel quite satisfied with the DVD copying functions provided by DVD Cloner, here would like to offer an alternative to help you copy DVD with better experience, which is VideoByte DVD Copy.
Unlike DVD Cloner, VideoByte DVD Copy can not only work to copy DVD to a blank new DVD, but also supports outputting the contents as ISO files instead of directly getting them saved in discs. But also, the software will be good quality to copy without any loss, and also offers very fast speed to let you complete the duplicating process without wasting much time.
Also, when you use VideoByte DVD Copy to copy DVDs, the software will provide you some flexible settings to adjust the video effects and DVD menu as you need. So instead of simply copying the contents, you can even design to make your own DVDs too.
Key Features:
Supports copying all DVD discs, including the protected ones
Provides 1:1 original quality to copy DVDs
Supports copying DVD to other formats such as ISO and VIDEO_TS folder
Helps compress DVD-9 to DVD-5 to save the DVDs in smaller sizes
Keeps original chapters, subtitles and audios while copying the DVD discs
Offers fast speed to copy DVD and saves much of your time
Now, you can also read about the tutorial and learn how to copy DVD using VideoByte DVD Copy just by several easy steps.
Step 1. Download VideoByte DVD Copy
Download and launch VideoByte DVD Copy. Then, considering the number of disc drives you have, you need to copy DVDs in two cases.
For 2 disc drives
You can insert the original DVD disc into one drive and a blank disc into another. Then, run VideoByte DVD Copy to begin the process.
For 1 disc drive
If your computer only has one disc drive, you'll need to copy the DVD disc to an ISO image file first, and then burn the ISO image file to a DVD disc.
Tip:You should also ensure that your disc drives are recordable and writable.
You will need to insert the DVD you want to make a copy to your computer. Then open the software and choose "File" to "Select Source" for adding the videos from the DVD disc to VideoByte DVD Copy.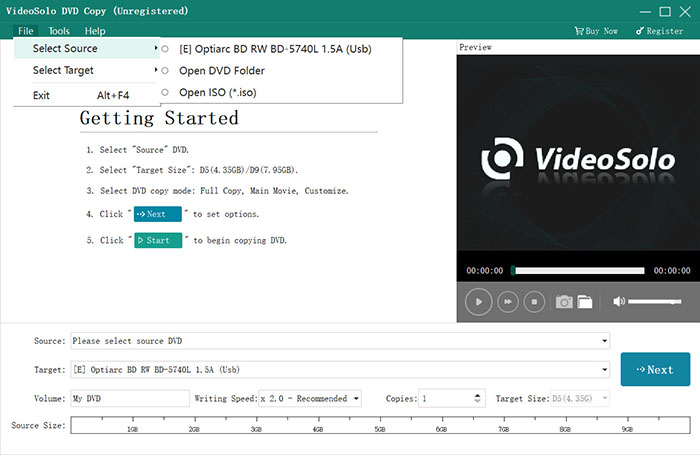 Step 3. Choose Target DVD disc or ISO image
When the source DVD is imported now, you need to choose "Target" and select the a blank disc or ISO image file if you have 1 disc drive. You can also choose one copying mode to copy the DVD here, which offers "Full Copy", "Main Movie", and "Customized" options to let you select freely.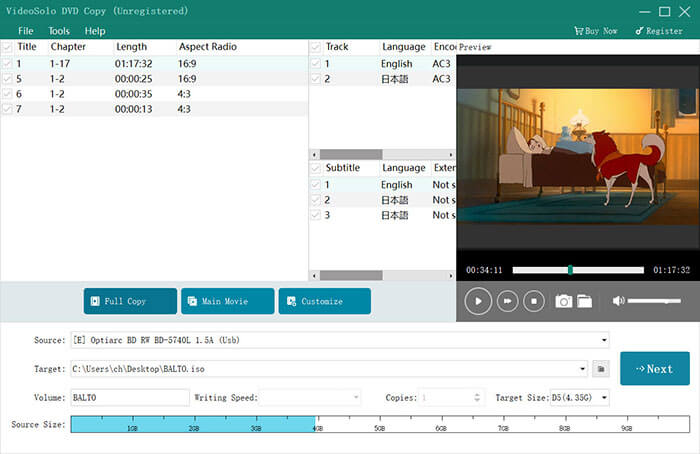 Step 4. Output Options Settings
After choosing the targeted disc or format, now you can click "Next" to continue selecting some copying options before starting copying the DVD disc.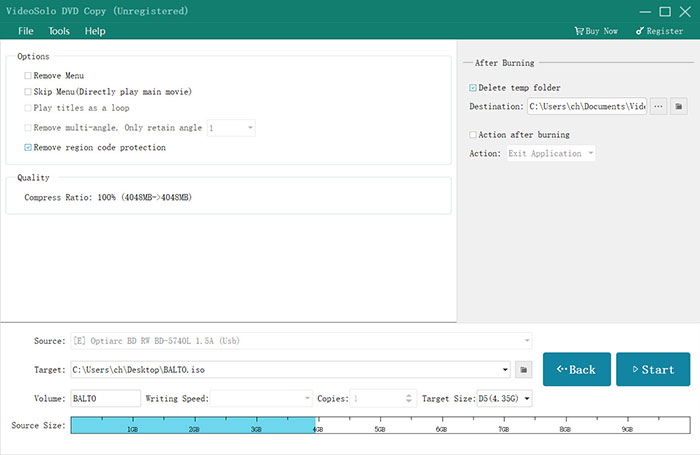 Step 5. Start Copying DVD Disc
Finally, when the settings are also finished, just click "Start" to begin copying the DVD disc immediately. VideoByte DVD Copy will do it for you at a very quick speed and saves your time!
However, if you only have 1 disc drive, you have to operate one more step: burn the ISO image to DVD. Just insert a blank new disc to drive as your output target and select IOS files as the source files. Then, repeat Step 2 to Step 5.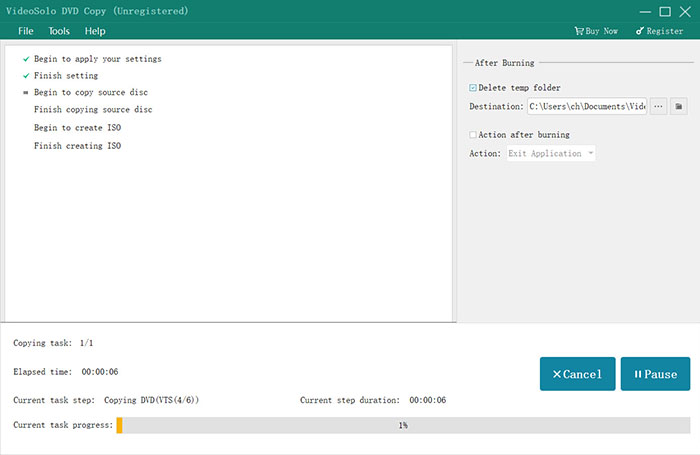 To conclude, if you just want a quick way to copy DVDs, DVD Cloner is a good tool for you. It won't be difficult to use and the output quality can also make sure a good playback experience. But as there are still some disadvantages in using DVD Cloner, it is also recommended for you to take VideoByte DVD Copy as a backup when DVD Cloner fails to help.
The software is also easy-to-use and it offers even more professional and helpful functions to let you copy DVDs. Now, take any of them and try copying DVDs immediately!