"Blu-ray vs 4K, what's the difference between Blu-ray and 4K?" People who are not quite familiar with this field may be confused by these two concepts. Actually, Blu-ray and 4K are two different aspects. Blu-ray is a type of physical media, 4K is a type of video resolution. In this article, we will focus on the topic and make clear the association and difference between Blu-ray vs 4K, also provide some effective ways to enjoy Blu-ray and 4K content.
Quickly Know What Are Blu-ray, 4K, and UHD
Blu-ray is a digital optical disc data storage format which is the successor to DVD. It is capable of storing several hours of video in Full-High-Definition (1920×1080) and Ultra-High-Definition (3840×2160). Blu-ray disc type is various, so the storage power is various too. You know that the Blu-ray and DVD discs are easy to get damaged or scratched, so you'd better make backup copies of Blu-ray/DVD discs.
4K refers to a horizontal screen display resolution in the order of 4,000 pixels which means 4096*2160 pixels, also names DCI 4K (DCI: Digital Cinema Initiatives). In the movie projection industry, 4096×2160 (DCI 4K) is the dominant 4K standard.
UHD (Ultra-High-Definition) and 4K UHD are the same thing and they both refer to 3840*2160 pixels. In television and consumer media, 3840× 2160 (UHD) is the dominant 4K standard. As a customer, when we buy a 4K TV or 4K Blu-ray disc, we care about what exactly does the advertising copy "4K" mean, that generally means 4K UHD (3840× 2160), not DCI 4K (4096×2160).
In conclusion, DCI 4K and UHD are different in resolution. Although UHD is close to 4K but not the real 4K, for marketing tactics, the television makers seem to insist on using "4K". So, "4K" has become a word that we often hear in our daily digital life.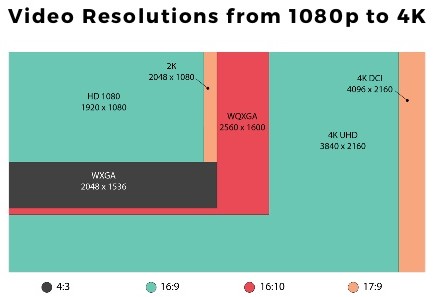 I hope that I have already made it clear enough to distinguish these concepts. Blu-ray is an optical disc type, there are 1080P Blu-ray and 4K Blu-ray, and 4K is a resolution. It can be Blu-ray disc format or another video format such as MKV, MP4, etc.
In the next, when we talk about 4K in this article, we also mean 4K UHD.
After knowing the definition of Blu-ray and 4K, a question presents: Is 4K Blu-ray better than normal Blu-ray? So, to get the answer, just move on and keep reading.
1080P Blu-ray vs 4K Blu-ray: Comparison of Resolution & Compatibility & Storage & Price
The resolution is the core of the battle between normal Blu-ray and 4K Blu-ray. But it is not the single factor that we want to discuss. So, we will also talk about the difference in resolution, compatibility, storage, and price in detail.
From the definition, Normal Blu-ray discs resolution is 1080P (1920×1080 pixels), at up to 60 (59.94) frame rate. It is undoubtedly suitable for HDTV display.
4K Blu-ray is 3840 x 2160 pixels. In both horizontal and vertical directions, 4K Blu-ray is twice that of 1080P Blu-ray. It must be the winner of visual experience in the 4K Blu-ray vs 1080P Blu-ray war.
Due to increased resolution and additional technology, 4K Blu-ray will need a much bigger capacity. The 4K UHD Blu-ray disc will be compressed by the H.265 codec and divided into two types: a 66GB dual-layer disc or a 100GB three-layer disc. Today's mainstream 1080P Blu-ray is a 25GB single-layer or a 50GB dual-layer disc.
Q: Can an ordinary Blu-ray disc player play 4K Blu-ray discs?
A: No, because it is backward compatible, that is, the 4K Blu-ray player can play normal Blu-ray discs, but ordinary Blu-ray disc players cannot play 4K UHD Blu-ray discs by upgrading firmware.
Base on this, if you want to watch 4K Blu-ray disc on TV, you will need a 4K Blu-ray Player, a 4K Television, at least HDMI 2.0 transmission interface. If you want to watch on PC, a 4K Blu-ray drive, a 4K monitor, and a 4K Blu-ray player software are all needed.
Can't Miss: How to Play 1080P Blu-ray Movie (Regular Disc) on Computer
According to the previous point, having a complete set of 4K equipment is not that easy. The 4K Blu-ray disc, 4K television/monitor, 4K player are all more expensive than the normal one. The price of 4K TV can range from a few hundred dollars to several thousand dollars.
Overview of Difference Between 1080P Blu-ray and 4K Blu-ray
| | | |
| --- | --- | --- |
|   | 1080P Blu-ray | 4K Blu-ray |
| Resolution | 1920×1080 pixels | 3840×2160 pixels |
| Storage | 25GB/50GB | 50GB/66GB/100GB |
| Laser Type | 405nm (blue laser) | 405nm (blue laser) |
| Video Codecs | H.264, MPEG-2 Part2, VC-1, H.264 MVC (3D) | H.265, VP9 |
| Audio channels | Up to 8 | Up to 32 |
The first time I watched 4K video on a 4K monitor was unbelievable shocking and I love it since then. For me, I prefer to watch my Blu-ray movies in 4K on my 4K monitor or computer. So I use a Blu-ray Ripper and then I can easily rip the Blu-ray movies into digital videos so as to enjoy them on any device. VideoByte BD-DVD Ripper is the tool that I used. It can rip Blu-ray discs/folders/ISO images into digital files at 1:1 ratio. With advanced technology, the output Blu-ray videos can be kept into 4K lossless quality. In the meantime, it supports over 300 video/audio formats like MP4, MKV, MOV, MP3, AAC, M4A, etc. It allows choosing to keep all the audio tracks and subtitles when you convert the DVD and Blu-ray movie to the digital file.
Here are the simple steps on how to rip Blu-ray discs into digital movies.
Step 1. Download the tool from the above button and enter into its main interface.
Step 2. Click the "+" button on the main interface to load your Blu-ray discs/folder/ISO images. It supports batch conversion.
Step 3. Move your cursor to "Rip All to" and search the format you want in the search box. You can choose MKV Lossless to keep the original quality.
Step 4. Start Blu-ray Ripping by clicking "Rip All".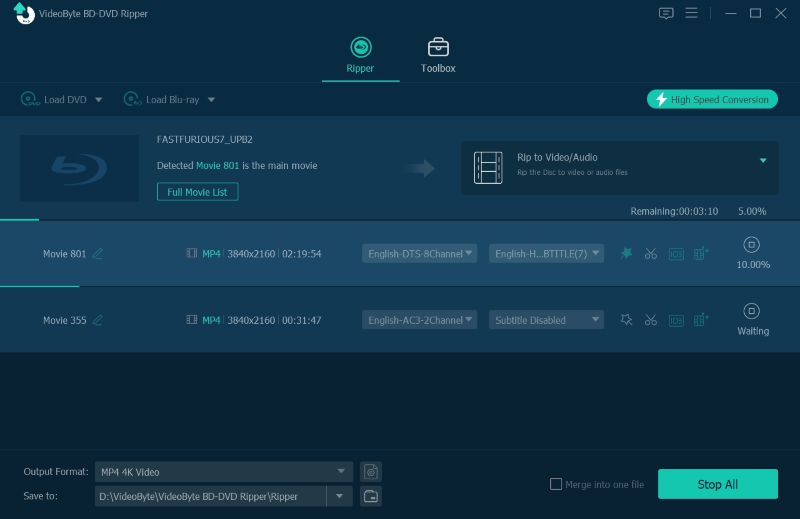 Actually, there are many different aspects between Blu-ray and 4K. It's difficult for us to make a comprehensive comparison. So if you still have problems with Blu-ray vs 4K, leave it below and we can discuss together.